2 million Aussies are paying hidden mobile charges – are you one of them?
Have you had any hard-to-decipher charges show up on your post-paid mobile bill? Many customers find themselves in a whammy when they see unexpected and unexplainable charges on their mobile bill. But what is even worse is the sheer number of users who do not read their bills too closely and end up paying telco operators for services they did not knowingly sign up for.
With 12% customers of the big three – Optus, Vodafone, and Telstra – reporting unexpected charges in the last six months, 1.9 million Australian adults are unknowingly paying $20 million or more to these companies. The implication of unexpected charges is enormous and little wonder that ACCAN, Australia's peak communications consumer organisation, is pushing telcos to take action now.
What are unexpected charges?
These charges are third party charges – basically, your telco is allowing a third party provider to sell content to you, which is charged for on your mobile bill. Confused? Let me explain this further.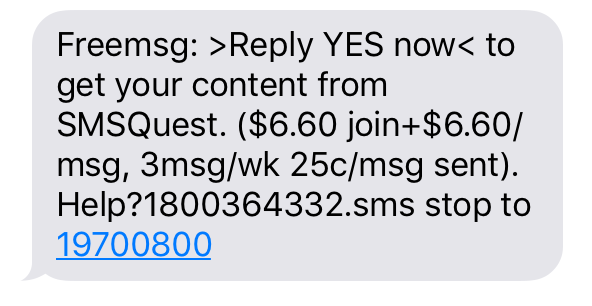 Have you received a message like this on your mobile? Third party providers contact you in this way to sell you premium SMS, games, wallpaper, and ringtones, content which is freely and readily available online. Once such a message has landed in your inbox, all it takes is your kid replying yes while messing around with your phone. Your mobile bill will suddenly become inflated, and you will have no idea why.
The three types of charges you could find yourself paying up for include:
Direct carrier Billing – Telstra and Optus customers can choose to pay for third party content like images and music on their phone bill.
Mobile Premium Services – Certain websites may let you subscribe to a message service that updates you with real time information on text – For example, cricket score updates, weather reports, traffic conditions etc. The website may con you into believing this service was free as you did not have to enter any credit card details while subscribing. Unfortunately, this is not true, and you will end up paying a hefty premium for something you may not even care about.
190 Voice and Video Calls – Calls to such numbers are charged by the minute, at a fixed rate. This rate is quite inflated and not similar to your usual local call rate.
What to do if you get them on your bill?
If you see third party charges on your bill, alert local telco staff about them.
At the same time consider unsubscribing to these services by going to the relevant website or by sending an appropriate text message back.
Seek refund from the content provider first and if they are unresponsive contact your telco.
If your telco fails to respond too, you may need to contact the Telecommunications Industry Ombudsman.
The good news and the bad news
The good news is that Telstra has agreed to ban third party charges by early December 2017. Vodafone has already banned (since 2015) premium messaging services from charging customers through their mobile bill. Optus is facing increasing pressure from ACCAN to move in the same direction.
Now for the bad news. With Telstra and Vodafone, you may still get stung with a lump-sum one-off charge from an unknown third party just because you accidentally clicked subscribe while drunk texting your friends. Optus customers, of course, will remain vulnerable until the company comes to a better decision.
Tips for avoiding and dealing with third-party charges
Opt-out – All mobile users can voluntarily choose to opt-out from these services by asking their telco to block ALL third party billing to their account. Small business owners need to do this urgently on all phone accounts to prevent employees from accidentally subscribing. It is easy to overlook small charges if you have multiple accounts, but the costs could quickly add up.
Be Aware – Read the fine print carefully before signing up for any content service or downloading a new app. All ongoing costs will be mentioned in the terms and conditions, so don't check mark the "I accept" box without at least glancing through the details.
Parental Controls – Use them to prevent mobile misuse by your little ones. Install "kids mode" feature and allow your children to access limited phone functionality only in this mode.
Sources: