Vodafone To Telstra : Making The Move
Had a bad experience with Vodafone ? You're not the only one. Since their well publicised network issues which started back in 2010, they've lost around 1.2 million customers in total. That's near enough 20% of all the customers they had back at the start of the decade.
Unfortunately, it's not just the network that's the problem. Independent report after independent report put Vodafone Australia at the bottom of the list for customer service and customer satisfaction.
If you think it's time for a change and you don't mind paying more for your mobile phone contract, check out these handy tips on how to move from Vodafone To Telstra.
Best SIM Only Plans January 2019
Boost Mobile | Best Prepaid Data Rates On The Full Telstra Network

Prepaid | 28 day expiry | On The Telstra Mobile Network 3G+4G
Boost Mobile are a reliable brand. They are the only phone company other than Telstra to resell the full Telstra 'Retail' Network. With Boost you'll get:
The full Telstra Mobile Network
Other phone companies resell part of the Telstra Mobile Network. Only Boost and Telstra plans allow you access the whole thing.
Free streamed audio:
Data free streaming of Apple Music (requires subscription) on top of the data included in your plan.
A range that includes 7 day and 28 day plans: 
Boost offer a selection of plans including 7 and 28 day variants.
Recharge options from $10 to $50:
Boost have a total of 5 recharge options for their prepaid plans, ranging between $10 and $50.
Boost Mobile Plans For Your Mobile
All talk time and SMS for use in Australia to Australian numbers. All data is for use in Australia. You can learn more about this company in our Boost Mobile review.
Strong, Simple Plans & A Well Known Brand
Amaysim | Prepaid Plans | Optus Mobile Network 3G+4G
Amaysim are the 4th biggest phone company in Australia with over 1m customers. They consistently have one of the highest customer satisfaction ratings in the industry and have prepaid (28 day expiry) plan range – just select the option you want in their checkout. With Amaysim, you'll get:
Strong plan range:
Amaysim have a range starting at $10 per month and rising to $50 per month. Data inclusions are up there with the best available and, with Amaysim, things are nice and simple. You're just buying voice calls, SMS and data. There are no optional extras.
New International Inclusions:
Any plan you buy, starting at $30 per month will now include free International Calls to 12 destinations.
Great Customer Experience:
Amaysim are consistently one of the best performing†phone companies when it comes to customer satisfaction.
Amaysim's plan range:
You can find out more about this company in our Amaysim review.
Yomojo plans

Prepaid | 30 day expiry | On the Full Optus 4G Plus Network 
Yomojo are unique in the Australian market. They offer you an unbelievable range of plans. Yomojo's plans are completely configurable through their website. They also have some pre-configured unlimited plans for those who want a more standardised plan.
Prepay Plans :
Yomojo recently revised their plan range and now offer prepaid plans only.
Use the full Optus 4G Plus network :
Yomojo use the full Optus 4G network. You'll get the latest 4G speeds in 4G coverage areas in all the same places as customers who go to Optus direct.
Yomojo plans for your mobile
You can learn more about them and their unique content in our Yomojo review.
OVO Mobile – Free Video & Radio Content
Prepaid | 30 day expiry | On the Full Optus 3G and 4G Network 
OVO's offer a totally new way of looking at a phone company – they're one of our best selling partners. Their plans are, pretty much on a par for data inclusions with the best in the industry. In addition to talk time, SMS and data, OVO's plans include exclusive access to exclusive video content. All of OVO's plans come with 'OVO Play' an app which lets you watch their free content on your plan. With OVO, you'll get:
Free Video Content – Motorsport, Sailing, Gymnastics & Water Polo :
OVO offer a growing list of free video and audio content. Motorsport fans might like the 400 Thunder Professional Drag Racing Series, Australian GT, Formula Drift and other petrol head live streaming. OVO Play also includes other sports like sailing and gymnastics. The price of the content is included in the monthly line rental charge you pay OVO for your prepaid plan. So, importantly: You won't see your data balance decline while you're watching them, the streamed content is free.
Free Streamed Audio:
OVO's plans also offer FREE radio streaming, also included in your plan offers access to the Tripple M network and other selected stations.
OVO for Kids:
OVO's plans come with the offer of free access to Parental Lock software. Buy your child the $9.95 plan from OVO and you'll be able to monitor what they access on their phone and set times for it to turn off and turn on it's own connection to the internet.
OVO Plans for your mobile
Picking an OVO plan is simple. All of OVO's plans include Unlimited talk and SMS in Australia to Australian numbers plus superfast 4G data.
You can learn more about them and their unique content in our OVO review.
Kogan Mobile – Best Value on the Vodafone Network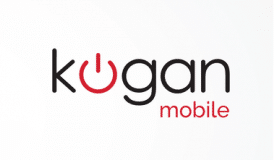 Prepaid | 30 day expiry | On the Full Vodafone 3G and 4G Network 
Kogan Mobile keep it simple. They have some of the most competitive SIM Only / Prepaid plans in Australia, on the much improved Vodafone network. With their multi month recharge options, Kogan add some genuine value and choice to the market.
With Kogan, you'll get
Monthly, quarterly or annual options : Do you want a single recharge payment with a 1, 3 or 12 month validity ? With Kogan, you'll get discounts for multi-month purchases you were going to make anyway. They add the convenience of less frequent running out / topping up. And they keep the total predictability and flexibility of prepaid.
Kogan's 30 day plan range :
Kogan's 30 day plans all have Unlimited talk and SMS in Australia to Australian numbers. The difference is the amount of data which is included.
All talk time and SMS for use in Australia to Australian numbers. All data is for use in Australia. See all Kogan Plans including 90 day and 365 day plans. You can find out more about this company in our Kogan Mobile review.
Can I Keep My Number When I Move From Vodafone To Telstra ?
Yes you can. This is the most common question that the sales teams get at all of the major Australian Telcos. And it's a natural one. Everyone knows you by your phone number and it's a real pain to change the details that you have stored with all your friends.
The process of moving your existing phone number is called 'porting' ( from 'Transporting' ) and it's done automatically when you sign up to your new contract with Telstra. Telstra and Vodafone use a common system which stores all the phone numbers in Australia. Unfortunatlely, it can take up to 3 working days for the number to go across. In the meantime, you'll be in limbo land and you'll have to make do.
Most of the time, it's done very quickly so don't worry. There's plenty more information about porting your phone number in this WhatPhone article.
What Does Your Vodafone Contract Say ?
Most people take out a 24 month contract with their telecommunications provider. If you leave early, you are likely to find yourself subject to Early Termination Fees. Basically, that means paying some money, sometimes a lot of money to Vodafone, essentially for pay for the 'free' phone you got when you signed up.
Make Sure Your Phone Is Unlocked
Is your intention is to keep your existing phone and take it across to the Telstra Network ( for example, by taking out a SIM only plan ? ) If so, the first thing to do is to make sure that your phone is unlocked from the Vodafone network. This might sound dodgy but it's not. It's perfectly safe, legal and you are entitled to ask to unlock your phone at any stage of your contract.
If you're towards the end of your 2 year contract, it's unlikely that there will be a charge for unlocking your phone from the Vodafone network. However, unlocking early can cost a few dollars.
WhatPhone has plenty of extra detail on this important step : How Can I Unlock My Phone
Check Your Phone Works On Telstra's Network
There are too many phones and too many frequencies to list them all here. Do a bit of Googling and establish what frequencies your phone works on. If you're moving from Vodafone to Telstra, you're probably going to be OK.
Vodafone use the 2100 MHz, 900MHz and 850 MHz frequencies.
Telstra use the 850MHz, 900MHz, 1800MHz and 2100MHz frequencies.
So, if your phone worked on the Vodafone network, it's pretty much bound to work on the Telstra network. There are always exceptions though so double check before you commit !
If you really can't figure it out, ( when you've unlocked your phone ) get hold of a $10 prepaid SIM from Telstra, stick it in your phone and see if you can make and receive calls. That way, you're not taking a risk.
Getting the best of both worlds
If your goal is to save money but also move away from Vodafone for some reason ( potentially network coverage ) then consider SIM Only plans from other providers. It's just possible a SIM Only plan from a smaller Australian phone company ( sometimes these are called 'MVNOs' could give you the best of both worlds. Get access to the Telstra network but pricing which is cheaper than Vodafone's. Don't believe me ?
Alternatives – cheap access to Optus 4G
Similarly, if you need a 4G SIM Only price plan and want to save substantially over the Telstra price, consider Bendigo.
Best SIM Only <$30
See all SIM Only plans
If you need another network, for example you're after an unlimited plan with Telstra coverage, or you live in a city and you're happy with Vodafone, you might like to check our SIM Only Comparison page and compare all the plans ( including every one mentioned on this page. )
COMPARE ALL SIM ONLY PLANS