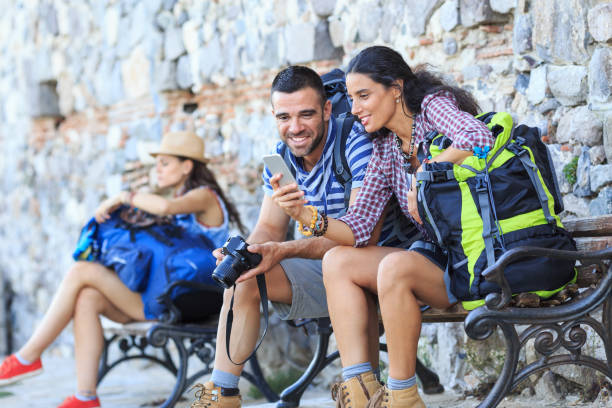 Australia is world famous for our hot summers days, our beautiful golden beaches and our friendly inviting culture. These are just a few of the reasons why Australia sees more than 7 million visitors to our country each year.
For backpackers and travellers to Australia who need to be connected and let's face it, in today's connected age of digital streaming and social media, you will need an Aussie SIM card.
In the past getting a local SIM card was an expensive process and a downright hassle for tourists to go through. After travelling so far to Australia, the last thing they would want to do is to fill out countless pieces of paper to apply for one.
Thankfully those days are long gone and getting a SIM card for your smartphone or tablet device is a cheap and simple process.
For overseas visitors coming to our great country, the good news is that you can either walk into one of the many retail stores of Telstra, Optus and Vodafone and sign up for a SIM only prepaid plan.
Or if you can get on a free WiFi connection, visit one of the many different value for money Australian MVNOs websites and order a SIM only card which in most cases will arrive in under 2-3 days.
Recharging can be done online through the provider's website, taking a wide selection of credit and debit cards, as well as third party providers such as PayPal.
Best SIM Only Plans April 2018
Boost Mobile | Best Prepaid Data Rates On The Full Telstra Network

Prepaid | 28 day expiry | On The Telstra Mobile Network 3G+4G
Boost Mobile are a reliable brand. They are the only phone company other than Telstra to resell the full Telstra 'Retail' Network. With Boost you'll get:
Boost Mobile Plans For Your Mobile
All talk time and SMS for use in Australia to Australian numbers. All data is for use in Australia. You can learn more about this company in our Boost Mobile review.
Belong Mobile | Fairest For Data

Postpaid | Month to Month agreement | On The Telstra Mobile Network 3G+4G
Belong sell access to the Telstra Mobile Network. They have a simple to understand plan structure with options on data, national ($5 extra) and international calls ($5 extra.) Belong also offer the fairest treatment of data that any phone company in Australia have. a 'data vault' feature. Whatever data you buy, is yours, forever. It just keeps rolling over until you use it or leave them.
With Belong, you'll get:
Belong Plans For Your Mobile
All talk time and SMS for use in Australia to Australian numbers. All data is for use in Australia. You can learn more about this company in our Belong Mobile review.
OVO Mobile – Free Video & Radio Content
Prepaid | 30 day expiry | On the Full Optus 3G and 4G Network 
OVO's offer a totally new way of looking at a phone company – they're one of our best selling partners. Their plans are, pretty much on a par for data inclusions with the best in the industry. In addition to talk time, SMS and data, OVO's plans include exclusive access to exclusive video content. All of OVO's plans come with 'OVO Play' an app which lets you watch their free content on your plan. With OVO, you'll get:
Free Video Content – Motorsport, Sailing, Gymnastics & Water Polo :
OVO offer a growing list of free video and audio content. Motorsport fans might like the 400 Thunder Professional Drag Racing Series, Australian GT, Formula Drift and other petrol head live streaming. OVO Play also includes other sports like sailing and gymnastics. The price of the content is included in the monthly line rental charge you pay OVO for your prepaid plan. So, importantly: You won't see your data balance decline while you're watching them, the streamed content is free.
Free Streamed Audio:
OVO's plans also offer FREE radio streaming, also included in your plan offers access to the Tripple M network and other selected stations.
OVO for Kids:
OVO's plans come with the offer of free access to Parental Lock software. Buy your child the $9.95 plan from OVO and you'll be able to monitor what they access on their phone and set times for it to turn off and turn on it's own connection to the internet.
OVO Plans for your mobile
Picking an OVO plan is simple. All of OVO's plans include Unlimited talk and SMS in Australia to Australian numbers plus superfast 4G data.
You can learn more about them and their unique content in our OVO review.
CHECK  OVO MOBILE SIM PLANS
Kogan Mobile – Best Value on the Vodafone Network

Prepaid | 30 day expiry | On the Full Vodafone 3G and 4G Network 
Kogan Mobile keep it simple. They have some of the most competitive SIM Only / Prepaid plans in Australia, on the much improved Vodafone network. With their multi month recharge options, Kogan add some genuine value and choice to the market.
With Kogan, you'll get
Kogan's 30 day plan range :
Kogan's 30 day plans all have Unlimited talk and SMS in Australia to Australian numbers. The difference is the amount of data which is included.
All talk time and SMS for use in Australia to Australian numbers. All data is for use in Australia. See all Kogan Plans including 90 day and 365 day plans. You can find out more about this company in our Kogan Mobile review.
Great Value Data & Best For International Calls
Prepaid | 30 day expiry | On the Full Vodafone 3G and 4G Network 
If you're after an unlimited plan with incredible data inclusions, or you make calls overseas, in our view, you need look no further than Lebara. Lebara use the much improved Vodafone 3G + 4G network which covers more than 96% of Australians. With Lebara, you'll get :
Lebara's prepaid plan range:
You can find out more about this company in our full Lebara Review.
Who are the Australian national carriers?
In Australia, the three national carrier networks are Telstra, Optus and Vodafone Australia.
All three of these networks offer 4G, which means tourists from other countries can purchase a SIM only card, use their existing smartphone and take advantage of some world-class connection speeds.
But there are alternatives to the big three carriers, which purchase network connectivity from them at wholesale rates and offer users much better deals.
There are alternatives known in the industry as MVNOs or (Mobile Virtual Network Operators) and offer users a much better deal, then if they were to go directly to the main network provider.
Currently, in Australia, Telstra has the best reputation for mobile phone service and connectivity, especially if you are travelling around rural Australia.
This is due to the simple fact, that the networks of both Optus and Vodafone are not really that great once you leave the built up city areas.
When it comes to the inner city and suburban connectivity, the Optus and Vodafone networks have pretty much similar coverage, though for customer support you can't beat Optus.
Should you a pick prepaid or postpaid plan?
The large majority of tourists and travellers to Australia would be bringing their smartphone with them, as not many people these days would leave home without it.
With a mobile phone already in your possession, there is really no good reason why you would want to be locked into a postpaid plan, it just doesn't make sense.
Tourists on average only travel around Australia for less than a month and business travellers spend even less time in our great country.
Prepaid SIM only plans are simple, cheap and convenient when you already own a smartphone or SIM capable handheld device.
By paying upfront, you won't have to worry about bill shock or using more than your allocated calls, texts and mobile data. Before you leave the country, be sure to cancel your plan to ensure that you are not recharged at the end of the month.
Which network has the best coverage?
Of the three network carriers in Australia, Telstra has the best nationwide coverage in both city and rural areas. Unfortunately, Telstra is also the most expensive carrier and as such are not really the best deal on the market.
The good news is, though, that by choosing a Telstra reseller such as Boost Mobile, you can still get access to the fastest network down under, but without the expensive cost.
Vodafone Australia in recent times has gotten much better but, after investing heavily in their network and their front line customer service. If you must be on their network than we would recommend Lebara, rather than going direct.
If you will be travelling to rural Australia and spending most of your holiday in small towns, then Optus is the best choice.
Amaysim is one of the most popular MVNOs currently in Australia and with some of the best value for money deals, including their Unlimited SIM only plans which come with generous 4G mobile data allowances.
The majority of visitors to Australia have found that for the flexibility of choice and the convenience of prepaying, companies such as Amaysim provide them with everything they need, with the least hassle.
Our thoughts on the best plan for travellers
As mentioned in the above sections, there is a lot of choice in Australia for when it comes to doing your research and picking the best SIM only prepaid plan, depending on your travel needs and the length of your time in Australia.
By bringing your own mobile phone, you can simply sign up for one of the great value SIM only plans from one of the popular MVNOs and switch out your international SIM card, to the one given to you from the MVNO.
MVNOs provide users with a lot of choice and flexibility which you just can't get from the three major carriers, giving you a wide range of plans to select from, with low monthly minimum prepaid spends.
SIM only plans are now at the point where you should be able to choose a plan to cover a short stay in Australia, all without you needing to waste a lot of money.
This Month's Hot Offers