Wi-Fi calling is already available in Australia with some phone companies.
2018 WiFi Calling Update
Optus have now launched their WiFi Calling app. We've updated the article below with some comments and screenshots to show you how it works.
Best SIM Only Plans November 2018
Boost Mobile | Best Prepaid Data Rates On The Full Telstra Network

Prepaid | 28 day expiry | On The Telstra Mobile Network 3G+4G
Boost Mobile are a reliable brand. They are the only phone company other than Telstra to resell the full Telstra 'Retail' Network. With Boost you'll get:
The full Telstra Mobile Network
Other phone companies resell part of the Telstra Mobile Network. Only Boost and Telstra plans allow you access the whole thing.
Free streamed audio:
Data free streaming of Apple Music (requires subscription) on top of the data included in your plan.
A range that includes 7 day and 28 day plans: 
Boost offer a selection of plans including 7 and 28 day variants.
Recharge options from $10 to $50:
Boost have a total of 5 recharge options for their prepaid plans, ranging between $10 and $50.
Boost Mobile Plans For Your Mobile
All talk time and SMS for use in Australia to Australian numbers. All data is for use in Australia. You can learn more about this company in our Boost Mobile review.
Strong, Simple Plans & A Well Known Brand
Amaysim | Prepaid Plans | Optus Mobile Network 3G+4G
Amaysim are the 4th biggest phone company in Australia with over 1m customers. They consistently have one of the highest customer satisfaction ratings in the industry and have prepaid (28 day expiry) plan range – just select the option you want in their checkout. With Amaysim, you'll get:
Strong plan range:
Amaysim have a range starting at $10 per month and rising to $50 per month. Data inclusions are up there with the best available and, with Amaysim, things are nice and simple. You're just buying voice calls, SMS and data. There are no optional extras.
New International Inclusions:
Any plan you buy, starting at $30 per month will now include free International Calls to 12 destinations.
Great Customer Experience:
Amaysim are consistently one of the best performing†phone companies when it comes to customer satisfaction.
Amaysim's plan range:
You can find out more about this company in our Amaysim review.
OVO Mobile – Free Video & Radio Content
Prepaid | 30 day expiry | On the Full Optus 3G and 4G Network 
OVO's offer a totally new way of looking at a phone company – they're one of our best selling partners. Their plans are, pretty much on a par for data inclusions with the best in the industry. In addition to talk time, SMS and data, OVO's plans include exclusive access to exclusive video content. All of OVO's plans come with 'OVO Play' an app which lets you watch their free content on your plan. With OVO, you'll get:
Free Video Content – Motorsport, Sailing, Gymnastics & Water Polo :
OVO offer a growing list of free video and audio content. Motorsport fans might like the 400 Thunder Professional Drag Racing Series, Australian GT, Formula Drift and other petrol head live streaming. OVO Play also includes other sports like sailing and gymnastics. The price of the content is included in the monthly line rental charge you pay OVO for your prepaid plan. So, importantly: You won't see your data balance decline while you're watching them, the streamed content is free.
Free Streamed Audio:
OVO's plans also offer FREE radio streaming, also included in your plan offers access to the Tripple M network and other selected stations.
OVO for Kids:
OVO's plans come with the offer of free access to Parental Lock software. Buy your child the $9.95 plan from OVO and you'll be able to monitor what they access on their phone and set times for it to turn off and turn on it's own connection to the internet.
OVO Plans for your mobile
Picking an OVO plan is simple. All of OVO's plans include Unlimited talk and SMS in Australia to Australian numbers plus superfast 4G data.
You can learn more about them and their unique content in our OVO review.
Yomojo plans

Prepaid | 30 day expiry | On the Full Optus 4G Plus Network 
Yomojo are unique in the Australian market. They offer you an unbelievable range of plans. Yomojo's plans are completely configurable through their website. They also have some pre-configured unlimited plans for those who want a more standardised plan.
Prepay Plans :
Yomojo recently revised their plan range and now offer prepaid plans only.
Use the full Optus 4G Plus network :
Yomojo use the full Optus 4G network. You'll get the latest 4G speeds in 4G coverage areas in all the same places as customers who go to Optus direct.
Yomojo plans for your mobile
You can learn more about them and their unique content in our Yomojo review.
Kogan Mobile – Best Value on the Vodafone Network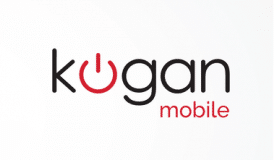 Prepaid | 30 day expiry | On the Full Vodafone 3G and 4G Network 
Kogan Mobile keep it simple. They have some of the most competitive SIM Only / Prepaid plans in Australia, on the much improved Vodafone network. With their multi month recharge options, Kogan add some genuine value and choice to the market.
With Kogan, you'll get
Monthly, quarterly or annual options : Do you want a single recharge payment with a 1, 3 or 12 month validity ? With Kogan, you'll get discounts for multi-month purchases you were going to make anyway. They add the convenience of less frequent running out / topping up. And they keep the total predictability and flexibility of prepaid.
Kogan's 30 day plan range :
Kogan's 30 day plans all have Unlimited talk and SMS in Australia to Australian numbers. The difference is the amount of data which is included.
All talk time and SMS for use in Australia to Australian numbers. All data is for use in Australia. See all Kogan Plans including 90 day and 365 day plans. You can find out more about this company in our Kogan Mobile review.
What is WiFi Calling ?
WiFi Calling has become a hot topic on the Australian mobile phone scene. Hopes of major improvements in mobile phone reception and call quality followed in the wake of a number announcements in the industry and launches of similar services overseas.
As its name suggests, WiFi Calling describes voice and data transmission, from a mobile phone, over a WiFi or wireless network. Most people have a home broadband connection these days and most of them have a WiFi router attached. WiFi is what you use to connect to the internet from your laptop when you're doing email in your bedroom. Now, using WiFi calling, you can use the same home wireless network to make phone calls from your mobile. If your mobile device incorporates a WiFi Calling adapter you can connect it to the wireless network via a WiFi hotspot. WiFi calling allows you to make calls and enjoy high-speed Internet over your existing WiFi frequency.
WiFi connectivity is widely used in other communications media. For example, Skype and Viber may already be familiar brands and apps to you. Both use WiFi networks to connect users' voice calls. Increasingly, people are finding this sort of app convenient for their business and social messaging needs.
The implementation of WiFi calling smartphones delivers comparable benefits. The difference is how easy it is to make the call. WiFi calling apps provided by your phone company have a significant benefit. They integrate with your existing phone book.
Who can use WiFi Calling?
If you want to use WiFi calling in Australia, you will need to have a smartphone with a WiFi Calling capability installed by the manufacturer. At this stage, in Australia it is not an app you can buy and download on the internet.
The range of compatible devices starts at the top end of town. But it is steadily expanding. For example, Apple's iOS devices ( iPhones 5s, 5c, 6 and 6 Plus ), and newer android devices Samsung Galaxy 55 and 56, are all built with the necessary gubbins which allows them to work with WiFi Calling.
You might need your phone company to update the phone firmware before the feature activates. Once you've done that, WiFi calling is as simple to turn on and off as Bluetooth..
Advantages of WiFi Calling
Cellular network coverage in Australia covers most people. However, everyone has experience of situations where their calls have dropped out, or the network they use doesn't provide a signal in one room of their house. Most users believe there is abundant room for improvement – whichever phone company they use.
The Australian government shares this opinion. In a recent proposal to investigate "mobile black spots" they state ;
Inadequate mobile phone coverage is a significant issue for many Australians, particularly those living, working and travelling in regional Australia.
Industry analysts believe that the introduction of Wi-Fi calling is essential to plug some of these mobile service gaps.
Benefits of WiFi Calling
A good solution for people in areas where mobile phone signals are weaker.
By closing connectivity gaps and improving call quality WiFi calling will assist those in cellular network 'black spots.' WiFi Calling technology is particularly attractive in the Australian context with a population spread across a vast continent girt by sea, and with great distances between populated areas.
Automatically takes over if the cellular network signal fails.
Once enabled with WiFi calling, your smart mobile phone seamlessly transfers the call over to the WiFi wireless network, when it needs to ( when you don't have cellular coverage ) and the call continues as normal. WiFi Calling is also good for sending text messages in these situations.
Easy to use :
From your smartphone menu you select a contact and call and text exactly the same way you do over the cellular network. The switch to WiFi calling is not marked by any audible interruption. If you observe the smartphone screen closely you notice a new icon appears (not standardized between smartphones) when WiFi Calling is active, but this "cosmetic change" is the only difference you're going to notice.
The Verdict on WiFi calling
Most people feel they pay too much for their mobile phone access. Given that, it's incredibly frustrating to find yourself in a situation where you can't make a call or get access to the internet from your phone. Everyone has a friend who needs to stand at the bottom of their garden to get a signal, even in some of Australia's largest cities.
The phone companies have spent billions of dollars of their own money trying to improve Australian coverage outside and inside buildings. Things have gotten better, notably for Vodafone, in the last three or four years, when it comes to phone company coverage. However, the exponential increase in the growth of data threatens to overload the networks again unless they get their capacity planning right.
WiFi calling represents one of two parallel ideas which will help users and alleviate some of their pain. First, using your own WiFi network in your own home doesn't cost the phone company anything and lets you browse and make calls as much as you need to where previously there was no signal. Second, the metamorphosis of phone booths ( by Telstra ) and bus stations ( by Vodafone ) in to free WiFi zones will help take the weight off the cellular network to transport all that data we're using.
Unusually, both initiatives are free to users, easy to use and significantly improve the experience they get. What's not to like about WiFi calling on your phone ?
How Much is WiFi Calling Going to Cost Subscribers?
In the UK the EE phone companies applies the same rate as regular mobile calls and deduct the time from the subscriber's allowance. US phone companies are more generous with free WiFi Calling services included in service bundles. It remains to be seen which of these paths Australian phone companies will follow.
No Hundred Per Cent Mobile Communications Solution
While there are real expectations that Australian mobile devices users will benefit significantly from the introduction of WiFi Calling, it is unrealistic to expect this is going to guarantee your mobile connections wherever you are located. Important points to keep in mind:
If you make a call using WiFi Calling and then travel outside the wireless network range, the call is not automatically transferred to the phone company's mobile network.
You cannot get the full benefits of WiFi Calling unless your smartphone has at least a 1Mbps WiFi connection.
Will you be able to use WiFi Calling if you travel overseas? UK users do not have this option at present, but many Americans do have it. The Australian phone companies' decisions are awaited.
Australia Eagerly Awaits WiFi Calling
Australians are impatient for the phone companies to offer WiFi Calling but there are still no definite dates. Besides the desire to enjoy its benefits there is also the issue of national pride. Australian telecom is one of the most advanced in the world but in this area they have fell behind other western countries. In the US WiFi Calling is widely available. In the UK the EE phone company introduced WiFi Calling in April 2015, and Vodafone should soon follow suit.
Spokespeople for Optus and Vodafone tell the media they have plans to introduce WiFi Calling before very long, although the exact dates have not been announced.
Optus launched WiFi calling first in August 2015
UPDATED : We said Optus looked most likely to be the first at the finishing post – and launch WiFi calling in Australia.
It's as easy to install as downloading an app from the iTunes or Google Play store. Integration with my address book in Android was easy and I was making wifi calls in no time. As a user, you don't want to have to worry about the technical ins and outs of how it works and I was impressed. I didn't have to. There were a lot of caveats to consider, as you can see from the screenshots below. However, for those who suffer from poor coverage in at least one room of their house, Optus' first to market solution is a nice free fix.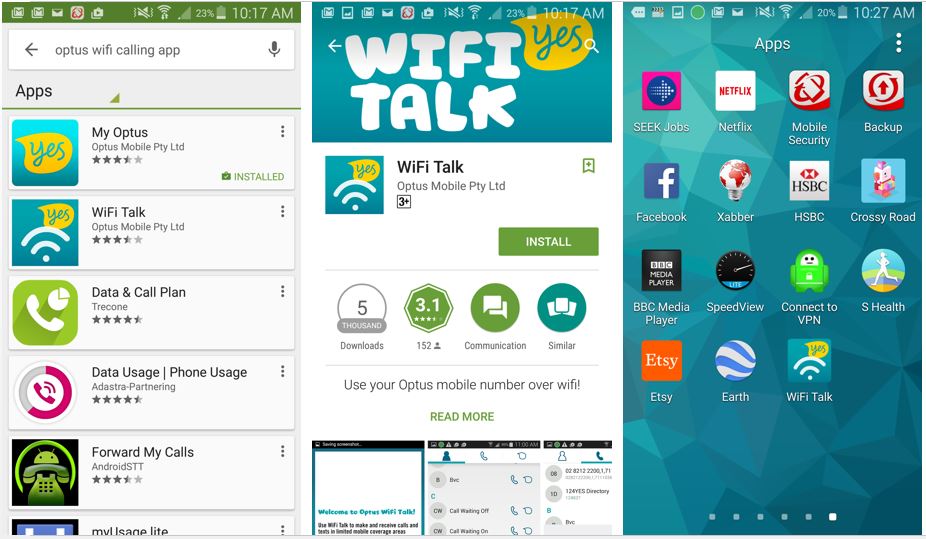 Optus has already launched their own WiFi calling app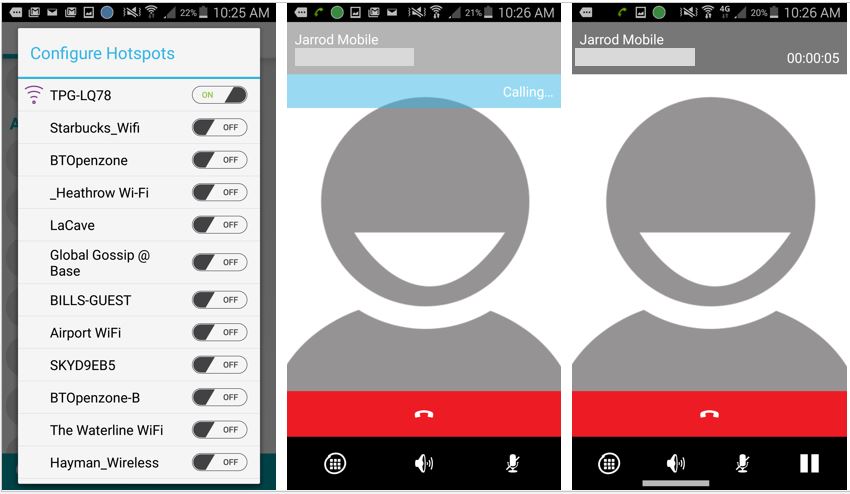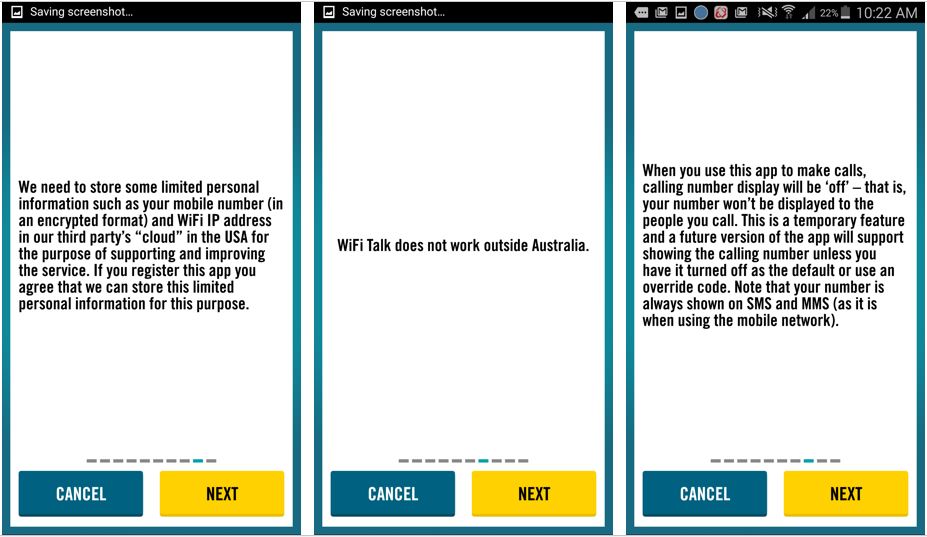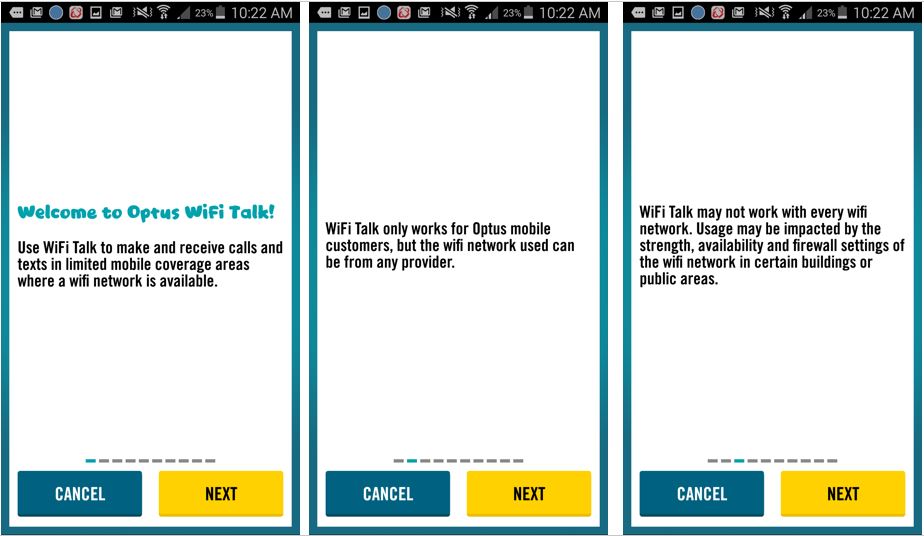 These are the steps you need to follow, to install the Optus WiFi Calling App
This Month's Hot Offers