At Whatphone, we see a lot of Smartphones. Every week, we're playing with the HTC 1X, Galaxy Note or some other stupidly brilliant machine.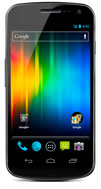 It's not every week you get to test a product that Google had their hand in however, so I can honestly say, using the Samsung Galaxy Nexus as my primary device for a week held some genuine interest and excitement. As everyone knows, Google have a reputation for blowing your mind with innovation – but, when I received the device, I had some open questions as to whether they 'got' the Smartphone market given their experience with the first Nexus and their attempt at direct sales !
The new Nexus product was released in ( Australia in ) December 2011 and was the first to have Android's new version 4.0 OS ( Operating System ) ICS ( Ice Cream Sandwich ) with lots of funky new features.
Technical features :
Personally, I would never buy a Smartphone until I was sure how the features ranked against the currently competitors.
It's got a 1.2GHz dual core processor, 16GB on board memory, NFC, Wifi, Bluetooth, GPS, a cracking 4.65 SAMOLED inch screen 1280×720 – so real high definition stuff. It's got a 5 Mega Pixel camera on the back.
What would your friends say about it ?
First things first, the aesthetics and 'feel' of it was fine. It had the usual Samsung problem with the wafer thin plastic back to it. Samsung need to get real about this. Taking the back off the Nexus ( and any new Smartphone ) is the first thing everyone does to get the SIM card in their device and get cracking on using it. Having very thin plastic backing devalues what is otherwise a sturdy device.
Basics were performed well :
The keyboard was great, almost as good as the iPhones. It was responsive and I didn't find myself hitting keys different to those I'd meant to while I was using it – which I sometimes do on other products.
The browser was good. Even with duel core to power it, I found it slightly slow to use.
The sound and screen was great. As I always do, I transferred a couple of films to it and gave it proper watching. Colours were great, the movies flowed well on the screen. The sound was fine.
Face unlock was a gem of a feature – far better than the alternative code entry – just another passcode to keep at the back of your head or more likely forget.
Not so good :
That 16 GB of on board memory is your lot ! That's it ! There's no capacity to add extra micro SD memory cards. If you have a large selection of music or if, like me, you carry a stock of films and TV with you in case you need them, the 16GB is just not going to be enough for you and the lack of a slot imposes what seems to me to be an unnecessary restriction.
My minimum on batteries is that they have to make a working day with reasonable usage. The Nexus did, but only just and only with a bit of coaxing on turning screen brightness down which of course affects how much you enjoy the screen.
The 5MP camera shot pictures that were fine but to be honest, compared to competition which now has 8 MP cameras, I'd want the best quality.
No 'Wow' factor :
The Nexus was a Smartphone Robocop to me. It was all function and no friendly. The look of it would not draw hands with waggling fingers across the always mentioned pub table or secure 'oooh's from friends. It was a boring, grey, workhorse grey.
Summary
Don't misunderstand me, it's a fine device and when it was launched, it would have been up there as one of the best in market. It was the first with Ice Cream Sandwich and I guess they didn't have the time to spend on the features to sit on top of that which Samsung had with the Galaxy SIII.
But things have changed now. The One X and Galaxy SIII ( both quad core, 8 MP camera devices ) are the main contenders for the best in the Android.
If you're interested in the Nexus, get in quick. Looks like the operators are moving on. Not all of them offer it any more. Current pricing is great for a device with these specs and puts the Samsung Galaxy SII too so make sure you compare it against that device.
Having said all that, as usual, Google 'get it'. This is a solid device, even many months after release – and right now, the pricing is a steal.
Written by:
Kurt Hands

Want more product information about the Samsung Galaxy Nexus ? Try Google's Product Pages.