Everything you need to know about Australia's best 12 month SIM Only plans – in 60 seconds
Optus, Telstra, Virgin and Vodafone all offer 12 month SIM Only contract options.
Telstra also offer 24 month SIM Only plan options. We don't recommend them.
12 month SIM Only plan options offer data allowances which are 50%-100% bigger than you'll get with the same monthly spend on a month to month plan. See charts and infographics, below.
12 month contracts also come with a Minimum Total Cost (MTC). (We explain what that is and some of the problems MTCs presents, below.)
Generally, 12 month SIM Only agreements work for people who don't have time to check how competitive their phone plan more than once a year. That's most people.

Overall, we recommend Optus and Virgin's 12 month contract options.

Optus' and Virgin's 12 month SIM Only agreements offer enough data to more than match the extra the phone companies will include during that 12 month contract cycle.
We explain how this works, below, under the 'Data Deflation' section, also below.
The best 12 month contract SIM Only plans in Australia
12 month SIM Only contract plans are disproportionally popular among the people who shop and buy on this website. The reason isn't hard to see. Pick the right 12 month SIM Only contract option and you can win yourself a huge data allowance – a data inclusion which will give you a monthly entitlement often twice what you will get for the same spend on a month to month agreement.
We often recommend prepaid plans, a different type of SIM Only agreement (in fact, you can read all about these different types in our prepaid vs postpaid vs month to month article ) 12 month agreement plans tend to include unlimited voice and SMS for use in Australia, some sophisticated SIM Only plan options like easier roaming, the ability to share data between plans, say, in a family and, these days, even streamed entertainment services to your phone.
They do, however, tie you in to a Minimum Total Cost (we explain that below) and focus on 'upselling' you to a higher price point than you might otherwise have spent with huge data inclusions.
We love 12 month SIM Only plans because they work in a way that people actually behave. Most people don't have the time to check their phone plan more than once a year. This can expose buyers to data deflation.
You can only really get 12 month SIM Only plans from the bigger telcos in Australia. Optus, Telstra, Virgin and Vodafone. Generally we find that Virgin and Optus offer the best value among those providers. With recent improvements in the quality of their networks, that makes Optus and Virgin a safe bet, whatever your spend level.
Best SIM Only Plans March 2019
Boost Mobile | Best Prepaid Data Rates On The Full Telstra Network

Prepaid | 28 day expiry | On The Telstra Mobile Network 3G+4G
Boost Mobile are a reliable brand. They are the only phone company other than Telstra to resell the full Telstra 'Retail' Network. With Boost you'll get:
The full Telstra Mobile Network
Other phone companies resell part of the Telstra Mobile Network. Only Boost and Telstra plans allow you access the whole thing.
Free streamed audio:
Data free streaming of Apple Music (requires subscription) on top of the data included in your plan.
A range that includes 7 day and 28 day plans: 
Boost offer a selection of plans including 7 and 28 day variants.
Recharge options from $10 to $50:
Boost have a total of 5 recharge options for their prepaid plans, ranging between $10 and $50.
Boost Mobile Plans For Your Mobile
All talk time and SMS for use in Australia to Australian numbers. All data is for use in Australia. You can learn more about this company in our Boost Mobile review.
Strong, Simple Plans & A Well Known Brand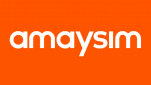 Amaysim | Prepaid Plans | Optus Mobile Network 3G+4G
Amaysim are the 4th biggest phone company in Australia with over 1m customers. They consistently have one of the highest
customer satisfaction ratings in the industry and have prepaid (28 day expiry) plan range – just select the option you
want in their checkout. With Amaysim, you'll get:
Strong plan range:
Amaysim have a range starting at $10 per month and rising to $50 per month. Data inclusions are up there with
the best available and, with Amaysim, things are nice and simple. You're just buying voice calls, SMS and data.
There are no optional extras.
New International Inclusions:
Any plan you buy, starting at $30 per month will now include free International Calls to 12 destinations.
Great Customer Experience:
Amaysim are consistently one of the best performing†phone companies when it comes to customer satisfaction.
Amaysim's plan range:
You can find out more about this company in our Amaysim review.
Yomojo plans

Prepaid | 30 day expiry | On the Full Optus 4G Plus Network 
Yomojo are unique in the Australian market. They offer you an unbelievable range of plans. Yomojo's plans are completely
configurable through their website. They also have some pre-configured unlimited plans for those who want a more
standardised plan.
Prepay Plans :
Yomojo recently revised their plan range and now offer prepaid plans only.
Use the full Optus 4G Plus network :
Yomojo use the full Optus 4G network. You'll get the latest 4G speeds in 4G coverage areas in all the same
places as customers who go to Optus direct.
Yomojo plans for your mobile
You can learn more about them and their unique content in our Yomojo review.
OVO Mobile – Free Video & Radio Content

Prepaid | 30 day expiry | On the Full Optus 3G and 4G Network 
OVO's offer a totally new way of looking at a phone company – they're one of our best selling partners. Their plans
are, pretty much on a par for data inclusions with the best in the industry. In addition to talk time, SMS and data,
OVO's plans include exclusive access to exclusive video content. All of OVO's plans come with 'OVO
Play' an app which lets you watch their free content on your plan. With OVO, you'll get:
Free Video Content – Motorsport, Sailing, Gymnastics & Water Polo :
OVO offer a growing list of free video and audio content. Motorsport fans might like the 400 Thunder
Professional Drag Racing Series, Australian GT, Formula Drift and other petrol head live streaming. OVO Play
also includes other sports like sailing and gymnastics. The price of the content is included in the monthly line
rental charge you pay OVO for your prepaid plan. So, importantly: You won't see your data balance decline while
you're watching them, the streamed content is free.
Free Streamed Audio:
OVO's plans also offer FREE radio streaming, also included in your plan offers access to the Tripple M network
and other selected stations.
OVO for Kids:
OVO's plans come with the offer of free access to Parental Lock software. Buy your child the $9.95 plan from OVO
and you'll be able to monitor what they access on their phone and set times for it to turn off and turn on it's
own connection to the internet.
OVO Plans for your mobile
Picking an OVO plan is simple. All of OVO's plans include Unlimited talk and SMS in Australia to Australian numbers plus
superfast 4G data.
You can learn more about them and their unique content in our OVO review.
What is a Minimum Total Cost (MTC)?
The MTC (Minimum Total Cost) plan feature has to be the most commonly misunderstood plan component in Australian telco.
What is an MTC ?
An MTC is a legal term used a lot by phone companies in their literature and documentation relating to contracts. By law, they have to show the Minimum Total Cost of any agreement you sign up to alongside the monthly spend. That's so you know what you're getting yourself in to overall. It's kind of like an APR in financial terms. It's a single number which you can compare equally across the phone companies to shop for the best deal.
What it is not:
A minimum total cost is not the maximum you will pay. It is a limit of a sort. It is the absolute least you will pay for the service you're getting from the phone company. It's a floor, not a ceiling. If your minimum total cost is $480 (say a 12 month agreement on a $40 plan) you could end up paying $500 or even $1000 (in theory) for the service over that time.
Extras:
The money you're charged on top of the MTC are for elective services. They're plan options, offered outside the 'core' of the service, which you might be charged for. These can include extra data, roaming fees and, in some cases, things like Voicemail. Check the specifics of your plan so you know what's included in that MTC.
You're tied in:
You are obliged to pay that minimum. This time, they mean it. They mean it to the point that, if you want to leave the phone company you sign the 12 month agreement with, early, you may have to them the remainder of the MTC – here, $480. Getting out of your agreement can be difficult when you are in contract. That means you may even have to buy your way out of the contract if you really want to leave, something usually only applicable to agreements which included a 'free' phone.
What's good about 12 month SIM Only contracts ?
Bonus Data:
The nature of the SIM Only plans we're discussing on this page is that they tie you in to a spend / data allocation agreement. For the phone company, the deal can be just as sweet as the deal you get. They want to tie you in so you can't leave (they call that 'churn') and they want to move you up to spend as much as possible with them (they call that 'ARPU' – the Average Revenue Per User.) You will see from each of the examples we've given on this page that the phone companies are visibly enticing you to them by each focusing on a single price point with a 'headline' data inclusion which will get your attention. Optus at $40 per month (MTC $480) offer a staggering 10 GB of data. That's pretty much the biggest allocation in the Australian market at the moment. Virgin, similarly, highlight the $50, 12 month price point offering 15GB ! Incentivizing people towards spending more in exchange for data they may not even use is the kind of very smart thinking that gets people promoted in phone company marketing teams.
You get prepaid and postpaid options:
Kogan Mobile have a series of 12 month prepaid plan options which offer you the best of both worlds. They are prepaid in nature – so you get all the benefits of prepaid plans but by committing to the spend in advance and for a year, you'll get the enormous data inclusions that this kind of agreement provides.
You get better value than paying for each month:
As you will see from the charts in this page, an equivalent spend on a SIM Only month to month plan will get you between 50% and 100% less data per month. An example might help. As I write this, Optus offer 10 GB of data on their $40 contracted plan and only 6GB per month on their $50 per month, rolling month to month agreement.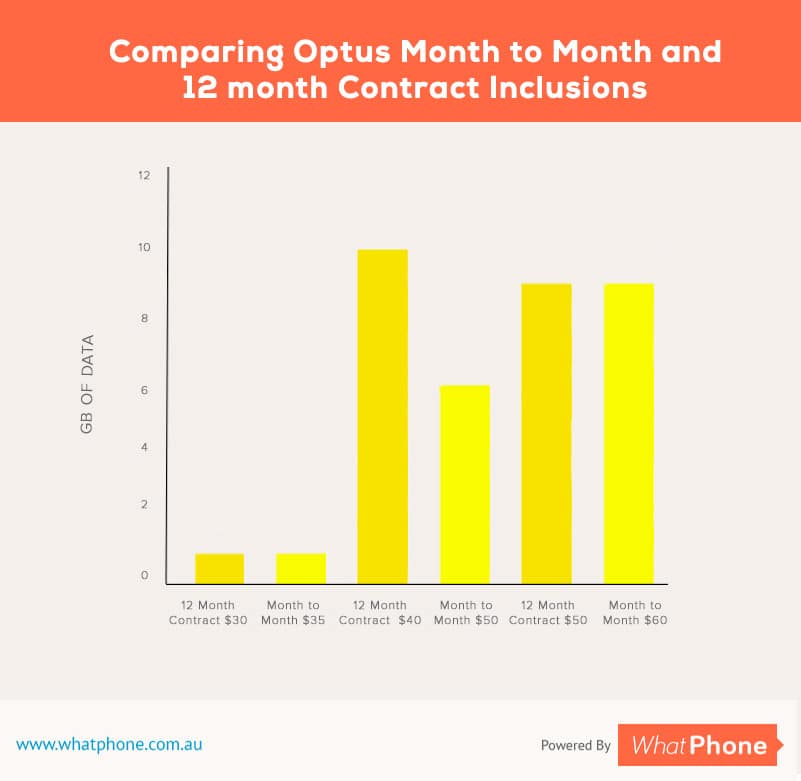 For many people, the best 12 month contract SIM Only plan is the one with the most data.
They match people's real buying behavior:
The reality of this situation is that most people don't have the time to compare phone plans and change phone companies every few months. This is one of the critical features of 12 month plans which is overlooked. If you know in your heart of hearts that you are not going to compare phone plan features and move providers more than once a year, then you may as well get the benefits of signing a 12 month agreement.
These plans open up entertainment options:
Entertainment on phone plans is a huge focus area for the big phone companies these days in their search to justify their pricing. 12 month contracts are likely to incude more of these value added services. It's simple maths. The phone company know they can rely on your custom if you sign up to a contract and they will invest more in keeping you around.
These days you get international minutes with these plans:
Signing up to a contract doesn't just increase the amount of data you will be offered as part of your phone plan. It gives you other advantages, too. Most of the plans we feature from the big 4 telcos on this page have International Minutes included. (Vodafone offer international minutes as an option in their 12 month contracts, which reduces the amount of data provided at a price point, if selected.) For Australians, as happy citizens of one of the world's most diverse cultures, many of whom still have families overseas, international minutes can be a useful feature.
You can share data between these plans:
Optus and Telstra both offer the chance for users to share data between users on their plans. Sharing data is not (yet) an option on any prepaid plans in Australia.
Best SIM Only <$30
What's bad about 12 month SIM Only contracts
Data deflation:
The major reason that most people don't take out one of the available contract option for their SIM Only or prepaid plan is that they're locked in on inclusions. As we have seen in other articles the phone companies increase the data inclusions their plans have regularly. They typically add between 50% and 100% per year to your month to month plan inclusions. Check out our chart here with actuals from the WhatPhone pricing archive.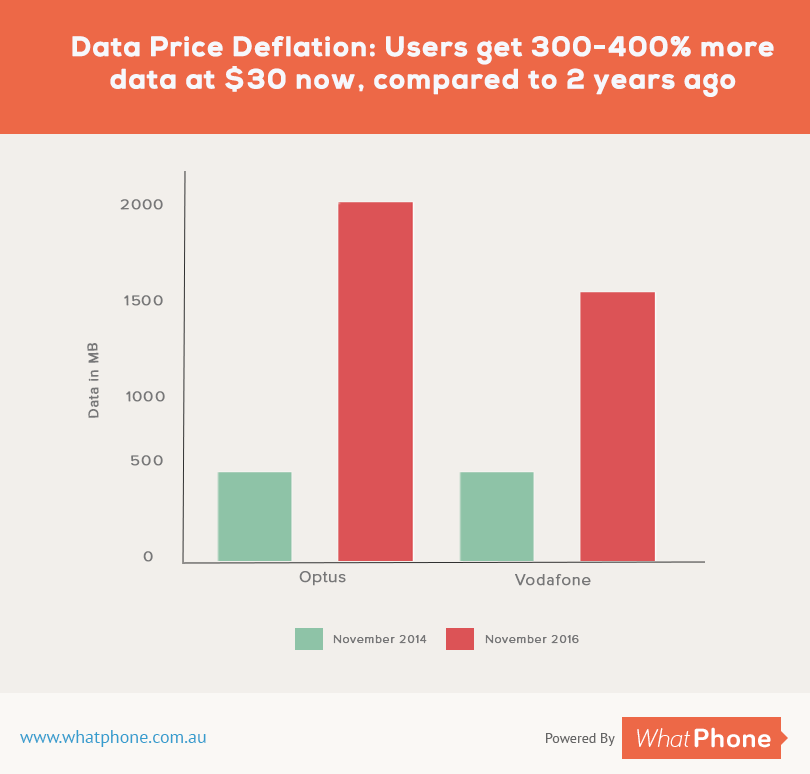 Even the best 12 month contract SIM Only plans tie you in for a year on the same data allowance.
Unforeseen moves and phone plan announcements:
In the weird world of phone companies, one never knows what will happen next. It is not beyond the realms of reason that something innovative which appeals to your needs will come out while you're under contract. If it does, you won't be able to move. Take the recent announcement of children's plans as an example or Boost Mobile's plans with extra data on the weekend.
Your usage is increasing:
These factors amount to being 'trapped' when you take a contract out. We're used to contracts obliging us to particular terms for short periods of time, like a year or two. We see it with credit card introductory offers and rental agreements. Phone contracts seem to fall under the same umbrella, right ? Sorry, but that's not the case. The difference between the agreement you have with your phone company and these other commercial entities we've mentioned is that your usage behavior when it comes to data is changing rapidly. Typically people use twice as much data at the end of each year as they do at the start.
Which 12 month contracts do we recommend ?
We recommend Optus and Virgin's 12 month contract options.
Summing up the best 12 month SIM Only contract options
12 month SIM Only plans are like agreeing a fixed mortgage with your bank. The rates are better but then you commit to a period, during which you can't leave, when a better rate may be announced – understanding that if it is, you won't be allowed to use it.
You can see the tactics clearly, from the charts. Each phone company is targeting a hero price point with their SIM Only contract plans. You will get data inclusions which seem incredible at this point in time, if you're prepared to take on that MTC.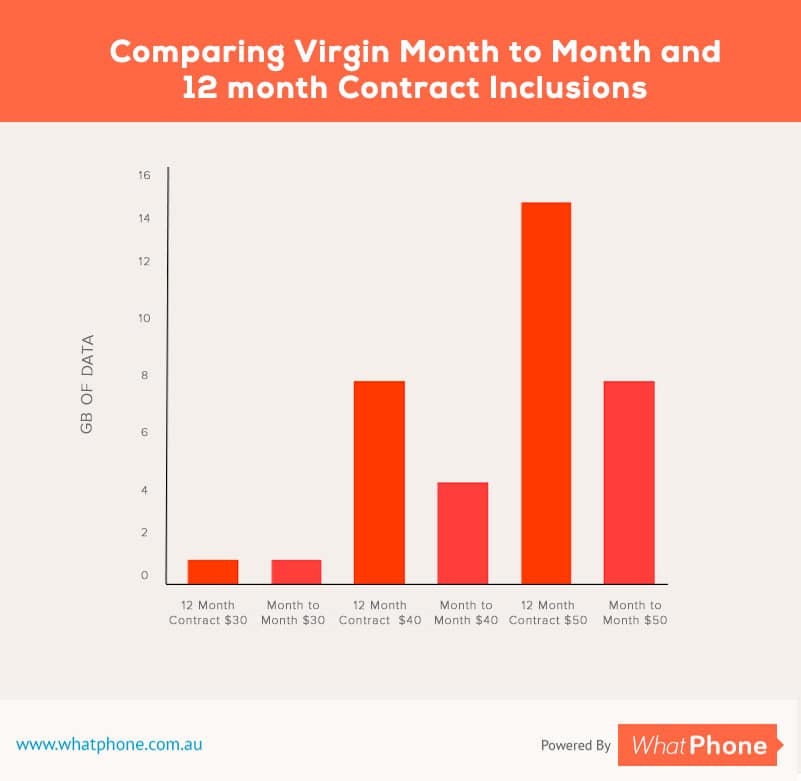 Compare Virgin's 12 month SIM Only plans with the competition.
These 12 month plans are popular. They are starting to feature in our top 12 plans section month on month, alongside the usual popular prepaid suspects from OVO Mobile and Boost Mobile.
When it comes to 12 month agreements, the summary is a simple one. We think it is hard to go past Kogan and their plans if you are a fan of the Vodafone network. Weirdly, they're prepaid contracts, two terms that, until Kogan launched them, had never been used to describe the same thing before. When it comes to the Optus network, both Virgin Mobile and Optus have plans which include value which is so incredible you needn't worry about the major threat, data deflation.
If we offer one word of caution, with these SIM Only 12 month contracts, it would be to consider your data usage. As we've seen above, the phone companies are trying to tie you in to agreements with the lure of a lot of data. In some cases, that means you're offered so much data you might never use it all in a single month. And there is always the risk that something incredibly funky will be launched in the next calendar month and you won't be able to get it because you're committed.
The counterpart to that risk is the satisfaction of knowing that you're getting some incredible value if you sign up and that you're doing something sensible. Most people simply do not have the time to compare plans more often than that.
This Month's Hot Offers