Why is Gorilla Glass important ?

Literally every mobile phone on the market has Gorilla Glass. It has becoming standard on Australia's ever broadening range of handheld phones, since the launch of the very first iPhone.
Screens which use Gorilla glass have been treated especially. Gorilla glass helps you to avoid scratches and breakages. Gorilla Glass by US glass manufacturer Corning keeps phones' faces in pristine condition. If you ever put your phone in your pocket with your car keys, read on. You are not the first person to worry about the lasting integrity of your phones screen. If your new mobile phone has Gorilla Glass, ( or one of it's new iteration, Gorilla Glass 2 / Gorilla Glass 3 ) you're far less likely to suffer broken or scratched screen.
The Galaxy S5 has Gorilla Glass
Where can I get a phone with Gorilla Glass
The best way to save money on your phone and plan is to buy the phone outright and add a SIM Only plan. Typically, people who buy their phones in this way save around 30% on their phone bills in the 2 years they would otherwise have spent with their phone company.
Best SIM Only Plans January 2019
Boost Mobile | Best Prepaid Data Rates On The Full Telstra Network

Prepaid | 28 day expiry | On The Telstra Mobile Network 3G+4G
Boost Mobile are a reliable brand. They are the only phone company other than Telstra to resell the full Telstra 'Retail' Network. With Boost you'll get:
The full Telstra Mobile Network
Other phone companies resell part of the Telstra Mobile Network. Only Boost and Telstra plans allow you access the whole thing.
Free streamed audio:
Data free streaming of Apple Music (requires subscription) on top of the data included in your plan.
A range that includes 7 day and 28 day plans: 
Boost offer a selection of plans including 7 and 28 day variants.
Recharge options from $10 to $50:
Boost have a total of 5 recharge options for their prepaid plans, ranging between $10 and $50.
Boost Mobile Plans For Your Mobile
All talk time and SMS for use in Australia to Australian numbers. All data is for use in Australia. You can learn more about this company in our Boost Mobile review.
Strong, Simple Plans & A Well Known Brand
Amaysim | Prepaid Plans | Optus Mobile Network 3G+4G
Amaysim are the 4th biggest phone company in Australia with over 1m customers. They consistently have one of the highest customer satisfaction ratings in the industry and have prepaid (28 day expiry) plan range – just select the option you want in their checkout. With Amaysim, you'll get:
Strong plan range:
Amaysim have a range starting at $10 per month and rising to $50 per month. Data inclusions are up there with the best available and, with Amaysim, things are nice and simple. You're just buying voice calls, SMS and data. There are no optional extras.
New International Inclusions:
Any plan you buy, starting at $30 per month will now include free International Calls to 12 destinations.
Great Customer Experience:
Amaysim are consistently one of the best performing†phone companies when it comes to customer satisfaction.
Amaysim's plan range:
You can find out more about this company in our Amaysim review.
Yomojo plans

Prepaid | 30 day expiry | On the Full Optus 4G Plus Network 
Yomojo are unique in the Australian market. They offer you an unbelievable range of plans. Yomojo's plans are completely configurable through their website. They also have some pre-configured unlimited plans for those who want a more standardised plan.
Prepay Plans :
Yomojo recently revised their plan range and now offer prepaid plans only.
Use the full Optus 4G Plus network :
Yomojo use the full Optus 4G network. You'll get the latest 4G speeds in 4G coverage areas in all the same places as customers who go to Optus direct.
Yomojo plans for your mobile
You can learn more about them and their unique content in our Yomojo review.
OVO Mobile – Free Video & Radio Content
Prepaid | 30 day expiry | On the Full Optus 3G and 4G Network 
OVO's offer a totally new way of looking at a phone company – they're one of our best selling partners. Their plans are, pretty much on a par for data inclusions with the best in the industry. In addition to talk time, SMS and data, OVO's plans include exclusive access to exclusive video content. All of OVO's plans come with 'OVO Play' an app which lets you watch their free content on your plan. With OVO, you'll get:
Free Video Content – Motorsport, Sailing, Gymnastics & Water Polo :
OVO offer a growing list of free video and audio content. Motorsport fans might like the 400 Thunder Professional Drag Racing Series, Australian GT, Formula Drift and other petrol head live streaming. OVO Play also includes other sports like sailing and gymnastics. The price of the content is included in the monthly line rental charge you pay OVO for your prepaid plan. So, importantly: You won't see your data balance decline while you're watching them, the streamed content is free.
Free Streamed Audio:
OVO's plans also offer FREE radio streaming, also included in your plan offers access to the Tripple M network and other selected stations.
OVO for Kids:
OVO's plans come with the offer of free access to Parental Lock software. Buy your child the $9.95 plan from OVO and you'll be able to monitor what they access on their phone and set times for it to turn off and turn on it's own connection to the internet.
OVO Plans for your mobile
Picking an OVO plan is simple. All of OVO's plans include Unlimited talk and SMS in Australia to Australian numbers plus superfast 4G data.
You can learn more about them and their unique content in our OVO review.
Kogan Mobile – Best Value on the Vodafone Network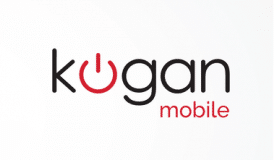 Prepaid | 30 day expiry | On the Full Vodafone 3G and 4G Network 
Kogan Mobile keep it simple. They have some of the most competitive SIM Only / Prepaid plans in Australia, on the much improved Vodafone network. With their multi month recharge options, Kogan add some genuine value and choice to the market.
With Kogan, you'll get
Monthly, quarterly or annual options : Do you want a single recharge payment with a 1, 3 or 12 month validity ? With Kogan, you'll get discounts for multi-month purchases you were going to make anyway. They add the convenience of less frequent running out / topping up. And they keep the total predictability and flexibility of prepaid.
Kogan's 30 day plan range :
Kogan's 30 day plans all have Unlimited talk and SMS in Australia to Australian numbers. The difference is the amount of data which is included.
All talk time and SMS for use in Australia to Australian numbers. All data is for use in Australia. See all Kogan Plans including 90 day and 365 day plans. You can find out more about this company in our Kogan Mobile review.
A specially treated screen is important in a phone

The move of virtually everything to be smaller, smarter and more mobile takes technology out in to the real world. Technology used to be kept in the home or server center. They kept it dry and cool inside. 20 years ago, you couldn't go out with your computer, it was too big for a start. These days, you've got more processing power in your smartphone than landed the Apollo team on the moon. Most people expect to be able to throw their phone in a bag, drop it on to concrete, from a height of a meter and generally treat it mean. They they expect it to shine up like new.
Origins of stronger glass in phone screens

The iPhone was a totally new type of phone. Never before had such a proportion of a phone been given over to screen and a touch interface. Prior to the launch of the original iPhone back in 2007, they discovered, while using a prototype iPhone, that they had a problem. In real life situation ( specifically, when their testers put their phone in their pocket with keys ) the screen on the device could get scratched.
Apple went hunting for a stronger type of screen glass and came across a manufacturer based in Kentucky in the US, called Corning. Corning had invented a better type of glass which ended up being called Gorilla glass. Apple bought a lot of it for the iPhone and since, Gorilla Glass has become the standard for higher end smart mobile phones.
Gorilla Glass currently ships on more that 750 brands' devices and more than 20% of all Smartphones globally have Gorilla Glass screens. In 2014, 7 years after the launch of the iPhone, Corning released Gorilla Glass 2 – 20% thinner and lighter than the original Glass. Corning are constantly innovating to make their Gorilla Glass stronger, lighter and better value.
Phones that have toughened glass

Right now, every phone on our site has Gorilla Glass. It's become the standard and, if absent in the phone line up, would be considered a strong negative differentiating factor that would cost the manufacturer sales.
How is it made and how durable is it ?

Gorilla Glass is chemically tempered glass. Base glass is put in to a potassium salt bath. The sodium ions in the outer layers of the glass is displaced by larger potassium ions in the mixture. When the glass  cools, the larger ions are forced together. It's this comprehensive strength that gives the glass it's durability.
The scale of hardness is measured in Mohs ( a scale from 1 – 10 )
Talc is a 1.
The human fingernail : Around a 2.
Normal glass is a 7.
Sapphires & Gorilla Glass are a 7.
Diamonds are a 10.
What is Gorilla Glass used for ?

Gorilla Glass is used for anything portable with glass in it. It shows up in Smart screens, tablets, laptop screens, watch faces and other gadgets and gizmos of the same sort. It isn't indestructible but it's improved things a lot. The glass in our mobile devices is stronger and lighter than it used to be without being as fragile.
So, when you're deciding what phone is right for you, look for Gorilla Glass and you'll be able to take your new technology with you, out in to the real world without worrying about keys in your pocket.
This Month's Hot Offers
See all SIM Only plans
If you need another network, for example you're after an unlimited plan with Telstra coverage, or you live in a city and you're happy with Vodafone, you might like to check our SIM Only Comparison page and compare all the plans ( including every one mentioned on this page. )
COMPARE ALL SIM ONLY PLANS