Will you save money if you take a family plan ?
They key question is : Will you save real money by signing your family up with a family deal from one of these providers ?
We answer this below. In order to figure it out, we've taken a look at what family plans are, how they work, their pros and cons and examine the alternatives.
Family plans were born because we're spending longer in our Digital Lives
70% of individual Australians use 3 or more devices to access the internet. Estimates for the number of tablets, phones and laptops held by a single family in Australia vary between 4 & 7. The continued increase in the number of ways to access the internet represents an opportunity for the phone companies. Whichever of them can provide the data and data management tools required by ordinary people to live their connected digital lives will make the most money. It's not hard then to see why Family Plans are the newest addition to the range of products being marketed.
Best SIM Only Plans May 2018
Boost Mobile | Best Prepaid Data Rates On The Full Telstra Network

Prepaid | 28 day expiry | On The Telstra Mobile Network 3G+4G
Boost Mobile are a reliable brand. They are the only phone company other than Telstra to resell the full Telstra 'Retail' Network. With Boost you'll get:
Boost Mobile Plans For Your Mobile
All talk time and SMS for use in Australia to Australian numbers. All data is for use in Australia. You can learn more about this company in our Boost Mobile review.
Belong Mobile | Fairest For Data

Postpaid | Month to Month agreement | On The Telstra Mobile Network 3G+4G
Belong sell access to the Telstra Mobile Network. They have a simple to understand plan structure with options on data, national ($5 extra) and international calls ($5 extra.) Belong also offer the fairest treatment of data that any phone company in Australia have. a 'data vault' feature. Whatever data you buy, is yours, forever. It just keeps rolling over until you use it or leave them.
With Belong, you'll get:
Belong Plans For Your Mobile
All talk time and SMS for use in Australia to Australian numbers. All data is for use in Australia. You can learn more about this company in our Belong Mobile review.
Strong, Simple Plans & A Well Known Brand
Amaysim | Prepaid Plans | Optus Mobile Network 3G+4G
Amaysim are the 4th biggest phone company in Australia with over 1m customers. They consistently have one of the highest customer satisfaction ratings in the industry and have prepaid (28 day expiry) plan range – just select the option you want in their checkout. With Amaysim, you'll get:
Strong plan range:
Amaysim have a range starting at $10 per month and rising to $50 per month. Data inclusions are up there with the best available and, with Amaysim, things are nice and simple. You're just buying voice calls, SMS and data. There are no optional extras.
New International Inclusions:
Any plan you buy, starting at $30 per month will now include free International Calls to 12 destinations.
Great Customer Experience:
Amaysim are consistently one of the best performing†phone companies when it comes to customer satisfaction.
Amaysim's plan range:
You can find out more about this company in our Amaysim review.
OVO Mobile – Free Video & Radio Content
Prepaid | 30 day expiry | On the Full Optus 3G and 4G Network 
OVO's offer a totally new way of looking at a phone company – they're one of our best selling partners. Their plans are, pretty much on a par for data inclusions with the best in the industry. In addition to talk time, SMS and data, OVO's plans include exclusive access to exclusive video content. All of OVO's plans come with 'OVO Play' an app which lets you watch their free content on your plan. With OVO, you'll get:
Free Video Content – Motorsport, Sailing, Gymnastics & Water Polo :
OVO offer a growing list of free video and audio content. Motorsport fans might like the 400 Thunder Professional Drag Racing Series, Australian GT, Formula Drift and other petrol head live streaming. OVO Play also includes other sports like sailing and gymnastics. The price of the content is included in the monthly line rental charge you pay OVO for your prepaid plan. So, importantly: You won't see your data balance decline while you're watching them, the streamed content is free.
Free Streamed Audio:
OVO's plans also offer FREE radio streaming, also included in your plan offers access to the Tripple M network and other selected stations.
OVO for Kids:
OVO's plans come with the offer of free access to Parental Lock software. Buy your child the $9.95 plan from OVO and you'll be able to monitor what they access on their phone and set times for it to turn off and turn on it's own connection to the internet.
OVO Plans for your mobile
Picking an OVO plan is simple. All of OVO's plans include Unlimited talk and SMS in Australia to Australian numbers plus superfast 4G data.
You can learn more about them and their unique content in our OVO review.
CHECK  OVO MOBILE SIM PLANS
Kogan Mobile – Best Value on the Vodafone Network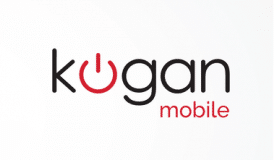 Prepaid | 30 day expiry | On the Full Vodafone 3G and 4G Network 
Kogan Mobile keep it simple. They have some of the most competitive SIM Only / Prepaid plans in Australia, on the much improved Vodafone network. With their multi month recharge options, Kogan add some genuine value and choice to the market.
With Kogan, you'll get
Monthly, quarterly or annual options : Do you want a single recharge payment with a 1, 3 or 12 month validity ? With Kogan, you'll get discounts for multi-month purchases you were going to make anyway. They add the convenience of less frequent running out / topping up. And they keep the total predictability and flexibility of prepaid.
Kogan's 30 day plan range :
Kogan's 30 day plans all have Unlimited talk and SMS in Australia to Australian numbers. The difference is the amount of data which is included.
All talk time and SMS for use in Australia to Australian numbers. All data is for use in Australia. See all Kogan Plans including 90 day and 365 day plans. You can find out more about this company in our Kogan Mobile review.
Great Value Data & Best For International Calls
Prepaid | 30 day expiry | On the Full Vodafone 3G and 4G Network 
If you're after an unlimited plan with incredible data inclusions, or you make calls overseas, in our view, you need look no further than Lebara. Lebara use the much improved Vodafone 3G + 4G network which covers more than 96% of Australians. With Lebara, you'll get :
Big Data on the Vodafone 3G + 4G network:


Lebara's plans include enough data for even the most ravenous data eaters.

Broad Range Including Plans With International Calls:
Lebara have Unlimited International Call plans at $29.90 and $49.90 price points. Lebara's cheaper international call rates cover all the major destinations including : UK, USA, Greece, China, Canada, Germany, Denmark, France, South Korea and Switzerland. (Inclusions vary, see our review.)
Multi-Month-Options:
Lebara have 30 day plans, 180 day plans and 360 day plans. Buy up-front and save.
Lebara's prepaid plan range:
You can find out more about this company in our full Lebara Review.
Vodafone has their own 'flavor' of Family Plan
Vodafone bought their version of the family plan to market back in February the same year. At the time, Loo Fun Chee, head of marketing at Vodafone Australia said customers who chose Vodafone for their family plans could save up to $200 per year using them.
Vikki Brady, Head of Optus Customer Experience said at the Optus launch "We believe there are around one million households that would want to sign up for family sharing [and] the average household has 4.3 devices that families can share," ( She was quoting their own internal research. )
Family plans are a new way to save money on multiple SIMs
Currently around two thirds of telco customers are using less than 50 per cent of their monthly data inclusions, apparently. Data is both the most valued feature in phone plans  and the component which is hardest to manage. That's especially true for younger users. 18-20 year olds use 2.7 times more data than those over 45 years old.
On the face of it, Family Plans are a good scheme. Without them, most members of the family could waste some of their bundle while one person exceeds their allowance. This is the problem Family Plans have been designed to solve :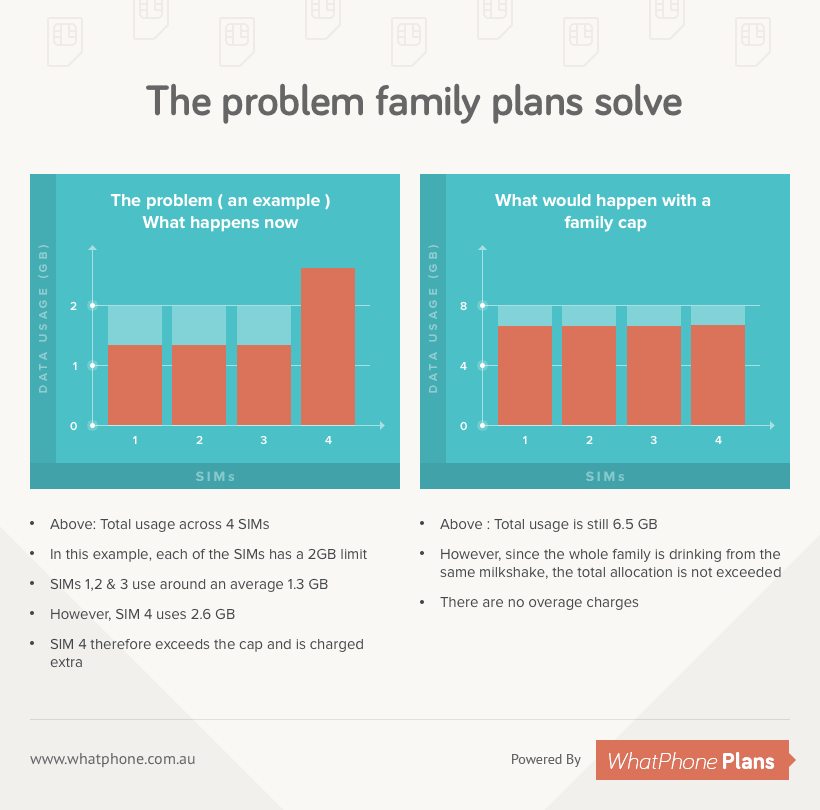 How do family plans work ?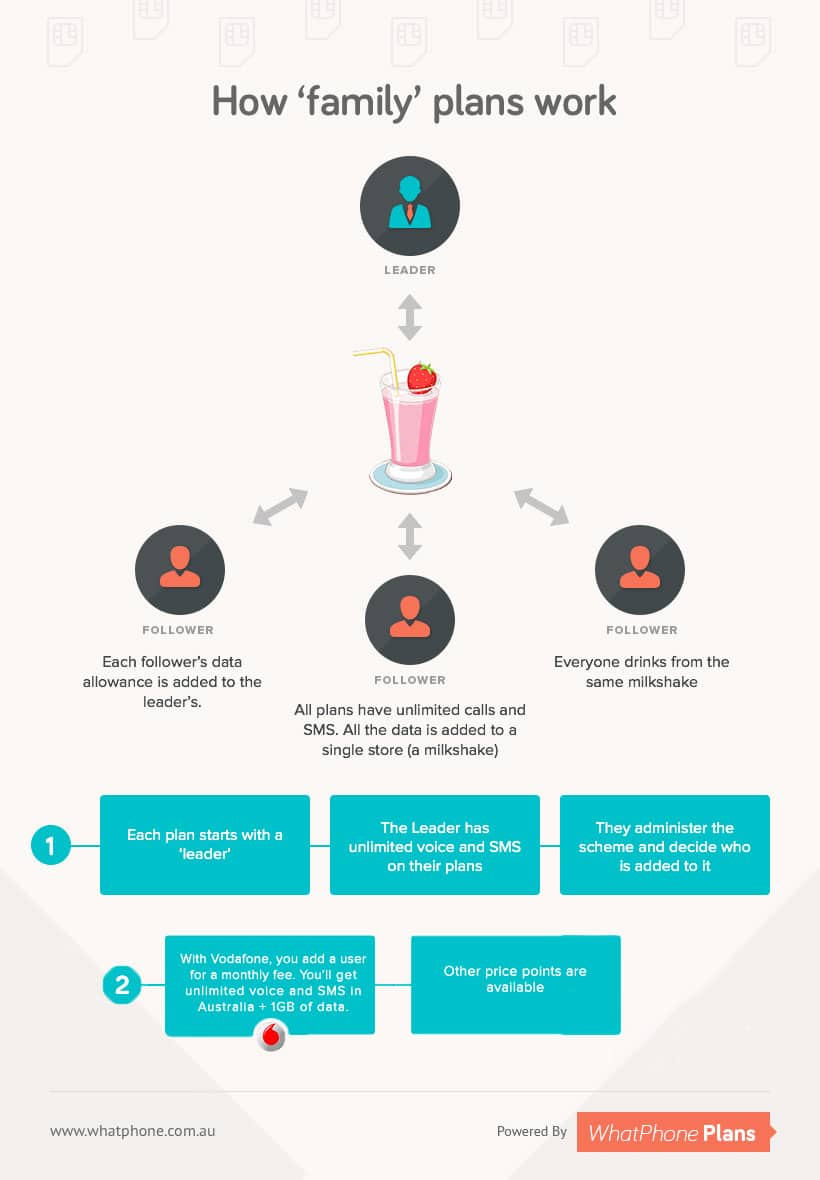 Here are the mechanics of the family plans offered by both Vodafone and Optus.
They have a pool of data for the family to share :
The key attractive element of a shared plan is the shared data allowance. The best way to describe it is to think of the data allocation as a milkshake the family can share. Every family member gets a straw.
A single bill :
All the phones from a single household go on to one bill administered by the 'Leader'. The Leader has their account set up first and to the degree anyone is, in a family, is in charge of the set up.
Keep adding family members :
Whoever you choose for your family plan Leader, you can add The Brady Bunch as extras. Optus have a maximum of 6 SIMs on the account. ( Optus leader + 5 ) Vodafone have a maximum of 11. ( Vodafone leader + 10 ) There is a minimum charge of $30 to add a SIM with Vodafone ( you'll get 1GB ) and a minimum charge of $40 with Optus.
Everyone gets unlimited SMS and voice :
Each SIM added to the family plan comes pre-enabled with unlimited national SMS and voice minutes to any network. There may be a cost of $5 per device to connect : Vodafone does not charge a fee to connect people to the service. Optus charges $5.
Still tied in with data top ups :
Overage is still $10 per GB, charged in 1GB increments.
Data workout is still included :
Vodafone still offer their 'data workout' plan feature which gives every SIM on the account unlimited data for the first 2 months of the agreement.
Vodafone :
The leader has to be on 12 / 24 month Red plan.
Some things aren't shared :
International minutes and access to premium services like video on demand are not shared between the SIMs on the family plan
How Optus explain their Family Plan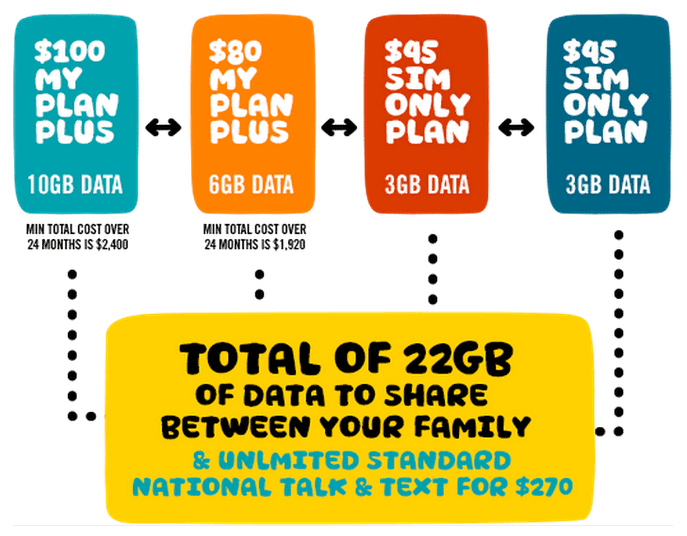 What are the alternatives to family plans?
You know what the alternative is to family plans because you've been using it / them for years. The alternative is take out individual plans for each family member. Your options include :
Prepaid for the kids :
Prepaid plans offer complete cost predictability and are often deployed to avoid big bills for kids.
Cheaper plans from alternative providers :
You'll see these on many of our comparison pages. Smaller phone companies like Amaysim and Bendigo offer better pricing and often access to exactly the same networks. Many of these plans are available as either prepaid or postpaid variants.
Good things about Family Plans
Clarity of plans :
The table stakes for getting a shared data plan is that national voice and SMS services are all included already in your monthly cost. To you, this means there's going to be no bill shock.
One bill :
Having a single company whose bills you have to manage makes things much simpler. Administration of the account is easier and you are likely to have more leverage with them if you ever have a complaint.
Multi-play discounts :
Optus offer you further discounts on their mobile services if you tie their purchase in it in with your fixed line ( broadband or phone ) service. Do this and you'll get another $10 per month off.
More transparency :
The reporting tools which are available from the phone companies to help you understand the data usage of all the SIMs on your account are extremely strong these days.
Less waste : Instead of multiple family members using only a proportion of their allocation, through better management and information plus pooling of low and high users, it's possible to use your allocation more efficiently.
Bad things about Family Plans
Huge data :
The data allowances they're including in their plans are probably more data than you need. The data allocation in these plans is large to the point of silly. This is far more than people are currently using. Average usage  for someone with a smart mobile phone is only around 1.5 GB per month at the moment. It is true that average usage is increasing rapidly but, the lesson here is to ensure you are only paying for the data you need.
You're tied in :
By far the worst thing about them is that family plans ( and bundle discounts ) tie you in to a single company. Once the problem is solved, and people are signed up, most people stop shopping around at all. Which is, of course, why the companies offer these discounts. Internally, the measure of customers which leave phone companies is known as churn. The more products people have with a single phone company, the less likely they are to leave. Imagine the administrative difficulties of unpicking a contract with Optus if you need to wait until the broadband contract finishes AND a 24 month phone contract finishes ! You know as well as I do. You're just not going to bother changing.
Better deals on single SIMs :
As you can see from our infographic, Optus' entry point for a SIM Only plan with 1.5 GB of data is $40 ! For just $5 more, you could get 5GB of 4G data on exactly the same network using Amaysim. There are better offers on the Telstra network from Boost and Cmobile.
These plans are postpaid only :
At the moment, neither of the Family plans from Optus or Vodafone allow the addition of prepaid plans.
Existing customers have to move to the new plan :
Nothing happens automatically, you have to call Vodafone or Optus and get yourself moved to the family plan.
Laziness :
It's more than possible that once this is set up, you will be stuck with them for a long, ling time because you're so busy you'll never shop around again.
Will you save money with a family plan ?
Sorry but the answer's 'Yes and No' :
1. Yes. Compared to multiple, separate agreements from Optus or Vodafone you will save money :
Having a shared plan is going to save you money compared against the same products from the same company. If you compare the options of having multiple separate lines with Optus or Vodafone to the option of having a family plan with either then you're going to save money.
2. But. If you bought separate SIMs from cheaper providers you'd save more :
There are cheaper alternatives on the market which will give you more data and still cost you less. We've included some with significant data allocations at the bottom of this article. You can find more on our 'Unlimited plans' page.
3. In either case, measurement of usage is the real issue – so address it :
Remember, you're going to use more data over time. This scheme is designed to oil the slippery slope of growth in your data usage habits. If you're confused about that take a look at the fact that the phone companies are offering you're a free subscription to streaming high def video. This is the free bus to the RSL !
Problems with Shared Data Family Plans & An alternative
As we've said, in many circumstances, family plans can make sense. That's not to say, however, that they're right for everyone. If people are not using their data allocations, they can be more efficient by determining the individual data usage of each member of their family.  It's not hard to do.
How Android phones show user data usage: If you have an Android phone, you'll find historical data usage under settings.
How iPhones show user data usage: The data management facilities of iPhones are not quite as good, at least as things stand. There are, however, a number of third party, free to download data measurement apps which can be installed on iPhones, which will do the same thing.
Use the self service app your phone company has given you: Installing and checking the Self Service app from any of the phone companies will give you good insight in to how much data each phone / SIM is using.
More on this subject in our article 'making the most of your phone data.'
The biggest problem with shared data plan is a lack of personal responsibility for each person's data use. If your child knows they can use as much data as they want to and it will come off your bill, they're likely to use more data! This is known as The tragedy of the Commons.
So what's the alternative? Well Yomojo, a prepaid provider on the Optus 3G and 4G network offer a solution which might appeal to parents who want to instill a sense of budgeting and personal responsibility in to their kids. Yomojo's plans provide a 15% discount on the second SIM you get and put on to the same account. It's a unique feature in telco – only Yomojo offer it – although we're used to 'bulk buying' discounts in other areas of our lives.
If you have multiple devices in your family and you want a discount, consider Yomojo as an alternative.
Summing up
Family plans are another step towards the intelligent management of data. They're and a feather in the cap of both Optus and Vodafone's Product Management teams for bringing them to market so early. Yomojo's approach is different but provides a dollar discount, rather than incentivizing more data use at an individual level.
Family Plans are probably just the first incarnation. The first cab off the rank is offering a new 'Product' ( Family Plans ) to multiple people in a family. Further down the line, the principal can be assigned to multiple SIMs for an individual to cover things like the SIMs in their car, boat, umbrella and laptop as everything gets added to the bill.
In our view, a better way to manage data usage ( than grouping it in to a family plan ) is to make yourself aware of your own using the app from the phone company. If the real problem you have with data is usage, then a shared plan insulates you from the effects, it doesn't solve it.
We advise that you consider alternative plans from smaller phone companies. They give you data allowances which are so much bigger than Optus or Vodafone, there is no need to share data. They avoid the problem of encouraging usage by avoiding responsibility for it too ( because everyone pays their own bills. )
Best SIM Only <$30