Making the right choice on the phone plan could be all the difference between sheer satisfaction and dissatisfaction. Source
What is a mobile phone plan and why is it important?
A mobile phone plan is a paid service plan between a telecommunications operator and a subscriber. The telco provides a paying subscriber access to services on their wireless cellular networks, such as voice, text, and data. Voice plans cover incoming and outgoing voice calls, text plans cover all text and multimedia messages, and data plans cover internet usage.
In today's world, a cost effective and efficient phone plan could be all the difference between sheer satisfaction and discomfort in the day-to-day activities of many. Nowadays, we are more connected than before. The advent of numerous IoT (Internet of Things) devices and numerous other technological knick knacks inadvertently means that many more individuals are spending time on their phones and using data plans.
What is the best phone plan in Australia?
The best phone plan really depends on your needs. What's best for you should balance the features and services you want in a plan, as well as the value. For some, features may be the focal point, while others may consider costs as the key factor.
The Australian telecommunications market is worth over $44 Billion. ) It is an incredibly diverse market with equally diverse needs. In order to adequately cater to these diverse needs, major telcos and MVNOs alike have created a myriad of phone plans for Australians to choose from. To help narrow down your choices, we've created a tool to help you compare the many available phone plans.
Types of phone plans
There are three major types of phone plans: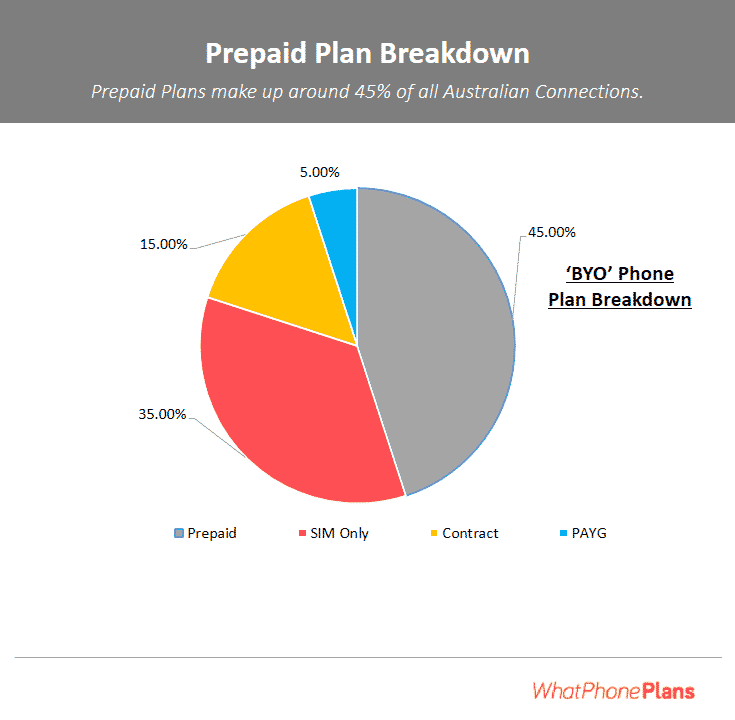 Prepaid plans take up 45% of the Australian mobile phone service plan market. Source: Whatphone
Factors to consider when picking a phone plan
You should consider a number of factors when shopping for a phone plan, such as:
Final words: The choice is yours
Mobile phone plans are only as valuable as those who subscribe to them. Figure out what you need, and there's a great chance that a phone plan out there will meet those needs. If you're looking for a plan that's packed with inclusions, those are available but will likely be pricey. For basic features such as voice, SMS, and data, there are a myriad of cheaper plans. For those looking for entertainment, such plans exist as well. Your definition of value will determine what plan is best for you. For some help, you can compare phone plans here to help narrow down the many choices.
Sources