Who are Lebara ?
Lebara are known for their value when it comes to unlimited plans and international calls.
Lebara are one of a few smaller Australian phone companies. Smaller phone companies are sometimes called MVNOs and we've written about them a lot. That said, although they're small relative to the main phone companies like Optus, Telstra and Vodaofne, Lebara are a well known brand in Australia. You've probably seen them every time you've bought petrol or the paper for the last few years.
They're almost certainly bigger than you think. Lebara operate the better part of a dozen phone companies in various, mostly European, countries around the world. They employ a total of about 1500 people ( that's worldwide, not just in Australia. ) Lebara are known for their value when it comes to unlimited plans and international calls.
Lebara are a prepaid SIM provider ( not sure what prepaid means or how it compares to other types of SIM Only Plan ? Read our article on how to compare prepaid plans vs month to month vs on account. In Australia, Lebara have been operating for 6 years so they're not going to run off in the middle of the night with your recharge value.
Perhaps most importantly, they've won 'Best of the best' awards for their international calling price plans and they offer an unlimited voice and SMS plan for as little as $29.90 which comes with a pretty sizable 2GB of 3G data. Here's a bit more background in case you need it before you buy.
Lebara use Vodafone's 3G network
As a smaller phone company, Lebara do not own the network they sell. Lebara resell the Vodafone network which, given the network problems Vodafone have experienced, goes some way to explaining why their pricing is so sharp.
As well as providing access to the Vodafone network at rates better than Vodafone themselves offer, Lebara have an additional string to their bow. Lebara have negotiated substantial discounts on calls to other countries, from your Australian mobile. These are international rates you won't even get with Vodafone.

Lebara's / Vodafone's network coverage has improved a lot recently
We've written extensively about Vodafone's network improvements ( link to Vodafone network review ) over the last 3 years. Vodafone coverage has improved dramatically, particularly in Australia's capital cities. However, we need to be realistic about it. Vodafone's network covers 96% of the Australian population. Optus covers 98.5% and Telstra 99.3%.
The short version of all the research and our longer articles is that Vodafone's 3G network is very good in Australia's main cities. If that's where you live, we recommend that you seriously consider Lebara.
Want the best value Unlimited Voice and SMS plan in Australia ?
In our view, Lebara have the best value unlimited plan in Australia. We recommend these Lebara plans :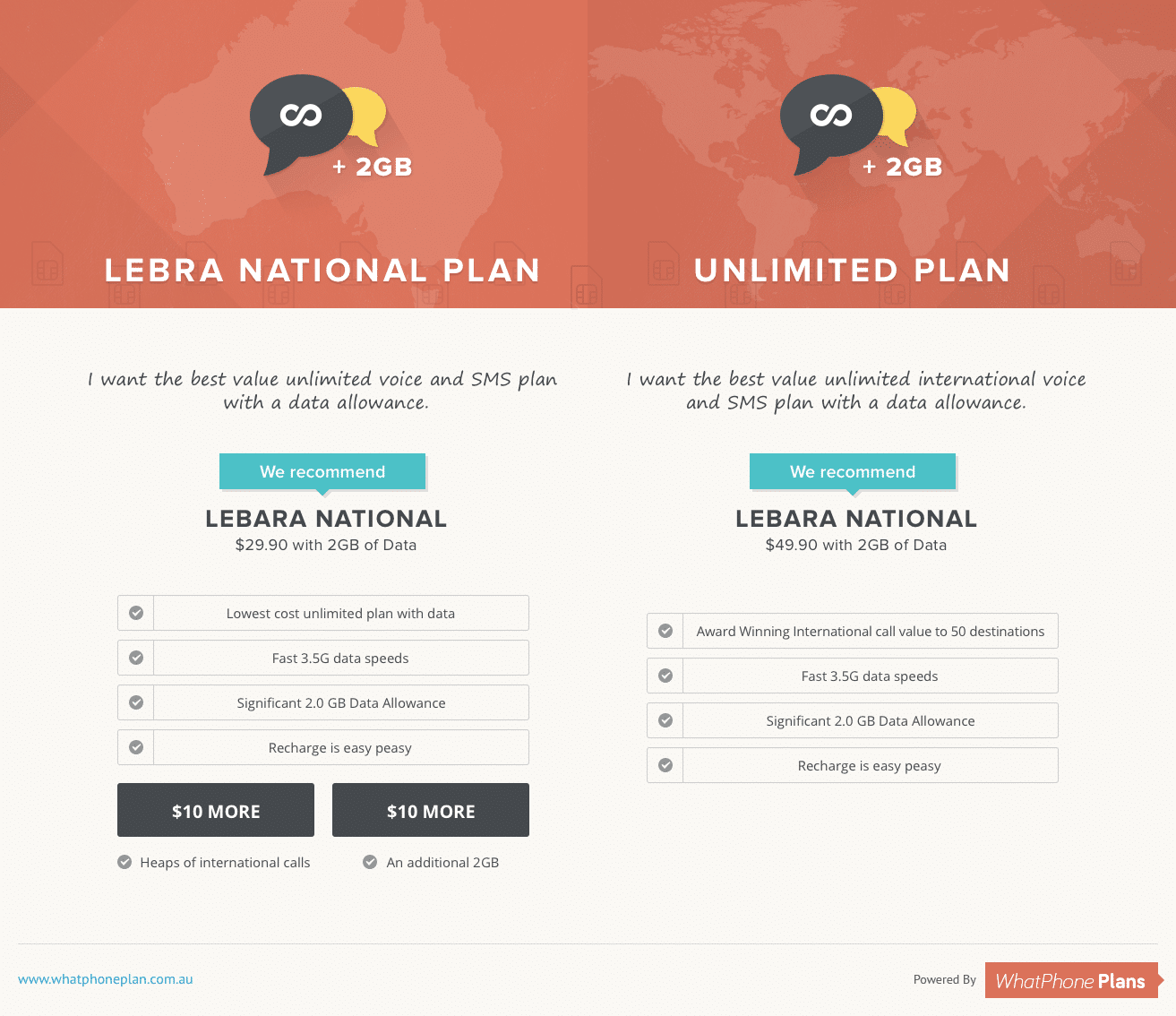 This is the lowest price on our site for a plan which has unlimited Australian voice calls and SMS, anywhere in Australia. It'll give you :
Unlimited voice calls to Australian numbers :
Included calls to Australian mobile and landline phone numbers on the Vodafone 3G network which covers 96% of the Australian population. 13, 18 and voicemail included.
Unlimited SMS :
Unlimited National texts.
Big Data :
2 GB of 3.5 G ( see below ) data every month. Average usage is substantially less than 2GB so you should be fine with this.
Prepaid :
Valid for 30 days from recharge purchase. Prepaid is totally flexible and totally predictable.
Lebara's cheaper international call rates cover all the major destinations including : UK, USA, Greece, China, Canada, Germany, Denmark, France, South Korea and Switzerland.
Best value for overseas calls :
If you need to make calls overseas, Money Magazine awarded this plan the best value plan for that in Australia.
50 international call destinations :
Unlimited voice and SMS to 50 destinations including India, China, Vietnam, Sri Lanka, Thailand, Philippines, Malaysia, Pakistan, Lebanon, Bangladesh, UK, France, Greece, Italy, Germany. See the full list.
Unlimited National Voice and SMS :
Call who you like when you like and you can text them too. All day every day. These are genuinely unlimited allowances.
Enough Data :
2GB of 3G data on the Vodafone network.
What are Lebara's international rates like ?
Lebara's international rates are very good. Obviously, information about the countries you can call changes all the time so you're best checking Lebara's website for details of international pricing. However, as an example, if you take the $29.90 National Plan and add an additional $10 recharge, you'll get unlimited calls to the UK, USA, China, South Kora, Israel, Venezuela, Denmark and so on an so on.
Lebara won the best of the best Money award for their international plans so…. There's kind of not a lot more to say about the rates and how they compare to the competition.
What's good about Lebara's plans ?
Lebara use a great metro focused network and offer the most affordable unlimited plans with a data allowance in Australia. They also have the best international rates we know. But these are not the only reasons we recommend them :
Low cost SIM Only provider :
The vast majority of the Australian market is now SIM Only focused. Hand me down phones and eBay bargains mean more people every day are looking for a SIM which gives them pricing which is as good for their plan as it was for their handset. Among the low cost SIM Only providers in Australia, Lebara are unique. They have the best Australian Unlimited pricing and best international rates.
Fast Data :
3G is fast data – fast enough to let you watch a You Tube clip although it might be a bit jerky from time to time. 4G is superfast data – probably faster than your home broadband connection. The speeds Lebara give you are 3.5G. That's somewhere between 3G and 4G.
Australia's most affordable all you can eat plans : Lebara offer an unlimited plan for $29.90 which includes 2GB of 3G data. It's the best value we have on our site.
Prepaid Plans :
Prepaid plans offer totally predictability when it comes to cost. The very most you will spend before your next bill is the amount you recharged this time.
Flexible Plans :
You can recharge your Lebara SIM with any of their plans simply by visiting their online self service area or texting a code to them from your phone. If you're not sure whether Lebara have coverage in your area, we recommend using their coverage checker. If you do take a SIM and you don't get coverage, at least you're not locked in to a 2 years long contract.
A range of contract options :
We haven't covered all of Lebara's plans or contracts here. There are too many to clearly communicate them all in one go. We have tried to pick out the best value plans for you and provide some 'rules of thumb' which will help you quickly navigate to the right plan for you. Lebara do, however, offer these same prepaid plans as postpaid contracts with a substantial discount in exchange for your commitment.
Easy recharge :
Recharging is a key component of any prepaid plans and, luckily, Lebara make it easy :
Credit card recharge:
Online, IVR (by calling 126 123), CRM by calling customer care (126 122)
Physical scratch voucher or e-voucher:
Online, IVR, CRM, SMS (by sending pin number to 126 172) and mobile app
Moving Plans:
Lebara allow customers to opt in to plans using their main balance. For instance, a customer with $40 main balance can send MEGA to 126172 and a $39.90 mega plan will be applied (they will have $0.10 main balance remaining)
What's not so good about Lebara's plans ?
Coverage outside cities could be better :
Vodafone coverage is not as good as Optus' or Telstra's outside the major Australian cities. If you need an unlimited plan and you travel in rural areas, check out Boost Mobile.
Lebara's data is not 4G :
If you're after an unlimited plan with 4G data speeds, we recommend Yatango. Yatango is more expensive but, if you've got one of the latest iPhones, or latest Galaxy devices, Yatango might be a better fit for you.
1MB Data Rounding :
Some providers offer per kB charging for their data plans. To be fair, it's less and less common for phone companies to offer per kB charging. It is preferable when they do charge per kB. Struggling to understand what it means ? Whether it's Kb or MB charging, your data session will be rounded up at the end of the surfing or downloading you're doing. Imagine your data allowance was $2000 instead of 2GB. The best analogy is if the shop you buy your groceries with that $2000, always rounds up to the nearest dollar ( MB charging ). It's fine if you've spent 99 cents. But if you've only spent 50 cents and they round it up to a dollar, it starts to add up. By the end of the month, you're more likely to have reached your limit than if the same shop had rounded up to the nearest penny ( kB charging. )
Lebara's plan range can ( in our view ) be slightly confusing :
We've tried to break down the plans and show the most popular here. Picking a price plan is not an easy business. Unfortunately, to a degree, Lebara are a victim of their own success here. The great thing about Lebara is that they offer cheaper international calls and affordable national unlimited plans. The international aspect is an additional layer of complexity to the pick a price plan bit which was none too easy in the first place.
How do I make sure I never run out of prepaid Lebara credit ?
There are a couple of ways to make this painless. By far the easiest way is to go online and recharge there using a credit card.
You can also use your credit card by calling 126 123 or by calling customer care 126 122
Finally, you can buy a physical voucher in store when you're buying petrol or stamps. You can then use that voucher to recharge Online, IVR, CRM, SMS (by sending pin number to 126 172) and mobile app
Summary – should you go with Lebara ?
If you live in one of Australia's major cities, and you either want a plan which has unlimited voice, included international calls or both, we recommend Lebara.
Keep an eye on your data utilization ( they use MB charging ) through Lebara's online self service portal or your own phone's data counter. But, apart from that. Our advice is unqualified.
FAQs
Which network does Lebara work use ?
What's an MVNO ?
MVNOs are smaller phone companies which rent access to a phone network without owning it themselves. We have written extensively ( link this article to the MVNO explained article ) about them. Lebara is an MVNO. The difference to you doesn't mean a lot. Buying a plan from an MVNO represents an affordable SIM Only alternative and, if you call overseas, you probably don't want to look further than Lebara.
Is voicemail retrieval and deposit included in the unlimited plans ?
Yes.
Are 13 and 18 numbers included in Lebara's unlimited plans ?
Yes they are.
How is data charged on Lebara's unlimited plans ?

Data is charged in per MB chunks. That means that your usage will be rounded up to the nearest MB at the end of each data session. See above for our best shot at an analogy to help explain this thorny issue. But rest assured, a 2GB data allowance ( 2GB is the minimum inclusion in any of the plans we recommend ) is way above average for any phone in the Australian market at the moment.
What is the $10 Save Plan ?
The $10 Save Plan http://www.lebara.com.au/save-plan is a quick and easy way to get started with Lebara. You'll get unlimited calls to other Lebara numbers and you'll pay as you go to call overseas destinations. Rates vary so check them out here : http://www.lebara.com.au/save-plan
What is the Mini Mega Plan ?
If you make a lot of international calls and don't call anyone in Australia then you should go to the pub to make some friends and buy a
Mini Mega Plan
for when you get home. The
Mini Mega plan
gives you a huge allowance of international calls and charges you only for flagfall. Logically, you'd buy this one if you made a smaller number of very long calls overseas. In reality, you're probably safer with the all you can eat International plan in our view.
Why is Lebara's Unlimited plan so much better value ?
Well, first of all, it's an unlimited ( voice and SMS to Australian numbers ) plan for less than $30 which is an impressive price point in itself. However, on top of that, Lebara include access to facilities on their unlimited plan that other 'unlimited' providers don't. Their unlimited plans include calls to 13 numbers, 18 numbers and voicemail drops / retrievals which isn't always the case with unlimited plans.
So you're clear, we also recommend unlimited plans from both amaysim ( a smaller phone company which uses the Optus 3G network ) and Boost ( an MVNO which uses the Telstra 3G network ) you can see further details of these plans below.
Add 2GB more data = NATIONAL UNLIMITED WITH 4GB OF DATA FOR $39.90
Is MMS included in the Unlimited plan ?
Yes.
Can I keep my existing phoe number if I go to Lebara ?
Yes, you can. We've written on this extensively too. ( Link to 'Can I keep my number' article. ) The process is called porting and it usually only takes a couple of hours.
What if I want an unlimited plan on the Telstra network ?
The best alternative to Lebara which uses the Telstra network is Boost. The plan is slightly more expensive but if you live in a rural area and need coverage outside the Vodafone network's coverage area, Boost's Unlimited plan is well worth considering.
What if I want an unlimited plan on the Optus network ?
Well, you'll pay more for it, and, as we've said, you won't get the other standout feature of Lebara's plans – incredibly cheap rates to overseas numbers.
How long does delivery take when a SIM is delivered from Lebara ?
The official line on this and what you'll find on the website is that it'll take 5-7 days. We've ordered a few online and they've all come much quicker than that. Usually within 2 to 3 working days. They come through Australia post. Of course, if we lived in more remote parts of WA, we would expect that to take longer.
Do Lebara charge for SIM Delivery ?
Nope. Order online and delivery is free so the price is right.
Are international texts charged for on the $29.90 plan ?
Yes, you'll be charged 15 cents per international SMS on this plan. Remember, you can have international calls much more affordably by buying a bolt on to your National Plan.