Getting the best of both worlds – a cheap phone plan with great coverage
It's a natural time to be thinking about which is the best 4G phone company. It's also a great time to be looking for a phone plan. You might not have felt if you've been under contract but the world has changed under your feet, in even the last couple of months.
The primary things which have changed are :
Almost all Australian phone companies now have 4G data services. Previously, many were 3G.
Vodafone's 4G coverage has been independently verified as significantly improved.
4G data speeds offer reliable, high quality streaming of video to your phone. Some phone companies are now offering video content as part of their plans.
Finally, we will be discussing two technical terms in this article.

4G – super fast data. We explain what it is and provide you a link to more information.
MVNOs – MVNOs are network resellers – smaller phone companies. We explain what they are too, below.
Let's look at those and see if we can find the best 4G phone company for you.
First of all – what is 4G ? ( Skip this if you know )
4G plans: Not sure what 4G / LTE is ? 4G also known as 'LTE' is superfast data on your phone. There is a lot of technical detail here – see the link below if you want that. 4G means you don't have to worry about stutter videos. Your maps will load fast. 4G data is like being connected to your home wifi service while you are away from home.
Read our article which explains.
Critical to understanding how to find the best 4G phone company
How can MVNOs save you money
MVNOs save their customers money by leasing network access 'in bulk' from the three, major Australian phone companies. Then they sell it, to customers like you, at a significant discount.
With MVNOs, you can take advantage of lower rates, and SIMs that are contract-free.  They almost always offer better deals than the major phone companies. They don't have the same marketing spends to pass on in the costs they charge you. They don't spend nearly as much on advertising their brand as the others. By keeping their business models simple, they reduce the support costs and pass the savings on to you. They also need to charge less because they're not as well known as their multinational competitors.
By keeping their business models simple, MVNOs reduce the support costs and pass the savings on to you in their SIM Only plans.
It's important to realize that the network coverage component of the 'product' the MVNOs sell is very often exactly the same thing being sold by Optus or Vodafone. The coverage you'll get from an Optus MVNO is exactly the same as the coverage you'll get from Optus itself. There are a few exceptions and 'gotchas' to think about. We've covered those in detail, below.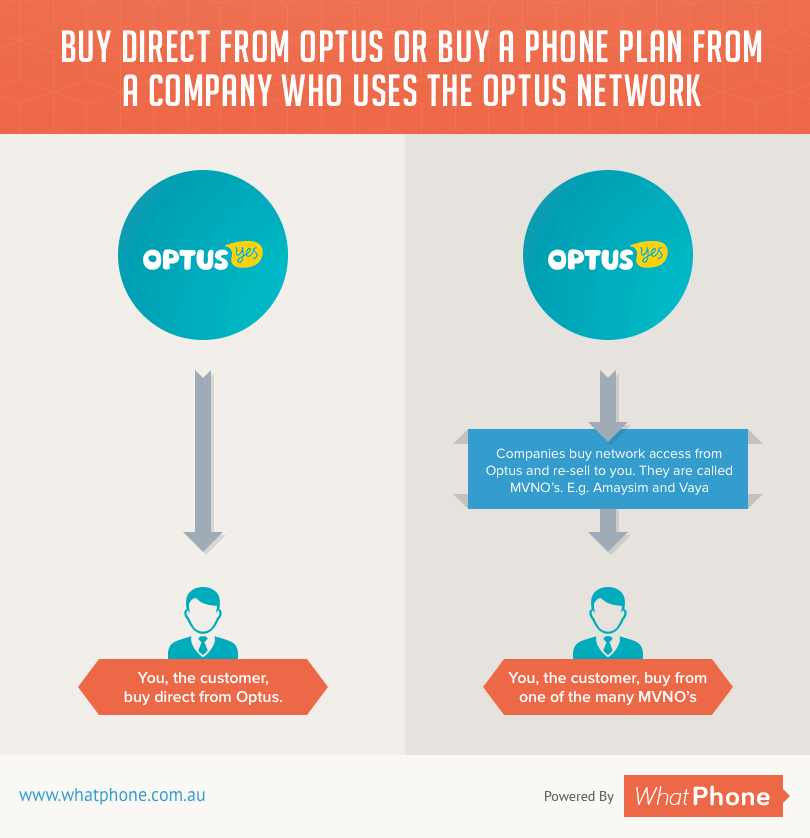 Myths about MVNOs: Prioritization
Some shoppers suspect that MVNOs are getting low quality network bandwidth. For example, minutes that aren't used by carriers during peak activity. That's just not true.  In many ways, network access is like electricity. It's a utility which is the same whomever or whichever company you buy it from. You will not get a lower priority on the network if you go with an MVNO.
Why are MVNO deals cheaper?
The MVNOs marketplace is highly competitive. The competition is focused where you want it. MVNOs have an agreed charter with the major phone companies. Each MVNO is set up to focus on servicing ( selling to ) a particular segment.
A segment is just a group of users. Here are a couple of our favorite MVNOs and the segments they are designed to address.
Do you want content with your 4G plan ?
Things are a big different now. We invite you to consider whether you just want voice and data in your phone plan or whether you now need more (e.g. video content as part of your plan)
Optus has invested in English premier League (EPL) rights and now offer them as part of many of their plans. OVO Mobile, an Optus network reseller (network resellers are also known as MVNOs), offer included gymnastics and Australian Drag Racing video content as part of their plans.
Often, what you watch through services like these is included in your plan – to make that especially clear- you won't be charged for the data you consume watching their SVOD (Streaming Video On Demand) services that these phone companies include as part of their plan.
We recognize that this is a big change for most people. We've linked here to several articles around this website to provide you more detail if you need it about these exciting content based plans.
Best phone company for 4G value ?
You now have a choice of network available to you. Vodafone coverage has improved. For years, Telstra had coverage sewn up in Australia. Recent reports, however, show that Vodafone now offers 4G connectivity around Australia matches Telstra for data coverage and speed. This is one of the most remarkable things to have happened to the Australian phone market for years. And it happens at a time when the Telstra network seems to be dropping out all the time, leading even long term customers of Telstra to question why they are paying a premium for sub standard service.
If you want a 4G plans (and if you're reading this article, you probably do) then you are much better off in a world where Vodafone is offering you a quality 4G network alternative.
You can read all about Vodafone's improved 4G coverage and the independent sources which make the claim on our dedicated page.
Which phone companies have 4G data speeds?
One of the biggest thing that's changed recently is the number of phone companies which will provide you a 4G phone network connection.
Originally, Telstra was the only provider of 4G services anywhere in Australia. Then Optus rolled out some coverage at key spots around major cities in Australia. Then Vodafone added their own 4G coverage.
What's changed in 2016 is the number of network resellers which have 4G services available to them.
Optus Network Resellers:
Optus have offered 4G data speeds to their users for the last 2 years or so to special partners like Vaya, OVO Mobile, Amaysim and Yomojo all use the same Optus 4G network.
Telstra Network resellers:
Telstra began with Boost, a wholly owned subsiduary. Then, in mid 2016 they broadened their 4G access to include Aldi mobile and TeleChoice.
Vodafone Network Resellers:
Vodafone kept 4G up their sleeves for a long time – until they had matched Telstra for coverage in mid 2016. TPG was the first to be provided 4G. Now Lebara and CMobile have it too.
 Who has a 4G phone plan ?
Deloitte reported that more than 40% of people had a 4G phone service in Australia in 2015. That number was up 50% from the year before. We believe more than 60% of people, the majority, now have a phone which allows them 4G speeds and a SIM in it to provide them.
What do Australians do with their 4G data ?
4G is the de-facto standard for any new phone and plan you get these days. Your 4G data connection sits in the background and offers you faster access to the services you need. Australians access email most frequently using their data connection. Downloading attached pictures, even if they are several MBs large is fast and easy.
Social Media is one of Australia's obsessions. Increasingly companies like Facebook, snapchat and Instagram are offering video facilities as social platforms move to visual snacks and away from written updates. Facebook is pre-loading videos to further smooth your experience. You don't even have to think about clicking the image to see your friend's video with 4G data speeds. It's all just there.
Next on the list of most used apps in 4G phones are Maps, Instant Messaging. The truth is, you know this. You're probably reading this on your phone right now and you've used all of these apps today.
Which is better WiFi or 4G ?
It depends where you are as to which service is better for you, WiFi or 4G.
The feedback we get on this site is that people will move operators for 4G coverage but not the speed provided by the alternative. This is a slightly surprising insight in to the way our visitors and chat customers think. It suggests that the slowest 4G speeds are good enough for people – or that they don't see the super fast end of 4G data speeds as being important.
4G is generally faster (and experienced as faster by its users) It's not well known but one advantage of using WiFi is that it's less demanding on your battery. 4G will use it up faster.
Remember, it doesn't have to be either WiFi or 4G. There are smaller phone companies which offer more data at the weekend in their plans. That way, when you're at home, you can use the WiFi and, on the weekend when you're out and about, you can use 4G speeds.
Plans with more 4G data on the weekend
Boost Mobile | Best Prepaid Data Rates On The Full Telstra Network

Prepaid | 28 day expiry | On The Telstra Mobile Network 3G+4G
Boost Mobile are a reliable brand. They are the only phone company other than Telstra to resell the full Telstra 'Retail' Network. With Boost you'll get:
The full Telstra Mobile Network
Other phone companies resell part of the Telstra Mobile Network. Only Boost and Telstra plans allow you access the whole thing.
Free streamed audio:
Data free streaming of Apple Music (requires subscription) on top of the data included in your plan.
Recharge options from $10 to $70:
Boost have a total of 5 recharge options for their prepaid plans, ranging between $10 and $70.
Boost Mobile Plans For Your Mobile
All talk time and SMS for use in Australia to Australian numbers. All data is for use in Australia. You can learn more about this company in our Boost Mobile review.
CHECK BOOST MOBILE PLANS
What is 4G coverage like on small company (MVNO) phone networks ?
4G coverage has improved a lot. There are some subtleties to be aware of, however, when buying a 4G plan from one of the phone companies weve shown you above.
Optus 4G MVNO network
Optus' 4G network is used by companies like OVO Mobile, Amaysim, Yomojo and Virgin Mobile.
Optus allows it's entire network to be resold. If you are a 4G customer of Optus you get exactly the same coverage and speed with any of their resellers as you'd get if you went direct to the telco.
It covers 98.5% of the Australian population . and 6.7 million Australians.
Optus offer double fast data speeds called Optus 4G Plus. If you use one of the network resellers we've mentioned (and you're in the right kind of coverage and you have the right plan), you'll get those speeds.
Vodafone 4G network
Vodafone's 4G network is used by companies like CMobile, Lebara and TPG.
Vodafone allows it's entire network to be resold. Just like Optus, if you take a plan from Vodafone direct or a Vodafone reseller, you will get exactly the same service speeds and coverage.
Vodafone's 4G network covers 95.3% of the population.
In a recent study, OpenSignal reported that Vodafone customers received a signal 88.48% of the time of the time. Hint – compare that with Telstra's below !
If you want more detail about the Vodafone Australia network, you can find them here.
Telstra 4G network
Used by companies like Boost, TeleChoice and CMobile's Blue plans
Telstra do not allow their entire network to be resold. If you buy the Telstra network from a network reseller, you will get slower speeds (4G data speeds in this situation are limited to 100 Mbps.) To be fair, that's like limiting a car to 200 Kmph – it's not much of a restriction – but it needs to be said.
Telstra also resell a smaller footprint of their network through resellers. You will get very similar coverage statistics whether you take a plan from a 4G network provider on Optus, Vodafone or Telstra. Telstra's network reseller network covers 94%  of the population and 2.5m square Km .
In the recent OptnSignal research, Telstra customers got a 4G signal 88.06% of the time
When is 5G coming out and what will that give me ?
Running a 4G network is actually cheaper for the phone companies. They'll be turning off the older 2G network. Upgrading to 5G will not take anything like the time or capital investment it has taken them to perform the upgrade to 4G.
They say 2020. It'll be super high bandwidth. Most say faster than the fixed line NBN. Applications for the new 5G technology include driver-less cars the Internet of things and a bunch of other futuristic uses. We've covered 5G in a separate article.
Is 3G important any more ?
In many ways, 3G is still important.
First of all, unlike the 4G networks from the major phone companies which, for now, anyway, cover very similar proportions of the Australian population and landmass, the 3G coverage the different networks varies substantially. Remember, 3G phone data speeds are a backup data service for most people. Its used when customers need data and arent in 4G coverage. 3G will do all the things you need, itll just do them a little slower.
Do you want to buy your 4G phone outright or under a contract
At the core of the decision you make should be whether it makes more sense for you to buy a phone yourself or buy one outright and add your own SIM.
The key advantage of contracts can be a lower total cost of ownership through the term of your contract. Increasingly, however, people are tying together their own deals. SIM only or prepaid plans are a huge part of the market now. Plan inclusions, especially data, are rising at an accelerating rate. Being tied in to a contract means you are stuck when you need to move.
Will I use more data if I take a 4G plan from a smaller phone company ?
Yes, almost certainly if your habits remain the same, you will incur larger data usage from a 4G plan. The use of data in phones is doubling every year. It's the interaction between the size of the screen, which encourages activities like video watching which we discussed above, and the speed of the network which is so fast people don't think about it any more.
This presents a bit of a risk if you are signing up to a contract. Prices are falling every time phone companies review their plans. (In reality, what happens is inclusions, especially data inclusion at a price point often go up.) So, if you over commit to a plan, you can be tied in with your usage doubling and not be able to move without spending more!
Summing up what 4G from smaller phone companies means to you
Almost all the phone companies in Australia, big and small, now have 4G speeds available to them. The LTE data service is definitely a useful one and, if you're coming from a 3G phone you'll find it much faster.
It has taken some time to get here. The first 4G rollouts started 5 years ago and it is only now that we have reached the majority of Australians with a 4G signal.
With Vodafone providing the last of their MVNOs or network resellers 4G data speeds, the rollout is now complete. To users who have a 4G phone, the range of viable phone company options available to them is broad indeed.
And Australian's relentless adoption of new technologies, new means of communicating and new online services of every sort means that, know it or not, we have all become reliant on the 4G networks we have available to us.
4G is just a mobile phone network data service speed. It is too abstract to be useful to most people. Normal (non telco) users value 4G because it means they can go about their online business easily. They don't have to wait while they are browsing to download a video or a picture. Incredibly, 4G is often faster than the WiFi connections average users have at home.
The speed of use translates to usability for 4G connections. 4G users are around 40% more likely to browse online stores from their phones (which, of course, have lots of pictures to download) and are 80% more likely to buy online. All this is happening behind the scenes. People just perceive the phone to be easier at solving their problems. With the majority of new phone releases also being 4G enabled, 4G is becoming the de-facto standard.
What 4G has enabled, however, goes far beyond the technology and that presents your first decision point when picking a phone company to go with. Recent changes mean your 4G phone can now be a streaming video entertainment device as well as something to browse and interact socially with. Companies like OVO Mobile and , increasingly Optus, have built a business model on providing additional content services.
Additionally, Vodafone has finally turned their network coverage around. The Vodafone 4G network is now officially as good for signal coverage as Telstra. A fact that will blow most peoples socks pff and offers a genuine chance to cut your phone service costs while maintaining or improving coverage. Add to this an ever increasing data allowance to your spend level and the market made more competitive with smaller phone companies trying to out do themselves with what they sell you and : There has never been a better time to change your phone provider. Here are the phone companies we recommend.