5G Home Wireless Broadband Plans Coming Soon - These are 4G
Portable – perfect to take broadband on the road.

Plug-and-play - ready for immediate access – no setup fees.

Very fast speeds on 4G now and 5G networks soon

Perfect for those who can't access the NBN or ADSL
Common Asked Questions About Home Wireless Broadband
What is 'Fixed Wireless Broadband' and how does it work?
Why would I bother changing my current (fixed) broadband connection to a Fixed Wireless connection?
What is the difference between mobile broadband and Fixed Wireless Broadband?
Is there a cost advantage to moving to Fixed Wireless Broadband rather than accepting  ADSL or an NBN connection?
What is a 'Dongle'?
What is QOS (Quality Of Service) and what does that mean to my Fixed Wireless Broadband connection?
Can You Buy Home Wireless Broadband products?
When will 5G Fixed Wireless Internet be available?
Will 5G Fixed Wireless Broadband be available in my Area?
Is 5G Fixed Home Wireless Broadband right for me?
What providers will be offering 5G Fixed Home Wireless Broadband internet?
What does ADSL mean and how is this related to the NBN?
4G is the current standard for fixed broadband

All plans shown on this page are 4G for now

Portable, making it easy to take your broadband with you for Internet access on the go.

No complicated setups and setup fees -- simply plug and use for immediate access.

Strong signals and fast speeds on 4G and 5G networks.

Becoming more affordable as prices continue to drop
Uncertainty regarding 5G connectivity -- too early to tell when and where networks will be available
What is Fixed  Wireless Broadband?
Are you looking for an alternative to the two major fixed-line broadband options – the NBN (National Broadband Network) or ADSL (Asynchronous Digital Subscriber Line)? Would you, prefer your home broadband connection was more portable? If your answer to either of these questions is yes, then you might be in the market for a Fixed Wireless Broadband connection.
Fixed Wireless Broadband solutions use the same data delivery technology as any other mobile data service delivered by the phone companies. The same data speeds and coverage is available for these Mobile Broadband services as is provided to your phone when you use mobile data on it.
What sets a Fixed Wireless Broadband service apart from more mobile alternatives (for example, dongles) is the fact that Fixed Wireless Broadband solutions use a router (a way of connecting your home to the cellular internet) which is plugged into mains power. With a home Fixed Wireless Broadband connected to 4G or 5G, there are no technicians required to get you up and running, no frustrating connection delays (you just open the router up, follow some simple instructions and you're online), Best of all you can take your plan with you, anywhere there is a mobile broadband signal.
Smaller data bundles are included in tablet plans (used in connected iPads and such), business people and market niches such as university students are all already buying 4G mobile data bundles. Fixed Mobile Broadband solutions, (which tend to use larger data allocations than those bought by tablet or tethering users – in the order of 50GB or more per month) are already growing in popularity, largely by the ongoing halving of mobile data pricing every year or so. Now it's possible to get Mobile and Fixed Mobile broadband bundles for as little as $60 per month.
Top Data Plans
How does Fixed Wireless Broadband Work?
Here's how it works. When you set up a Fixed Mobile Broadband service, you'll be given (they're often charged for) that Mobile Router. The Router connects your home to the cellular network (that's the Mobile Broadband Service.) Inside your house, users see and can connect to a WiFi signal as they would with any other broadband service.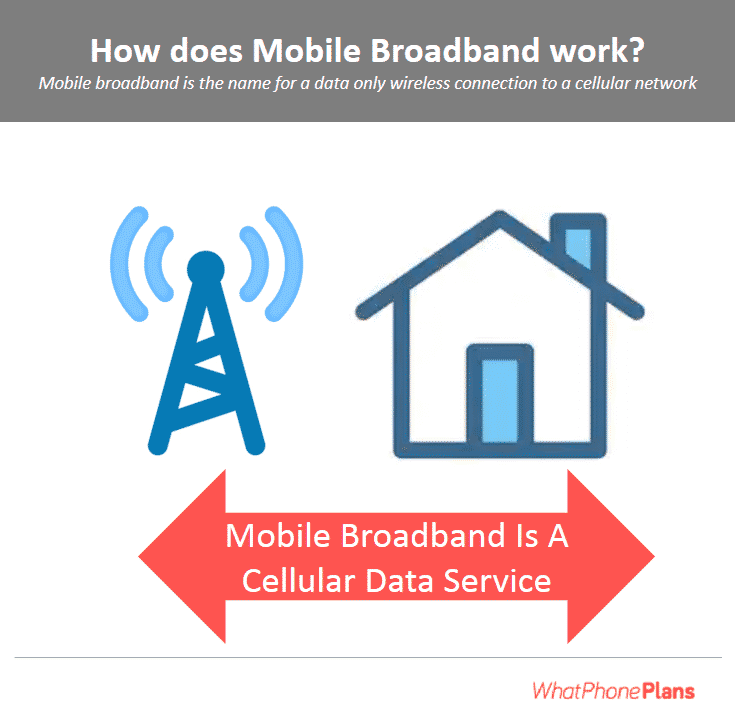 In the diagram above and below, Mobile Broadband is the service which connects your home to the internet. Within the house, a router accepts wifi connections from tablets, laptops and phones in your home.
Home Wireless Broadband allows you to connect your laptop or other WiFi-enabled device internet remotely, and without an active phone line. A wireless modem connects to your computer – or computers, using radio waves inside the house.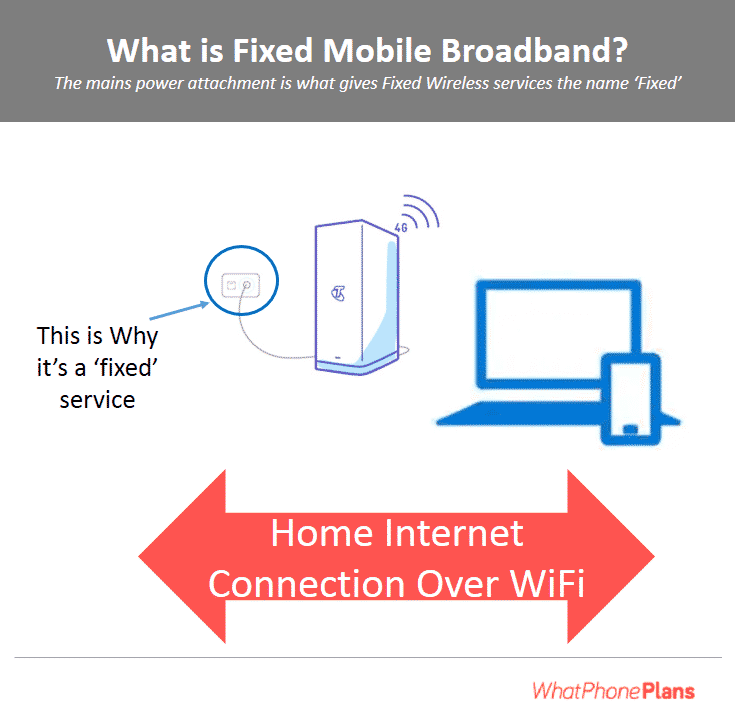 Traditional home broadband plans such as ADSL and NBN generally require connecting a router to a fixed phone lines. Fixed Mobile Broadband options do not.
As we move towards the future with the launch of new 5G networks from at least Optus and Telstra this year, Fixed Mobile Broadband solutions are likely to really take off.
Since they own and are maintaining their own cellular networks already, adding new users with a broadband subscription costs little 'at the margin' (for one more customer). Each new NBN customer, on the other hand, costs Optus or Telstra $50 or so in wholesale fees. As a result, there is a strong economic incentive driving the phone companies towards 5G home wireless broadband. The service could very well become a mainstay for home internet.
Will a 5G Home Wireless Broadband Connection Cover my Data Needs?
Almost certainly! Optus seems to be leading the race at this stage, and have recently announced their plans to launch the company's first 5G wireless broadband plans by April 2019. Proposed speeds and pricing will be comparable or even better than Optus' fixed-line broadband plans. The announcement has many in the industry believing Optus is taking leaps to effectively compete with the national broadband network (NBN), providing a genuine alternative to NBN, delivering ultra-high speed internet to homes and businesses.
Optus is planning to offer unlimited 5G data for $70 per month, which includes a 50Mbps satisfaction guarantee. The telco has reported that the satisfaction guarantee will allow customers who are enjoying download speeds of at least 50 megabits p/second to cancel their contract with Optus, without incurring any cancellation fees.
The satisfaction guarantee will be available to all 5G home broadband month-to-month and two-year contract customers, on the provision that the Optus 5G device is returned within 30 days of cancellation.
The key to bottoming out whether you can safely move over to mobile broadband, using one of these bundles, you'll need to know your current usage in GB. To establish exactly how much data you are using on your fixed-line broadband now, simply login to the online self-service portal of your broadband provider or give them a ring. They will be happy to tell you how much data your fixed line connection used each of the last 6 months. Take an average, consider a trend if you see one and get a mobile broadband bundle which covers the need. Single people might need only 100GB of mobile data per month. Families with YouTube obsessed kids might need 500 GB or more per month.
What Are The Pros of Home Wireless Broadband?
No Set-Up / Installation cost or hassle
Just like any other utility, such as water, telephone, gas, and electricity, internet connectivity usually is reliant on physical piping or cabling to run to your home. But thanks to this innovative technology, home wireless broadband plans do not require a phone line or a technician to connect you to the internet.
Wireless internet uses radio waves of the mobile phone networks to connect you to the world wide web, and a router/modem provided by your internet service provider will then allow all of your devices within your home or office.
With the benefit of no-setup comes the absence of set-up fees, meaning it can save you expensive costs that you would generally incur with a fixed service. This is especially important if you move frequently.
No Set-Up delays because of a delayed technician
Traditionally, when you moved into a new house or property, you would have to wait up to a week or in some cases even longer, for a technician to come and set the internet up in your new place. With home wireless broadband, you simply plug the modem into the power point and voila, you're surfing man! (Ok, no more references to the movie Point Break).
Plus, the set-up is a breeze, meaning you can be on the web browsing your favourite websites in less than a few minutes – how cool is that?
Wireless Internet is Portable – good for car trips and mobile offices
Another fantastic feature with having wireless internet at home is that you can easily take it with you. That is if you move house, or even if you go on holidays, you can pack your wireless home internet plan up and take it with you. All that is required is network coverage at your destination, and you can be using your internet just as you do at home, wherever you go.
Speeds on mobile broadband are now as good or better than fixed alternatives
Telcos offering 5G wireless internet plans can guarantee high QoS (Quality of Service) levels. Consumers can expect ultra-high speed, high reliability, and low latency. 5G is set to finally deliver the speeds that consumers have been hoping for since the internet arrived.
Avoid Exposure to Delays on NBN
As already discussed, a growing number of Australians are disappointed with the NBN (National Broadband Network). Many Australians are not enjoying the proposed benefits of the NBN and are having issues with speed due to congestion. Some report that their internet speeds were comparable or even faster at times on ADSL.
But the benefits of mobile are not simply in the value, however. As every Australian knows, the NBN has experienced its fair share of problems in recent times. Customer complaints rose by nearly 160% in the year ending June 30, 2017, from the previous year.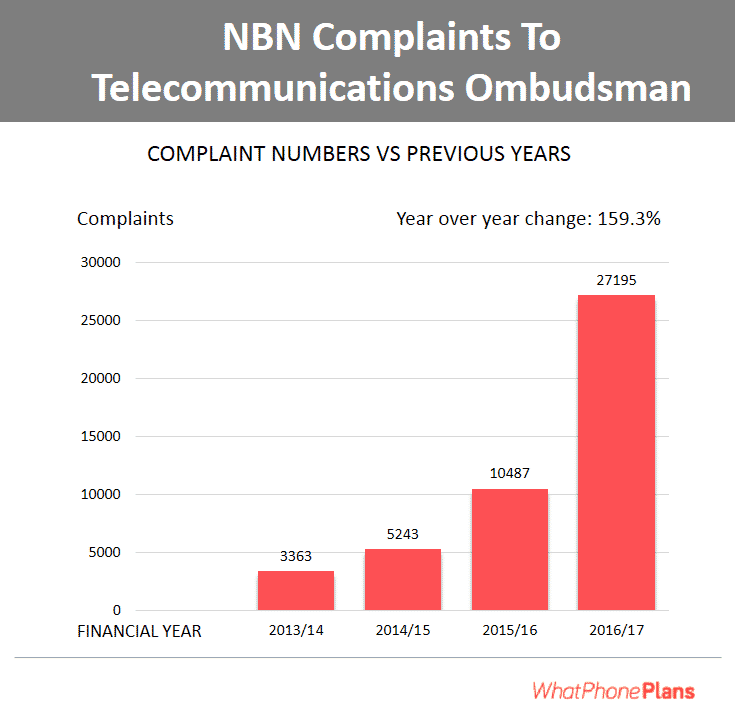 NBN Complaints are growing at an alarming rate. Source.
What Are The Cons of Home Wireless Broadband?
At The Moment it Remains Untested
Because the 5G network has not effectively rolled out, it remains to be seen how the network will perform. While assurances from the Telcos are encouraging, until 5G is here for us to use in our daily lives, it is unclear how successful it will be.
5G Coverage May be an Issue Initially
A key advantage that 3G had was that cell towers could cover large areas with relatively few cells. The reason for this is the network didn't require much bandwidth. As technology progressed to 4G and now 5G, cells are producing more bandwidth, meaning coverage radius is reduced. Customers on 4G may notice at times that their coverage is lost and will revert back to 3G. This tendency will continue as the 5G network rolls out, whereby even more cells are required. 5G consumers should expect coverage to be limited at least in the short-term. 
Why is Home Wireless Broadband Important to Phone Companies?
Companies like Optus Australia are investing big in 5G technology. Optus has already acquired a 3.6 GHz spectrum as part of the multi-year build of the 5G network. The Telco earlier announced plans for its 5G home broadband plan by adding 1,200 5G sites by March 2020 as part of their prioritised business plan to capitalise on the business opportunity from fixed to wireless access.
Who is Leading The Charge When it Comes to 5G?
5G home wireless broadband plans may still be in the pipeline, but they are getting close to becoming a reality. Optus is set to become Australia's first Telco to provide 5G wireless internet in Australian homes, which could be a viable alternative to NBN. The proposed plan from Optus comes with unlimited data – very important for any 5G data plan – and a guaranteed speed of 50Mbps, all for just $70 per month. Plus you can cancel your contract without penalty at any time if the speed that you experience with your wireless internet plan is slower than the guaranteed pace.
Optus has stated it has two 5G sites already, one of which is in Sydney, with 47 more planned for March 2019. The Telco is expected to start offering plans in the second quarter of 2019.
While Optus' 5G coverage is limited at the present time, expressions of interest are open to those who live in one of the selected suburbs where it will be available.
Telstra, Australia's leading telecommunications network is also expected to start offering home wireless mobile broadband plans this year; however, they have yet to confirm a timeframe for their plans. Vodafone has stated that they will begin selling their wireless home internet plans in 2020.
Top Data Plans
Summing Up – Could Wireless 5G For The Home Make NBN Economically Un-Viable? 
The debate is heating up as 5G technology inches closer to becoming a reality. The next generation of network technology is anticipated to reach ultra-fast speeds not yet seen on mobile networks in Australia. At the same time, the NBN (National Broadband Network) has been met with mixed reviews. Fixed Mobile Broadband products might just be the slightly better product that turns the NBN into an expensive failure for the Liberals.
It remains to be seen whether 5G can replace the NBN though – it's probably still several years away from being clear. It is expected to be a little bit expensive at first, and it will be interesting to see how Telcos package 5G services and what they will charge for them. Needless to say, 5G has enormous potential to transform internet use in Australia; however, it would be unwise to rule out NBN just yet.