Stop! Don't renew that phone contract. Avoid wasting your hard earned cash!
Did you sign up to a phone + plan contract 2 years ago?
Most people buy a phone themselves, these days and add a SIM. Piecing together a deal for yourself in that way is a relatively new phenomenon. Things have changed a lot.
Until a couple of years ago, the most common transaction between individuals and phone companies was for each user to sign a 24 month contract. As part of the agreement they entered, people paid the phone company each month – usually a lot. In exchange, they were given a 'free' phone and some voice minutes, SMS and data. Of course, the phone wasn't 'free', it was just included in the price.
Has your phone company just called you out of the blue?
Towards the end of their contract, the phone company would usually contact the contract holder and start saying nice things. They would listen to the complaints the phone user had about the terrible service they've put up with. They'd refund some of the charges that had been applied to the person's account (the ones they'd got that they weren't expecting). The phone company representative would then try to get the phone owner excited about the new iPhone or Samsung Galaxy device and to re-contract to it.
Are you suspicious of them ? Do you have doubts over what to do next?
Understandably, whichever individual had been called might have suspicious of this behavior from their telco. After all, they usually hadn't heard anything from their phone company in well over a year and a half. What could possibly have caused them to have such a turn around in the way they wanted to relate?
There are a lot of people in this position. Contracts are coming to an end, the phone company is ringing them. The key question they have is – should they upgrade ?
What is a mobile phone / contract upgrade?
When you maintain your phone contract with your phone company, by renewing it for an additional period, (usually 24 months) you are upgrading.
You will almost always be provided a new phone as part of the deal.
Optus, Telstra and Vodafone are by far the biggest culprits in this turnaround
It can be tempting to buy in to what they're selling. Phones are a big deal. Some people think their phone reflects their personality. Phones can be treated like fashion accessories just as much as they are treated as productivity or entertainment devices. Additionally, modern smartphones are essentially computers. The cost of the components gets steadily cheaper each year. Two years on, your 24 month old smartphone can seem very old indeed.
For these reasons and more, it's tempting to listen to the sales representative that calls you and sign what they send you. There's the lure of the phone on offer and, conversely, the alternative is a nightmare. If you don't renew, you'll have to figure out yourself what to do next from a raft of options.
If you remember one thing, remember this: As in insurance, mortgage credit cards or any of the other things we need to give time to consider, laziness is exploited. Remember, the market will have changed pretty dramatically since you last shopped around. Here's what you need to know.
Why you shouldn't upgrade any phone these days
The simple truth is, if you do things right at the end of your phone contract, your monthly phone bill could be reduced from $70 a month to $30 or less a month.
This is what has changed while you've been in contract.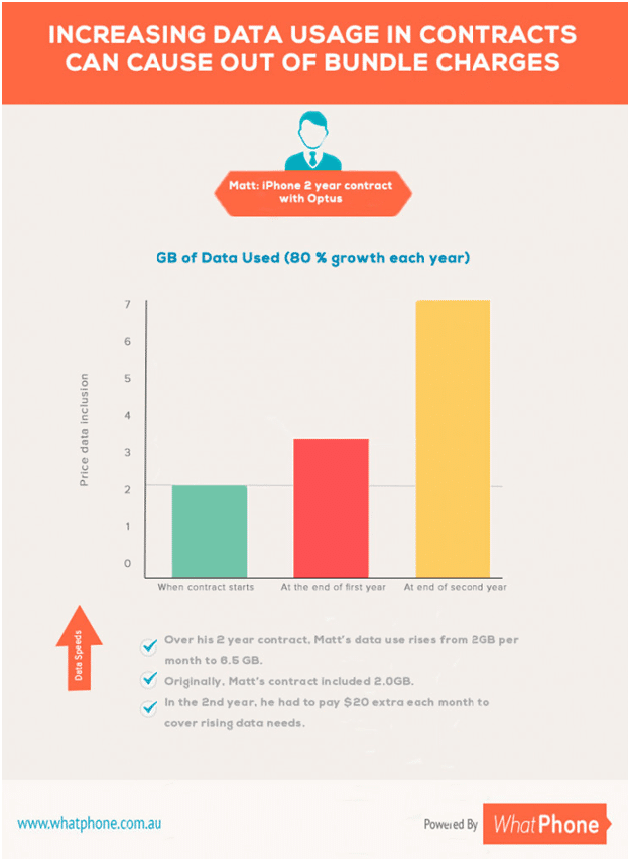 Don't upgrade! Pick one of these alternatives
If you don't upgrade, you will either keep your phone or get a new one and then add a SIM. Here are your options.
Why you shouldn't upgrade your Telstra Phone
There are good reasons not to renew your contract with Telstra specifically.
Why you shouldn't upgrade your Optus Phone
Unusually, the reasons you shouldn't sign up to Optus' contracts are because, if you do, you might preclude your own access to some of their better services.
Why you shouldn't upgrade your Vodafone phone
Vodafone have been a risky company to make a long term investment in as a customer for some time. The forecast for the next two years is not significantly different.
Summing up – Our advice? Don't sign another phone contract and never upgrade your plan
As a general rule, the phone companies want to keep you in contract so you don't leave. There are exceptions, for example, when they're trying to buy market share with the launch of a prestigious new device. Then they want to lure you in with a contract at a great price and, under those circumstances, it can make sense to accept it. But that's the exception, not the rule.
Buying a phone outright is now commonplace for more than 60% of the market. There is always going to be a new device released every few months and the truth is that they are not that different to the last ones which came out (although sales do not seem to be decreasing.)
From your standpoint, it makes sense to get real about the contract you're signing. You won't get any new apps. You probably won't get any coverage improvement (there are exceptions). There probably won't be a notable performance improvement. The features your new phone has will be a marginal, improvement.
The truth is that none of us have any way of knowing what the world holds in the next two years. Donald Trump is president of the USA you know. 24 months from now, there will be more device options, more plan options, more understanding of the data you have and use on your phone. There could even be new phone companies to choose from.
Unless you are flush with cash and keen to flash, you don't need to upgrade your phone every two years. The maths, the majority of the public and the other things you could spend your money are all telling you to keep your phone and add a SIM Only or a prepaid plan.