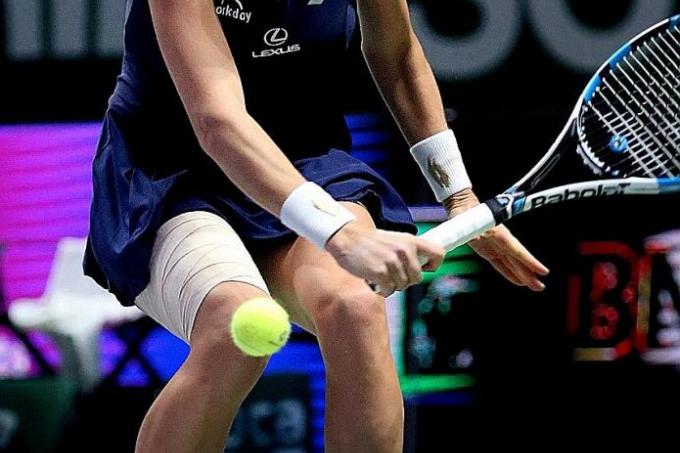 With Optus offering English Premier League and Telstra offering discounted tickets to the NBL, sport seems to be the way the main telcos are trying to attract new customers. None of these options are cheap investments but there is a firm belief in Australia that sports means everything to the nation. Viewing sports is a great way to bring people together and it gives companies who offer viewing opportunities the chance to get an edge over competitors.
The most recent Telstra announcement was about the deal it had won to broadcast live Women's Tennis Association (WTA) tournaments, commencing this year and set to last for 6 years. Telstra will be covering:
47 of the association's events in 2017, which include the finals for the WTA
The finals, which will take place in Singapore and Brisbane International and the St. Petersburg Ladies Trophy.
By 2020, Telstra hopes to broadcast 50 tournaments or more.
This deal has been struck with the Perform media group, which offers digitized sports content. Perform recently joined hands with the WTA to initiate WTA Media, which is the WTA's media hub. The deal is for a 10 year partnership between Perform and WTA.
The technology used and the delivery speeds mean that Telstra will be able to provide access to live feeds of different WTA matches that are taking place at the same time. The WTA is known for its high quality tennis playing so this without a doubt will make avid tennis spectators very excited.
In 2017 alone, the telco is expected to broadcast more than 2,600 hours of WTA tournaments. This is according to the telco's global enterprise and services acting group executive David Burns. He also says this latest innovation was aimed at offering the best communication solutions for its customers
Biggest deal yet for Telstra
Telstra calls this a special events agreement and has indicated that it's the biggest media broadcast deal since the establishment of its Telstra Broadcast Service was established. It intends to make use of multiple communications networks which include satellite teleports, global submarine fibre cable and centres for broadcast operations which are based at home in Australia, in Asia, throughout Europe, and north America. There will also be global field services teams at hand to transmit live video and audio for the WTA tournaments.
The telco is hoping to build up an enviable reputation for delivering modern broadcasting of large sporting events that span the globe.
Perform which is the WTA's media arm is particularly pleased to work with Telstra as that will give it the opportunity to increase the use of the Perform sports cloud and it will be able to broadcast more of WTA's tournaments which is its priority.
Telstra must be on to a good thing with the WTA
The WTA has certainly quite a role to play as the world leader in professional women's sport.
Statistics for the WTA:
There were 22,500 active tennis players in 2017.
100 nations are represented.
WTA prize money currently stands at US $139 million.
There are 55 annual events, with 4 Grand Slams spanning a total of 31 countries.
In 2016, 408 million fans watched the WTA events on television and on digital channels throughout the world.
The final events for the 2017 WTA season will be the WTA BNP Paribas Finals to take place in Singapore which will be presented from October 22nd to 29th by SC Global.
The WTA Elite Trophy will be played for between October 31st and 5th November in Zhuhai, China.
What else does Telstra have on offer apart from upcoming WTA?
Telstra is not new to adding sports deals to its customers' plans. It currently has on offer on its website the following:
$20 Hyundai A-League tickets
A 2016 – 2017 National Basketball League TV pass. This allows the user to live stream every NBL game on a variety of devices, including a phone, a tablet or Telstra TV. This is normally $30 and comes in as part of a Telstra TV plan or Telstra mobile. If you are using Telstra TV you will need to download the NBL Live App which can be located in the app store. If you wish to use your mobile you will need to open a Telstra TB + App and follow the links starting with the My Offers section. Once in you will find the NBL link on a side menu where you will see the NBL title. Click on this and you will be directed to the NBL website to redeem your offer. You will need to download the NBL App, login and you will be able to watch live NBL games.
 What does Optus offer?
There are still a couple of months until the finish of the EPL but Optus is still offering:
Live English Premier League (EPL) for $15 a month added to an eligible plan.
The iPhone 7 purchase plan is up and running, which offers the product with a 7-inch (diagonally) Retina HD display which is endowed with wide colour and 1334-by-750 resolution. It works on 3D touch and included with this deal is for camera enthusiasts a 12MP camera, with an optical image stabilization, a Quad-LED True Tone flash, and Live Photos. So for 4G + which is now virtually equal in terms of availability throughout all the telcos the Optus phone deal for $76 monthly includes a $36 repayment on the phone and $40 for the My Plan Plus plan over 24 months which attracts a minimum total cost over 2 years months is $1824.Extra data attracts an extra $10/1GB. Additionally, there are unlimited standard national texts and calls. Other multi -media inclusions are music streaming on Google play, iHeart radio, and Spotify mobile apps which don't attract any data charges. TV streaming of ABC Kids, iView, Netflix, ABC ME and Stan but costs $10 a month. The controversial Optus sport deal for EPL is still on offer for $15 a month which includes Australia cricket.
In spite of all the add-ons that Telstra and Optus offer as the two biggest telcos in Australia in order to attract customers, there are certain less profitable regional areas which due to low profit margins no company wants to touch. In order to gain economically from providing services the telcos have had to vie for government money under the black spot programme. In the end Telstra has been given the lion's share much to the annoyance of Optus and Telstra.
4G heightened competition amongst Telstra, Optus and Vodafone more important than EPL OR tennis add-ons
To remain competitive across the whole of the country each of the telcos has to think about speed. No travelling Australian whether for business or leisure is going to sign up to Telstra because of tennis unless they can guarantee the speed needed to live stream sports so that a great customer experience is gained, they are more likely to consider what else the telcos in general are offering.
The key issue recently has been speed and as the world transits through the different Gs Australia has been fast to follow in its wake. We are now well into 4G with 3G still having the overall best national coverage, while 2G is pretty much obsolete.
How the 3 main telcos compare with 4G coverage?
4G was first initiated by Telstra in the second half of 2011. Both Optus and Vodafone were hot on Telstra's heels and expansion of the network has been massive since 2011. Things like quicker downloads and newer Voice over LTE and LTE-Broadcast are beginning to make an appearance. The 3 main telcos are quick to move in with 4G coverage.
Telstra had the edge in terms of speed of rollout of 4G and presently it claims that 98% of its customers can access 4G and by the middle of the year 99%, which it probably will achieve. Let's face it; 4G is going to be of no use to you if you don't have access to it. Telstra had quite a head start in the rollout.
Optus was a bit slower and first focussed in the Newcastle area in the middle of 2012. It eventually expanded its network to state capitals and by now it claims 95 % of its customers can access 4G.
Vodafone took a little longer to join the 4G club but it doesn't want to be too specific about its overall coverage. It has claimed that 96.9% of customers who are hooked up to Vodafone can get it in 4G in metropolitan areas.
Compatible phones and 4G
Telstra and Optus are currently using a combination of frequencies so that they can get higher 4G speeds for data while making the network more easily available. The frequencies used by a carrier often determine what devices can be used. So if you are living in an area whether it's urban or rural and you have an older model of phone it might not connect to a 4G service at all. However, if you have an up-to-date phone like an Apple iPhone 7, Google Pixel and Samsung Galaxy S7 you shouldn't have problems connecting to a 4G network.
4G and watching WTA tennis
If you are in one of Telstra's 4G areas and the WTA tennis is rolled out which it will be soon you at least don't need to worry about data caps or data speeds and you should get a good viewing experience.
If you want to change your current provider to Telstra to watch tennis and you want to do this on the go Telstra has several BYO (bring your own phone) deals which only lock you in for 12 months.
The price range is from $35 to $70 monthly. Make sure you have a compatible 4G phone if you want to watch live streaming WTA tennis on the go. You will just have to hope that your tennis experience isn't going to be dogged with outages and buffering as was the complaint by Optus customers when EPL was first rolled out.
Summary
EPL is still here and tennis is coming, but complaints about Optus monopolising EPL so that keen spectators had to change providers didn't really come to much.
WTA offered by Telstra is going to highlight another round of sports rollouts being tried out to attract and keep customers. As phone users both at home and on the go learn more about phone compatibility and the workings of the Gs they will begin to understand why their experiences of speed and accessibility vary depending where they are.
Telstra, meanwhile, will be hoping its multi-million dollar investment in WTA is going to pay off otherwise they will be wondering what they did wrong. Customers may well be wondering why the simple provision of phone and data really warrants all these competitive deals.