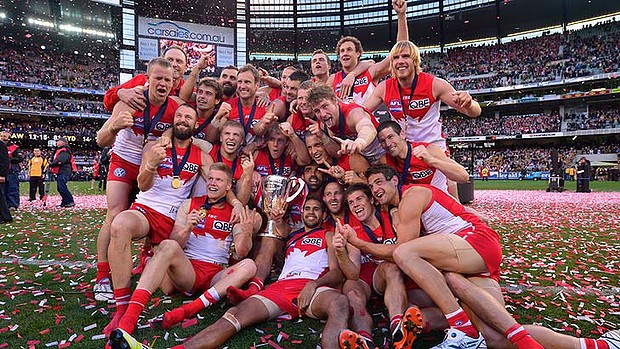 The first match of this year's footy season is already over, so if you missed it, it was probably due to the inability to access it on free-to-air TV.
Both Foxtel and Telstra have the sole rights to broadcast Australia's own unique sport (AFL). This year's season of the Australian Football League is the country's 121st. 18 teams, the same as the last 5 years, are set to compete in it this year. The 1st game was spun into action on 23rd March, with the last to be played on 30th September at the AFL Grand Final.
Who's got the broadcast rights for AFL?
AFL is a very profitable league and a 5 year broadcast deal has been drawn up worth $2.5 billion, which includes Network Seven, Foxtel and Telstra. However, Seven will only be broadcasting 3 or 4 live AFL matches for each round, so you will find that you will not be able to watch all the matches on free-to-air TV, in particular those clubs that don't have so much impact.
What's the broadcast like for NRL?
The only way to ensure that you can watch all the NRL and AFL matches is to sign up with Foxtel or Telstra. Taking out a full home Foxtel subscription will allow you to view all AFL and NRL matches live, but before you can get your hands on the sports deal you will still need to pay for the basic Foxtel package first. If you haven't signed up beforehand, Foxtel is asking for $55 a month for its Sports package.
Watch AFL/NRL on your personal gadget
Foxtel hasn't forgotten that what's most important to viewers is not rushing home to sit in front of the TV, but taking life at a more leisurely pace. That means watching live streaming sports on-the-go on a gadget, anytime, anywhere. If you have already paid up for the home Foxtel sub, you can use the streaming service provided by Foxtel through the FoxtelGo app. This can be used on a computer, smart phone or tablet. The FoxtelGo app has been updated so that it can work on a desktop which it hasn't done before. The apps won't work with Apple's AirPlay and Google Chromecast. However, if you have a suitable video cable on hand you can plug your computer into your TV, but the quality isn't so good on a bigger TV screen, because it is only an SD stream.
Foxtel Play is another option for your personal device
To avoid having to pay out for a full home Foxtel sub, you can choose Foxtel Play instead which can be used on smart phones, desktop computers, tablets, games consoles, Smart TVs and the Telstra TV set-top box. You can't just get the $29 premium sports package immediately but you are required to pay out for the basic $10 or $15 package as well. You can view all the AFL matches live on Foxtel Play but not the Grand Final.
Herald Sun offers 12 month sub including live sports mobile viewing
If you usually take out a 12 month sub with the Herald Sun, then this year it includes sports viewing and in particular AFL. You will be able to watch all the AFL rounds live on any of your devices using Foxtel Play. This includes tablets, mobile phones, smart TV or desktop computers. As well as the viewing you can get footy analyses, insights and much more from footy columnists and writers who know about nothing else but footy.
What does Telstra offer on your mobile devices?
The telcos are all hell bent on providing sports, as they know it's what so many people want. When it comes to which telco gets which sport Telstra has grabbed the AFL and NRL, like Optus snatched sole rights to English Premier League (EPL) last season, much to the horror of avid EPL supporters. Once they got used to the monopoly, they more or less resigned themselves to it, but didn't like the way they couldn't watch their favourite sport with ease unless they were already Optus subscribers.
Optus isn't everywhere and if you happen to live in Lithgow in regional New South Wales you wouldn't have got a look in at all, as Optus has no coverage there. At least one can safely say that Telstra still wins out on overall countrywide coverage, so if you have a Telstra device or you are signed up with an unlocked one you can squint at AFL or NRL matches just about anywhere in the country as long as you can put up with a maximum screen size of 7 inches.
If your tablet is larger than that you can't watch any matches on a full size screen until 12 hours following the end of the match. When it gets to using your Telstra television set-top box with a Telstra sports sub you will only be able to view highlights and match replays. The Telstra mobile apps will not support Chromecast or AirPlay and if you want to send anything to your TV, it might be just about impossible using an HDMI cable. If you are only interested in watching a few of your favourite teams you can pay for those without having to sign away cash to view all the matches throughout the season so that's a bonus for some AFL enthusiasts.
If you live abroad, your mobile devices will be working at full capacity as you get a better deal than if you were signing up back home. The AFL's streaming overseas service offers all matches using a desktop browser, iOS and Android (with Chromecast and AirPlay capability). You can gain access after purchasing a full season pass or a weekly or monthly pass, but not here in Australia however hard you try.
What devices does Telstra's AFL Live Official App support?
It works on iOS -7.0 and above on different models of iPhones ranging from the iPhone 5 and 6 series.
The iPads that support the app include iPad 3 and 4 and iPad Air.
When it comes to Android smart phones it supports the following (for 4.0 and above):
HTC One M8 and M9, Samsung Galaxy S6 and Edge, Samsung Galaxy Note 4 and 5, Sony Xperia Z3, Google Nexus 5 and Huawei P8 Lite.
For Android Tablets of 4.1 and above, this includes Samsung Galaxy Tab S
Windows Phone 8 devices running Windows Phone 8 and above include Nokia Lumia 520, 625, 920/930 and Nokia Lumia 1320 and 1520
Windows 10 devices that run Windows 10 Mobile include Nokia Lumia 950
Windows 10 devices that run Windows 10 include Windows Surface Pro line.
How to link yourself up to view AFL through Telstra
All the In-App subscriptions are paid for using the App Store (iOS) or for Android, Google Play. Telstra doesn't organise that for you.
All existing and new subscribers are able to restore any existing active subscriptions on up to ten compatible Android/Apple devices by going to the AFL Live Pass link and then using the restore feature link and log in using the same Apple or Google ID that was used when setting up the initial subscription. Also the In-App subs may only be restored onto multiple devices which belong to the same platform such as Android found in Google Play and iOS in the App Store.
If you need the latest gadget for viewing crystal clear AFL and NRL you can take out a Go Mobile Plus plan with Telstra which includes a black 32 GB iPhone 7 Plus which being the latest model available includes a Retina HD display of 5.5-inches with a resolution of 1920-by-1080. There are 12MP cameras included with 2x optical zoom and a 10x digital zoom. It's water and dust resistant at least from rain and spray.
The monthly plans start from $100 which includes 1GB of data, $550 worth of Talk Time. It can all be purchased for a 24 month at a starting cost of $2,400 over the period depending on the number of preferred gigabytes of storage.
Telstra offers lease options for those who want the latest mobile smart phone with all the bells and whistles with constant upgrades yearly at minimal cost. Don't forget that all of Telstra's Go Mobile Plus deals include the AFL and NRL Live Pass as well as netball to watch on your new gadget.
Summary
Everything has been set up for AFL and NRL addicts. It's just the question of sorting out what suits your budget and your gadget. If you are mobile only, Telstra has it all as long as you have a compatible device and you sign up to a Go Mobile Plus plan. It could be a SIM only BYO phone or through purchasing a smart phone, but just make sure you have renewed any older plan so you don't miss a game.