Top iPhone SIM Only Plans
Every plan shown here fits iPhone usage

Lots of data options to suit your needs

Best value for money plans without contracts
Common Questions About iPhone Plans
Can I use any iPhone with any SIM Only Plan ?
Very much so. If you bought your iPhone through a phone company, give them a call and ask for the phone to be "unlocked" before you get a new sim.
Can I keep my phone number with SIM only mobile deal ?
Yes you can. You'll see an option for this whichever phone company you go with. They'll remind you while you're checking out. You give them your current number and, by the time your SIM card arrives, it'll have your existing number attached to it.
What if I need a Nano SIM for my iPhone ?
Don't worry. If you have an iPhone, the phone companies now have a regular supply of nano SIMs. Again, you'll be offered the option of choosing a Nano SIM during your online checkout process.
Does my iPhone 4S need a 4G plan ?
You can use any iPhone with any SIM. iPhone 4S is only capable of 3G speeds so, while you can put any SIM in it, you won't get 4G speeds. We recommend Cmobile for lower end spends on the iPhone 4s (that's if you don't use your iPhone a lot) and if you are a chatterbox / SMS junkie, take a look at Boost. Both Cmobile and Boost offer SIM Only plans which are 3G enabled and they'll suit your iPhone 4S down to the ground.
I have an iPhone 5, iPhone 5C, iPhone 5s – what plan do you recommend.
We recommend Amaysim. Amaysim have full 4G network coverage and cheaper access to the Optus network than you'll get with any of the major phone companies.
What if I try one of these SIM Only plans in my iPhone and I don't like the provider ?
Nothing. You can change whenever you'd like. If you'd rather pick up your iPhone and walk to another provider, you are free to do so at any pioint. One of the great things about putting these SIMs in your iPhone is that you are not tied to a contract.
Great value SIMs for your existing iPhone

Large data bundle options available - ideal for iPhones

These SIMs all fit in to every iPhone model

Buy outright & add a SIM Often cheaper for iPhones
Not all plans treat data allocations fairly

With no contract, you have to buy the iPhone yourself
The 2019 iPhone Range – 60 Second Summary
Here's a list of all the top SIM only deals for iPhones we recommend in Australia. These are handpicked based on quality of the network, what you get in with the plan, and of course, value for money!
There are 3 new iPhone devices available in the 2018/19 range, the iPhone Xs, Xs Max and iPhone Xʀ.
Our advice is to buy your iPhone yourself and add a SIM. (See button, below)
Below:
We provide details on the hardware and software enhancements Apple have brought to this year's devices.
We show you which of these features will impact the amount of mobile data you use in your phone plan.
We examine the options you have to get hold of your 2018 iPhone: A contract with Optus, Telstra or Vodafone or – buying the phone yourself and adding a SIM.
We show you how to work out which is the best deal for you –  and provide the resources you need, to be able to do that easily.
We explore the question of the network coverage offered by each phone company.
Finally, we consider customer satisfaction levels offered by many of the biggest Australian phone companies.
We have a supplemental section which explains some of the new software features of this year's iPhone
What is the release date for this year's Apple iPhone?
If you'd like to know the results of the survey we ran in to iPhone users, you can find that here.
This details of year's iPhones were announced on September 12 (Cupertino time), with shipping of the phones themselves beginning in September and in the case of the iPhone Xʀ, starting October 19th in the US. Dates for the release of the products in Australia.
Apple is well known for providing innovative and exciting products, and for having a core of die-hard fans. We've included details of the specification upgrades you'll get if you buy an iPhone this year, below. In addition, Apple have shown off some new features for iOS 12, (which we cover in a supplemental section at the bottom of this page.)
2017 was a significant year for Australian iPhones. For the first time, more people bought their iPhones outright and added a SIM themselves. In general, Australia has followed that trend across all new device releases.  70% of people now opt for SIM Only plans and an outright phone purchase, according to our own primary research.

The 2018 iPhone Range
It's been an interesting year for Apple. 12 months ago, the iPhone X was the 'flagship' device (the most popular and famous phone they have) of 2017, but it didn't sell as well as was expected.  People, it seems, are gravitating towards earlier, cheaper, iPhone models, lowering the performance of the hero iPhone X.  Part of the problem last year, was the price of the hero product. The iPhone X retailed at $1,579, making the iPhone X a full $350 more costly than the previous year's equivalent, iPhone 8 Plus.
Our goal here is to tell you the things the phone companies won't – things about your iPhone which will save you time now and money in the future. Here's what's different about this year's range and what that means to the iPhone plan you should buy.
What's Different About Apple's Australian 2018 iPhone Range?
For most of Apple's history, they have released one new iPhone at a time. They broke that trend in 2014 with the iPhone 6 and iPhone 6 Plus (the first time Apple had released two 'variants' of an iPhone at one time.) This year, there are three models from Apple this year, something that the company has only done once before (last year.)
In the 2018 line up, Apple have confirmed that they will be extending some of the most popular aspects of last year's iPhone X. Key among those improvements is the continuation of OLED screens in two out of the three iPhones Apple are releasing. OLED displays can get closer to the side of the phone which means, from a design point of view, there will be less 'bezzel' available on the Xs and Xs Max devices.
We've listed the specification improvements in what we consider to be the order of their significance. We also explain (further down on this page) the reasons that these upgrades are so important in the new iPhone. Each of them means you are likely to use more mobile data in your phone plan.
New device names for this year's iPhone range:
Apple will be departing from previous naming conventions, this time offering the iPhone Xs, iPhone Xs Max and iPhone Xʀ.
The iPhone Xs: (Pronounced 'Ten Xs'):
Apple use the suffix 'S' to indicate a minor upgrade to the previous year's device. The Xs will have the same 5.8 inch screen as last year's iPhone X. Apple are calling the OLED screen in this device (and the Xs Max) as 'Super Retina.'
The iPhone Xs (Max):
The Xs Max will come with a bigger screen than has been seen in any iPhone produced by Apple to date – 6.5 inches. The bigger screen variant is called the Xs Max
The iPhone XR:
This device will come with a 6.1 inch diagonal view-able area, and a cheaper LCD screen which Apple call 'Liquid Retina'.
New Screen technology (for iPhones) – OLED:
One key change – the type of screen which you'll get in this year's iPhones – explaining OLED vs LCD:
Two of Apple's three new device releases this year, benefit from an OLED screen. OLED stands for Organic Light Emitting Diode and, in simple terms, it's a brighter, more beautiful front panel to the iPhone you love. There is a noticeable difference between OLED screens and the alternatives which Apple previously employed. Most iPhones, prior to now, have had back-lit LCD (Liquid Crystal Display) screens, a feature Samsung and other device manufacturers moved away from some time ago – at least in their top end devices. You might be familiar with the distinction between the two different screen types from the flat screen TVs you have in your home. OLED screens offer more of the things that make a good screen. They're brighter, have better colour 'depth' and offer improved contrast ratios than LCD alternatives. You're also less likely to get a headache looking at an OLED screen because each pixel is lit on it's own – whereas LCD screens are lit from behind – which causes problems or some people's eyes if they look at the screen too long. Finally, OLED technology means they can get the screen closer to the edge of the device, reducing the size of the bezel. (The metalic edge which holds the screen to the back of the phone.
Improved processors (chips). The iPhone Xs, iPhone 9 will have an A12 processor / chip:
What is an A12 Chip?:
All three of this year's iPhone models will have an A12 processor and use 'LTE chips' that support faster processing  speeds. It's unlikely that Apple can be ready for 5G in time, and even less likely that access to 5G will be widespread, so the LTE (Long Term Evolution – 4G)  chips are a stopgap measure that should increase speeds until 5G networks are more freely available around the world. The A11 processor from the iPhone X was around 25% faster than the previous generation's A10 chip. The step to the A12 processor will offer a similar speed enhancement. Finally, the A12 chip takes up significantly less space in the phone chassis which means Apple can make the phone thinner and lighter. Apple claim that the A12 will be the first 7nm processor on the market – which is true although Huawei have announced a 7nm chip in one of their phones – it just won't be released until October.
What is a bionic chip?:
The use of the word Bionic in Apple's chips is just marketing talk. The iPhone X used the A11 Bionic chip, which was built on a 10nm (nanometer) design. The latest chip, called the A12, will use a 7nm design. This will make the processors smaller, faster and more efficient. The claim is that the new processor will give room for a 20% improvement in performance, and reduce power consumption by around 40%. The phones will also use LTE modem chips that support faster data speeds. That's an important step forward. Increasingly mobile customers require, as we show below, ever increasing demand for data, quicker speeds. Delivering on customer expectations in that area can drastically improve Apple's user experience.
Technical specifications:
For those of you who like the real detail, A12 chips are sold in a 6 core configuration, 4 of which are performance processors and 2 of which are efficiency processors. This year's iPhones will also have a 4 core GPU, (Graphical Processing Unit) which will be up to 50% faster than last year's and an 8 core neural engine.
Understanding the reasons apple have approached their processors this way:
Imagine it was your job to keep the lights on in a tower block and you were doing it with diesel generators. One solution available to you would be to have one huge generator running all the time. In moments of peak demand, the generator would provide enough light to the block to keep the residents happy. However, in the middle of the night, when demand was low because everyone was asleep, that generator would be using a lot of diesel just to tick along. An alternative strategy would be to have lots of different generators connected to the building. As demand for power grew, you could turn the generators on as required. Overnight, you could shut them off totally, leaving one small generator running to service the low level demand that you witnessed. By splitting their processor cores out, Apple are doing the same thing. They send specific jobs that the user requires to each processor (generator) which deals with that task efficiently – because it was designed to do that. If the phone needs an Artificial Intelligence (AI) task dealing with, it turns on the Neural Engine. If the phone or user wants to watch a video, they turn the GPU on. If there's a lot happening at once, they use the performance chips. And, if the phone is just waiting, they use the efficiency cores.
Hardware features in the 2018 iPhone range that won't affect your mobile data usage
The iPhone did present some problems. It was named the "most breakable iPhone ever" by the SquareTrade warranty site, despite featuring glass that Apple claimed was the strongest yet.
Design Changes:
Apple's 2018 iPhone models build on the design of the iPhone X released last year. The design of the iPhone X was highly regarded, so most improvements you'll see in this year's device range will be inside the device instead of outside.  Visually, the emphasis this year is the device display, with only a thin band of metal visible around the outside of the 2018 line up.

A 'Top Notch' device: The 'notch' at the top of this year's iPhone screens is here to stay:
That means the notch will still appear on all of Apple's 2018 iPhones. While many users don't find the notch at the top visually appealing, Apple do not yet have the technology to put the face recognition software behind the display. That makes the notch necessary, if not completely desirable.
Color options & waterproofing: What does IP 68 mean?
This year's iPhone will come with the same silver and space grey color options we got in last years' models. There is also a gold sheen option for those who want something different. The body is dust and water resistant, to IP 68 specifications. IP means Ingress Protection. IP 68 products are dust and waterproof resistant to a depth of more than 1 meter.
Home button & Tough ID replaced with Face ID:
This year's models ditch the home button, eliminating Touch ID. Face ID replaced fingerprint technology as the go-to bio-security measure, used to grant people access to their phones.Removing the fingerprint sensor (which, on previous devices, used to rest below the screen) eliminates the need to put in a dedicated sensor elsewhere on the phone, again, reducing the required size of the chassis and freeing up more of the device to be screen.

An upgraded camera:
The iPhone camera already compares pretty favorably with other similar devices, so upgrades in this year's phone cameras are minor. the Xs and Xs Max will have a 7MP front facing camera and a 12 MP Dual lens camera on the back.
A Dual SIM capability and / or eSIM capability:
For the first time, Apple have released an iPhone with dual SIM capability, enabled through the addition of an eSIM alongside the physical SIM on the device. eSIM will have far reaching implications for the whole telecommunications industry. This is especially important in an Australian context. eSIMs are a much more useful technology – almost certainly, the future of SIMs in phones. In fact, Apple have been pushing eSIM technology behind the scenes for some time. This is just the first time we've seen it in devices. Apple have revealed that the eSIM won't work until iOS 12, the next version of the handheld Operating System used on iPhones is released.
Which of the new hardware features in this year's iPhone line up will affect how much data you need in the plan you pick?
In short, you'll need at least 5GB of data in your phone plan if you're buying one of this year's iPhones. Apple's phones use roughly twice the monthly mobile data of  equivalent Android products, per minute, according to independent research.
iPhones are popular devices. the industry studies them closely, observing the ways iPhone users differ from other phone users – comparing them especially with Android devices. As you can see from the chart below, iPhones use around double the data per minute of alternative products.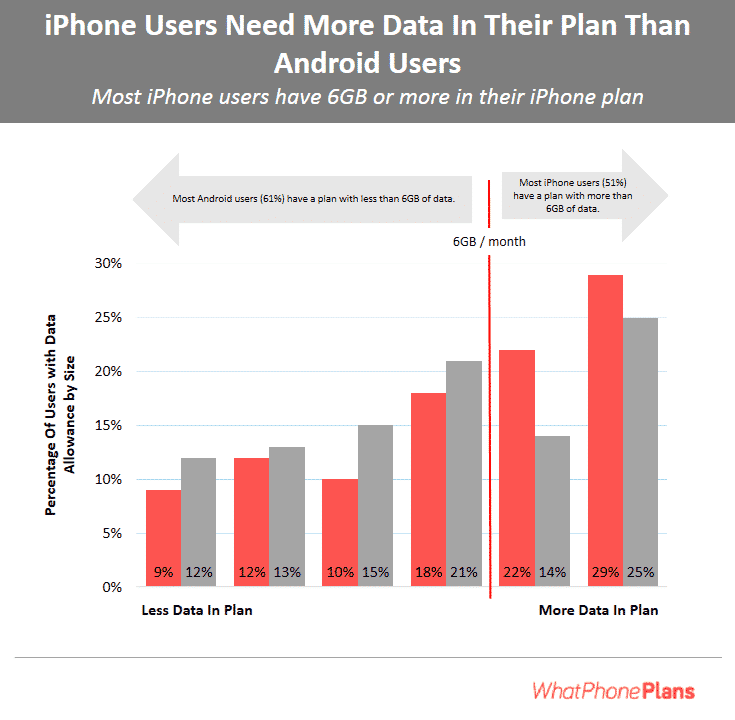 iPhone users tend to use more data than Android users to begin with:
Research from Analysis Mason (as well as many others) shows that, on average iPhone users get through more data each month than any other phone user. In tests, Apple iPhones consumed more than twice as much data, per minute, when connected to cellular networks, as Android devices. People love their iPhones, in industry speak, they are 'more engaged with their devices'. iPhones are also optimized for watching video and listening to music, (streamed music alone can incur up to 3GB of data charges per month) more than any other phone an, as you'll see from the graph below, video is what uses most of the mobile data you get through in your plan.
It's hard to say exactly how much data you need:
Personal behavior varies by individual, so it's difficult to provide a single answer about data requirements to the variety of visitors we receive on this site. We've suggested 5GB here but that's only a guide.
Even then, there is no 'set and forget' option:
The average number of months that people hold on to their iPhones has increased substantially, from 24 to 30 months in recent years, driven by less impressive device improvements between iPhone generations
However, there are some 'rules of thumb' that you can use which might be helpful in deciding how much data you need: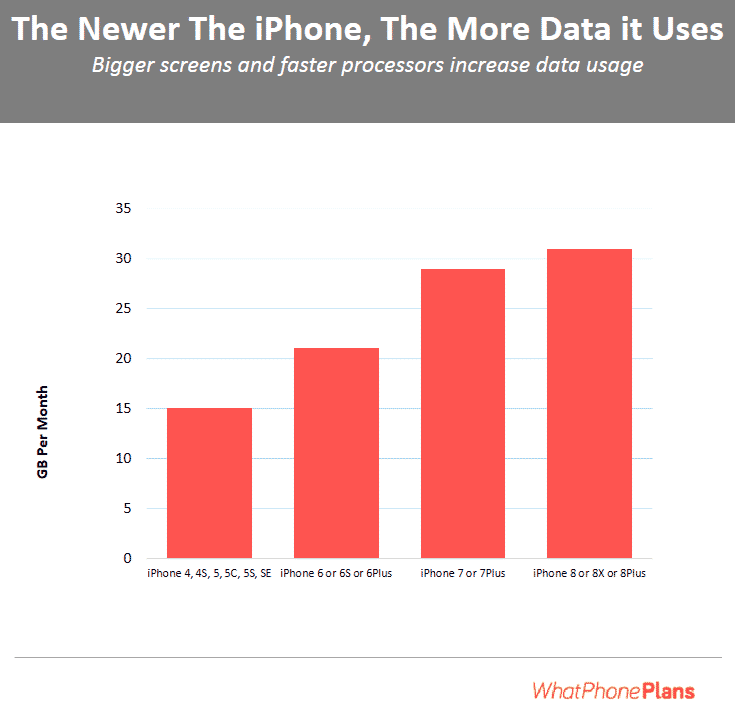 The bigger the screen on your iPhone, the more data you will use:
When Apple introduced their 'Plus' range (now adapted to 'Max' for this generation of iPhones), industry experts and academics examined the difference in mobile data consumption habits of iPhone users. They found that the bigger the phone's screen, the more mobile (cellular) data they used. (See chart above.) The effect was even more pronounced when users were connected to WiFi networks. You can see this concept explained graphically in the chart above. The bigger the screen, the more mobile data users got through in a month.
Culturally, people are watching more video on their phones:
Video content – You Tube Videos, Freeview and so on, make up the vast majority of the data you will use on your phone. (See chart.) Culturally, we're getting used to watching video on our phones. TV networks are digitizing their programs and making them available over IP networks with services like the ABC iPlayer. The change is especially visible in younger (25 years old and below) people.
Here's why your new iPhone will use more data when you're watching video.
OLED screens are so good, you will find yourself watching more content:
Apple are not the first company to deploy OLED screens on a smartphone. Experience on other devices with OLED screens show that, frankly, they're so beautiful, people can't stop looking at them. OLED screens make it more enjoyable to watch video content on your phone, too. And, as we've seen, video makes up the majority of the mobile data that people use on their iPhones.
4G devices use more data than older iPhones:
There may be more intelligence on the web pages than you realize. When, for example, you click a YouTube link on your iPhone, there is a 'conversation' (in computer talk) between your phone and the YouTube website. Between them, they will determine that your phone is 4G enabled – it can deal with really fast data. YouTube then decides to show you the best picture quality it can so you'll enjoy the experience of being on their website a bit more. Boom! Now you're downloading High Definition TV to your phone and using a lot more data in the process.
A faster processor means you'll use more data than you used to:
Again, industry insights show that, as processor speeds improve, users get through more data.
In short, we recommend at least 5GB of mobile data in your phone plan. If you're taking a 'Max' model, you watch video and can't help looking at that beautiful screen, you might want more than that.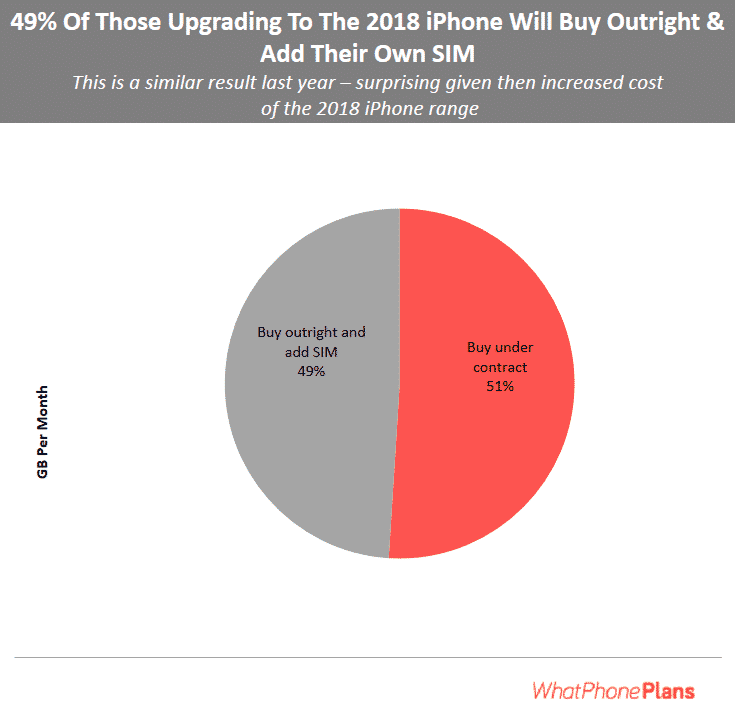 Should I buy an iPhone myself or get it under contract?
We recommend you buy your iPhone outright and add a SIM. Here's why.
Generally, our advice is to buy the iPhone yourself, outright and add a SIM to it. Here's why:
Last year was the first time that a higher proportion of people bought their iPhone outright and added a SIM:
Our own research shows that, for the first time in history, more people bought their iPhone themselves, outright and added their own SIM. that's a significant finding – because Apple's phones tend to be the most expensive on the market. A $100+ cost takes outright purchase out of the reach of many people, who prefer to split the cost over the course of a 2 year contract.
Because, it's often cheaper to do it this way:
Buying your iPhone yourself and adding a SIM, can work out cheaper than doing the same thing under contract. See our infographic examples of direct comparisons below this section.
Your data use will rise over time:
Multiple, independent sources including the ACCC, Cisco, Ericsson and others shows that the average user's data requirements (how much data they need to keep them connected throughout the month) is rising at a rate of around 70% per year. For example, if you are using 5GB of data now, in a year, on average, you will be using 8.5GB of data and, 12 months from them, nearly 15GB of data. If you're trapped in a contract, that can result in additional charges, (overage),  at a rate of $10 per GB on most of Australia's phone plans. Our analysis shows that can cost you hundreds of dollars per year in extra charges. And remember, that's an average user. If you're buying a new iPhone, all those new hardware facilities in this year's iPhone – the ones we covered above – are also going to drive your usage up.
And the price of data included in Australian phone plans is always falling:
The cost per GB of data is falling substantially in Australia. We call the phenomenon 'Data deflation' and, alone, this trend is a great reason to avoid taking a phone under contract. Buying a phone under contract typically ties you in for up to 24 months. During that time, your data usage will rise substantially. If you take a month to month agreement with your phone company, you are far more likely to be able to benefit from the ongoing reduction in the price of data – by simply moving plans with your current provider or changing phone companies all together. Free Download – The Guide To Australian Phone Plans
Consider smaller phone companies:
Just check the pricing in our listings, above, and you'll notice that smaller phone companies tend to provide phone plans with more data in them than the brands you know (Vodafone, Telstra and Optus.) Again, our own research shows that people don't understand the number of phone company options they have available to them. In a survey performed in August 2018, only 26% of people knew that there are more than 25 phone companies to choose from.
Why the included eSIM in this year's iPhone is so important to your phone plan decision:
Imagine you sign a 2 year contract with your phone company and, in the middle of it, as Apple have promised, they turn on the eSIM capability which is built in to the phone. From that point, you will be able to change phone companies from 'Settings' on your phone. If, however, you are under contract, you won't be able to leave (unless you pay the Early Exit Fee which will be expensive half way through.) The eSIM your new iPhone will have is yet another reason to avoid a contract.
Finally, when it comes to working out the best way to buy your iPhone, it's worth knowing they can also be leased, as a way to split the cost without being tied in to a contract. However, there are some limitations to the leasing options which are available currently and we don't recommend this approach to many people.
Why Buy an iPhone 8 Plus Outright from Mobileciti
+ a SIM from a small phone company
Went with Telstra contract
---
iPhone 8 Plus 64GB

24 months contract on Telstra x $109.00

$2,616.00

(= Unlimited Oz Talk & Text + 5GB)
Minimum Total Cost
2,616.00

On Telstra network
Found a deal on WhatPhone
---
Bought an iPhone 8 Plus 64GB from Mobileciti

$1,198

$30.00 per month on Belong Mobile
(month to month)

$720.00

( = Unlimited Oz Talk & Text + 5GB  )
Minimum Total Cost
1,918.00

On Telstra network
By finding a reseller deal on WhatPhone and buying her phone outright from Mobileciti, William makes a
Should I get a prepaid plan or a postpaid plan to accompany my iPhone?
Whether you decide prepaid or postpaid, our advice is don't pick a plan which ties you in for more than 12 months.
Consider your options:
A month to month agreement on a SIM Only or Prepaid Plan: 

Taking a month to month agreement with a phone company will reduce your overage charges:
We suggest you consider both prepaid and postpaid plans when choosing your SIM Only deal.
Don't ignore prepaid options:
Prepaid plans are much maligned, especially by older users, as a result, mostly, of prejudice. In reality, a prepaid plan entitles you to access exactly the same network as a postpaid plan and has a unique suite of advantages, unique to the plan type. For example, if you manage your credit balance well, your service will simply stop when you reach your data limit, rather than adding additional charges in the way that a postpaid plan would.

12 month SIM Only contracts:
For those who know they won't check their phone bill every few weeks, taking a SIM Only plan on a 12 month contract can make a great deal of sense. At the end of that time, you can then evaluate your data requirements to see how they've changed, and re-contract, if you so desire. 12 month plans generally offer better price per GB of data performance when you sign up than a month to month plan at the same price point. Of course, that advantage is eroded through the year, as extra data is heaped on to month to month plans (see 'Data Deflation' – above)  by the phone companies, as they compete, trying to offer the biggest, attention grabbing headline rates to attract customers.
Prepaid long expiry plans:
You can check out our dedicated page on Long Expiry plans for more information on this unique plan type. One key benefit of Long Expiry plans is that, by buying a year of cellular network coverage upfront, you will get a discount. Of course, this plan type is also easy to maintain. Unless you want to, there are no requirements to recharge at all over the typically 12 month lifetime of the plan.
You may also want to explore our dedicated article on phone plans with included international minutes.
How can I make sure I am getting a plan with the fastest possible data for my 2018 iPhone?
You'll have to go out of your way to pick a phone plan which does not offer the latest, 4G mobile data speeds.
LTE / 4G:
We list phone plans from the most competitive phone companies in Australia, in our tables, shown above on this page. Almost any plan you'll find on this site will be 4G enabled – which means you'll have access to the fastest data speeds possible on your iPhone. Those plans that do not offer 4G speeds (they tend to be cheaper, 3G plans) are clearly marked in our listings. In reality, you'll have to go out of your way to pick a phone plan which does not offer the latest, 4G mobile data speeds these days. They are hard to find.
4GX / Double data:
Some iPhones have a facility to connect twice to a cellular network, at the same time. This capability doubles the speed with which your phone will download data. In the industry, these 'doubled up' connections are known as LTE-A which, of course, is techno talk which you don't and shouldn't care about. All 3 of the major telcos in Australia offer LTE-A – although each has their own name for it which is confusing. From your point of view, there's no need to worry. Just buy your SIM as normal and, if your iPhone can benefit from double data speeds (i.e. your phone is capable of delivering the feature and you're in a part of the phone company network which offers it) everything that needs to happen will happen automatically.
There's no 5G yet:
5G is the next generation of mobile communications. The earliest you'll see an iPhone with 5G facilities is next year. In reality, it'll likely be 2020 before Apple release a 5G iPhone, despite the noise Telstra and Optus are making about it at the moment.
New phone plan features to look out for
Data banking is, in our view the fairest way of treating data in a phone plan.
Phone companies are making data 'fairer' – at last. Competition has driven some material improvements in the ways your phone company delivers your data. Here are some of the more interesting features, to look out for in the phone plans you'll see available for your iPhone these days.
Data rollover:
Data rollover offers some flexibility in the way you use your mobile data from month to month. Usually, if your plan has, say, 5GB of data in it and, when you get to the end of the month only using, say, 3GB, you'll lose the remaining 2GB. (Which most people think is unfair.) Data rollover gives you a degree of control over managing that circumstance. With data rollover, for example, in the scenario we just outlined, you would be able to carry over the 2GB of unused data to the next month. Typically, there are restrictions in place which limit the usefulness of Data Rollover as a plan component. For example, you'll find that the rolled over 2GB is used last in the following month, which makes it more likely you'll lose it. Additionally, they won't continue to rollover the same data more than once so if the problem is that your usage has increased in a lasting way (that's the problem most people find themselves facing) the data rollover won't help much at all.
Data Vault / data bank:
In our view, data banking. a service that Telstra and Belong Mobile both launched this year, is your best bet when it comes to managing data fairly. With a data vault / bank, your data behaves like almost every other product you have in your life. Whatever data you're given is yours, forever, until you leave the phone company.  The only draw back associated with a phone plan containing this facility is that it can be hard to leave the phone company you sign up with! There is always a pile of data waiting for you and acting as a deterrent to you 'churning' as it's called in the industry.
An easy to use Self Service app:
Any phone company worth it's salt these days, will have a good self service app. (Check our operator reviews, available in the menu at the top of each page for details of the app offered by each telco.) Customers who use the Self Service apps provided by their phone company tend to be more satisfied with their telco, than those who don't. They're free, they're designed to be easy to use, the preclude the need for long, frustrating calls to your phone company's customer service department and, critically, they are designed to make it much easier to manage your data allowance. You'll find them easy to use and that they provide visual renderings of how much data you have left in your plan. They also make it easy to buy or turn on extra services such as Roaming or International Calls. Do yourself a favor. Go to the Apple App store or Google Play store and download the Self Service app for your phone company, whichever plan you buy.
'Data free streaming':
Data free streaming is now offered by 4 phone companies in Australia. Typically, with this facility, you'll be granted access to video content by virtue of your plan entitlements and, while you're watching it, the data downloaded does not count against your phone plan allowances. Optus offers data free streaming of it's EPL product and data free streaming of some music services. Telstra will let you watch either the AFL or NRL data free. OVO Mobile also offer data free streaming of their sports services. Data free streaming is important when it comes to watching video content on your phone because video consumes so much mobile data, as we explored above. We have a while section on this important plan feature, below.
Family plans: Yomojo Mobile and OVO Mobile (link above) both offer 'Family Plan' features in their SIM Only deals. The big phone companies offer Family Data Sharing plans on all of their SIM Only deals. Here are the commonalities and differences in those family plans.

Bulk discount:
Yomojo's plans can be purchased for multiple family members at the same time. With each increased subscription in your family to Yomojo, you'll get an increasing discount. It's a basic bulk buy deal.
Safe and secure phone management software:
Yomojo and OVO both offer child internet connection management software: Kids are being given phones earlier in their lives. Each smartphone is simply a wireless connection to the internet. Both OVO and Yomojo offer software as part of their plans which will allow you to monitor what your child has access to, to set up 'white lists' and 'black lists' of websites they can view – for example, you might wish to ban your child's ability to download pornography on their phone. (Who wouldn't.) If you're buying an iPhone for your child, you might like to consider one of these two providers – Yomojo / OVO. OVO don't charge their customers for the use of the software, beyond the price of the phone plan. Yomojo do have a small monthly fee.
Telstra's 'Goodbye Extra data charges':
Telstra is undergoing a root and branch re-organisation this year, dismissing as many as 8,000 staff in the 3 years ahead. As part of that revised strategy, they've introduced a new feature 'goodbye extra data charges'. Under the scheme, users of (some of their more expensive) Postpaid plan range can opt out of the usual $10  per extra GB of data and, instead, get 'unlimited mobile data' at a reduced speed of 1.5 Mbps. The question, of course, which then naturally occurs is – is 1.5Mbps fast enough for me to do what I want to do on my phone. And the answer is – almost certainly, yes it is.
More on content in phone plans – to consider when you're picking an iPhone plan
Content has become a part of the phone plans offered by a number of phone companies, over the last couple of years. Typical plan inclusions revolve around video streaming and or access to streamed music services like Apple Music. The key phrase here is data free streaming. In the industry, this is known as 'zero rating' and we explained what it was in the last section.
Telstra video and music inclusions:
Some of Telstra's plans provide access to a number of premier sport catalogs. For example, at the moment, their postpaid plan range grants you the rights to watch a whole season of AFL, NRL or Australian Gymnastics on your phone.
Optus video and music inclusions:
Optus plans famously include access to the EPL – English premier League (soccer). They're a little different from the plans you'll get with Telstra. Optus charge an additional service fee every month to enable their customers' access. They've had some teething problems, as you will have noticed if you took an interest in this year's World Cup, but overall, Optus is winning with it's now popular EPL content.
Why you should buy an iPhone Xs Outright
+ a SIM from a small phone company
Went with Optus contract
---
iPhone Xs 64GB

24 months contract on Optus x $2400.00

$2,400.00

(= Unlimited Oz Talk & Text + 20GB)
Minimum Total Cost
2,400.00

On Optus network
Found a deal on WhatPhone
---
Bought an iPhone Xs 64GB

$1629.00

$25.00 per month on
Southern Phone(12months – special offer)

$600.00

( = Unlimited Oz Talk & Text + 18GB  )
Minimum Total Cost
2,229.00

On Optus network
By finding a reseller deal on WhatPhone and buying her phone outright, William makes a
OVO Mobile:
OVO Mobile are a smaller phone company but they offer some big phone company content inclusions. With OVO, you'll get access to some niche sports content and also streamed audio services like the Hit Radio Network. All of it is provided data free.
Don't pay for anything you don't need:
If you're not in to any of these content bolt ons, then out them out of your mind. In most cases (with the possible exception of OVO Mobile) you'll pay a lot more for the phone plans which entitle you to access these content libraries – that's why they're there! Most phone companies still offer the things you'd expect from a phone plan – the ability to make calls, send SMSs and access the internet. If you don't want these sports, don't pay for them. On the other hand, if these data free streaming services appeal to you, the extra charge added to your phone plan is a small price to pay for the quality of content they offer.
Which phone companies have the best coverage for iPhones?
Telstra's network covers roughly twice the landmass of any other phone company in Australia, including Optus. However, for those living in even slightly more densely populated areas, Telstra connections may be an unnecessary expense.
We have a dedicated page for coverage if you'd like chapter and verse on the subject. Here's a quick summary.
Telstra's blue tick:
Telstra has a scheme called 'Blue Tick,' under which it awards some phones – those which work better in rural areas with low signal quality. Phones identified as deserving a Blue Tick have effectively received a Telstra 'seal of approval' that those devices will work well in areas of poor signal quality. In the past, some iPhones have been awarded the Blue Tick and some have not. Look for the Blue Tick on the Telstra site, if this feature is of interest. Remember, you don't need to necessarily buy the phone from Telstra – the network connection quality would apply to whichever phone company you used. (The Blue Tick still applies, wherever you buy the phone.) Each of the major telcos tests each phone when it's released to ensure that it works without trouble on their network so you won't have a problem connecting.
Telstra's network covers around twice the land mass of Optus:
There really is no substitute for the Telstra network if you want land coverage. Telstra covers 2.5m square Km of Australia with a 3G network signal. The closest competitor, Optus, covers around half of that landmass, approximately 1.2 . In practical terms, however, there are many misconceptions about network coverage and speed in Australia. Vodafone actually offer the best coverage and data speeds in Sydney, for example. And the reality is that Telstra covers only a tiny fraction more of the Australian POPULATION than Optus does. Telstra's signal reaches 99% of the population to Optus' 98.50% abd Vodafone's 96.00 % .
Why you should buy an iPhone Xs Outright
+ a SIM from a small phone company
Went with Vodafone contract
---
iPhone Xs 64GB

24 months contract on Vodafone x $2708.88

$2,708.88

(= Unlimited Oz Talk & Text + 20GB)
Minimum Total Cost
2,708.88

On Vodafone network
Found a deal on WhatPhone
---
Bought an iPhone Xs 64GB

$1628.16

$36.90 per month on Kogan Mobile

$885.60

( = Unlimited Oz Talk & Text + 17GB  )
Minimum Total Cost
2,513.76

On Vodafone network
By finding a reseller deal on WhatPhone and buying her phone outright, James makes a
Consider Boost Mobile:
Boost Mobile are one of the better kept secrets in Australian telco. They are the only phone company to resell the entire Telstra Network – but they charge less for it than Telstra themselves do.
Coverage checker on their site:
Each phone company, big or small, has a coverage checker map on their site, which you might like to check, before you sign up. Enter your address and phone type and the coverage checker will tell you the likelihood that you will get coverage, where you live and work, in that area.
Why you should buy an iPhone Xs Outright
+ a SIM from a small phone company
Went with Vodafone contract
---
iPhone Xs 64GB

24 months contract on Vodafone x $2376.00

$2,376.00