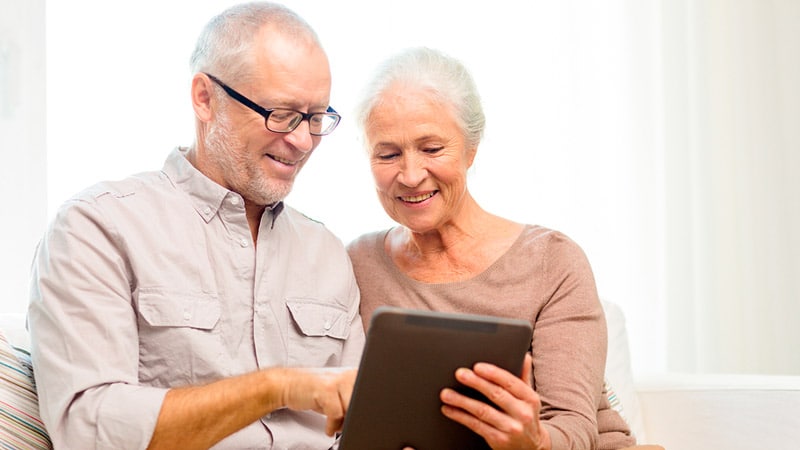 Some of Vodafone's plans are targetted directly at seniors
Vodafone has come out with an exciting new package aimed at seniors in New South Wales which will be replicated in other states. The package aims to improve seniors' knowledge of their mobile devices, especially smartphones, as well as give them a better phone and mobile data deal connected to any post paid plan they have above $40 a month.
Vodafone is offering the package in cooperation with Seniors Card NSW, who are very happy that the telco is providing the offer to their card holders.
Vodafone's Offer in a Nutshell
First month's access is free of any fees
All national phone calls will be free
All national text messages will be free
Data on Vodafone's 4G network will be available all over Australia
$5 roaming fee per day when overseas to access normal home plan
Free in-store training in smartphone usage
So What's the Catch?
The offer is only available to seniors who are resident in NSW and who hold a Seniors Card. The offer is also only available to seniors who sign up to a 24 month plan, either with a provided handset or SIM only. The plan chosen must be worth $40 a month or more for the offer to be valid.
Vodafone does say that the offer is not going to be restricted to NSW seniors, but will be extended across Australia.
Do I Qualify For a NSW Seniors Card?
It depends. To be eligible for a NSW Seniors Card you must satisfy the following criteria:
Be 60 years or older
Be a permanent resident of New South Wales
Do paid full time work of no more than 20 hours a week
Hold a valid, green Medicare card
The seniors card gives you access to a number of good deals and discounts in addition to the Vodafone deal. If you haven't got a seniors card or didn't even know of its existence, you can check out the relevant information on the website as well as applying online (if you are eligible) for the card.
Ben McIntosh, who is Director of Sales for Vodafone, said that the company realised that a large percentage of NSW seniors used their seniors' card every day to get discounts on all sorts of services. Three quarters of seniors access the internet every day too. Mr McIntosh said that Vodafone was extending the offer to NSW Seniors Card holders so that they could take advantage of Vodafone's 4G network to access the internet on a regular basis wherever they were in Australia.
NSW Minister for Ageing Reported to be Happy about the Deal
New South Wales Minister for Ageing, John Ajaka was reported to be very happy with Vodafone's offer and the decision to partner with NSW Seniors Card holders in the state. He was reported saying that the offer would mean that both phone calls as well as mobile internet use would become more affordable for seniors. He was also very happy about Vodafone's technical training for seniors at their offices state wide.
What the Training Sessions are All About
Vodafone has announced that it will be providing six training sessions for seniors in selected Vodafone offices across the state. The training is expected to start on November 22nd, but the exact locations where the training will take place have not yet been announced.
The training is designed to make seniors more comfortable round their smartphones. It's not that seniors don't own and use smartphones already but it is suspected that they don't all use their smartphones to their fullest capacity. The sessions will include things like:
how to change font size
how to select wallpaper
using voicemail
checking mobile usage
backing up the phone
security tips and tricks
communication with family and friends overseas
Mr McIntosh said that it was recognised that seniors might not necessarily be comfortable using their smartphones and familiarising themselves with the full range of services and features which are now available. That's what the series of workshops was designed to provide, he said. He said, perhaps a bit tongue in cheek that before long, the seniors would know more than their grandchildren and even if they didn't at least they would know how to contact them, wherever they were to ask for advice!
Offer Extended to Other States
Vodafone says that the offer will be extended to seniors in other states. Then all they need to do is either switch their existing plan with Vodafone or from another provider to a Vodafone post paid plan of $40 or more for a minimum of 24 months and they will be able to take advantage of the new seniors card offers just like seniors in NSW.
Vodafone 30 Day Guarantee of Satisfaction
Vodafone seems to be pretty confident that it is offering a satisfactory network service as it is now offering a 30 day guarantee. If anyone takes up one of the Vodafone post paid packages and is not satisfied with the level of service, they can get their contract cancelled for free. If they have been paying any instalments for a handset, they can get those returned to them as long as the handset is returned within 10 days of making a claim.
Is Vodafone the Only Telco offering a seniors' Deal?
No, it's not, but it does seem that it is one of the best deals around at the moment. Telstra does have a deal available for seniors who haven't yet got an internet connection at home. It provides a phone and internet for $59 a month. It's called the Telstra Seniors Starter Bundle. It includes unlimited local calls, 25 GB of data and a number of other discounted deals which are not available to anyone not a senior. Basically, the key advantage which Vodafone offers is the mobile internet and phone calls for free which Telstra's deal does not.
So seniors are quite well looked after by Vodafone and Telstra with Vodafone coming out with the best offers.