The 2017 WhatPhone Awards
All of these award winning plans are taken from our best prepaid plans.
We understand that most people don't follow the ins and outs of phone companies it closely, they just want the headlines when it comes time to renew their plan. As a website, however, WhatPhone is staffed with people who care perhaps a little too much about phones and plans !
The inaugural ( 2017 ) WhatPhone awards are a way of short cutting the recommendations we make for the people who visit our site. We know from our solution finder the key things people are interested in when they're buying plans. We're highlighting the companies here that service those needs.
We partner with many of the best phone companies in Australia. It's worth mentioning, however we do not partner with them all.
Best Plans – The Best Of the Best – OVO Mobile.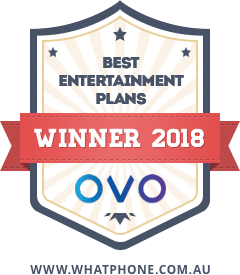 The 2017 WhatPhone Best Plans Award winner was OVO Mobile.
OVO Mobile launched in late 2015. People that visit our site chose OVO more than any other phone company in 2016. We gave them 'Best of The Best Plans', ( our overall best of the best award ) for 4 reasons.
Their pricing is competitive. OVO are up there with the best value plans on the site. That's especially true for their data inclusions.
They have a price match promise. When they drop their pricing, it is applied to all of their customers' plans automatically. They recently did this with their $59.95 data plan. We are not aware of another telco which offers this yet.
They have led the way with the biggest trend of 2016 – content. ( Content is also known as 'Entertainment' in some quarters. ) They seem to genuinely love their petrol head and gymnast head. OVO just keep adding new entertainment content to their plans.
Finally, OVO innovate more than any other telco we've seen. OVO have a OVO have a $9.95 monthly plan with pocket money 1GB data inclusions for kids : And it comes free with parental locking software.
OVO is everything a telco should be. Fair, good value, offering entertainment options and devoted to its customers. There was no other contender which hit all of these important points.
Best for international calls – Lebara Mobile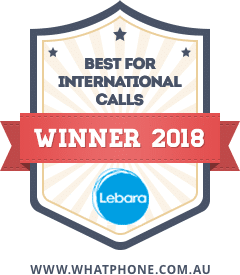 The 2017 WhatPhone Best Plans Award winner was OVO Mobile.
Lebara's award for international minutes might be the least surprising of the plans and trophies on this page.
They have the basics covered : Lebara offer a best in class data inclusion at $30. They use the Vodafone 3G and 4G network which is now on a par with Optus and Telstra's.  Unusually, in prepaid plans these days Lebara also take it to the competition with a 30 day, rather than 28 day expiry.
And, most importantly from the perspective of the 2017 awards, Lebara's International calls inclusions start at 250 minutes for just $30. That's a clear $10 below the price point you'll find most of the competition at. For just $50 a month, you'll get unlimited international calls.
Best for data – Yomojo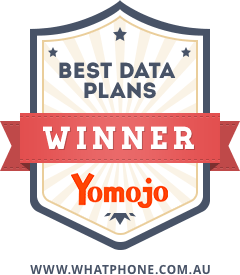 The 2017 WhatPhone Best Data Plans Award winner was Yomojo.
Yomojo's award came down to simple maths. Yomojo consistently provides more data in their plans for less than any other provider in the market. They were selected as Best for data for a number of reasons:
For the average usage which is around 2GB per month at the moment, they offer an unlimited calls and SMS package for $19.90. No other supplier offers that amount of data for that price.
Their data offering on all their unlimited packages, in most cases doubles the data given for the same price as their competitors. With 6GB at 29.90p/m and 12GB at 44.90 p/m plans which can't be matched.
And for big data lovers, they've just launched very generous new mobile broadband offering of 50GB ($69.90 p/m) and 70GB ($85.90 p/m).
Additionally, we love the fact that Yomojo's plans can be bought either prepaid or post-paid. Our preference is prepaid for the hard stop the user can put in place on data overage fees – something that others cannot do.
Finally, with flexible data options from a PAYG facility a broad, but not overwhelming range, a plan configurator that lets users build the perfect mobile plan for them, and a knack of knowing just what their customers want, Yomojo give choice where it's needed and have something for everyone.
Best for streamed audio – Optus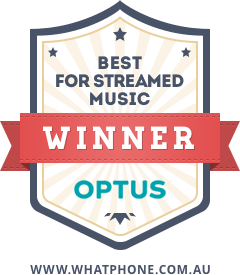 The 2017 WhatPhone Best Streamed Music Award winner was Optus.
Optus had an amazing 2016. That such a behemoth company could innovate at the speed they did is a credit to the Product Management teams they have working for them.
Optus own the streamed audio space with more partnerships than any of the competition. Take out an Optus My Prepaid Ultimate or My Prepaid Daily Plus plan, and, you'll get unlimited free streamed audio on top of the data in your plan. They call it 'data free music streaming.'
That means if you have a Spotify, IHeartRadio , or Google Play account, you can listen to music with your Optus My Prepaid Ultimate or My Prepaid Daily Plus and never suffer the data cost.
Data free music streaming offer ends 16/7/17.
Best for entertainment – OVO Mobile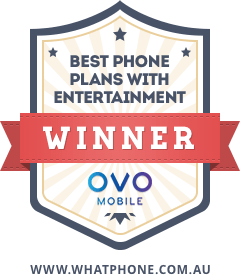 The 2017 WhatPhone Best Phone Plans With Entertainment Award winner was OVO Mobile.
OVO do three things amazingly well when it comes to the entertainment they offer in their phone plans. First, they have a growing range of entertainment that a certain group of fans love. Second, they offer that entertainment free ( that's free for the content and free of data charging ) to their customers. Third, they do this on plans which are substantially cheaper than the bigger phone companies.
Only OVO have made a clear statement that their FREE streamed radio (Tripple M and Hit Radio) / Audi Racing / Gymnastics content is pivotal as a differentiator to what they're selling as a telco – AND offer that content for free. OVO have picked niche sports and serviced customers who never thought they'd see the this kind of sports coverage – or an ever increasing number of video inclusions like gymnastics, now – on their phone.
In contrast, we discounted Optus' EPL content because it costs $15 per month on top of their postpaid mobile SIM Only plans. ( While Optus customers can get Optus Sport included on $85 plans and above.)
Telstra's AFL and NRL coverage is actually very good. However, was an afterthought – a reaction to a disruptive step by Optus. Telstra simply stopped charging existing customers for the service.
Between them, these plans sum up the best of Australian telco in 2017
This year's 2017 awards reflect the changes coming about in the mobile phone world. Entertainment and streamed audio options are going to become more prevalent in the 12 months ahead : We can expect more competition for the titles next year. Data pricing and management is the critical plan component we hear most about from our visitors. Every phone company has to consider both and the best in class deserve a mention. With a choice of networks and big / small phone companies, there's something for everyone in these 2017 awards.
This Month's Hot Offers