Tim – Samsung Galaxy S2 Review
This handset has sold like hot cakes and I can see why. If you're thinking of getting a smartphone, and you're on a budget, you can't go wrong with the Samsung Galaxy S2. It has a beautiful screen, great camera, nice interface, fast at pretty much everything – all packed into a thin and lightweight device.
As much as I hate to admit it, I can understand why some people are choosing this phone over an iPhone. If you're looking for a great smartphone that excels at pretty much everything, the Galaxy S2 should be at the top of the list.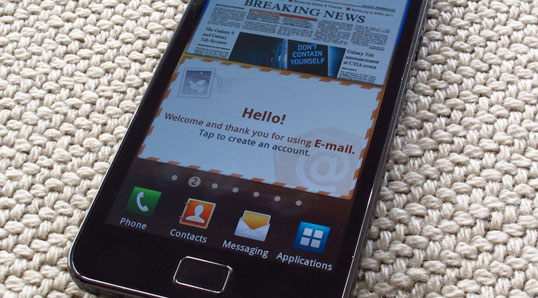 Samsung Galaxy S2 – Screen
Comes with a 4.3 super AMOLED plus screen. Sounds a bit ridiculous right? Well, it's pretty awesome. The size seems just right, not too small, not too big. When you first turn this baby on the color pops out and makes you realize that you have missing out on what a screen should look like.
It's bright, vibrant, great contrasting colors and I'm sure people who really know about this stuff would throw in a whole lot of impressive technical terms. For the rest of us, let's just say that this screen is simply amazing and it's one of the things you'll love the most about your phone.
Tim Samsung Galaxy S2 Review – Camera
8 megapixel with led flash at the back and a 2 megapixel camera on the front. This is the kind of phone that will see your digital camera get used less. I'm talking about a certain level of photography here of course, but you could almost get away with it.
For a camera phone this is really good. It even performs well under poor lighting conditions (indoors, parties etc) and you get pretty crisp and vibrant photos.
Tim – Samsung Galaxy S2 Review – Performance & interface
It's impressive how nicely this phone runs. It responds so well when you're going through the menus and even when with heavy apps, media etc. You'll notice a number of home screens (like your desktop on you computer, just many of them that you flip through) and lots of shortcuts that can be customised to the users liking.
If this is not your kind of thing, don't worry about, it's not something you have to use but I bet you'll eventually will as you get more comfortable with the phone. It's just convenient.
Tim – Samsung Galaxy S2 Review : Form factor
Thin and much lighter than I expected. Many phones out there just feel too big, too heavy, but the Samsung Galaxy SII just felt right.
I'm an iPhone 4 user and this phone felt thinner and definitively lighter. The only criticism is the back cover. It has a nice pattern and looks good, but it feels a bit too plastic and fragile.
Tim – Samsung Galaxy S2 Review – Battery
Battery life gets a bad wrap among heavy users but this did not seem to be much of a problem for me. I usually check my emails, facebook, and a couple of blogs about 3 times a day plus a few phone calls here and there – no worries.
If you're very precious about battery life, there are a number of things you can do to save during the day. Things like turning off your wifi when not in use, adjusting screen settings and preventing apps from running in the background.
Tim – Samsung Galaxy S2 Review – Comparing
If you'd like to compare the Samsung Galaxy S2 against the other devices in the Whatphone Top 7, you can read this article.
Tim – Samsung Galaxy S2 Review – Final thoughts
Samsung did a splendid job with this phone and I'm excited about two things. One, the next models to come, including the Samsung Galaxy S3, and two – pricing for the Samsung Galaxy S2 is incredible. You get so much phone for your money.