In metro areas Vodafone has the best network – really
There are a variety of credible ( independent ) information sources available to establish which phone companies offer the best network coverage in Australia. We try to reference as many as possible here to assist your decision. 40% of Australians saying they are likely to change network in the next year. Coverage is a key factor in the decision making process.
This article is updated regularly.
Potentially the most important report about phone companies in 5 years, a recent 'Open Source' white paper revealed some surprising news. In major metro areas, Vodafone had the best 4G coverage and the best 4G speeds – compared to Optus and Telstra. Take a look at the info-graphic here if you'd like more detail.
The gap between Vodafone and Telstra was never that big
JD Powers is an American research company which conducts an annual report in to the quality of Australian phone networks. In their 2013 report on Australian Network Coverage, JD Powers concluded that the network performance gap between Vodafone and Telstra was not that large. The JD Powers analysis studied 1900 Australians in February / March 2013 and covered the 3 critical areas of national phone usage.  Their aim was to determine what phone company has the best coverage across 3 types of interaction : Phone Calls, Messaging ( e.g. SMS ) and Data Download / Upload.
The study finds that the variation in network quality performance among wireless carriers at the industry level is much smaller in 2013 than in 2012. While network quality performance among carriers still varies at the state level, the gap between the highest- and lowest-ranked carriers for the overall industry has decreased to only 7 PP100 in the 2013 study from 11 PP100 in the 2012 study.
That mostly makes sense if you work in the mobile phone industry. Translated in to terms that normal people might understand, the quote means :
Telstra's network was the best available
But the gap between the quality of the Telstra and Vodafone networks was not as big as people thought it was
And, when you include the other elements of the service you're offered by your phone company, it gets interesting. Looking at customer service from Australian phone companies, Telstra's is often on a par with Vodafone. In fact, for overall satisfaction, considering all of these variables, price, network quality and customer service, Optus and Virgin Mobile come out on top. So, Telstra do have the best network but the research says they may well not be the best phone company for you.
Phone company network comparisons
Australian phone buyers have to make trade offs. They have to decide what the best combination is for them of price / network / service.
In the bush, Telstra have the best network. They cover 60% of bushland areas with their 3G network.
In metro areas, Vodafone are just as strong, if not stronger than Telstra. And, as the recent Open Source report shows ( see infographic above ), Vodafone has better network coverage and speeds on it's 4G network in Sydney.
Even the Telstra Chief Financial officer acknowledged the alternatives that people face in Australia. In September 2013, he spoke of the improvements Vodafone were making in their network and his certainty that their improvements would continue. The fact is that at the start of 2014, Vodafone has the best network in metro areas.
Network coverage complaint levels
Unfortunately, the generally poor feedback that Vodafone has received about its network is reflected in the number of complaints made about it to the regulator last year. Telstra's complaints also stand out as substantially higher than Optus and Virgin Mobile, indicating a level of frustration with Telstra's services.
The 'regulator' is the Telecommunications Industry Ombudsman or TIO. This chart is, of course, backward looking. The latest TIO's reporting available ( it was released late in 2013 ) shows complaints for the quarter April – June 2013. Improvements in network quality and charging mechanisms will reduce the number of complaints in the future and may not be reflected in these statistics yet.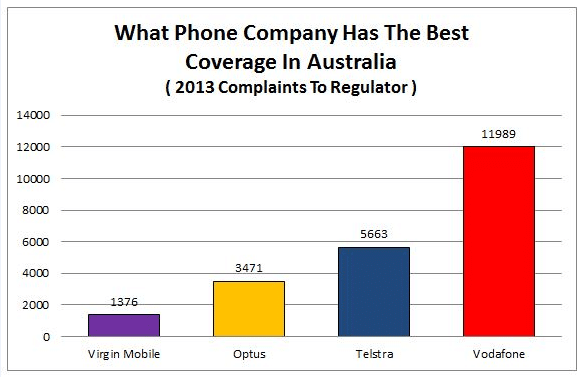 Telstra do have the best network coverage in the bush
In addition to the information contained in the info-graphics on this page – key facts about Telstra include :
Telstra have 4.1 million 4G customers as of mid Feb 2013.
Cover 2.3 million square miles of Australia including 60% of the Australian bush.
Have more than 15 million mobile network customers.
Market share : 45.2%
It was back in 2008 that Telstra took the remarkable steps it did, to invest in it's network and differentiate itself with that attribute. In many ways, it was the genius of the CEO at the time, Sol Trujillo who insisted that the Telstra 'Next G' network would be the best in Australia and was prepared to spend the money required to make that happen.
Telstra are ahead in their network performance and are spending more on improving it than the competition. The AFR report that Telstra is spending 'unprecedented amounts' on network investment. And it's paying off. Since mid 2011, they have grown the number of customers on their network by the better part of 1m customers. Telstra now have more than 15 million customers on their network !
Cleverly, Telstra have kept their 4G network to themselves. They sell 3G services to providers including Boost. However, they save their 4G network for their own customers. And even the 3G network they sell to partners does not cover the full area that the 3G network they provide their direct customers does.
Together, these steps enable Telstra to charge a premium for their network services. Their price plans are routinely $10 – $15 per month more expensive than the other networks. This poses a couple of natural questions.
Do you live in a bushland area where you will use the edge in network coverage that Telstra has ?
Is that benefit worth putting up with their bad customer service and high prices for ?
Telstra's 4G network coverage
4G or LTE networks are cheaper to operate once established and offer more efficient use of the wireless frequencies the phone companies have bought access to. To you, that means a 4G phone will give you a better network experience.
Telstra started rolling out their 4G services in November 2011, long, long before the other Australian phone companies. By mid 2013, they covered 66% of the Australian population. Their target was to cover 85% by the end of the 2013 calendar year and they hit that milestone. In fact, they completed it a week early.
Optus and Virgin Mobile network coverage
Optus 4G Network Coverage
In addition to the information contained in the info-graphics on this page – key facts about Optus' network include :
Optus have 1.8 million 4G customers as of mid Feb 2013.

That's an increase of around 30% achieved in just 3 months !

Targeting 70% Australian population coverage with 4G by end March 2014
Recent 3G upgrade programme boosted in door coverage to 94%, up from 70% 2 years ago.
Cover 1.0 million square miles of Australia with their network.
Have 9 million mobile network customers.
Market share : 19.3%
Customer complaints have halved in last 12-18 months
Optus and Virgin Mobile use the same mobile network. Virgin Mobile is actually part of the Optus company. Unfortunately, not everyone realises this – which is why Virgin Mobile perform better on some network reviews with customers.
Optus too, spent $2 billion dollars growing its network coverage in 2013. Optus is also, already offering new technology to its customers, available since its purchase of Vivid Wireless which will further improve 4G speeds.
Optus actually shares a significant proportion of it's network with Vodafone. This allows both companies to roll out improved network coverage to their customers whole controlling costs.
What about Vodafone's network ?
Vodafone 4G Network Coverage
Vodafone have more than 1 million 4G customers as of mid Feb 2013.

That's huge, given they launched their network less than a year ago.

Have 5 million mobile network customers.
Market share :  9.5%
Open Source show Vodafone has the best 4G network coverage & speed in Sydney at 2014 start.
Had first month of adding customers to their network since 2010, at the start of 2014.
Vodafone's network improvements are paying off for new customers. The 'Vodafail' tag they received in 2010 is finally leaving them following one of the biggest corporate turnarounds in Australian history. The good thing is they know it and they're working on the problem. Bill Morrow, the ( now ex ) CEO of Vodafone recently changed the company's internal focus away from numbers and focused staff on the emotional aspects of their relationships with customers. They're treating every lost customer as the loss of a lover.
It's a slightly over the top approach but it has a basis in reality. Vodafone have undertaken a huge network investment since the peak of their problems. They've recently spent $1.7 bn on network improvements. The sum of these improvements have reduced customer complaints to the TIO, the Telecommunications Industry Ombudsman ( that's the last line of frustration for Australian consumers to complain to ) by 40%.
Vodafone have cut rollout time and covered more area, faster by entering a network sharing agreement with Optus.
Their network focus seems to be working. NPS, a measure of customer satisfaction, for customers who joined Vodafone since 2012 is much better than customers who were with them during the worst of their network problems. Before the iPhone crashed the Vodafone network, their NPS was an industry leading +18. At its worst, Vodafone's NPS fell to -11. For customers who joined since 2012, NPS is positive – which means people would actually recommend the Vodafone network.
Vodafone is a huge international brand and they're taking a responsible approach to accepting new customers. They check coverage in your area for you and if it's not good enough where you live and work, they recommend you go to another network. Perhaps that's why they're now prepared to offer the Vodafone Network Guarantee.
The trade off – better network often means worse customer service
The trade off for most people comes down to the overall experience you have with a phone company. When things go wrong with your service, you will want them fixed quickly, efficiently and in a friendly manner.
This is where Telstra customers start to have a had experience. You will notice from the infographic above, that when customer service is considered, Telstra is on a par with Vodafone.
Overall satisfaction & the best network in australia
And it's not just Canstar Blue's survey which reveals this. Every year, a phone company consortium conduct a survey called the Australian Mobile Phones Lifestyle Index. This year, it uncovered the same result. Telstra's customers are substantially less happy overall with their customer service experience than Optus and Virgin customers.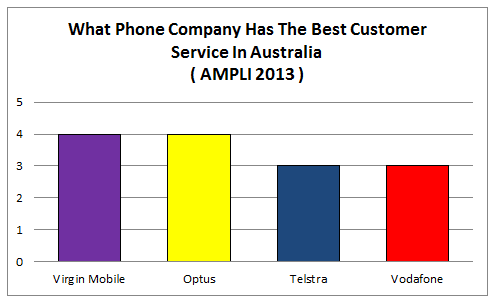 Telstra's & Optus – 4G network speeds – what's next
For the average user, the 4G networks of all 4 of the top Australian carriers can be considered of roughly equal speed in my view. Some users receive peak speeds which might be higher here and there and those tend to be what's reported. There are a variety of factors influencing how fast the data will come down to your phone including how many times you've dropped it ( did you damage the aerial ? ), how far you are from the nearest base station, how many other users there are on that network at the same time.
However, Telstra and Optus are working on squeezing more out of their 4G networks.  Telstra managed 150 Mbps in September 2013 using LTE-A. Optus are likely to be first to market with their souped up 4G technology of TDD which they intend to launch late in 2013 in Canberra.