The biggest problem facing Australian's travelling to New Zealand has always been worrying about getting a SIM card on arrival so that people can contact loved ones back at home, or worrying about the expensive costs of global roaming.
The great news is that now, thanks to Vodafone Australia if you are planning to head over to New Zealand and plan to spend less than 90 days in the country, roaming is now free.
This is a great deal for Australian travellers as you will be able to save the $5 daily roaming fee and not have to worry about your smartphone not being able to make calls or access mobile data on the go.
When on holiday, outside of your hotel or the tourist areas, WiFi is often expensive or in most cases not even available.
With Vodafone providing users with $0 roaming, you won't have to worry about not being connected.
Vodafone Australia global roaming
Vodafone global roaming allows you to use your mobile phone when travelling abroad to more than 50 countries around the world.
The best part is that you can use your mobile phone just the same as your normally would if you were still back at home.
Roaming on the Vodafone network allows you to access all of your calls, texts and mobile data, all as if you were still back in Oz and using your smartphone as per usual.
If you are visiting a country that is not New Zealand, then the standard $5 per day roaming fee applies. If $5 roaming is activated on your prepaid plan, but you don't use your phone, then you won't be charged.
Best SIM Only Plans January 2019
Boost Mobile | Best Prepaid Data Rates On The Full Telstra Network

Prepaid | 28 day expiry | On The Telstra Mobile Network 3G+4G
Boost Mobile are a reliable brand. They are the only phone company other than Telstra to resell the full Telstra 'Retail' Network. With Boost you'll get:
The full Telstra Mobile Network
Other phone companies resell part of the Telstra Mobile Network. Only Boost and Telstra plans allow you access the whole thing.
Free streamed audio:
Data free streaming of Apple Music (requires subscription) on top of the data included in your plan.
A range that includes 7 day and 28 day plans: 
Boost offer a selection of plans including 7 and 28 day variants.
Recharge options from $10 to $50:
Boost have a total of 5 recharge options for their prepaid plans, ranging between $10 and $50.
Boost Mobile Plans For Your Mobile
All talk time and SMS for use in Australia to Australian numbers. All data is for use in Australia. You can learn more about this company in our Boost Mobile review.
Strong, Simple Plans & A Well Known Brand
Amaysim | Prepaid Plans | Optus Mobile Network 3G+4G
Amaysim are the 4th biggest phone company in Australia with over 1m customers. They consistently have one of the highest customer satisfaction ratings in the industry and have prepaid (28 day expiry) plan range – just select the option you want in their checkout. With Amaysim, you'll get:
Strong plan range:
Amaysim have a range starting at $10 per month and rising to $50 per month. Data inclusions are up there with the best available and, with Amaysim, things are nice and simple. You're just buying voice calls, SMS and data. There are no optional extras.
New International Inclusions:
Any plan you buy, starting at $30 per month will now include free International Calls to 12 destinations.
Great Customer Experience:
Amaysim are consistently one of the best performing†phone companies when it comes to customer satisfaction.
Amaysim's plan range:
You can find out more about this company in our Amaysim review.
Yomojo plans

Prepaid | 30 day expiry | On the Full Optus 4G Plus Network 
Yomojo are unique in the Australian market. They offer you an unbelievable range of plans. Yomojo's plans are completely configurable through their website. They also have some pre-configured unlimited plans for those who want a more standardised plan.
Prepay Plans :
Yomojo recently revised their plan range and now offer prepaid plans only.
Use the full Optus 4G Plus network :
Yomojo use the full Optus 4G network. You'll get the latest 4G speeds in 4G coverage areas in all the same places as customers who go to Optus direct.
Yomojo plans for your mobile
You can learn more about them and their unique content in our Yomojo review.
OVO Mobile – Free Video & Radio Content
Prepaid | 30 day expiry | On the Full Optus 3G and 4G Network 
OVO's offer a totally new way of looking at a phone company – they're one of our best selling partners. Their plans are, pretty much on a par for data inclusions with the best in the industry. In addition to talk time, SMS and data, OVO's plans include exclusive access to exclusive video content. All of OVO's plans come with 'OVO Play' an app which lets you watch their free content on your plan. With OVO, you'll get:
Free Video Content – Motorsport, Sailing, Gymnastics & Water Polo :
OVO offer a growing list of free video and audio content. Motorsport fans might like the 400 Thunder Professional Drag Racing Series, Australian GT, Formula Drift and other petrol head live streaming. OVO Play also includes other sports like sailing and gymnastics. The price of the content is included in the monthly line rental charge you pay OVO for your prepaid plan. So, importantly: You won't see your data balance decline while you're watching them, the streamed content is free.
Free Streamed Audio:
OVO's plans also offer FREE radio streaming, also included in your plan offers access to the Tripple M network and other selected stations.
OVO for Kids:
OVO's plans come with the offer of free access to Parental Lock software. Buy your child the $9.95 plan from OVO and you'll be able to monitor what they access on their phone and set times for it to turn off and turn on it's own connection to the internet.
OVO Plans for your mobile
Picking an OVO plan is simple. All of OVO's plans include Unlimited talk and SMS in Australia to Australian numbers plus superfast 4G data.
You can learn more about them and their unique content in our OVO review.
Kogan Mobile – Best Value on the Vodafone Network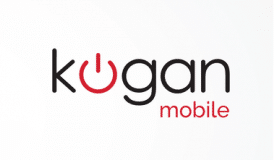 Prepaid | 30 day expiry | On the Full Vodafone 3G and 4G Network 
Kogan Mobile keep it simple. They have some of the most competitive SIM Only / Prepaid plans in Australia, on the much improved Vodafone network. With their multi month recharge options, Kogan add some genuine value and choice to the market.
With Kogan, you'll get
Monthly, quarterly or annual options : Do you want a single recharge payment with a 1, 3 or 12 month validity ? With Kogan, you'll get discounts for multi-month purchases you were going to make anyway. They add the convenience of less frequent running out / topping up. And they keep the total predictability and flexibility of prepaid.
Kogan's 30 day plan range :
Kogan's 30 day plans all have Unlimited talk and SMS in Australia to Australian numbers. The difference is the amount of data which is included.
All talk time and SMS for use in Australia to Australian numbers. All data is for use in Australia. See all Kogan Plans including 90 day and 365 day plans. You can find out more about this company in our Kogan Mobile review.
Travelling to New Zealand, Vodafone have you covered
Vodafone Australia launched their roaming offer back in mid-2013, which set them apart from the rest of the competition which to this day still charge expensive roaming fees.
Now thanks to Vodafone Australia, it won't even cost you a fiver on your next trip to New Zealand.
Unlike their competitors, Vodafone only charges you a simple flat daily fee, allowing users to make calls, send texts and access their mobile data as per usual. All without making users pay exorbitant per minute fees.
Due to the large volume of Aussies heading to New Zealand, they were the logical first country to be included in the Vodafone $0 roaming agreement, in the coming months they may also add Canada and Britain to the list.
"Today I am pleased to announce that Vodafone Australia is strengthening its ties to New Zealand by opening its 'network borders' to include New Zealand," – Vodafone CMO, Loo Fun Chee.
Which customers can take advantage of $0 roaming?
The daily free roaming in New Zealand service is currently only available to Vodafone Australia prepaid customers on the Red or SIM only plans.
The international roaming no daily fee service is thanks to a new partnership between Vodafone Australia and Qantas, the national Australian airline.
The deal allows Vodafone users to earn up to 15,000 Qantas points, through their subscription, renewal and upgrading of existing Vodafone Australia Red plans.
As a secondary part of the deal, Qantas will begin selling Vodafone Australia locked smartphones and SIM cards to all international travellers flying to Australia on their aeroplanes.
In the telecommunications industry partnering with a national airline carrier, to sell to their flight passengers mobile phones and SIM card services is a first in Australia and could pave the way for other non-traditional partnerships.
"Many Australians travelling overseas continue to be denied the right to use their phones like they would at home, and are instead spending their holiday downtime searching for free WiFi or worse still, paying excessive mobile roaming rates," she said. "This is something Vodafone is working hard to change." – Vodafone CMO, Loo Fun Chee
Telstra and using mobile data overseas
Telstra though their international partnership with global WiFi Hotspot company Fon, are enabling Telstra mobile users access to WiFi from the many different hotspots around the world.
Telstra users can simply connect to the Telstra Air app on their iPhone or Android smartphone and tablet devices and be connected to the internet, no matter where they are in the world.
Fon a global hotspot provider in partnership with Telstra are the exclusive partner allowing Telstra customers which are a part of the "Telstra Air" network, to also access WiFi when on holiday or travelling abroad.
Data accessed via the Fon network of hotspots around the world will be counted towards your current Telstra plan which you have back home.
The best choice for international roaming
For Telstra users which are not on the "Telstra Air" network who want to gain access to mobile data whilst travelling overseas, can take advantage of their travel data packs.
The travel data packs come in three different plan sizes, Small, Medium and Large and give users an overseas mobile data allowance of 100, 300 and 600MB of data.
For the amount of money which each plan costs and the very small amount of data included, you would be much better off trying to find a free WiFi hotspot once overseas, or by taking up one of the much better deals from local MVNOs before you travel.
In comparison to the $0 roaming which Vodafone has on offer, for travellers to New Zealand, the above deals provided by Telstra are quite poor and are not really that competitive.
It's clear to see once again that when it comes to international roaming and offering users the best deal, Telstra has once again missed the mark.
The telecom industry in Australia is increasingly competitive thanks to the entry of MVNOs such as Amaysim and Lebara. Traditional companies which don't innovate and offer more to their customers will end up becoming nothing more than dumb pipes.
Australia's Best Prepaid Plans <$30