SIM Only deals – Shop around & save $ hundreds.
Phones are cool but they're not a part of life that most Australians think about much. We've got too much else to worry about. Over time, we've been taught by phone companies that the most up to date smart mobile phones are unaffordable. Because of the price and the fact we've got too much else to do, we've fallen in to a trap. We've started  thinking that we need to sign a 24 month contract to get an up to date device.
The truth is we can do better than contracts. In fact if you shop around and get the best SIM Only deal, plus buy the phone yourself outright, the simple fact is that you'll save hundreds of dollars.
But you've got to look around. We have some suggestions here of some of the best value SIM Only plans. See below for  some great SIM Only deals.
Recommended Plans

Value

Unlimited standard calls and SMS in Oz

Data

2GB

Contract

30 days

Includes

First month only $4.90! Save 71% (Usually $16.90. Offer ends 31.01.18).

Network

Vodafone 4G

Value

Unlimited standard calls and SMS in Oz

Data

6GB

Contract

30 days

Includes

First month only $4.90! Save 83% (Usually $29.90. Offer ends 31.01.18).

Network

Vodafone 4G

Value

Unlimited National Calls & SMS

Data

4GB + 4GB BONUS on first two recharges when you activate

Contract

28 day Expiry

Includes

Double Data on your first two recharges when you activate before 26 Feb. Roll over unused data to your next recharge. Data Free Music streaming of Apple Music

Network

4G on the Telstra Mobile Network
Who has the best SIM Only deals?
The answer is MVNOs. Technically, an MVNO is a Mobile Virtual Network Operator. In essence, MVNOs are wireless companies that don't own their own network. These typically small brands act as an alternative to the major phone companies like Optus, Telstra and Vodafone.
Without doubt, the people with the best SIM Only deals are MVNOs. To you, MVNOs are resellers of the major phone company networks. If you shop around with them for a deal that suits you, you can save a fortune.
How can MVNOs save you money
MVNOs save their customers money by leasing network access 'in bulk' from the three, major Australian phone companies. Then they sell it, to customers like you, at a significant discount.
With MVNOs, you can take advantage of lower rates, and SIMs that are contract-free.  They almost always offer better deals than the major phone companies. They don't have the same marketing spends to pass on in the costs they charge you. They don't spend nearly as much on advertising their brand as the others. By keeping their business models simple, they reduce the support costs and pass the savings on to you. They also need to charge less because they're not as well known as their multinational competitors.
By keeping their business models simple, MVNOs reduce the support costs and pass the savings on to you in their SIM Only plans.
It's important to realize that the network coverage component of the 'product' the MVNOs sell is very often exactly the same thing being sold by Optus or Vodafone. The coverage you'll get from an Optus MVNO is exactly the same as the coverage you'll get from Optus itself. There are a few exceptions and 'gotchas' to think about. We've covered those in detail, below.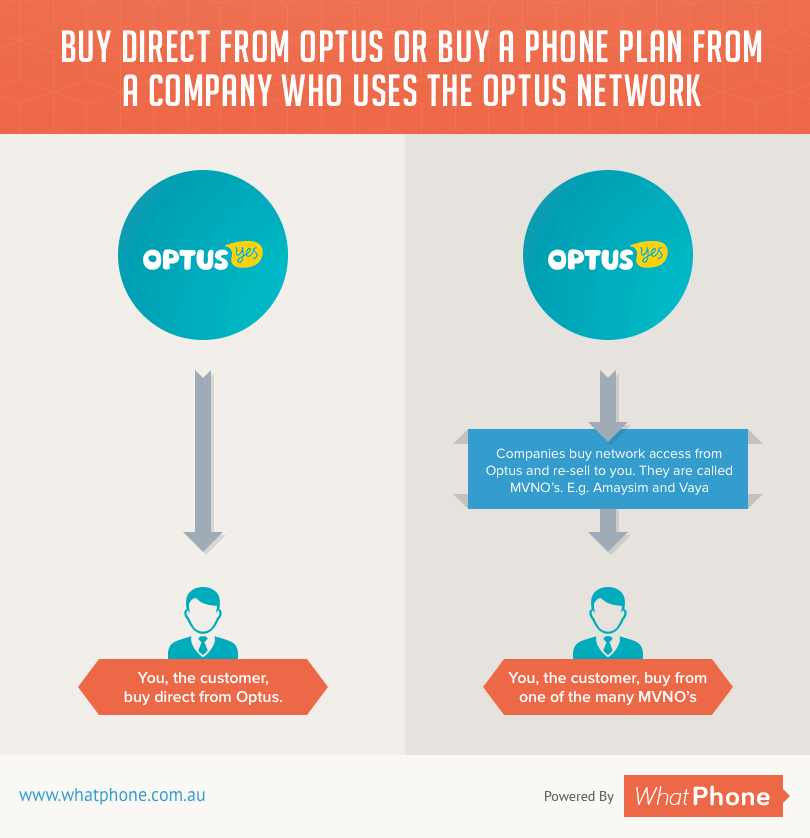 Myths about MVNOs: Prioritization
Some shoppers suspect that MVNOs are getting low quality network bandwidth. For example, minutes that aren't used by carriers during peak activity. That's just not true.  In many ways, network access is like electricity. It's a utility which is the same whomever or whichever company you buy it from. You will not get a lower priority on the network if you go with an MVNO.
Why are MVNO deals cheaper?
The MVNOs marketplace is highly competitive. The competition is focused where you want it. MVNOs have an agreed charter with the major phone companies. Each MVNO is set up to focus on servicing ( selling to ) a particular segment.
A segment is just a group of users. Here are a couple of our favorite MVNOs and the segments they are designed to address.
Australia's best Phone Plans :
Best plan on the Vodafone network at $30 + above ?
Lebara use the Vodafone's 3G + 4G network

Winner :  Lebara $29.90 National Unlimited
If you're after an unlimited plan with incredible included value or you make calls overseas, in our view, you need look no further than Lebara. Lebara use the much improved Vodafone 3G + 4G network which covers more than 96% of Australians. In recent ( mid 2016 ) tests, the Vodafone network matched Telstra's for 4G coverage.
Lebara 'National Plan' Unlimited $29.90 ( with 5GB of data )
This is the lowest price on our site for a plan which has unlimited Australian voice calls and SMS, anywhere in Australia. It'll give you :
Big Data on the Vodafone 3G + 4G network :


5GB should be plenty

for even the most ravenous data eaters. This data inclusion has just been increased and now represents the biggest data bundle you'll find on a plan of this sort.
Unlimited voice calls to Australian numbers :
Your plan has unlimited included calls to Australian mobile and landline phone numbers on the Vodafone 4G network plus up to 150 international minutes included.
Unlimited SMS :
Unlimited National texts. Nice and simple. You can send as many text messages each month to as many Australian phone numbers as you'd like to with no additional charge.
Lebara use the Vodafone 3G + 4G network :
Remember, Lebara use the Vodafone 4G network. Vodafone's network has improved dramatically since it's lows of 2010. In major Australian cities, Vodafone's network is as strong as Telstra's or Optus'.
Get Lebara Mini Mega Plan $24.90 now with 1.5GB data included!
10c/ min for national calls and 10c/ SMS for national/international SMS
Best International Unlimited Voice & SMS + Huge Data?

Winner : Lebara 'Unlimited National and International Calls' $49.90 ( with 10GB of data )
Lebara's cheaper international call rates cover all the major destinations including : UK, USA, Greece, China, Canada, Germany, Denmark, France, South Korea and Switzerland.
Best value for overseas calls :
If you need to make calls overseas, Money Magazine awarded this plan the best value plan for that in Australia.
60 international call destinations :
Unlimited voice and SMS to 60 destinations including India, China, Vietnam, Sri Lanka, Thailand, Philippines, Malaysia, Pakistan, Lebanon, Bangladesh, UK, France, Greece, Italy, Germany. See the full list.
Unlimited National Voice and SMS :
Call who you like when you like and you can text them too. All day every day. These are genuinely unlimited allowances for calls and SMS to other Australian numbers from your mobile.
Huge 4G Data :


10 GB of 4G data

 (5GB + 5GB bonus ends

30/04/17)

on the Vodafone network. on Again, you can add more mid month if you need to.
Or you can read our full Lebara Review.
Get Unlimited Plan Starter Pack for only $49.90 now with 10GB data included!
Unlimited calls to 60 country and Unlimited National Standard Talk,Text and MMS plus 10GB Data (5GB + 5GB bonus ends 30/04/17).
Better yet, MVNOs don't tie you in to contracts
When you sign a contract, consider that it gives the phone companies legal control over you. If you fail to make a payment, it'll result in penalties. And if your deficit is large enough, and you don't pay, your service will be cut off. Eventually you'll be referred to a collection agency that will harass you.
With MVNOs, it's the other end of the scale. If you take out a SIM Only agreement with an MVNO, you will not be committed beyond the money you have spent with them or the month you're in. If you don't like the way they've treated you, if their pricing changes and it's not as advantageous any more or if you see a better deal elsewhere, you can quickly change to take advantage of it.
Conclusion: Buy your phone outright and get a SIM Only deal from an MVNO
MVNOs function as the middlemen for wireless spectrum. They buy in bulk and then sell to customers for a lot less than bigger phone companies that you already don't like.
The news is in and the results are clear. It makes heaps more sense to buy your phone outright and get a SIM Only deal.