SIM Only Plans
BYO mobile phone and save each month with prepaid and postpaid plans.
Compare plans and find a data limit that suits you

Choose from prepaid or postpaid plans

Plans from 28 days to 12 months

Discounts and bundles are often available
Common questions about SIM-only / BYO Plans
Umm…what is a SIM, exactly?
A SIM card is a small plastic rectangle containing a silicon chip. The chip stores digital information that connects your phone to your account, so you can make calls, texts, transfer data and more.
When you get a new SIM, you have to replace the old one by opening the SIM slot on your phone. You'll always receive new SIM cards in multiple sizes to fit different devices.
Many of today's phones include an eSIM, which allows you to activate a phone plan without needing a physical SIM. It means you can use multiple phone accounts and two phone numbers at the same time and switch between them using the settings on your phone.
How does a SIM-only plan work?
SIM Only means you are only paying for the ability to use your phone for calls, texts and accessing the internet, but not for the phone itself. It's typically cheaper to buy your phone outright and choose a phone plan that suits the amount of data you need and the type of calls you want to make. 
You can shop around every time your plan is up for renewal to find a cheaper deal or buy more or less data.
What if I don't have a phone?
That's ok. You have two options:
You can buy a phone and pay it off in instalments.

However, there is a drawback: you have to use a SIM-only plan with the same provider. For instance, if you bought a phone through Telstra you would need to use one of Telstra's SIM-only plans until the phone was paid off.

You can usually switch to other eligible plans with the same provider. If you choose to switch to a different provider, you'll need to pay off the remaining cost of the phone.
You can buy a phone outright.

You can buy devices through most major telcos and tech dealers such as JB-HiFi, Harvey Norman, Kogan and The Good Guys. Owning your phone outright means you can shop around for great deals and switch providers whenever your plan expires.
You can also buy secondhand phones, but just make sure they're unlocked or you won't be able to use your own SIM card. There is a little more risk in buying secondhand as you won't get any warranties or returns.
Is a SIM-only plan prepaid or postpaid?
Technically, all plans are SIM-only if you have your own phone already. The big question is whether you want to choose a prepaid or postpaid plan.
A prepaid plan means you'll pay upfront for your data allowance. You can avoid unexpected charges with a prepaid plan, but if you run out of data you'll have to wait until the next recharge, or renew the plan early. 
A postpaid plan means you pay your phone bill based on what you used (similar to a power bill). You won't be cut off if you go over your monthly data allowance, but you'll likely be charged a fee for the extra data. 
Will my phone work with a new SIM?
Yes, it's almost certain it will, especially if you bought it in Australia. Just be aware that phones from phone providers such as Optus or Telstra may be 'locked' to their network (although this is a fairly uncommon practice these days). You can contact the provider to have the phone unlocked so you can add a SIM from a different telco.
What size SIM will I get?
When you buy a SIM-only phone plan you'll be mailed 3 sizes of SIM: nano, micro and standard. All you have to do is pop out the size that fits your device.
Nano SIM: This is the smallest and most common SIM size used by smartphones today. Almost all Google and iPhones use the nano SIM, as well as Samsung Galaxy from the Z Flip 3.
Micro SIM: The micro SIM is still found in the Samsung Galaxy S3 and S6, and the iPhone 4 and 4s.
Standard SIM: Rarely found in the wild these days, the standard SIM was the first and largest phone SIM card. You likely won't find standard SIMs in any smartphone.
The other SIM option is an eSIM, which is a relatively new technology. Your phone will need to support eSIM, which is why it's only available on a few of the newest mobile phones and smart watches. eSIM allows you to use up to 8 different phone plans and 2 phone numbers without the need for a physical SIM.
What if I want to use my phone overseas?
Most mobile phone plans in Australia will let you use your phone overseas, but you'll pay dearly for it. There are better options, including:
Adding an international roaming package to your existing plan.

Buying a SIM that's specifically for travel.

Buying a SIM when you arrive at your destination and use your phone like a local.
We have a guide to help you compare plans with international calls and roaming. 
Flexible plans with no lock-in contracts

Plans from 28 days to 12 months

Freedom to shop around for discounts

Keep your existing phone number

Great value plans from smaller companies
You need to bring your own phone

Best value on plans if your phone is owned outright
Why choose a SIM-only plan?
Today's world of phone plans is very different to just a decade ago. Those of us who owned our first phones in our 20s would remember buying a phone from Optus, Telstra or Vodafone and paying for our usage each month (plus a zillion sneaky extras). We never knew what our bill would be. I remember a friend racking up $800 one month!
So, we're very lucky that today we have cheap SIM-only phone plans that protect us from heart-stopping bills. Plans are easy to understand, easy to switch to, and come with great discounts.
Here's why SIM-only plans are a great option:
BYO-ing your phone makes SIM-only plans the cheapest option. You won't be locked in with any specific phone company, so you can shop around and find the best deal with the data limits you want.
Flexibility in switching providers so you can utilise great deals and discounts. You can switch anytime your plan is up for renewal.
Smaller providers like iiNet, Boost and Felix (called MVNOs) still use either the Telstra, Optus or Vodafone networks, so you're getting great coverage. 
You can tack on extras like international roaming or overseas calls and texts for as little as $5 per month.
Some plans come with great features like data rollover and data banking (where your data is stored for future use) or even gifting data to another user.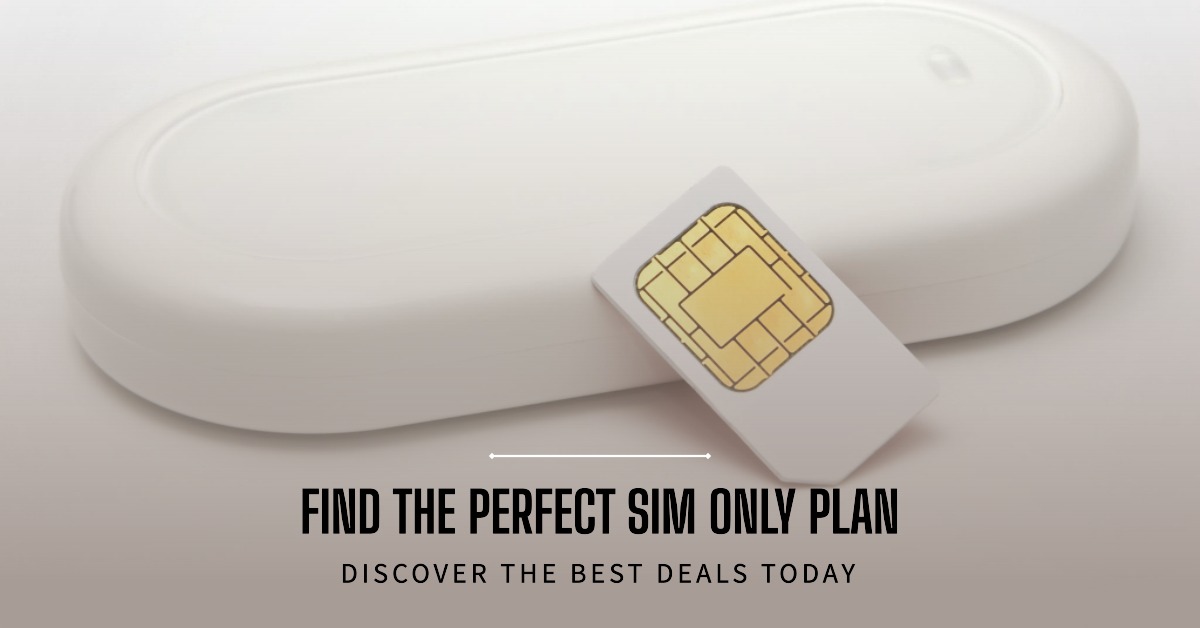 The different types of SIM-only plans
SIM-only plans come in a few options, so we'll try to take some of the confusion out of it. The most common are prepaid and postpaid plans, but there are also PAYG plans out there. Here's how each one works:
PREPAID PLANS
You choose the data limit and price point you want per month

Pay for the plan upfront each month

Prices are predictable with very few extra charges or fees
One of the biggest bonuses of a prepaid plan is knowing what you're going to pay each month. You can choose to recharge with the same plan or switch, and still keep your old phone number. Prepaid plans offer a ton of flexibility and predictability. That's what makes prepaid plans great for teens, budgeters and people who know exactly what data they use each month.
What to be aware of: prepaid plans really shine at the $30 price point. Just remember to check the expiry timeframe. Many companies do a little sneaky by using a 28-day recharge, which means you'll pay for 13 recharges per year.
POSTPAID PLANS
Choose a plan and your data limit

Pay your bill after the month is up

You won't run out of data
Postpaid plans are the opposite of prepaid, because you'll pay for your phone usage after the month is up. You'll still choose a plan and data limit, but you'll be charged extra if you go over any of your inclusions. Postpaid plans 
What to be aware of: Some companies may perform a rudimentary credit check if you choose a postpaid plan. Telstra has recently removed its checks, but Optus and Vodafone will still run one. 
PAYG PLANS
Pay As You Go (PAYG) plans are rare in Australia these days. It works a little bit like a gift card: you load up your plan with cash and then 'spend it' with calls, texts and data usage. When you run out, you recharge the plan again. 
PAYG plans might suit those who just want a simple phone for their kids, for elderly family members who don't use their phones much, or for an emergency phone.
What to be aware of: PAYG plans usually have an expiry period of 6 or 12 months, so don't buy more than you think you'll use. Each plan will have a different cost per minute rate, and may or may not include data.
Comparing data - the crucial choice
I've had some insight into phone company marketing teams, having worked in them for many years. When phone plans first hit the market, customers could really only choose from the telco giants Telstra, Optus and Vodafone. 
Now, we have a plethora of smaller companies that 'borrow' networks from the giants but have created fierce competition in the market over the last 20 years. As you can see from this chart, this welcome competition has driven prices down significantly.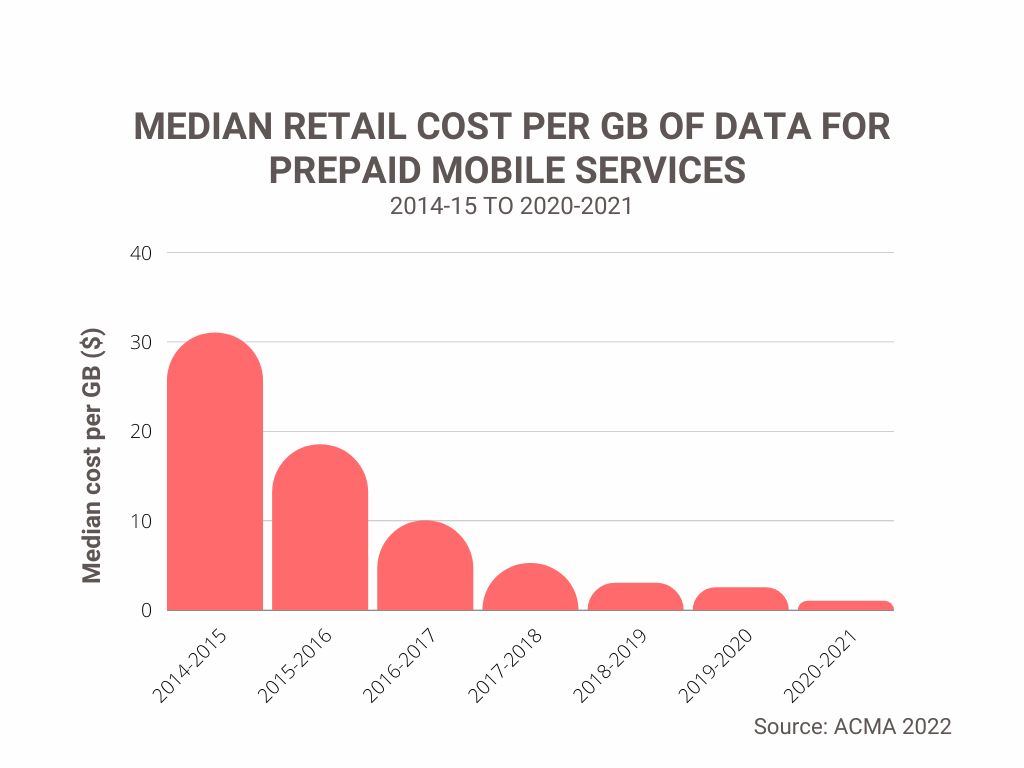 Since most plans now feature unlimited national calls and texts, the main difference in plans is data. Many plans will advertise far more data than you'll need, which is why you need to compare plans and keep an eye on your data usage so you avoid throwing data (and cash) away every month.
Here are some ways to figure out which plan and data limit suits you:
Check your historic data usage

on your phone's settings to get an idea of what you realistically use in a month. You might find you use far less than you're paying for.

Look for data rollover and data banking features. Rolling over your data means you can use leftover data in the following month. Data banking means the data is stashed away to use for as long as your plan is active.
Check which mobile network the plan uses. While coverage may not be a major concern to people who live in metro areas, it can affect those who live in urban fringes, rural areas or who travel a lot. Telstra and Boost have the best coverage, followed by Optus and Vodafone.
Determine your budget. The great thing about SIM Only plans is that you can change plans each time you're up for renewal. You can test out different plans, look for discounts and see how much data you use on average. Try to avoid paying too much for features you don't use.
Features you'll get with SIM-only plans
SIM-only plans will vary in features, but you can expect to find:
Unlimited calls and texts in Australia

International calls and texts to limited countries on some plans (or as an add-on)

Data rollover or data banking that keeps your unused data in a doggy bag to use either the following month or while your plan is active.

Wi-Fi calling, where some plans allow you to use the internet for calls when the regular phone signal is out of range.
Overview: SIM-only plans
SIM-only plans have become the most popular way to power our mobile devices. Although the upfront cost of bringing your own phone can be a hurdle for some, SIM-only plans are brilliantly cheap and flexible. You won't be locked in with any one provider, and you're free to shop around for deals and better features. 
Smaller companies often have excellent discounts and more competitive prices than the larger telcos. Just make sure when you're comparing that you're not lured into buying a more expensive plan for data you don't need. Keep an eye on your usage and switch plans to a cheaper one if you can.
This Month's Hot Offers
Sources:
Most of the primary research that is shown on this page was conducted by us.
Deloitte's Australian consumer mobile phone summary is also extremely useful.