Amaysim Recharge
Review and Comparison
Award winning plans & customer service

Month to month and prepaid options

Keep existing number or get a new one
Which Competitors You Should Consider?
Frequently Asked Questions
How do I set myself up with Amaysim Prepaid ?
It's dead simple to set your Amaysim prepaid service up. The easiest way to get your SIM is to order it online. If you live in a city area, you can expect to get it very quickly, possibly even the same day, thanks to Amaysim's 3 hour delivery windows.
When you have the physical SIM in your hand, go online, and 'activate' your SIM by entering a few details in to the website. If you're porting your number ( bringing your phone number from another phone company, you'll have to wait another few hours ) and then you're done. Just stick your new SIM in your phone and you're away.
One of the great things about taking the service as a prepaid service is that you have to provide fewer details to the phone company about yourself. Not only does that make the process quicker for you, it also feels a bit better. There's no reason for companies to know all about you.
What's the difference between prepaid and postpaid ?
The only difference between prepaid and postpaid plans from Amaysim is when you pay for the service. With a prepaid service, you spend money before you make calls or use data on their network. You always know exactly what you're spending, as a result. With postpaid plans, you pay after you've used the service, usually at the end of the month. Any 'extras' ( like out of bundle International calls or extra data ) are charged to you automatically with a postpaid service.
Can any phone plan from Amaysim be prepaid or postpaid ?
Yes. Amaysim are the only phone company we are aware of who sell their plans as both prepaid and postpaid. You decide which you want when you activate your service online.
Does Amaysim's Prepaid Service use per kB or per MB charging ?
They used to use per MB charging in their 3G plans. When they rolled over to 4G, they moved to per kB charging in their data plans.
Do I really need all this data ?
Average data usage is already around 6GB per month in Australia ( according to our own research in late 2017 ) so there will be some users who need each type of plan that Amaysim offers. The key factors you should bear in mind when you're deciding how much data you need are what your historical use has been and what the trend is. This is one of the most important considerations you're likely to have, so give it the time it needs.
Are there any other options on the Optus 4G network ?
Use the Optus 4G network like Virgin Mobile or Bendigo. While the network access is the same, Amaysim's level of service is actually far more sophisticated than some. Simple things like the delivery time frame for the SIMs you order online being measured in hours rather than days, Amaysim's onshore Australian call center ( Virgin's is overseas ) and an app to measure your data usage ( Bendigo don't have one ) should all make you lean towards Amaysim. In our view.
How can I recharge my prepaid service ?
There are a variety of ways in which you can recharge your prepaid service. Amaysim have more than 10,000 retail outlets which stock their recharge vouchers. We usually recommend that you download and use the Amaysim app for all of your self service needs, including recharging your prepaid service. That's often the most sensible way to both manage your usage ( it'll tell you how much data you've used for example and recharge your service. )
What's Auto-recharge ?
Auto recharge is a facility you can set up with most phone companies including Amaysim. Auto-recharge allows you to automatically debit your credit or bank card when your prepaid service needs a recharge. Auto-recharge is the default setting for your prepaid service when you choose that option with Amaysim. You can choose not to auto-recharge your service but unless you consciously do that, you will be automatically charged every 30 or 90 days, according to the plan you're on.
Excellent value across the range

Powered by the Optus 3G /4G network

No contracts - get any plan prepaid or month to month

Now with included International calls on $40+
19 numbers not included ( banned from this plan )

Unused data does not roll over

No visual voicemail
Introducing Amaysim recharge
This is an incredible time to be buying a SIM plan in Australia. There are options for you on any network you would care to try. Amaysim are an MVNO ( also known as a smaller phone company or network reseller ) which use the Optus 4G network. They've only been going a few years but it's no exaggeration to say that they are one of the biggest phone companies in Australia now. They have nearly a million customers. That's almost as many as Virgin Mobile have.
It used to be the case that Virgin Mobile were the best on the Optus 4G network. There are a number of independent data sources which say that's no longer the case. Many would tell you that Amaysim are. Here's why we think Amaysim's Prepaid recharges are the best :
Award winning value :
Amaysim have won Money Magazine's best value awards several years running for their high prepaid plans' value inclusions. Their Unlimited plans are, in our view, some of the best value in market.
Best data inclusions :
You can't have failed to notice : Every year, people are using more and more data in their prepaid pans. Average usage is is already 3.4 GB per month. ( Statistic from ACMA December 2015 ) Amaysim's plans have a range of data inclusions, starting well below average usage and extending well above it. Choose the plan that's right for you.
They're now 4G :
Early in 2015, Amaysim turned over to being a 4G data network. 4G is super fast data and it suits the latest smartphones. You'll still get 3G coverage where you are not in 4G coverage because Amaysim uses the full Optus 3G and 4G network.
Comparing Amaysim to the main competition :
Better than Vodafone :
Amaysim's recharges offer very similar data inclusions in their plans to the SIM Only plans that Vodafone have in market. But there's a substantial difference in the quality of service they have. Amaysim use the entire Optus 4G network. It's absolutely fair to say that Vodafone have improved their network substantially in metro ( city ) areas. Outside cities, however, Amaysim's use of the Optus 4G network means users will have faster data more often in more places, when they've recharged their Amaysim service..
Better than Aldi :
Aldi's mobile plans are only 3G data enabled. They use 'part of' the Telstra 3G network. Whether you have a 3G or a 4G phone, when you apply your Amaysim recharge your Amaysim SIM will work for you inside it. It's fair to say that Aldi do offer more data in their plans for an equivalent spend but for the 73% of Australians who have a smartphone ( statistic from ACMA December 2015 ) 4G is almost certainly more suited to their phone.
Better than Telstra :
Amaysim's regular plans and recharges have more included data than any of Telstra's 'Retail' ( own ) plans. We do, however, recommend that you consider Boost Mobile when you're comparing Amaysim and Telstra's offerings. Boost Mobile are a prepaid provider which use the Telstra Mobile Network and have some data plans which are competitive, even with Amaysim's recharge.
Do Amaysim offer prepaid plans ?
Yes, Amaysim offer prepaid plans. Any of Amaysim's plans can be bought as either prepaid or postpaid plans.
Any of Amaysim's plans can be bought as either prepaid or postpaid plans. The process for getting hold of an Amaysim plan is extremely easy :
1. Navigate to the Amaysim website :
Click through from this page, work through the checkout process on the Amaysim website.
2. Await SIM Delivery :
Amaysim's delivery processes are slick. If you live in a major metro area of Australia, you could get the SIM you order in as little as 3 hours. If you're outside, you might have to wait until the next day.
3. Activate – on Amaysim.com.au :
When the SIM is delivered to you, go back to the Amaysim website to activate it. Activation takes care of what the phone companies call provisioning. It lets them associate you with the SIM you've bought. If you want to keep your phone number, you tell them that at the point of activation and they'll bring it across for you.
4. Choose prepaid :
At the point of activation, you will be asked if you want to activate the service as prepaid or postpaid. It's your choice. We explain the benefits of choosing a prepaid service from Amaysim, below.
5. Apply Amaysim Recharges from that point :
If you choose prepaid, you will buy recharges for your Amaysim service every 30 days. You can ( buy and ) apply a recharge voucher online, using their app or in many retail stores around Australia.
Who uses an Amaysim Recharge ?
Now you know how to get and activate your Amaysim prepaid if you want one, you can take the next step. You need to figure out if the Amaysim prepaid service is right for you. Prepaid plans tend to appeal to young people and those with a good deal of financial prudence.
Amaysim's prepaid service is likely to appeal to you if you're someone :
Who needs to manage their budget :
Who doesn't need to manage their budget ? Nearly half of all SIMs sold in Australia are prepaid SIMs. I use a prepaid service myself. The best feature of prepaid SIMs is their total cost predictability. If you like knowing where you are with your spend, Amaysim is likely right for you.
Those who might find it hard to pass a credit check :
Prepaid services do not require a credit check. That can make them appeal to people without a credit history or someone who has a bad credit history. Prepaid plans are often used by young people for exactly this reason.
People who want to budget up front for their spend :
The nature of a prepaid service is that you pay for it before you use it. That means budgeting is easy. You can allocate money for your phone service, use it and then consciously choose when you want to recharge.
Those with an eye for a bargain :
It can't have escaped your notice that the phone companies want your business. Amaysim have almost constantly running promotions to entice you to leave your current provider and get to them. Typical offers involve a free or discounted first month. Some providers attempt to lure you across with huge data inclusions. In fact, this type of promotion is far more common in the prepaid market than the postpaid market.
How can I perform an Amaysim Recharge ?
Auto-recharge takes away the conscious choice to recharge your service. Amaysim set their prepaid plans us to auto-recharge by default. You can turn this off in their online self service portal if you would like to.
Recharging is easy. You can recharge your Amaysim service online, through their self service website, using their app or by sending an SMS to Amaysim. There are a couple of things to remember.
You will be set up to Auto-recharge :
This can be a useful facility for those who want to use it. However, you need to be aware that it's in place. Auto-recharge has been designed to overcome the only negative associated with prepaid plans – the need to recharge them when they run out of credit. As we've said, this can come at unfortunate and inconvenient times. That means a service which auto-recharges can be useful. It does, however, blur the lines of benefit associated with a prepaid plan. As we've said, one of the best thing about prepaid plans is the ability to manage the spend associated with them. Auto-recharge takes away the conscious choice to recharge your service. Amaysim set their prepaid plans us to auto-recharge by default. You can turn this off in their online self service portal if you would like to.
You get a recharge :
We always recommend that you recharge online or using the app. It's the most convenient method available but also, sometimes the phone companies provide additional incentives for you to work this way – because it's cheaper than you calling them. Other 'channels' which will sell you a recharge voucher for your Amaysim prepaid service include retail stores around Australia, an IVR ( That's where you call them and talk to a machine ) or, you can even send them an SMS with your debit card details.
Denominations :
You can buy a variety of Amaysim recharge denominations. Spend levels start at $10 but you can also add : $15, $20, $30, $50, $100 to your Amaysim prepaid service to top it up.
Comparing Amaysim's Prepaid and Postpaid Plans
Amaysim are the only phone company we are aware of which offers their plans in either a prepaid or a postpaid service.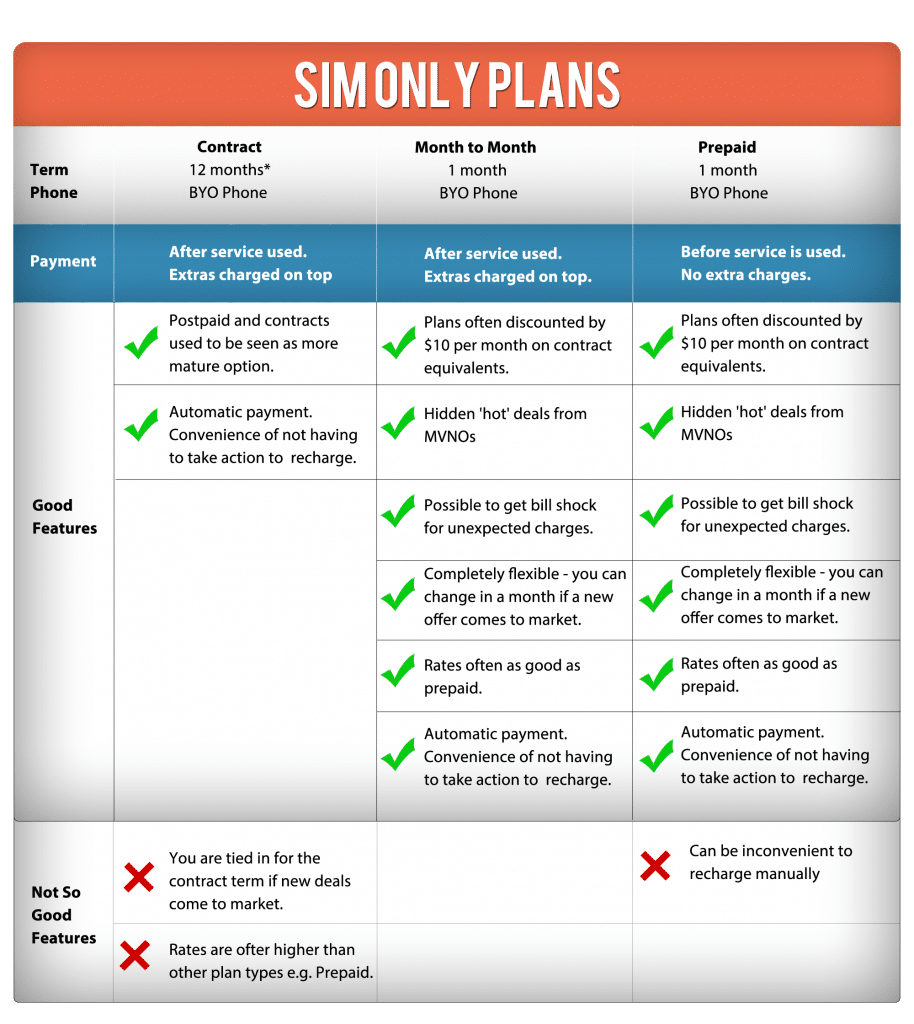 Prepaid is an enormously under-rated way of getting a phone SIM. Not only do you avoid the need for a credit check ( which makes these plans ideal for anyone under 18 ) but you'll get the same great rates from Amaysim if you activate their plan as a prepaid service, as if you take a postpaid service. They're the only company that do this and it's crazy good.
Here's what we love about deciding to go prepaid with these services.
Totally predictable cost :
The best thing about prepaid is that you recharge when you want to and then you're set. There is no way for the phone company to take any more money from you unless you explicitly authorize it. With postpaid services, you can uncut unforeseen expenses to your account without realizing it. For example, by exceeding your data allowance or making calls when you're overseas. With prepaid, you can't. Once you run out of money in your prepaid account balance, that's it.
You only pay when you're using your service :
If you decide to go for a week or a month without recharging your prepaid service
Change plans whenever you want to:
With Amaysim's prepaid service, you can move up or down plans according to your need at the point of recharge. If your data utilization has increased and now you need more, you can switch up or down plan at the end of your recharge window without it costing money to exit the existing agreement. There are no penalties to pay because there is no contract.
Change providers at the drop of a hat :
You can move without penalty away from Amaysim to any other provider, whenever you want to. If you see a better deal, just switch providers at the end of your recharge period.
Yes, you can keep your existing phone number :
Of course, a lot of this hinges on understanding what is probably the most important element of your phone service. If you want to keep your phone number and move either to or away from Amaysim, you can.
There really aren't that many downsides to having a prepaid service. Just make sure you can recharge where you are so that, if you do run out of credit, you can top yourself up.
Amaysim's Prepaid Plan Range
Amaysim's plan range is deliberately simple. There are three types of plan. Remember, you can buy any of these plans as a prepaid service.
PAYG Plans :
Amaysim's PAYG plan is a Pay As You Go plan. The recharge window ( the expiry period ) for Amaysim's PAYG prepaid recharges are 90 days.
Unlimited Plans :
Unlimited plans are Amaysim's bread and butter. Since they went 4G, they offer a range of a half dozen data options in addition to the 'unlimited component' ( That's unlimited voice and SMS in Australia to Australian numbers. Once again, the recharge window for Amaysim's unlimited prepaid plans is 30 days.
Why is Amaysim prepaid better than other services on the Optus network ?
The short answer to this is that Amaysim are experienced phone company operators. Simply put, Amaysim have made the right investments to improve the experience of being a customer with them for a prepaid service. One of the things that sets Amaysim's prepaid services apart from others is the sophistication of their offering. The management team behind Amaysim established their company up in Europe and tried many of the same tactics that they're using here.
3 Hour delivery :
Amaysim, for example, have a 3 hour delivery for the physical SIMs they sell so that when you order your SIM Online, you get it almost immediately. That's certainly not the case with Optus or some of the smaller phone companies. I've seen it take days for Optus to get a SIM to a customer ( I used to work in the Optus online team helping with the digital store they have). Amaysim know how important instant gratification is to moving phone providers. They also know how terrible it is when you are stuck in limbo between phone companies. 3 hour delivery for a new Amaysim prepaid SIM takes care of all that.
Best in class customer service :
Amaysim have won a number of awards including Roy Morgan's annual customer satisfaction award several times. They also rank highly in Canstar's regular mobile market customer satisfaction reviews. For some of their unlimited plans, an incredible 96% of customers would recommend Amaysim.
Prepaid / postpaid :
With Amaysim you can decide whether you want to have a prepaid or a postpaid service. They're the only Australian phone company to do it, but it's genius. Making their entire product range available as either a prepaid or a postpaid plan greatly simplifies the process of picking a plan. In our view, every phone company should do the same thing.
Easily understood product range :
Amaysim have broadened their product range recently but only to add more data options. The core products are the same, as we show in the infographic above. With a three tier system of plans, Amaysim is much easier to navigate than other phone companies – especially Optus. It's been critical to their success. Optus have a prepaid plan range which, alone, have 5 different plans to choose from. Then they have SIM only plans which are postpaid. Then there are SIM + Phone plans which is a while different thing. And all of that is available only if you can get through their website to the place in the online store which is talking about mobile services. Having considered that, now think again about Amaysim's quickly comprehended range and their unique in market facility to buy any plan in either a prepaid or postpaid flavor. Brilliant.
Apart from Amaysim, who else should you be considering ?
We advise people to consider Amaysim's competitors from two points of view.
Is Optus 4G the right network ?
The first question to ask yourself, is : Is the Optus 4G network ( that's the network Amaysim use ) the right network for you ? There are other 4G options on the Telstra Mobile network, for example, Boost Mobile.
Is prepaid right for you ?
Prepaid is not the right plan type for everyone.
Summing up Amaysim's Prepaid Plans
No wonder then Amaysim and their prepaid recharges are a critical component of the nearly 1 million customers to have chosen the company since they launched only a few years ago.
In some ways, Amaysim are just one of the pack. They are just one of the increasing range of 4G SIM Only Plan Providers. Optus was first to let the resellers ( including Prepaid service resellers ) who access their network, sell 4G services. Virgin Mobile, the wholly owned subsidiary of Optus was next. Boost Mobile the wholly owned subsidiary of Telstra came along after that. Amaysim came a couple of months later. It's not hard to see that the phone companies play favorites with their own resellers when it comes to new plan facilities like faster data, is it ?
Vodafone has recently allowed a new partner, TPG, to resell 4G data services on their network . We anticipate a slew of other network resellers working on the Vodafone network to follow. 2016 will be the year that every network gets 4G.
So, Amaysim is like an ever expanding array of 4G phone providers. However, in some other, equally important ways, they are not like everyone else. They're one of the only phone companies to have a plan range which is easy to navigate. And within that plan range, you can choose whether you want any plan as a prepaid or a postpaid variant. It's staggering a simple mechanism for customers to navigate and amazingly effective and giving customers what they want. In our view, it's something that every phone company should do.
In addition, Amaysim offer market leading value and the best customer service in the industry. No wonder then Amaysim and their prepaid recharges are a critical component of the nearly 1 million customers to have chosen the company since they launched only a few years ago.
Extra Resources – Articles of use to Prepaid Users
Prepaid plans now have streamed audio included in them :
You may not be aware of one of the biggest improvements to prepaid plans since they were originally devised. 2016 saw the release of prepaid plans which have streamed audio included in them. If you already have a Spotify, iTunes Music, Google Music or IHeartRadio account, then you might like to find out more about streamed audio in phone plans.
Entertainment options are becoming common :
You may also have started hearing about the increasing inclusion of entertainment options in prepaid and SIM Only phone plans. We also examine Optus' mobile phone plan Entertainment options, Telstra's mobile phone plan Entertainment options and compare the two.
Prepaid vs postpaid vs month to month :
We've given a short explanation on this page but if you want more detail on the types of phone plans in Australia, this is it. In Prepaid vs postpaid vs month to month, we explain and the best value alternatives you have and when it makes sense to use each type.
Prepaid vs Postpaid –the simple trick to getting the best value :
The tier 1 telcos ( Optus Telstra and Vodafone ) all have both prepaid and postpaid plans. Sometimes they have both types of plan at the same price point.
Does it make sense to buy a Phone myself and add a SIM ? :
It's often even cheaper to buy your own phone and add a SIM ( including a prepaid SIM ) to it. We explain how to go Buying a phone outright and adding a SIM.
Data Rollovers :
Considering a plan with data rollover in it ? We explain why they're not the real solution to the real problem with prepaid plans.
And, remember, before you buy, read the CIS (that's the Critical Information Summary–a clearly written definition of what is and is not included in the plans from these phone companies) before you buy. You need to be confident in the plan you choose yourself. You'll find the CIS on the Vodafone website.
Compare all of our prepaid plans
If you need another network, you might like to check our Best Prepaid Plans Page and compare all the plans ( including every one mentioned on this page. ) A list of best value plans using the Telstra, Optus and Vodafone networks.
COMPARE THE BEST PREPAID PLANS