Best Prepaid SIM Plans For Your Mobile
Prepaid plans often offer the best value

Totally predictable costs - you just set the limit

Incredible value on mobile data pricing
Common Questions About Prepaid Plans
What is a prepaid plan?
A prepaid plan is a way of getting a phone service without the need for a credit check. They're sold by most of the phone companies in Australia.
The distinguishing feature of a Prepaid Plan (or Prepaid Service) is that it is paid for before use. Prepaid users buy their access to a service, usually 28 days worth, before they make calls, get data or send SMSs. The major alternative to a prepaid plan is a postpaid SIM Only plan.
Generally, prepaid plans are seen as more affordable than postpaid plans.
They can also be less convenient. The reputation for (in)convenience is not fully deserved. It's associated with prepaid because users sometimes run out of credit at inconvenient times. We usually suggest to people that they set up 'auto-recharge' if they're worried about this problem and use the Self Service apps available from the phone companies.
Which is better value, prepaid or postpaid?
Whether prepaid or postpaid plans are best value depends on how much you are spending and the phone company you're considering.
However, perhaps surprisingly, at the lower end of spends ($30 and below), prepaid plans are usually the best value.
In fact, it's true to say that you will get more data with many phone companies on their $30 prepaid plans than, say, their $30 SIM Only (postpaid) plan.
Can I keep my existing phone number if I buy a new prepaid plan?
Yes, whichever prepaid phone service you take (from whichever company) if you change from one phone company to another, you can take your phone number with you.
Should I buy my Prepaid SIM Online?
Generally, it makes sense to buy your prepaid SIM Online, yes. There are three reasons for that.
You are likely to get a better introductory offer:
The Australian market for prepaid services is incredibly competitive. The phone companies know it's a hassle to change providers. That means they have to make it worth your while to move. The result is strong acquisition offers from big and small phone companies alike. Because it's cheaper for them to provide these offers online (without the cost of the retail infrastructure that the alternative involves) introductory offers are often better online.
Delivery is fast:
The delivery of your SIM is usually next day to your home address.
They want everything online:
I've been told that a call to one of twhe phone companies' call centres costs them roughly $5. Servicing you online is much cheaper. As a result, the phone companies are trying to encourage all of their customer interactions through the website. Buying and recharging online is often the sort of thing phone companies want to provide you an incentive to do.
In short, you're likely to get a better deal and save money if you go online for your prepaid service.
How do prepaid plans work?
How prepaid plans work
Get a starter SIM:
To get going with a prepaid service, you need a starter SIM. You can order yours online. Ours are clearly marked in the table, above, on this page. Starter SIMs can be free, cheap or they come pre-loaded with credit (in which case, you can skip the first 'recharge' step below) in which case you'll likely have to pay the face value of the plan when you buy the SIM. E.g. Buying a starter SIM for $30 will give you a SIM pre-loaded with $30 of credit.
Get it delivered:
Most prepaid SIMs will be delivered to you within 24 hours from your online order. They will be provided to you in an envelope. In cities, you might get your SIM faster. In rural areas, it might take a bit longer.
Activate it:
After you have loaded the SIM card into your mobile phone and activated it, your monthly prepaid data allowance begins.
Recharge:
You may need to top up the service post activation if it was not 'pre-charged'. You can recharge in a number of ways, most frequently with a bank card. Recharging will apply the credit to your service which can then be used in spend against a prepaid plan.
Use it:
From that point on, you have until the 'expiry period' to use all of your mobile data, texting and national calls. You will also be able to receive calls from other phone users.
Repeat the same process at 'expiry':
Once you run out, you simply recharge your SIM. That means you are buying more credit on your account. This allows you to continue using the network.
What is a Long Expiry Plan?
We have a page dedicated exclusively to Long Expiry plans.
A Long Expiry Plan is one which has an expiry of longer than a month or so. Typically, Long Expiry Plans are paid for upfront – as all prepaid plans are but they cost more (because they are valid for several months.)
By paying in advance for multiple months of service, you'll get sharper pricing (those plans will be cheaper.)
In many regards, Long expiry plans are an alternative to postpaid contract plans with a 6 or 12 month commitment.
What is a prepaid recharge window/'expiry'?
Each 'recharge' you buy (a 'recharge' is a real or virtual voucher which adds credit to your prepaid service account) has a validity period. That validity period is known as an 'expiry' or 'recharge window'. Think of it as the life expectancy of your phone service.
For the major phone companies' most popular plans, the term is often 28 or 35 days. When you recharge your account, you'll get all of the service inclusions (voice, SMS and data) you pay for, made available to you for those 28 days. If you don't use those service inclusions (or you don't use them all up) in the 28 day period, you lose them.
How do prepaid phone plans work?
Everyone starts a prepaid service in the same way. They buy themselves a starter pack. The starter pack usually comes with an introductory offer. Mostly, these days, those offers are based on attention grabbing headline data inclusions. If you don't work in the industry, you'll know these offers because they say things like '10 GB of data free with this SIM !'
Every few weeks at the end of the Recharge Window you will need to buy a new prepaid recharge and apply it to your account. The process involves you consciously deciding to recharge your account once every few weeks. That means you have to know where you are with your spending at all times. Or your service will stop. This forced behaviour is what makes prepaid a favourite plan type. You don't run up a lot of unnecessary costs accidentally with prepaid plans.
Do I get a phone with my prepaid plan?
It depends. There are phones that you can buy in the prepaid section of a phone company retail or online store. But, you don't need to buy a phone (if you already have one, it'll work with a prepaid service.)
What happens if I do not recharge my SIM?
One of the best things about prepaid services is that, if you don't need them or use them, they remain active but you don't have to pay. If you run out of credit or reach the end of your recharge window, most companies will still send you texts from other people for a while.
If you leave it a long time – like 6 months long, for example, before you recharge, you are likely to find that your phone number has been recycled.
No contract or credit check required

Move to a new phone company & keep your number

Easy to avoid data overage charges

Great value deals from smaller phone companies

Regular promotions to get you the best deal
Some Expiry Terms are short - check they suit you
The Best Australian Prepaid Plans – What you need to know
A prepaid plan is a plan including charges (e.g. $30 per month) and entitlements (e.g. Unlimited calls and SMS in Australia) which are paid for in advance. The plan is 'attached' to a SIM, which grants you access to one of the phone company networks. Users don't need to pass a credit check to get a prepaid service.
The defining features of prepaid plans are:
60 second summary of what's on this page


Prepaid is a range, not a plan
Rather than a single plan, 'Prepaid' actually refers to a range of plans. Every prepaid plan is paid for in advance and every prepaid plan offers users access to a phone network and some plan features, for a period of time.
Despite the fact that prepaid plans are the most successful plans in Australia, they've had their critics. Some say prepaid plans can be inconvenient. On occasion, prepaid plans run out of credit unexpectedly, leaving users unable to make phone calls or access data through the phone company network. In this situation, a postpaid SIM Only plan would let you make the call or access the internet, they'd just charge you for it without checking. Others say Prepaid is only used by youngsters who have to worry about how much they spend to the penny.
We think these aspects of Prepaid's reputation are unfair.  Recent improvements in the free Self Service apps that phone companies offer, make checking data usage and recharging prepaid services easier than it's ever been. They all but remove the negative aspects that were once associated with prepaid plans.
You can find more information on each of these concepts, and the differences between different phone plan structures in our article on prepaid vs postpaid vs month to month.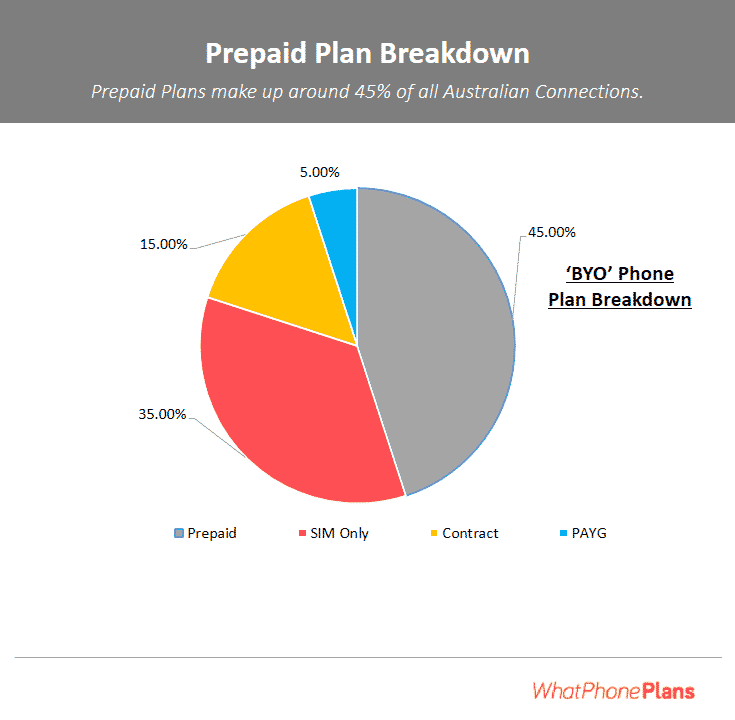 Understanding the terminology used to describe prepaid plans
Our advice is to try and understand the terminology used to describe these plans. It's especially important to understand the term 'Prepaid Expiry'. Then consider whether extras the phone companies have added recently like 'data free streaming video' will sway your choice on which is the right plan.
You need to know what a 'plan EXPIRY' is:
Picking the right prepaid plan duration 
Prepaid is not a single phone plan, it's a range of phone plans. Each of pinpoints a need in the Australian market. For example, long life plan is for second phone users and people who almost never need to make a phone call. There are plans for people with data usage which varies a great deal month to month (data rollover plans) and plans for people who need a 'data vault.'
Nestled within this range then, there is likely to be a plan which suits you the best. The fact that there's a range means it's more likely you'll find a plan which is just right for you. And that means better value and no wasted money on services you won't need.
Prepaid offers flexibility in terms of how long you want as an expiry period. Here are the different durations you'll find on Australian prepaid plans.
Generally, when it comes to Prepaid Plans, Australians tend to be concerned, according to Telstra, at least, about the mobile data they will be provided in their plan. They want to make sure they have enough data (i.e. that it won't run out when they need it), the speed of the data they are provided by the network and coverage. Consider how these factors affect you, as you work through your comparisons on this page.
Understanding prepaid plans features (and whether you need them)
Here is how the key features of Australia's best prepaid plans compare. You will notice a remarkable similarity between them. The key thing to compare is the expiry period. Most Australian prepaid plans have 30 day expiries. Some have 28 days. The difference can cost as much as one additional recharge a year – about 7% of the plan price.
Here's a summary chart to make it easier.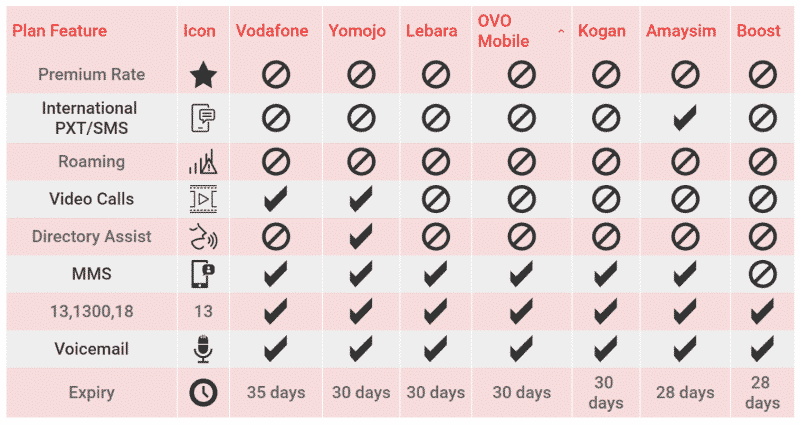 Use the table above to compare the key features of Australian prepaid plans
Constant innovation and competition have led to a broad range of plans. Such is the diversity available, there is almost certainly one which is (at least) close to exactly right for you. Some of the most important include:
These facilities can save users substantial amounts of data from their plan as our infographic shows.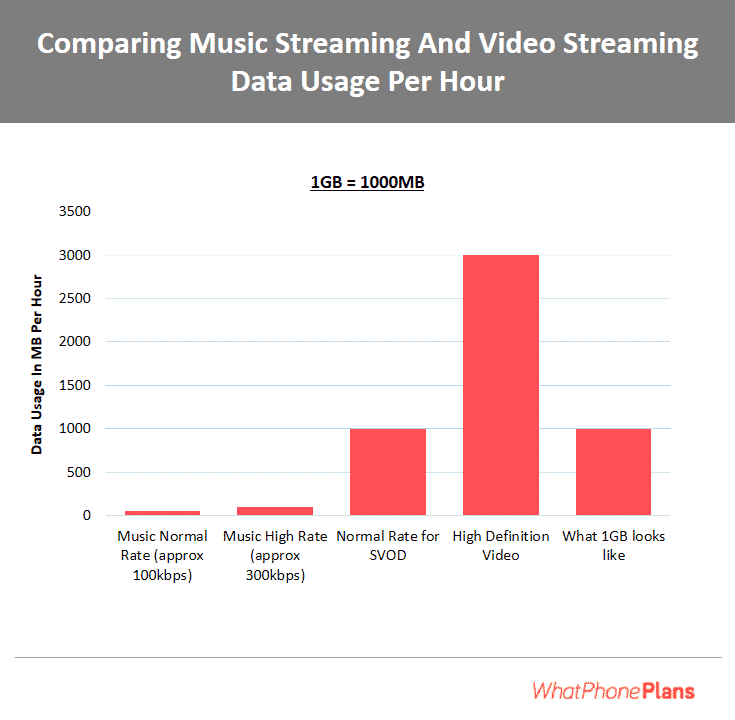 Some cheap phone plans include 'zero-rated' data – also known as 'data free' services. These can save you up to 3GB of data each month. Where streamed video or streamed audio is free as part of a plan, the facility is known as 'zero rating'.
Prepaid plan benefits – is prepaid right for you?
The main benefits of prepaid services are:
The network coverage and speed you'll get on your prepaid plan
Buying a $20 prepaid plan gives you exactly the same network access and speeds as a $150 iPhone contract. The 3G and 4G coverage we receive in Australia are among the world's best which is remarkable given the geography of our country. We're in the top 10 countries of the world for 4G coverage and signal availability and that number is still improving. For example, these statistics, from Opensignal show coverage of 84.3% on average across all the phone company networks. That's up from 79.3% just 6 months ago.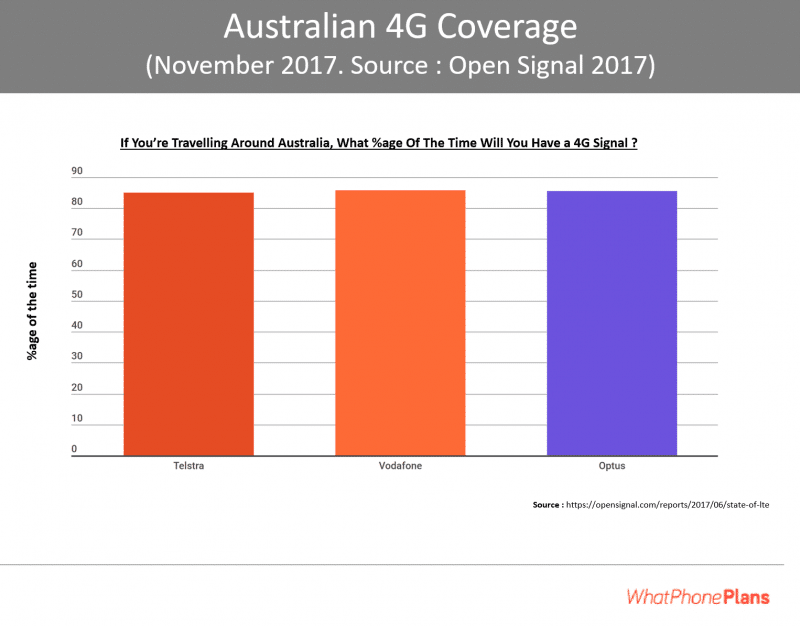 Prepaid plans are often the best value. They give you access to the same network as more expensive plans but they cost less.
The key thing to notice is that the 4G networks are pretty much the same now. Whether you buy you're prepaid plan from Optus, Telstra or Vodafone, the speeds and coverage you will get will all be very similar to each other. Our advice is to base your decision on the amount of data that is included in the plan, not the network you think it best. There really is very little difference between them.
Prepaid plan data speeds are exactly the same as the data speeds you'll get on other plans.
The bad bits about prepaid plans
Strictly speaking, some of these 'not so great' elements of prepaid plans also apply to SIM Only postpaid plans. You still need to be aware of them when you're considering your prepaid service though.
Comparing prepaid plans to other types of phone plans?
In Australia, we're pretty lucky. For us, the difference between prepaid rates and postpaid rates are actually quite small. In some cases, especially spends around the $30 mark, you will get more value on a prepaid plan than a postpaid plan from the main phone companies. Where prepaid value really comes to live is with smaller phone companies. Kogan Mobile, OVO Mobile, Boost Mobile and the rest of them who resell the phone networks offered by the Australian big 3 phone companies.
As we've seen above, on this page, they have brought new service aspects to the prepaid market, targeting niches and better servicing the market. They also provide better value on core inclusions like data at every price point – as you can see from our comparison 'best of the best' table at the top of this article.
We think prepaid is a suite of plans which offer great value and which you should definitely be considering in your prepaid plan choice.
You have around 50 phone companies to choose a prepaid plan from
The first thing to be aware of when considering the prepaid plan which might be right for you, is the power you have as a consumer and the number of options available to you. One of the first questions in our survey asked respondents how many phone companies they thought there were in Australia.
We found that very few of the people involved in our survey actually understood the huge range of phone company and prepaid plan options available to them. There are around 50 phone companies in Australia, a fact that only 25% of people correctly identified. The vast majority of these companies offer a prepaid version of their plans. The power to find the best plans from such a broad range is what will help you find the best deal.
What this survey finding means to you:
Awareness of these options is clearly increasing
When you consider the entire population of Australia, many are unaware of the number of phone companies that provide prepaid plans. Things are different when it comes to Australians who have recently undertaken the task of comparing and moving their prepaid plan.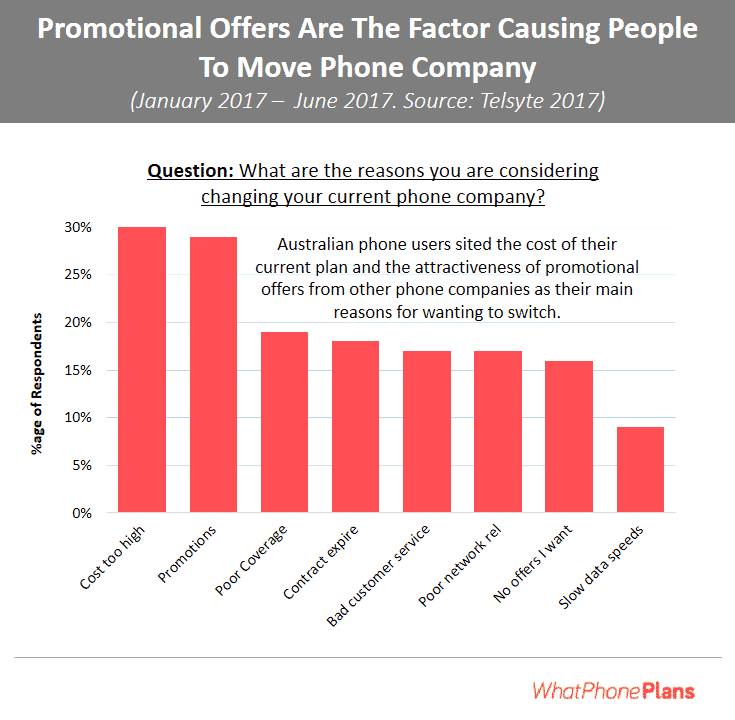 The cost of users' current plans and promotions from competitors drove Australian phone users to try low cost operators.
The number of people choosing their mobile prepaid plan from these smaller phone companies is clearly growing fast. Nearly 50% of people who changed phone plans in the first 6 months of 2017 decided to try a low cost operator or MVNO. This is an enormous change which has taken place over a small time period. Vodafone, Telstra and Optus are being displaced by the phone networks which resell their services.
The reasons these low cost operators are experiencing the success they are can be simply explained by the same research. As we've said on this page, the big phone companies are selling value added services which do not appeal to everyone. Their high prices and the strong introductory offers which surround prepaid plans from these phone companies attracts those who are in the market.
Prepaid plans with unlimited data
Our survey makes it clear. The chart above outlines the amount of data that people in our survey needed in their phone plan.  A small proportion of people use a lot of data. About 20% of people use 11GB a month or more at the moment.
This chart (below) shows that one of the key things people want from their phone company is a prepaid plan with unlimited data.
Most mobile phone plans already include unlimited voice and SMS. Some even include unlimited international calls. The reason these plans are so popular with people isn't hard to see. Mobile plans with unlimited service inclusions (like unlimited voice/SMS or unlimited international calls) solve a real customer problem. They mean that no one has to worry about blowing their bill, using too much data, at any point. Once they've bought that plan, they can use it all they want without worrying about paying more.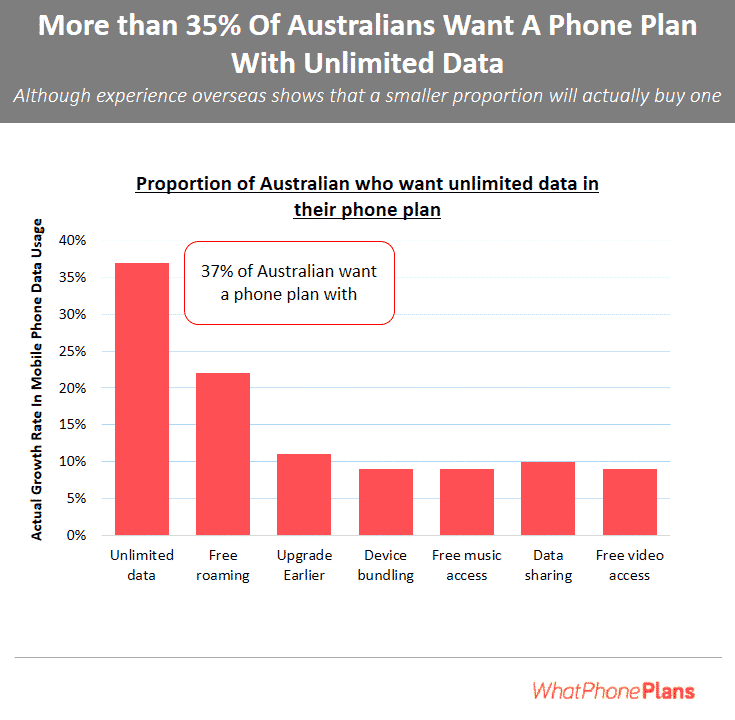 37% of Australians say they want a phone plan with unlimited data.
The problem with unlimited data in a phone plan
In the past, when, for a period, phone companies DID offer plans with unlimited data inclusions, a small number of their customers used an unholy amount of data – as in hundreds of GB of data per month. That means the maths doesn't work for the phone companies. Those phone plans were unprofitable.
Smaller phone companies rent the network and effectively pay per GB for the data they sell you. With this sort of 'abuse' (when customers use hundreds of GB of data) those small phone companies lose a lot of money, selling unlimited data plans, and would rather not offer them. Even for the big phone companies which own their network, offering unlimited plans could reduce the number of connections they have and the money they make. When customers (or potential customers) can buy a SIM with unlimited 4G data, which is as fast as their home broadband connection – why have any other service? If, say, Telstra offered unlimited data in their phone plan, people could move away from having a SIM in their tablet and a home fixed broadband connection. They could just tether everything to their phones and use their unlimited data.
Other problems with offering an unlimited plan include the regulation (some would say over regulation) of the Australian telecommunications market. Again, as we've covered above, the Australian regulator which manages the phone companies is extremely sensitive about the word 'unlimited' in phone plans. After a long list of complaints in the past, any plan which says 'unlimited' is going to have to be unlimited. In other countries including the UK and USA, unlimited plans are offered. However, they often have a 'catch'. Many are cleverly limited to avoid abuse of the system. Giff Gaff, for example, in the UK, avoid the word 'unlimited', calling their plan 'always on'. The plan has about 30GB of 4G data and is then 'throttled' – an agreement under which data speeds are slowed down beyond that 30GB limit to 3G speeds.
Further down the line, unlimited data could become common
Mobile phone plans with unlimited data may well become commonplace in the future when 5G services  are rolled out in Australia. 5G will be here in 2020 – that's just 2 years from now, and will have data speeds which are incredibly fast – perhaps a hundred times faster than 4G speeds now. That will create a lot of unused network capacity (much like TPG's new network will) and potentially mean it makes more sense for the phone companies to offer prepaid plans with unlimited data.
What to do in the meantime if you want unlimited data
Its not unlimited just yet, but the data in phone plans is getting cheaper each year. As you can see from the statistics above, unlimited data plans are available elsewhere but actually, not many people use them. Our advice is to figure out the data you really need in a phone plan and buy something to suit. For now, Moose Mobile, OVO and others offer data bundles of 30GB or more per month at reasonable prices – which get more reasonable every year.
From what we can see, in the next couple of years, prepaid plans with unlimited data will start to arrive. Until then, you'll have to settle for unlimited voice and SMS inclusions and a lot of data!
Summing up
Prepaid plans are Australia's favorite type of phone plan. The list of benefits associated with this plan type is huge. Unfortunately, there is, if anything, too much choice available and that can make it hard to decide. Considering what you need in your plan and looking at the prepaid offerings from smaller phone companies is a great place to start.
Use our survey results to hone in on exactly what it is you need, especially when it comes to the data aspect of your plan. Make sure you manage your prepaid plan effectively when you have one and check in again in a few months. The value for money you'll find in your plan is likely to have increased even more by then.
Sources: