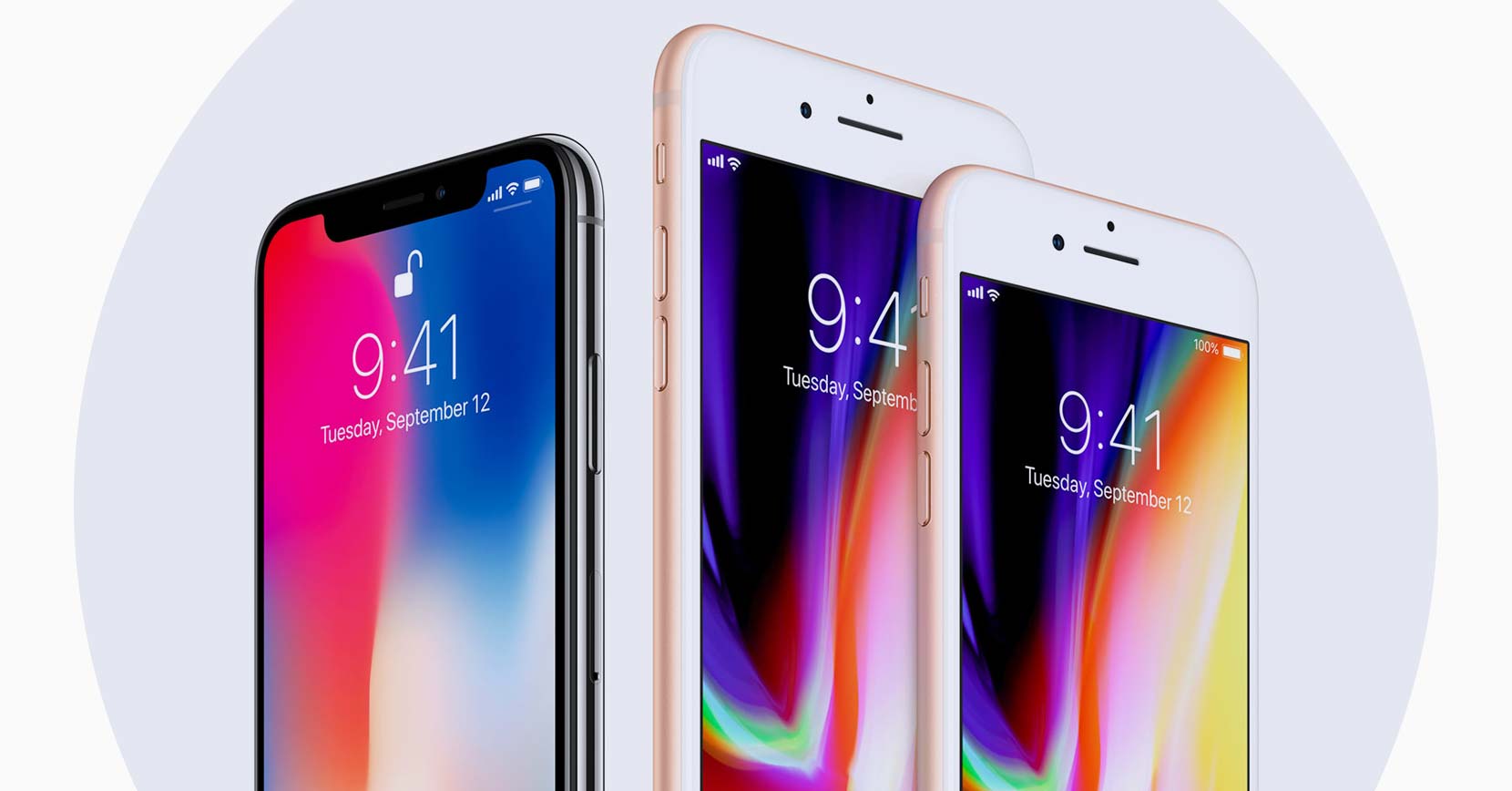 It appears that Apple will have some new iPhone models scheduled for release later this year. Apple is well known for providing innovative and exciting products, and with a core of die-hard fans and general interest in the kinds of technology that will be available it's not a surprise that secrets get leaked. Ming Chi Kuo has released his latest speculations, Apple have shown off some new features for iOS 12, and a close eye on the people who manufacture the iPhones for Apple are used to gain a sneak peek into the phones that Apple plan to release later this year.
We don't know exactly what will be on offer, but with a combination of press releases, leaks, informed guesses and speculation we can start to put together a picture of what the latest models might offer to customers.
The Latest Model (so far)
The iPhone X (pronounced iPhone ten) was released in November 2017 to celebrate the 10 year anniversary of the iPhone. The phone was marketed to be a great leap forward for the iPhone and to be the design that future iPhones will build on.
Visually, the emphasis was on the display, with only a thin band of metal visible around the outside. It features a Super Retina Display using OLED technology. The display measures 5.8 inches on the diagonal, which made it the biggest display iPhone had released (but not the biggest phone, due to the decreased bezel). The body is dust and water resistant, and supports wireless charging. This model ditched the home button, included a notch to house cameras and other features, and improved the battery life. Face ID replaced fingerprint technology as the go-to biosecurity measure.
The iPhone did present some problems. It was named the "most breakable iPhone ever" by the SquareTrade warranty site, despite featuring glass that Apple claimed was the strongest yet. One of the biggest objections was the price tag – at $999 for 64 GB or $1,199 for 256 GB, many people felt that it was too high to justify.
The New Release(s)
For most of Apple's history, they have released one new iPhone at a time. That trend broke in 2014 with the iPhone6 and iPhone 6 Plus and this year, all the evidence points to this trend continuing with three phones being released at once. They don't have names (although there are rumours about what they might be called), but for our purposes here let's call them the iPhone X2, and iPhone X Plus, and the LCD iPhone.
The flagship will probably be the iPhone X2, with a 5.8 inch OLED display. There is also expected to be a 6.5 inch OLED iPhone X Plus, and a more affordable option in the 6.1 inch LCD iPhone. Some renders have shown the LCD iPhone without a bezel, but current technology doesn't allow for LCD screens to have the slight bend at the edges necessary to ditch the bezel, so they're probably a bit optimistic. Unless Apple surprises us by having the technology ready by the release date, the 6.1 inch LCD iPhone will probably not be as visually appealing as the other two OLED options.
Release date
Based on expert predictions and past history, most people believe the newest iPhones will be announced in September, with shipping beginning in September and early October. There has been some talk about a delay on the cheaper 6.1 inch LCD option, with a report saying its release may have to be postponed until November due to production difficulties with cutting the notch out of an LCD panel.
Appearance
These newer models will probably build on the design of the iPhone X that was released last year. That means the notch will still appear. While many users don't find the notch at the top visually appealing, Apple do not yet have the technology to put the face recognition software behind the display. That makes the notch necessary, if not completely desirable. The rumoured colours are the silver and space grey seen on the last models, with a possible gold sheen option mentioned by some sources.
The design of the iPhone X was highly regarded, so it's like that most improvements will be inside the device instead of outside.
Cost
Ming-Chi Kuo, noted analyst and predictor of iPhone trends, is estimating that the latest iPhones could cost up to $300 less than the equivalent models released last year. His latest estimate is a price tag of around $600 for the LCD option, $800 for the iPhone X2, and $900 for the iPhone X Plus. That's compared to the almost $1000 price tag on the iPhone X. He states three reasons for the price cut:
The smartphone market has matured and is less likely to accept inflated prices for a new model
Improved cost structure, particularly in the area of manufacture and assembly, which can support a reduced price without significantly lowering profit margins
Increasing Face ID users, which will put iPhone well ahead of competitors as they are so far advanced with facial recognition technology.
The Processor
Taiwan Semiconductor Manufacturing Company (TSMC) has confirmed they are producing a revolutionary new processing chip, but won't confirm it's for the new iPhones. Apple does seem the most likely customer, and if they are using them in the latest phones it could put them months ahead of competing options.
The iPhone X used the A11 Bionic chip, which was built on a 10nm (nanometer) design. The latest chip, probably called the A12, will use a 7nm design. This will make the processors smaller, faster and more efficient. The claim is that the new processor will give room for a 20% improvement in performance, and reduce power consumption by around 40%. The phones will also use LTE modem chips that support faster data speeds. With mobile customers showing increasing demand for data, quicker speeds can drastically improve user experience. There is some debate around who will make the chips, with Apple and Qualcomm having a history of rocky relationships.
Possible Features
Longer Battery Life.
Forecasters are expecting something like 10% improvement on battery life, although the more efficient processors and upgrades to iOS 12 might make additional improvements.
Touch ID out.
All phones should feature Face ID as the standard method to unlock the phone. That signals a final farewell to Apple's distinctive home button. TouchID will be on the way out if Apple get their way.
Dual SIM capability.
Not everyone wants the option of using two SIMs, so the feature might be selectively released to countries depending on the demand. It is possible that one or two of the 2018 models might offer this feature to customers.
Updated Screens.
There is a chance the new phones could feature sensors built into the tiny spaces between pixels, based on a patent application filed by Apple. Most likely though, the notch is here to stay for this round of releases.
Camera Upgrades.
The iPhone camera already compares pretty favourably with other similar devices, so the upgrades will likely be minor. There is a chance of a third lens being added to the rear camera of the bigger models.
Wireless Charging.
It's become a standard feature, but the next upgrade customers will be looking out for is fast charging similar to what is offered on Google phones. It's unclear whether this feature will be included. 
Software – iOS 12
iPhone aficionados waited excitedly for the announcements about the new hardware at the annual Worldwide Developer Conference (WWDC) in San Jose, California – but all the information about future releases was software-based. In contrast to the speculation around what the iPhone will look like, with the iOS 12 demonstrations we have a fair idea of what it will be able to do.
In an attempt to prove they are not attempting to force customers to upgrade ot the latest iPhone model, Apple will make iOS 12 available to iPhones released as far back as 2013. There are a few notable inclusions, but the focus was on reliability and speed. Apple have tested the speeds of iOS 12 on an iPhone 6 Plus and found that apps, camera and keyboard launch significantly faster, even on older devices. It can also preserve battery life by performing operations quicker and shutting them down fast.
Some other features we can look forward to are:
AniMojis and MeMojis.
Animojis, the animal characters you can animate with your own facial gestures have been updated, with new creatures to choose from. Tongue detection has been added, so you can add tongue movements to your animoji. MeMoji are a new addition, allowing users to create their own personalised cartoon avatar that can be customised and posed. MeMoji can be used in messaging and other apps.
Facetime Groups.
Facetime now supports group chats, with users able to include up to 32 people in the conversation. People can join the call at any time, people with Apple Watches can join in (audio only), and features a tile-based user identification system that identifies when a user is speaking and expands their tile, making it easier to see who's talking.
ARKit 2.
Mixed world augmented reality has taken a step forward, with users on different devices can see the same augmented reality when using the same app.
Photos App.
Photos can be grouped and searched with suggested headings, like "food", categorising photos by place and time, and a "For You" tab that makes suggestions about edits and sharing the images.
Measure App.
Coming from an augmented reality background, the Measure app allows users to measure real life objects. Users select a point on an object and drag to an end point, which gives them the approximate size. This app can be used with single line or multi-line 3D objects.
Siri Upgrade.
Siri will now come with a Siri Shortcuts app, which will allow users to create customised actions that are linked to a command. For example, a user might tell Siri "I'm leaving work". That could trigger Siri to access a traffic report, send a text to your partner and start your driving home music playlist. It could also connect with home devices, allowing people to access smart functions within their house based on a single command. 
iPhone addiction
The issue of growing addiction to our phones was indirectly addressed at the conference, and directly addressed with some additional features designed to help users gain control over their usage.
Do Not Disturb.
The latest updates will include a "do not disturb" mode which helps users gain control over distractions. This mode disables notifications and other distracting functions, showing a mostly blank screen until it is reactivated with a tap. The mode can be used to mute notifications overnight, for a set time period, or even at a designated location.
Control over Notifications.
Apple have focused on giving users increased control over incoming notifications by allowing them to select when and how they would like to receive them. Notifications are grouped, either by type, topic or app.
Weekly report.
Users will be able to view a weekly activity report that lets them know how much time they spent on each app, and allows them to set limits. When a limit is reached, the system sends a notification and blocks the app (unless you decide to extend the period). It can also be used as a form of parental control, so parents can monitor and limit their children's usage remotely.
The Waiting Game
Some sources are more trustworthy than others, and Apple usually have a few tricks up their sleeves. We really have no idea exactly what the newest iPhone(s) will look like and what they will offer to their users. Having said that, we can confidently say that customers looking for the latest and greatest phone should probably hold off on making their purchase until we see what Apple bring towards the end of this year.
Sources: