Check out our recommendations on the Top 5 Australian Budget Smartphones.
Top 5 inexpensive Australian smartphones that are easy on your wallet
Are you tired of forking out $1500+ for the latest Apple, Google or Samsung Phone in the market? If you are the average Australian household with 2 or 3 teenagers, your smartphone bill probably makes your eyes bleed – $5k+ for five fancy phones – and your kids' want theirs replaced every year. No way! Well, there is a solution out there for you. Android phones that give you all the functionality of a Samsung, with the look and feel of Apple and even some of the AI magic of Google, at less than half the price. No, it is not a scam, this is Chinese imitation at its finest – and it just might be better than the original.
Here are some of the cheapest, high-quality smartphones hitting the Australian market this year. Made by reputable companies, the makers of these phones have put in that extra effort needed to create a piece of technology that is functional, beautiful and affordable all at once.
Best SIM Only Plans May 2018
Boost Mobile | Best Prepaid Data Rates On The Full Telstra Network

Prepaid | 28 day expiry | On The Telstra Mobile Network 3G+4G
Boost Mobile are a reliable brand. They are the only phone company other than Telstra to resell the full Telstra 'Retail' Network. With Boost you'll get:
Boost Mobile Plans For Your Mobile
All talk time and SMS for use in Australia to Australian numbers. All data is for use in Australia. You can learn more about this company in our Boost Mobile review.
Belong Mobile | Fairest For Data

Postpaid | Month to Month agreement | On The Telstra Mobile Network 3G+4G
Belong sell access to the Telstra Mobile Network. They have a simple to understand plan structure with options on data, national ($5 extra) and international calls ($5 extra.) Belong also offer the fairest treatment of data that any phone company in Australia have. a 'data vault' feature. Whatever data you buy, is yours, forever. It just keeps rolling over until you use it or leave them.
With Belong, you'll get:
Belong Plans For Your Mobile
All talk time and SMS for use in Australia to Australian numbers. All data is for use in Australia. You can learn more about this company in our Belong Mobile review.
Strong, Simple Plans & A Well Known Brand
Amaysim | Prepaid Plans | Optus Mobile Network 3G+4G
Amaysim are the 4th biggest phone company in Australia with over 1m customers. They consistently have one of the highest customer satisfaction ratings in the industry and have prepaid (28 day expiry) plan range – just select the option you want in their checkout. With Amaysim, you'll get:
Strong plan range:
Amaysim have a range starting at $10 per month and rising to $50 per month. Data inclusions are up there with the best available and, with Amaysim, things are nice and simple. You're just buying voice calls, SMS and data. There are no optional extras.
New International Inclusions:
Any plan you buy, starting at $30 per month will now include free International Calls to 12 destinations.
Great Customer Experience:
Amaysim are consistently one of the best performing†phone companies when it comes to customer satisfaction.
Amaysim's plan range:
You can find out more about this company in our Amaysim review.
OVO Mobile – Free Video & Radio Content
Prepaid | 30 day expiry | On the Full Optus 3G and 4G Network 
OVO's offer a totally new way of looking at a phone company – they're one of our best selling partners. Their plans are, pretty much on a par for data inclusions with the best in the industry. In addition to talk time, SMS and data, OVO's plans include exclusive access to exclusive video content. All of OVO's plans come with 'OVO Play' an app which lets you watch their free content on your plan. With OVO, you'll get:
Free Video Content – Motorsport, Sailing, Gymnastics & Water Polo :
OVO offer a growing list of free video and audio content. Motorsport fans might like the 400 Thunder Professional Drag Racing Series, Australian GT, Formula Drift and other petrol head live streaming. OVO Play also includes other sports like sailing and gymnastics. The price of the content is included in the monthly line rental charge you pay OVO for your prepaid plan. So, importantly: You won't see your data balance decline while you're watching them, the streamed content is free.
Free Streamed Audio:
OVO's plans also offer FREE radio streaming, also included in your plan offers access to the Tripple M network and other selected stations.
OVO for Kids:
OVO's plans come with the offer of free access to Parental Lock software. Buy your child the $9.95 plan from OVO and you'll be able to monitor what they access on their phone and set times for it to turn off and turn on it's own connection to the internet.
OVO Plans for your mobile
Picking an OVO plan is simple. All of OVO's plans include Unlimited talk and SMS in Australia to Australian numbers plus superfast 4G data.
You can learn more about them and their unique content in our OVO review.
CHECK  OVO MOBILE SIM PLANS
Kogan Mobile – Best Value on the Vodafone Network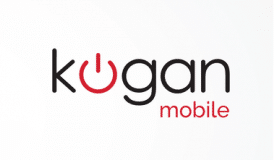 Prepaid | 30 day expiry | On the Full Vodafone 3G and 4G Network 
Kogan Mobile keep it simple. They have some of the most competitive SIM Only / Prepaid plans in Australia, on the much improved Vodafone network. With their multi month recharge options, Kogan add some genuine value and choice to the market.
With Kogan, you'll get
Monthly, quarterly or annual options : Do you want a single recharge payment with a 1, 3 or 12 month validity ? With Kogan, you'll get discounts for multi-month purchases you were going to make anyway. They add the convenience of less frequent running out / topping up. And they keep the total predictability and flexibility of prepaid.
Kogan's 30 day plan range :
Kogan's 30 day plans all have Unlimited talk and SMS in Australia to Australian numbers. The difference is the amount of data which is included.
All talk time and SMS for use in Australia to Australian numbers. All data is for use in Australia. See all Kogan Plans including 90 day and 365 day plans. You can find out more about this company in our Kogan Mobile review.
Great Value Data & Best For International Calls
Prepaid | 30 day expiry | On the Full Vodafone 3G and 4G Network 
If you're after an unlimited plan with incredible data inclusions, or you make calls overseas, in our view, you need look no further than Lebara. Lebara use the much improved Vodafone 3G + 4G network which covers more than 96% of Australians. With Lebara, you'll get :
Big Data on the Vodafone 3G + 4G network:


Lebara's plans include enough data for even the most ravenous data eaters.

Broad Range Including Plans With International Calls:
Lebara have Unlimited International Call plans at $29.90 and $49.90 price points. Lebara's cheaper international call rates cover all the major destinations including : UK, USA, Greece, China, Canada, Germany, Denmark, France, South Korea and Switzerland. (Inclusions vary, see our review.)
Multi-Month-Options:
Lebara have 30 day plans, 180 day plans and 360 day plans. Buy up-front and save.
Lebara's prepaid plan range:
You can find out more about this company in our full Lebara Review.
ZTE Axon 7
 ZTE has sold over 100 different phone models in Australia since their arrival in 2004. They have partnerships with Telstra, Vodafone and Optus, while also selling through retail. Some of their past milestones include
The first Telstra branded clam shell handset
The first device that was launched on Telstra's NextG network
Telstra's first country phone, which provided superior signal performance in Australian regional and rural areas
Telstra's first waterproof and dust resistance rugged device
Telstra's first phone designed specifically for seniors.
The Axon7 is their latest flagship Android model being sold exclusively through JB Hi-Fi. ZTE teamed up with Designworks, a BMW subsidiary, to create the phone's sleek design, larger screen, and natural finger sensor placement.  With the full range of hardware specs including Quadcore CPU, 4GB RAM, Surround sound speakers and a 20MP main camera, the device is a steal for under A$600. The Axon7 Mini, with slightly less storage and a 13MP main camera is even cheaper for under A$400. The best part? The devices come with the complete set of Android nougat capabilities, so you can enjoy the Android experience for less than half the price.
Huawei Nova 2i  
Huawei has built its reputation in the tech industry through responsible operations, sustainable innovation, and open collaboration. They have partnered with numerous companies in Australia to provide cost effective solutions through technology. For example, mCareWatch leverages the latest Huawei Smart Watch to produce a healthcare solution that offers safety and security to the elderly and disabled, and peace of mind to their carers. Their smart phones are equally reliable, high quality, and affordable.
Huawei's latest smartphone offering, the 'Mate 10 Lite' or Nova 2i comes with 4 cameras that allow for DSLR-style bokeh effects. 13MP and 2MP front cameras allow for stable selfies while the 16MP/2MP rear lens let you capture panoramas and objects with greater clarity. 64GB storage and octacore processor gives you the best hardware capabilities in the market while full Android 7.0 support gives you all the functionality you are used to. The phone can be purchased outright for under A$500 while lease plans will be available from Vodafone in November.
Oppo A57
Chinese brand Oppo is the leading developer of professional camera phones that use the latest in photography technology. Oppo started the era of selfie beautification, and was the first brand to launch smartphones with 5MP and 16MP front cameras. It was also the first brand to introduce the motorized rotating camera, the Ultra HD feature and the 5x Dual Camera Zoom technology. Oppo's Selfie Expert F series launched in 2016 drove a selfie trend in the smartphone industry.
Oppo has partnered with Telstra to launch the A57, a device with exceptional photography capabilities, a 16MP flagship-level front-facing selfie camera and features that capture bright, detailed shots even in low light. The A57 has some selfie tricks up its sleeve like the "palm shutter function" that allows the user to take selfies by opening their hand in front of the screen. Targeted at the youth, Oppo's ability to compose stable selfies has made it increasingly popular among teenagers. At a price point of A$269, features like the 3GB RAM, Octa-Core 64-bit processor, 13MP auto focus rear camera and 32GB device memory make it an incredible bargain.
This Month's Hot Offers
Sources: