Prepaid SIM Plans
No contracts and loads of flexibility. It's easy to compare and switch to a budget-friendly prepaid plan.
Choose a data limit that suits your needs

Pay upfront and recharge when it expires

No surprise charges on your bill

Flexibility to switch plans or providers
Common Questions About Prepaid Plans
How do prepaid plans work?
Prepaid plans can be bought online or in-store. They come with a SIM Starter Kit with a physical SIM that's delivered to your door.
Some providers now give you the option of using an eSIM (embedded SIM) which is downloaded to your phone and accessed using your device settings.
To activate a prepaid plan, you'll need to:
1. Compare and purchase a plan. You'll need to determine how much data you use and your monthly budget. Consider any extra features you'd like, such as international minutes. You'll pay for the plan upfront.
2. Activate your plan. Some plans are month-to-month and some are long-expiry, which means you'll pay for a full year when you sign up. You can use your data and make calls and texts until the plan runs out.
3. Recharge your plan. When the expiry date is close you can either recharge or shop around for a new plan. You can also set up auto recharge so it renews automatically.
Are prepaid plans cheaper than postpaid?
With a prepaid plan, you'll pay upfront with no extra costs. Many people prefer the budget-friendly nature of prepaid compared to the unpredictability of a postpaid phone bill.
Prepaid plans are good value for money. You'll find many prepaid plans at around $30 per month with 20GB+ of data and unlimited calls and texts. You'll have to calculate how much data you need and compare plans to find what works for you.
What are the types of prepaid plans?
Month-to-month:
28- to 31-day expiry period
Usually includes unlimited calls and texts in Australia
May have extra features such as limited international minutes and texts
Long-expiry
3-month, 6-month or 12-month expiry periods
Often cheaper than month-to-month plans
Pay as you go (PAYG)
Prepay with a set amount of credit to use until expiry (6 to 12 months)
Each call or text is deducted from your credit
Best for infrequent mobile phone users
Do I get a phone with my prepaid plan?
No, prepaid plans are as cheap as they are because you're supplying the phone.
Can I keep my existing phone number?
Yes! When you buy a new SIM and activate it, you'll be asked if you'd like to transfer your old number (called "porting"). Choose yes and follow the prompts. Once you get confirmation that your number has been ported, your old plan is automatically cancelled and you're free to use your new SIM.
What happens if my data runs out early?
If you use all your data before the expiry period (28 days, for example), you won't be able to access the internet until you top up. If your plan comes with unlimited calls and texts you'll still be able to use those features until the plan expires.
Does my data roll over if I don't use it all?
Some providers offer data banking or data rollover as an additional feature on their prepaid plans.
You might be able to bank data up to a certain amount or you could also be offered unlimited data banking. In some instances, you may only be able to save unused data for your next recharge only.
The main thing to keep in mind is you'll need to recharge your plan before it expires to take advantage of the feature.
What happens if I don't recharge my SIM?
If you don't renew within a certain timeframe you risk losing your phone number. The timeframe varies between providers. For instance, Telstra's deactivation period is 6 months, Vodafone's is 120 days and Kogan's is 90 days.
No lock-in contract

Predictable cost with no sneaky fees

Easy to recharge online or in-app

Flexibility to upgrade or switch plans

Great value, particularly with smaller providers
Potential to run out of data before the expiry date

May end up paying more than 12 bills per year with a 28-day plan
How to compare and use prepaid phone plans
What features should I look for when comparing prepaid mobile phone plans?
The plan that suits you gives you the right amount of data, coverage and call and text capability for the way you use your phone.
Since there are no contracts, it's easy to test-drive a plan for a month and switch it if you want more data or extra features. You can also take advantage of new customer discounts or bonus data.
Here are a few key features to compare:
Price. Prepaid plans are incredibly flexible and designed to suit a wide range of uses. That means plans can range from $9.95 to $200. Consider what you're willing to pay each month and watch for discounts.
Data allowance. Think realistically about the amount of data you'll use. Factor in your access to wifi at work and home and whether you're going to use streaming services. Remember you can always upgrade if you find you need more.
Network coverage. Telstra, Optus and Vodafone are Australia's major telcos. Telstra has the widest coverage, followed by Optus and then Vodafone. Smaller providers (called MVNOs) use one of these 3 telco networks. MVNOs that use Optus and Vodafone's networks have full access but only Boost Mobile has full access to Telstra's network out of the small providers. Others have access to its wholesale network.
This is important for rural or regional Australian residents who need better coverage. Most prepaid plans will access the 3G and 4G networks, with a few now offering 5G on certain plans.
Expiry date. Prepaid mobile plans have expiry dates anywhere between 28 and 365 days. Typically, the longer the plan the greater the discount, but remember you'll pay the full amount upfront and won't be able to get a refund.
Data rollover. If you don't want to see data go to waste, you can check if the plan has a rollover feature or data banking that carries your unused data over when you recharge.
Extras. It's common for providers to offer discounts and bonus data. For instance, some may include data banking, international calls and texts, eSIM, Wi-Fi calling capabilities, and endless data. You can also look for discounts when you bundle your plan with other products like home internet.
How many people in Australia use prepaid?
Prepaid SIM plans serve as a great starting point for second hand phones, tablets, for your kids or your grandparents. You simply put it in your phone and you're connected. In fact, it turns out in a recently commissioned WhatPhone survey, 35% of users have a prepaid SIM.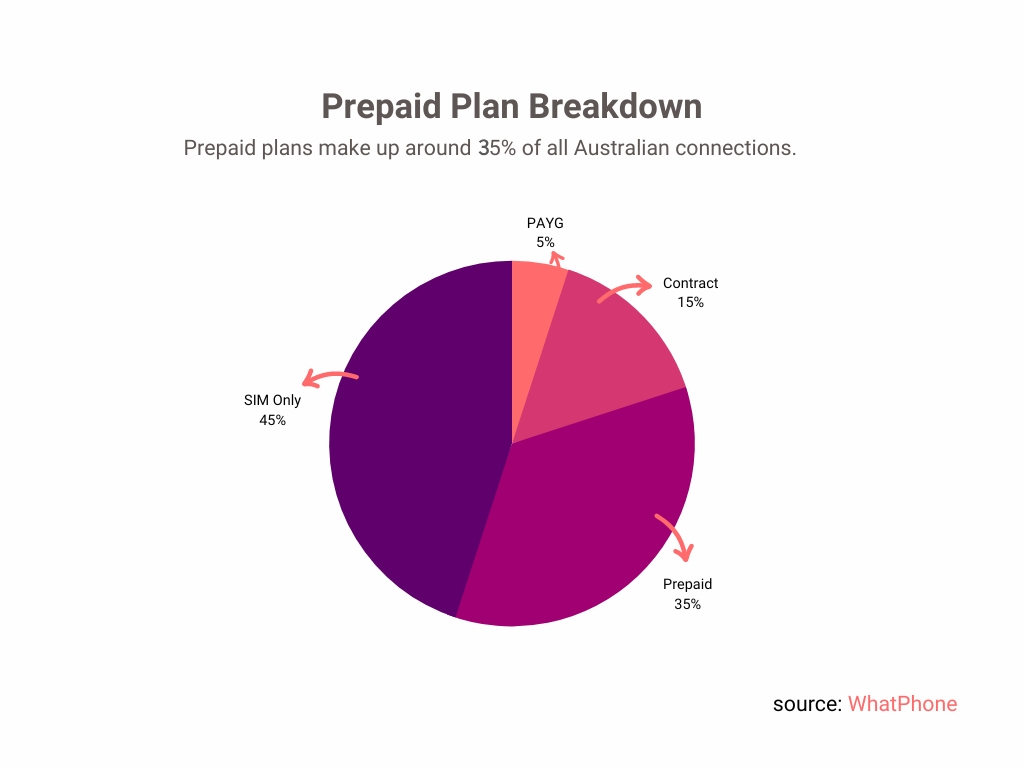 Prepaid plans also come in handy if you're travelling overseas for an extended period of time. You can park your Aussie number so it doesn't expire!
How to recharge, change or switch prepaid mobile plans
When your plan expires you have the option to recharge your SIM, change your plan or switch to a new provider.
To recharge: You can log in online or use the provider app. Many providers have an auto-recharge option set up as a default. Switch it off if you'd rather have the flexibility of changing your plan each month.
To change your plan with the same provider: Choose and purchase your new plan via the provider app.
To switch providers: Purchase your new plan and activate it. If you'd like to keep your phone number, follow the prompts to begin the process of porting your number to the new provider.
Choosing between prepaid providers
You can go directly to Optus, Telstra or Vodafone for a prepaid mobile plan, but there are plenty of smaller providers (MVNOs) that can be cheaper than the big names.
MVNOs use the big networks without footing any of the maintenance or infrastructure costs. They pass the savings on by offering affordable plans with some extra perks. These include brands like Yomojo, felix, Moose and Kogan.
The best SIM only plan providers
Here are some pros and cons of a few top phone plan providers. You'll need to think about what you want from your plan to see which provider can meet your needs.

Optus has the second-largest network in Australia behind Telstra. It offers similar plan features to Telstra but we've found its prices are often slightly cheaper.
✔ Great coverage and 5G
✔ Plans as short as 7 days (great for travellers)
✔ Good data limits for the price
---

Boost is the only small provider that uses the entire Telstra 4G network. It often has great discounts and bonus data.
✔ The best coverage in Australia (alongside Telstra)
✔ Bonus data for a limited time
✔ Some plans include unlimited international calls to specific countries
---

Kogan Mobile specialises in good deals for long-expiry plans. It has extras other plan providers don't, although its customer service is only available by phone and doesn't offer online support.
✔ Instantly download your eSIM
✔ Includes Wi-Fi calling
✔ Earn 1 Qantas Point for every $2 spent with Kogan Mobile
---

We're impressed with iiNet's plans that have some of the best discounts you'll find. Its plans aren't brimming with extras but come at a great price if you're after a basic plan to make unlimited calls and texts.
✔ 50% off all plans for the first 6 months
✔ Free next-day SIM delivery in metro areas
✔ Bonus data if you bundle with iiNet home internet
---

TPG has excellent offers on its plans. You can add-on extras such as international calls and roaming, and use the 5G network on its Extra Large plan.
✔ Ongoing discounts for TPG broadband customers
✔ 50% off all plans for the first 6 months
✔ Free next-day SIM delivery in metro areas
---

Famous for its family plans, Yomojo offers great discounts if you add multiple SIMs to your account.  Kogan specialises in good deals for long-expiry plans. It has extras other plan providers don't, although its customer service is only available by phone and doesn't offer online support.
✔ Up to 15% discount when you bundle multiple SIMs
✔ Yomojo's security app lets you track your child's calls, texts and online usage
✔ Uses the Optus network which has 98% coverage in Australia
---
Summing up
Prepaid plans are one of Australia's favourite type of phone plan because they are so cost-effective and flexible. You can move to a new provider when it's time to recharge, or stick with what you know is working.
Just remember that plan providers often switch up their plans or offer extra data or discounts, so it's worth keeping an eye on the competition. Smaller phone companies often have very competitive prices compared to the big guns, Telstra, Optus and Vodafone.
Full WhatPhone survey results can be found here.
Network coverage and speed information produced by Opensignal.
The ACCC has some of the best information on prepaid plans here.