Everything you need to know about the Samsung Galaxy Series
The Samsung Galaxy Series of devices includes some of the best Android mobile phones in the Australian market. They're the top of the pile when it comes to premium Android phones. They represent the mainstream competitor to Apple's smartphone dominance. The Galaxy Series is a collection of mobile electronic devices which run the Android Operating System.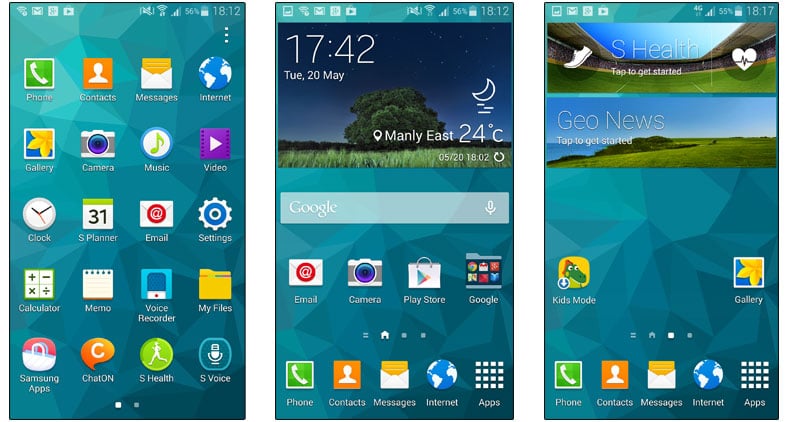 Above : Some screenshots form a Samsung Galaxy Device. You can see Samsung augment the Android operating system with their own user interface software called 'TouchWiz'.
The best bits of Samsung Galaxy phones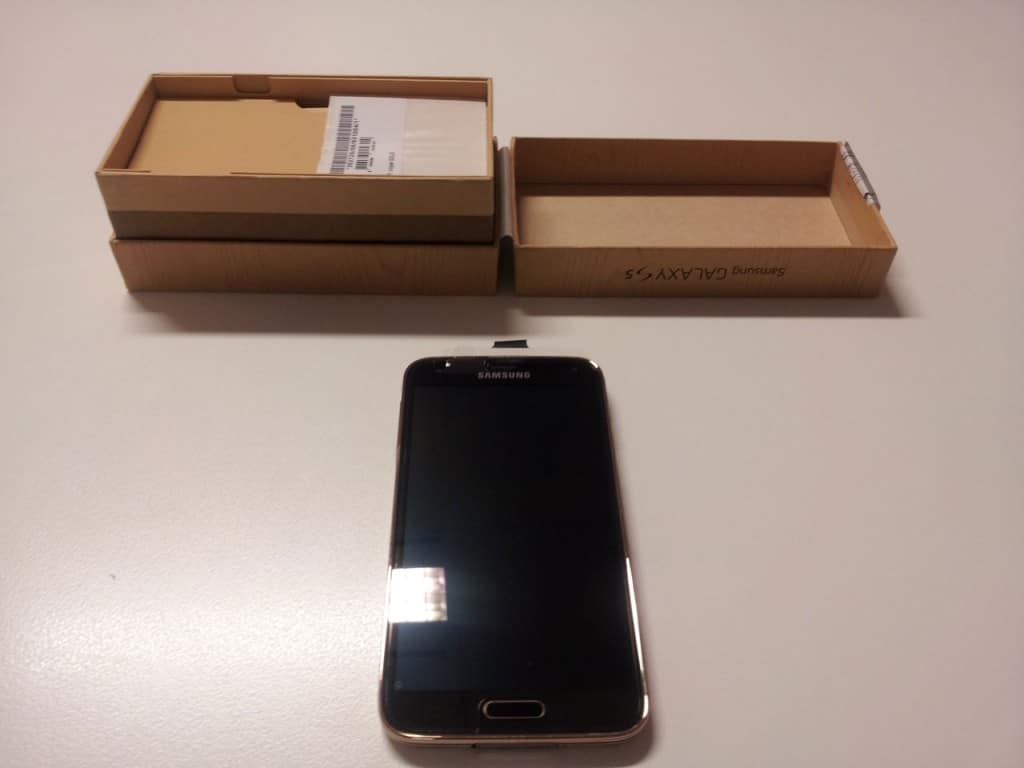 I've been lucky enough to use Galaxy phones as my primary phone for the last several years. The Galaxy Range is always at the cutting edge of mobile phone capabilities. Consistently strong elements include :
Great screens : 
Samsung favour AMOLED screens. AMOLED ( or Active Matrix Organic Light Emitting Diode ) screens have strong, bright, brilliant colors. ( In my view ) Side by side, Samsung's screens out perform HTC and Apple's screens hands down.
Expandable Memory : 
This provides users with the flexibility of adding their own Micro SD memory card in to their phone. Expandable memory is often cheaper than purchasing it permanently installed in the device. Because the SD cards are portable between devices, it means users can easily take their multimedia ( TV shows, films and music ) between devices and their laptops if they want to. The ability to plug memory cards in to your laptop and transfer them without any software in the middle ( iPhone users have to mess around with iTunes ) is also a benefit.
Cameras : 
Galaxy Cameras have increased in software performance and the number of Megapixels they've had available. Our experience is that Galaxy cameras are among the best cameras available on mobile phones these days, with the possible exception of the latest iPhone 5s / 5c and HTC One image processing software which works better in low light conditions.
TouchWiz : 
TouchWiz is Samsung's Android overlay. This clever UI – or User Interface layer provides software capabilities and applications which differentiate the Samsung Brand and product portfolio within the Android market. For example, Samsung have their own video player installed on the Samsung Galaxy S3 which allows users to see excerpts playing in multiple screens. See image below.
Waterproofing :
It was really Sony who led the way when it came to waterproofing phones. Samsung followed not long after and their range has included water tight seals since the Galaxy S5 in 2014. Their technology has improved a great deal over that time. With the Galaxy S5, users were constantly reminded that they had to close a physical flap which covered the USB charging port on the bottom of the phone. Imagine having to click 'OK' every time you opened your phone ?! It was annoying. Now, with the Galaxy S7, they have moved away from asking the user to do anything – which is always a good way of solving the problem. The entire chassis of the device is waterproof.
Low light cameras :
Samsung have carved a niche for low light camera performance. In my view, having seen and compared many iPhone and Android devices, there is no better camera in low light than the Galaxy S7's. The combination of lens and software that Samsung have put together really does make a difference to pictures taken in sub optimal lighting conditions. When you think about it, most pictures are taken in that sort of circumstance.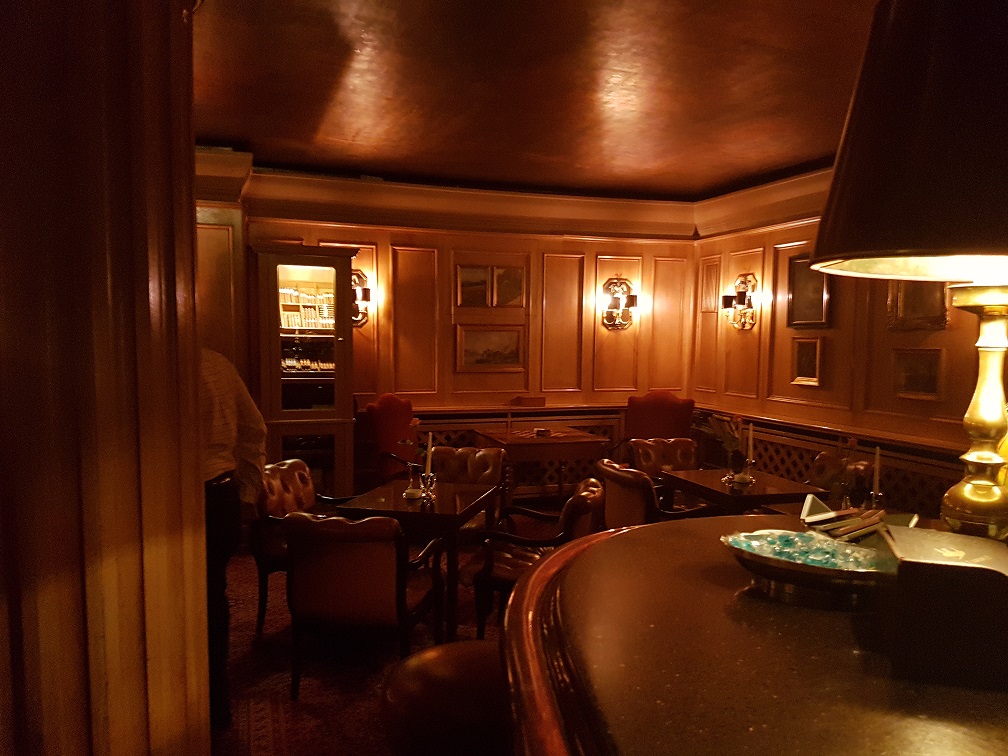 Curved screens :
Starting with the Galaxy S7, Samsung offered a device variant with a curved screen. The S7 Edge had some useful features. The sides glowed with light when you received a call as a new way to alert the owner. Also, swiping left from the edge of the curved screen opens a menu of icons for most used apps which gives quicker access to the facilities you used most. Perhaps most exciting though is the possibility in the future as Samsung continues to push forward with curved glass interfaces. Who knows what their next touchscreen will look like.
Together, these capabilities make the Samsung Galaxy range outstanding for multimedia capabilities. For users like me, who watch a lot of video and listen to a lot of audio on their mobiles, the Galaxy range are well worth considering.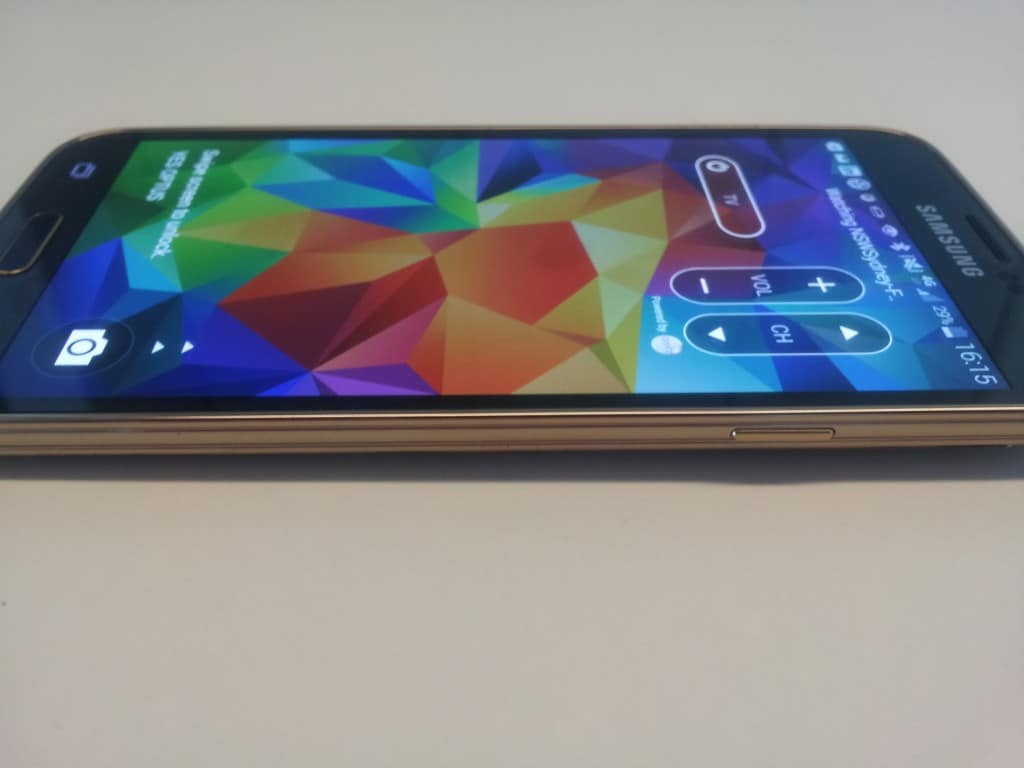 The Not So Good Bits about Galaxy Phones
No phone is perfect. The Samsung Galaxy range of devices has it's flaws :
They can look a bit Plastic : 
The whole series of Galaxy phones used to be constructed out of plastic. It's subject to scratching or, in extreme cases, denting / cracking, when dropped. Overall, the plasticky feel of the Galaxy series lets it down, particularly against the iPhone and HTC products. Both Apple and HTC have a superior feel when the devices are held in hand. Samsung upgraded their approach to more sturdy materials after feedback on this issue in the Galaxy S5.
TouchWiz : 
Some elements of TouchWiz are renown for being terrible. Kies, the music transfer software is terrible. I much prefer to transfer music as simple files using Microsoft's file explorer. I let the audio player on the device sort it out. Again, Samsung have moderated their approach to adding 'bloatware' on top of Android since the early days. Later versions of the phones do not have nearly as much Samsung interference.
Best SIM Only Plans March 2019
Boost Mobile | Best Prepaid Data Rates On The Full Telstra Network

Prepaid | 28 day expiry | On The Telstra Mobile Network 3G+4G
Boost Mobile are a reliable brand. They are the only phone company other than Telstra to resell the full Telstra 'Retail' Network. With Boost you'll get:
The full Telstra Mobile Network
Other phone companies resell part of the Telstra Mobile Network. Only Boost and Telstra plans allow you access the whole thing.
Free streamed audio:
Data free streaming of Apple Music (requires subscription) on top of the data included in your plan.
A range that includes 7 day and 28 day plans: 
Boost offer a selection of plans including 7 and 28 day variants.
Recharge options from $10 to $50:
Boost have a total of 5 recharge options for their prepaid plans, ranging between $10 and $50.
Boost Mobile Plans For Your Mobile
All talk time and SMS for use in Australia to Australian numbers. All data is for use in Australia. You can learn more about this company in our Boost Mobile review.
Strong, Simple Plans & A Well Known Brand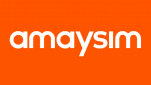 Amaysim | Prepaid Plans | Optus Mobile Network 3G+4G
Amaysim are the 4th biggest phone company in Australia with over 1m customers. They consistently have one of the highest
customer satisfaction ratings in the industry and have prepaid (28 day expiry) plan range – just select the option you
want in their checkout. With Amaysim, you'll get:
Strong plan range:
Amaysim have a range starting at $10 per month and rising to $50 per month. Data inclusions are up there with
the best available and, with Amaysim, things are nice and simple. You're just buying voice calls, SMS and data.
There are no optional extras.
New International Inclusions:
Any plan you buy, starting at $30 per month will now include free International Calls to 12 destinations.
Great Customer Experience:
Amaysim are consistently one of the best performing†phone companies when it comes to customer satisfaction.
Amaysim's plan range:
You can find out more about this company in our Amaysim review.
Yomojo plans

Prepaid | 30 day expiry | On the Full Optus 4G Plus Network 
Yomojo are unique in the Australian market. They offer you an unbelievable range of plans. Yomojo's plans are completely
configurable through their website. They also have some pre-configured unlimited plans for those who want a more
standardised plan.
Prepay Plans :
Yomojo recently revised their plan range and now offer prepaid plans only.
Use the full Optus 4G Plus network :
Yomojo use the full Optus 4G network. You'll get the latest 4G speeds in 4G coverage areas in all the same
places as customers who go to Optus direct.
Yomojo plans for your mobile
You can learn more about them and their unique content in our Yomojo review.
OVO Mobile – Free Video & Radio Content

Prepaid | 30 day expiry | On the Full Optus 3G and 4G Network 
OVO's offer a totally new way of looking at a phone company – they're one of our best selling partners. Their plans
are, pretty much on a par for data inclusions with the best in the industry. In addition to talk time, SMS and data,
OVO's plans include exclusive access to exclusive video content. All of OVO's plans come with 'OVO
Play' an app which lets you watch their free content on your plan. With OVO, you'll get:
Free Video Content – Motorsport, Sailing, Gymnastics & Water Polo :
OVO offer a growing list of free video and audio content. Motorsport fans might like the 400 Thunder
Professional Drag Racing Series, Australian GT, Formula Drift and other petrol head live streaming. OVO Play
also includes other sports like sailing and gymnastics. The price of the content is included in the monthly line
rental charge you pay OVO for your prepaid plan. So, importantly: You won't see your data balance decline while
you're watching them, the streamed content is free.
Free Streamed Audio:
OVO's plans also offer FREE radio streaming, also included in your plan offers access to the Tripple M network
and other selected stations.
OVO for Kids:
OVO's plans come with the offer of free access to Parental Lock software. Buy your child the $9.95 plan from OVO
and you'll be able to monitor what they access on their phone and set times for it to turn off and turn on it's
own connection to the internet.
OVO Plans for your mobile
Picking an OVO plan is simple. All of OVO's plans include Unlimited talk and SMS in Australia to Australian numbers plus
superfast 4G data.
You can learn more about them and their unique content in our OVO review.
Saving money on your Samsung Galaxy Phone
We recommend that you buy your Samsung Galaxy outright ( that means pay for it upfront, as opposed to getting it under contract ) and then take out a SIM Only plan. Check out this infographic so you can see why.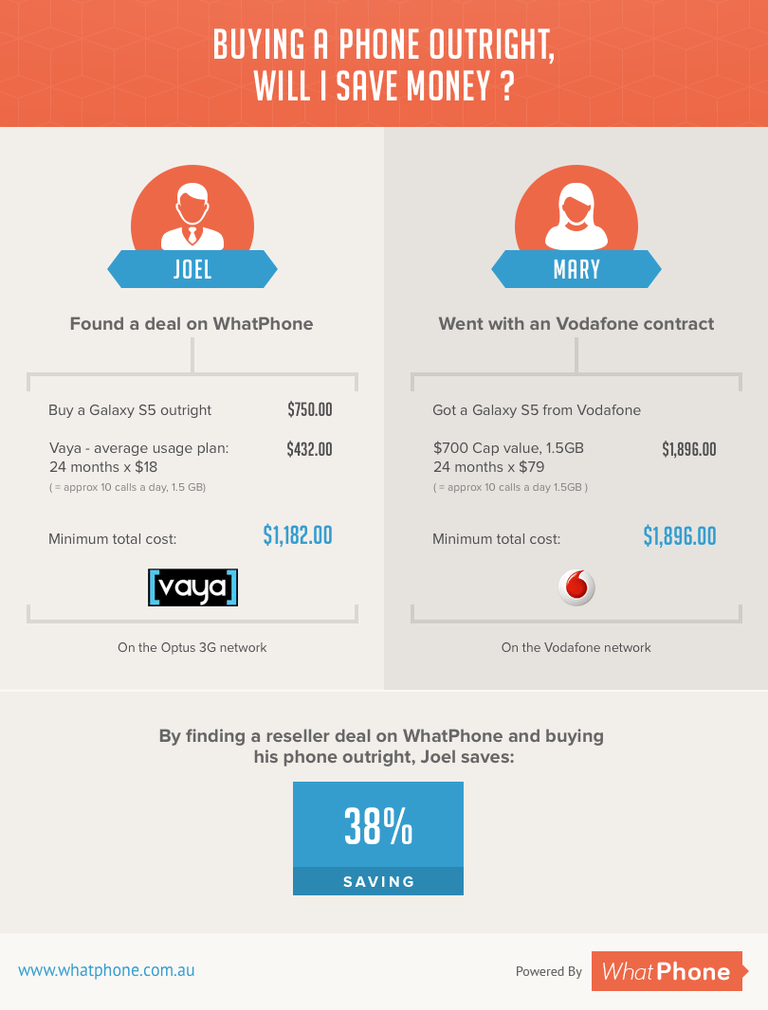 Buying your Samsung Galaxy Phone outright and adding a SIM Only plan can save you a significant amount of money – compared to a contract plan on the same network
This Month's Hot Offers
Samsung Galaxy S Range :
Samsung 's marketers are incredibly smart. The Galaxy Range has been designed to have enough range to appeal to everyone. Unlike Apple which have released only a device a year, since their 2007 launch of the iPhone, Samsung go broad.
Together, Samsung have released more than 20 Galaxy device types around the world. Samsung's approach is to provide appropriate devices for each operator ( in Australia, to Optus, Telstra, Virgin Mobile and Vodafone Australia. ) Galaxy products are targeted to the country and customer type / value. Within the range, the Samsung Galaxy 'S' device range is the higher end of the Samsung product portfolio. These products have the best screens, processors, memory allocations and batteries. S stands for 'Supersmart' (that's not a joke).
Other letter 'types' in the Samsung Galaxy series include :
W – their mid range products
M – their low range products
Y – which is focused on the Youth Segment
The Galaxy range is forever growing.
What does the competition look like
The primary competition of the Samsung Galaxy Range is the Apple iPhone Series.
In Australia, between them, Samsung and Apple have almost two thirds of the market for new mobile phones. You'll have noticed in the news that the two companies are consistently taking each other to court. The market for mobile phones is so valuable to them that patents are worth a fortune.
Unfortunately for Samsung, their Galaxy Range was decided by an American court to infringe on Apple patents. At the time of writing, the case is being reviewed. However, Samsung are on the hook for over $1bn for copying Apple's ideas and imbedding them in their Galaxy range.
Reviews of Galaxy phones
Reviews are a key component of the buying decision for mobile phones. It's so hard to trust the marketing talk that big companies use, people have come to trust reviews as the most honest version of the truth they'll get. At Whatphone, we try to provide everything you need to get thorough and accurate reviews of the mobile phones you're interested in.
Unlike the telcos, we do not have cozy relationships with the device manufacturers. Telcos buy thousands of each product type from manufacturers like Samsung. As a result, they get a very good price per phone ! However, when the companies are tied up like this together, it becomes very hard for the telco to offer an accurate review of one of Samsung's phones.
If, for example Vodafone didn't like the new Samsung Galaxy Note 2, and wrote about it on their website, Samsung would get unhappy ! Not so at Whatphone. Check out our expert reviews on the product pages. If we don't like a product, we say so. On the product pages, you will also find reviews from real visitors like yourselves and a star rating to help you make up your mind.
The Galaxy range goes further than mobile phones
The Samsung Galaxy suite of products has been around since June 2009. All in all, Samsung have sold more than 30 million Galaxy devices, around the world since they launched.
Originally, the Samsung Galaxy was a single mobile phone, not a group of devices. Since then it's evolved. Today, the Galaxy family includes devices other than Mobile Phones :
Tablet computers ( such as the Nexus Tablet which Samsung worked on with Google )
A camera. A 16 Megapixel, camera with LTE / 4G and which runs Android Jellybean !
A media player, released in 2010.
See all SIM Only plans
If you need another network, for example you're after an unlimited plan with Telstra coverage, or you live in a city and you're happy with Vodafone, you might like to check our SIM Only Comparison page and compare all the plans ( including every one mentioned on this page. )
COMPARE ALL SIM ONLY PLANS