Best Prepaid Data Plans
Compare some of the best prepaid data plans.
Some of the best prepaid plans in Australia

Get heaps of data

No contracts & change when you want to
Common Questions About Prepaid Data Plans
How much is a lot of data ?
Individual needs vary. A plan with more than 11GB (approximate Australian Average usage) can be thought of, for some people, as having a 'lot' of data.
Several factors impact how much data you'll need, including how many tasks you do at once, how many videos you watch, and how often you're away from Wi-Fi.
If you need help figuring out your usage check out our 'How much data do I need?' article.
Some plans have 'zero rated' or 'data free' inclusions. What does that mean?
Many plans have included data which is not charged for by the phone company. For example, Telstra offer some sports streaming services as data free.
In the industry, this term is often called 'zero rating'. You can find out more on this subject in our article dedicated to 'zero rated data'.
Today however, you get fewer plans with "data free" inclusions, are more with unlimited data. In a way, these are better because you can use them on whatever you like.
Where can I find out more about plans with a lot of data which ALSO offer free streamed audio?
Under certain plans, those with an Apple Music subscription can listen to songs and podcasts without using any data. Currently, it is only Telstra and Boost who offer this service.
Who has the best value data inclusions in their plans?
For those who wish to use lots of data, our advice would be to not worry so much about "data inclusions", since these are nowhere near as common as they used to be, and can only be used on certain apps. Instead, look at plans that come with "unlimited data". On this page, you'll find several options of such plans.
What should I do if I want a data plan for my Mobile Broadband Dongle or Tablet?
Huge data allowances to suit your need

Best value from Felix, Lebara, Vodafone

Prepaid options so you don't go over

Some plans come with unlimited data
Most Telcos do not offer as many "Data Free Inclusions" as they used to
Best Prepaid Data Plans in Australia
When people search for information on the Best Prepaid Data Plans, there are two possible interpretations of what they mean. We cover both on this page :
The most common meaning :
A prepaid plan, for a phone, with 'a lot' of data.
Second most common :
A prepaid plan which is data only, used in a tablet computer or as a 'mobile broadband' service.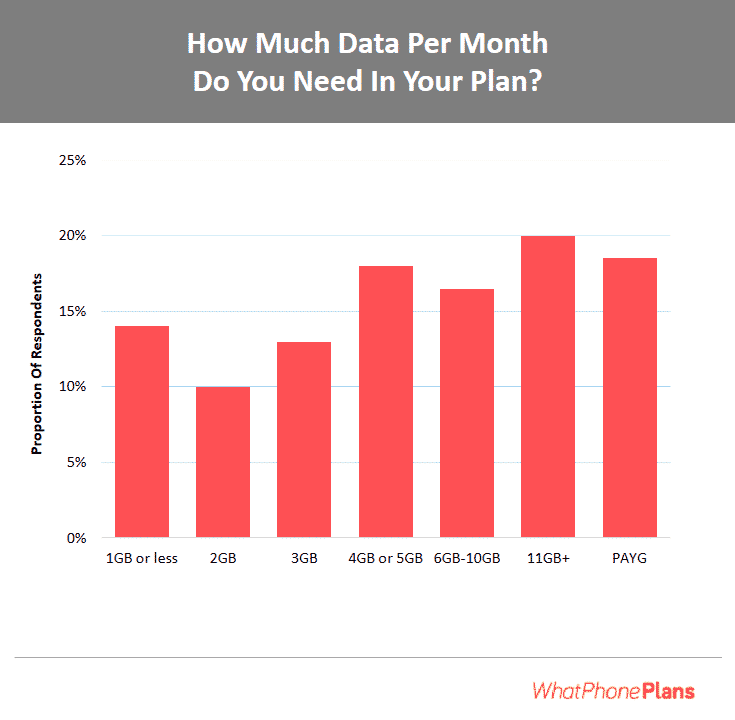 People believe they need a lot of data per month. Although we are using more data than in the past, most Australians do not need as much data as they might think.
Want the best prepaid data in Australia? Start here:
First and most obviously, in a world where people want to use a lot of data in their smartphone but don't want to get 'stung' with extra charges, prepaid plans have an extremely useful feature. When the data in a prepaid plan runs out, the service will stop. At that point, the plan's user has to make a conscious decision to recharge ( add more value by spending some money with the phone company, potentially on data. ) This single 'plan feature' means prepaid plans help users avoid bill shock better than the alternatives.
Additionally, even cheap prepaid plans have to have enough data for most people included in them. Even for as little as $30 a month, you will receive more data than the average Aussie uses. The nature of prepaid plans is that users are not tied into contracts. The freedom this gives them to change plan and provider (even every month if they so wish) means people move between providers and plans more often when they have a prepaid service.
Phone companies, therefore, have to keep adding extra data over time. Today, many phone companies offer a "Data Rollover", which allows you to use unused date for future months.
The ever-increasing data in prepaid plans over time is important because of the way it overlaps with user behaviour. According to Going Digital, although the speed at which data usage is increasing has slowed in recent years, it's still rising at around 20% a year in our region. Some factors that account for this rise in data usage include, our increased reliance on the internet, more people being forced online (especially since COVID), people wanting to use the internet when out and about, and more people turning of "Hot Spot" when their wi-fi goes down.
By choosing a prepaid plan, not only do you get the data you need now, but you create a structure which gives you the best chance of getting more data as soon as it arrives, down the line.
Some telcos, such as Felix have both responded to the massive data inclusions in prepaid plans with some clever postpaid plans that never run out of data (sometimes referred to as unlimited data). Telstra also offer a plan with unlimited data, but it is extremely expensive, $199 a month! Even though their 4G internet is faster than Felix's, it does not justify such a price. Vodafone used to offer plans with unlimited data, but today, the most data you can get in a Vodafone plan is 60GB, which is still a lot.
Telstra's new SIM Only month-to-month plans all come with no excess data charges in Australia – that is, if you exhaust your plan data, your speeds will be throttled to 1.5Mbps until your next billing cycle, meaning you never run out of data. Vodafone's SIM Only Prepaid plans offer the same thing – endless data (even the previously mentioned 60GB plan)
Such plans are great, but 1.5Mbps is quite slow – fast enough for the basics like browsing, streaming music, and checking social media, but certainly not what you would want if you had a choice. Regardless, they are great offers, and have only surfaced as a result of just how competitive prepaid plan data inclusions are.
(Note, if you have a balance on your prepaid account and use all your data up, you may be charged out of bundle rates. We suggest you do not leave credit on your account to avoid the potential overage).
Whether you're after a prepaid plan for your phone or a mobile broadband connection?
Whether you want a SIM for your phone or laptop, here's how to pick your data-laden prepaid plan :
Step 1 – what type of user are you ?
Check your existing phone bill to find out how much data your current plan has and the proportion of it you're using. If you're shopping around, you probably want more for the same price or less. The (usually electronic) statement your telco sends you is the best place to source your need. You can find out more about establishing your data requirements in our 'How much data do I need' article.
Step 2 : Look at the key differences :
As you will see from our detailed analysis below, it's now extremely easy to compare the best prepaid plans with a lot of data. Consider our 'Best of the best' providers below. All data costs are now charged per kB (if you don't know what that means, trust me, it's a good thing). Any prepaid plan with a lot of data has unlimited calls and SMS. Most of them have 30-day recharge windows, which makes comparison extremely easy. Some of them offer more recharge windows, though – 60 or 90 days, and 12, 24, or 36 months. It's just what you'd expect — you're looking for the largest number of 'GB' of data you can find. Everything else is the same.
Step 3 : Treat it like you're running a car :
As we've said, one of the key features of prepaid is that you can change your plan or provider when you want to. Our advice is 'don't settle!'. Take the plan now, sure. But check again in a few months. You will be surprised at the additional data you get for your money in a few months.
Our view: The best data prepaid plans in Australia
Here's our table of what we think are the best of the best prepaid plans out there with lots of data. You will see that when you get into the details, (below) there is a slew of options and plan inclusions. That can make it daunting to compare what's on offer.
Some people want a lot of data in their prepaid plan AND other features, too. Sport, music and international calls are common examples. Here are the best phone plans with big data allowances and these extras.
Optus prepaid:
Optus has been innovating its prepaid plans. Although their prepaid plans no longer offer data-free music streaming, the Optus Prepaid Epic Data plan offers up to 20GB on every recharge, "available in selected channels only", which according to one source include Netflix, Stan and ABC Kids. To be able to take advantage of this, you must have an active plan with positive MyCredit balance.
Telstra prepaid:
Not to be outdone by Optus, Telstra, too, has included some special value in its plans. Again, using their app, Telstra prepaid users can pick from a small range of sports to watch data-free on their device. If you like the NRL or AFL and can see yourself watching games on your phone, then Telstra prepaid could very well be the right plan suite for you.
Lebara Mobile:
Some people want a lot of data in their prepaid plan AND the facility to make International calls. Lebara's pricing for international calls stands out as best in-class value. The data inclusions are not quite as good as the others on this page, but the international call aspect of Lebara's service gives it an advantage for people looking to kill two birds with one stone.
Felix Mobile:
For $35 a month, Felix Mobile gives you unlimited data, with speeds up to 20 Mbps. Although this is significantly slower than the Australian average of 180 Mbps, it will still be fast enough to do the tasks that most of us use our phones for- streaming videos, answering emails, browsing social media, etc. It is very good value for money.
Things you need to know about prepaid data plans
Prepaid is a range :
As we cover on our standard best prepaid plans page which goes into some detail on the subject, the term 'prepaid' is often misunderstood. Prepaid is not a single plan type, it's a range.
Almost all of the plans you will see now have unlimited voice and SMS in Australia :
Plans with big data allowances start, typically, above the $30 per month level. You will almost certainly get unlimited voice and SMS in Australia for that sort of spend, whichever phone company you choose. As you will see below, this is one factor which makes comparing plans much easier than it's been in the past.
You do not need to pass a credit check :
With a prepaid plan, you pay before you use the service. That means no credit is required and therefore no credit check is needed. Signing up to a prepaid plan is easier than signing up to a postpaid equivalent.
What 'zero rating' is :
Zero rating or 'data-free streaming' of some entertainment services within your phone plan was an unfortunately short-lived phenomenon for Australia. The only telcos that offer it on any of their plans are Telstra and Boost. We've covered the benefits to the user (you) above. If you'd like more detail on what 'zero rating' is, check out our article.
Comparing plans is easy these days
Here are the factors you should compare when weighing up the prepaid plans with decent data allowances :
The best prepaid plan providers all offer kB rounding :
The way data is charged to your account is beyond the technical interest of most people. It can, however, impact the value you get from the data you buy a great deal. The industry standard now is per kB charging, after an effectively delivered public outcry a couple of years ago to a Vodafone change which moved customers to per MB charging. Without going into too much detail, the results are pretty clear. Per kB charging is best, and anecdotal accounts I have heard suggest per kB charging can give you up to twice as much data as a per MB charged plan. The fact the phone companies we recommend all offer this prepaid plan feature means it's easy to compare like-for-like data inclusions.
Your recharge validity period:
If you're getting a prepaid plan, knowing whether it's valid for 28 days or 30 days can make a small but worthwhile difference in the value of the plan you're picking up. Obviously, if the plan has 28-day validity, every year and a bit, you'll have to buy one more recharge than if your plan had a 30-day recharge validity. Again, the best of the best have all settled on 30 days so comparing apples with apples is easy if you stick to the plans we recommend on this page.
The network you will have access to :
There are 3 networks to consider here. Optus and Vodafone both have 4G/5G networks with which most people are familiar. Then there's Telstra, which covers a lot more ground but offers 4G to pretty much the same proportion of Australians as Optus or Vodafone. Telstra also 'resells' their network to smaller phone companies. Boost is the only Telstra MVNO that gets the entire Telstra Network. What you'll get from most Telstra resellers are coverage footprints which are on a par with Optus' and Vodafone's.
How easy it is to manage your service ( Do they have a self-service app ) :
Every telco these days offers you an internet interface for your plan management. It's usually a far more convenient way of keeping up to date with your account – especially the data utilization element of it – than calling into their customer care line. Most phone companies have a selfservice app which is even more convenient for those who have a smartphone. Since it's people who have a smartphone that need to manage their data more closely, picking a telco which offers not just prepaid plans with a lot of data but also a self-service app, is something to be aware of.
Value for money :
Of course, the cost of the plan is a key comparison characteristic.
Data Only Plans in Australia
You might have some devices, such as a smartwatch or a tablet, which you do not need calls or texts for. However, you may still wish to have a data-only SIM card in these devices, so you can use them when out and about.
Those looking for a Data-Only SIM for their smartwatch will likely not need a lot of data. Amaysim offers 7GB for $15 every 28 days. And Spintel, Belong, Aussie Broadband also offer low data data-only SIM cards ideal for smartwatches.
However, if you need a SIM card for your tablet, it could be wise to get a data-only SIM card with lots of data on it. People who would benefit from such a plan would be people who use their tablets when outside of the house a lot. For example, if you use it for work, and you have an "on the road a lot" job.
For such people, Telstra offer 400GB of data for $85 a month.
Overall, we have two pieces of advice for those looking for a data-only plan. Firstly, search for plans that market themselves as being "smartwatch" or "tablet" plans. These plans may be best suited for your needs.
But, our second piece of advice is to also look at regular mobile phone plans- the SIM card will still work in a watch or tablet. You may find that it could be better value for money for you to buy a plan with unlimited phones and texts, even if you don't use these services.
Possible pitfalls with prepaid plans that have a lot of data
When you're using your service, try and watch out for these things
The overlap:
We've talked about prepaid plans with a lot of data for either your phone or your tablet / mobile broadband dongle on this table. The overlap between them is called 'Hotspotting'. Hotspotting is a facility offered by most smartphones, which allows you to turn them into a mobile router. For the non-technical, that means you select a menu item on your phone, enable it and you can connect your laptop to the internet using your phone's data connection. If you have a lot of data in your plan, this is fine. It's especially fine if you're technically adept. If you're neither of those things, this facility is something to be careful of. Laptops use a lot more data than phones (usually).
Overage:
We're talking prepaid plans on this page, which means fear of overage is dramatically reduced. But be careful. We recommend checking what happens when you go over your data limit. Some plans will charge you extra, others will slow your 4G speeds to 1.5Mbps. We advise only recharging by the value of the plan you want to recharge. Or, use a bolt on.
Bolt Ons:
If you run out of data before the end of your month on your prepaid plan, every phone company will allow you to add more data mid month. This is something to avoid if you can. Whenever possible, figure out what data you need that's more expensive than the data plan.
Summing up – Australian prepaid data
You get some of the best data rated in the world in Australia. It's a mark of how quickly we adopt new internet-based technologies. I just spent some time in Germany and just finding a phone plan with more than 1GB a month was hard – and prepaid plan costs were higher per month than in Australia, where we get multiple times that data inclusion.
When it comes to getting a prepaid plan with a lot of data, competition has ironed out a lot of the problems for you. Plans are kB charged now, giving you more for your money. Prepaid plans from the best of the best providers shown on this page last 30 days, not 28 days. There's incredible value to be found, usually with smaller phone companies.  And the very fact that they're prepaid means that if you recharge correctly ( i.e. don't leave a balance on your account ) you will avoid bill shock. You simply can't be charged overage.
Data is already the deciding factor in whether people buy a plan. It will be the way forward as we continue to move games, any form of storage, and everything else to the cloud. Mobile data access speeds are always getting faster. We've upgraded from 3G to 4G to 4GX / 4G Plus (super fast 4G) and 4K resolution screens on our phones. It's a relentless path to using more data every month. Which brings us to the most important point:
Once you have your prepaid plan and all the data you need, the most critical element of using it is to check regularly whether there is a better deal on offer. Since you're not tied in to the provider you choose, beyond the month you're in, alternative phone companies will be competing for your business and using data as the lure to attract you.