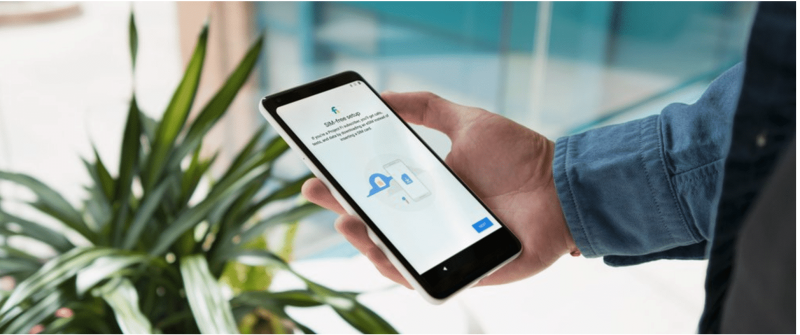 Intro – Here's a 60 second guide to the eSIM
The way you choose a phone company is going to change. The cause ? A seemingly innocuous piece of new technology – the  'eSIM'. So what is an eSIM and how does it work ?
An eSIM is an 'embedded' or 'electronic' SIM card which is built into a mobile phone, smartphone or tablet device at the point of manufacture.
eSIMs ( a type of 'soft SIM' will empower consumers with the freedom to move between mobile phone carriers much more easily.
They will make is easier and cheaper to choose the SIM Only or prepaid plans which best suit them.
eSIMs have been trialed overseas in Apple iPads and Samsung Galaxy Gear watches.
Some say that the new iPhone could contain an eSIM.
What is an eSIM?
The eSIM is the new standard for SIMs which, when released globally, will eventually become commonplace. The eSIM willl be a replacement for the standard physical SIM you have been using the whole of your life. The title 'eSIM' means 'embedded' or 'electronic' SIM.
eSIMs will be built in to new smartphones before you buy them but they'll perform all the same tasks that your SIM ( and it's housing ) does in your phone right now.

How are eSIMs and 'Soft' SIMs related ?
Here are the key findings from the recent news story of Apple introducing the Apple SIM, what this means for the future of SIM card technology and will Australian consumers be better off. There are more details in the article below.
A soft SIM, is a generic name for the e-SIM. The term helps describe the nature of the eSIM component. Where, in the past, changing phone company meant changing a piece of hardware ( remember, that's as opposed to software ), the eSIM will allow for the information that is currently physically storeed on SIM cards when they're shipped to be provided over the air to a chip with is embedded in the phone you buy.
Think of it like this. Imagine that you need a password 'key' so you can enter it in to your phone, to connect to the phone network. Imagine that key is stored on a SIM card. At the moment, if you want the connection, you need the key so you go to the shops, buy a physical SIM card and insert it in to your phone. With a 'soft SIM' solution, you can request the key from your phone. The phone company provides it to you over the air so you don't need to go in to the shops. The 'eSIM' is the name given to the soft SIM solution which has been implemented to enable that. An 'eSIM' is, as we said above, an embedded SIM. It's embedded in your phone when you buy it. The software for that SIM is updated over the air with the key you need when you connect to your phone network through settings.
Specifically, the eSIM can be set up and activated using a process we describe in detail below.
Let's start with a look at traditional SIM cards
SIM cards as they exist at the moment, are tiny pieces of plastic which are inserted in to your phone to connect you to a network. Your service provider ( a Service Provider is a phone company like AT&T, Vodafone, Optus or Telstra ) needs to store your mobile phone number on their system so they can bill you correctly. They also need information about whether your're connected to a prepaid or postpaid plan, and to understand when you're making a call or using some data. The SIM card helps them do all of that.
Since it's conception, the physical SIM card was designed as a security element in phones. It was used to store and authenticate a user's details on phone companies' networks. It was only designed to support one number and one network, which in today's SIM only and prepaid environment not as efficient as it could be.
The downside of traditional SIM cards is that they are only programmed to work with specific carriers. That makes it difficult to change provider, should you want to change. It also creates inconvenience and expense that most people have experienced at one time or another. For example, when you travel overseas with your phone, you have to decide whether you want to pay for a relatively expensive roaming bill or to go through the hassle of finding a local SIM card. In any event, to change phone companies, you need to physically change the SIM in your device.
The GSMA is the association which represents mobile phone service network operators worldwide, including in Australia. It was created to represent the voice of phone manufacturers and other stakeholders in the 'ecosystem' for phones. Right now, the body is working towards a standard which will be the future of all embedded SIM cards. Recent reports by the Financial Times suggest that the world's largest two smartphone makers, Samsung and Apple, are holding talks with the GSMA to work on launching devices with embedded SIM cards in the near future. This new piece of technology – the eSIM – is going to replace the traditional, physical SIM.
SIMs are not free. Typically, the phone company is charged $5 or so per SIM. They pass this along to you in their pricing. The new process obviates the need to buy SIMs too and will cut prices that way too.
Will eSIMs be standardised?
Yes, the eSIM will be standardised. It will have to be. The core of the improvement they offer is that all eSIMs will be completely standardised across all smartphone and tablet manufacturers in the same way that the current stock of physical SIMs is. The phone companies too are standardising the information they will send to eSIMs.
Apple was one of the first mobile phone companies to create something similar to the eSIM concept. Their hybrid version was called the Apple SIM. Predominantly this was used in iPads sold in the USA. It is highly likely, however, that this is getting ready to be rolled out world wide on all versions of their manufactured devices. It would, of course, though, technically comply with the standards put forth by GSMA.
What are the benefits of the eSIM ?
You'll bet a better deal on your phone plan :
eSIMs are likely to mean a better deal for consumers. Their presence will allow users to decide whether they wish to stick with a prepaid plan provider, or change operator. Importantly, they will be able to do this from their handset, in 'Settings' rather than having to make a trip to a telco retail store or supermarket to get the new SIM.
It'll be easier to connect to a phone company :
In future instead of going to a mobile phone provider and signing up for a prepaid plan, waiting for the plastic SIM card to be sent to you and inserting it into your smartphone, an eSIM will make this process much faster and efficient. While not only being convenient for consumers to use, they will also make it difficult for carriers to lock people into expensive plans as consumers will be able to pick and choose providers at their choosing.
More convenience :
An eSIM would make it possible for consumers to select a prepaid plan, pick and choose, switch providers and do all of this from the handset or device by themselves. Not only does it give consumers on prepaid plans the freedom to switch providers at their choosing, it also means that for postpaid customers at the end of their contracts, won't need to wait for a new SIM card to arrive before they continue with their next plan, as it can be done from inside their mobile phone.
Benefits for phone networks and others
Phone companies and the internet of things :
Recent studies released from consumer electronics manufacturers, has reported that phone companies are keen to adopt this technology, as it is a progressive step towards delivering the 'Internet Of Things' for them. That could include the eSIM contributing to complete home connectivity and putting everything from buildings to busses on the internet.
Mixing up the car industry :
One industry which is commonly overlooked which stands to benefit greatly from e-SIM technologies is the auto industry. Recent research has shown that more than 90% of new passenger cars will have in one form or another, increased connectivity capabilities, greatly enhancing the existing functionality of in-car WiFi and Bluetooth technologies. M2M ( that's Machine to Machine ) technologies in this industry may become a force much greater than the Telecom industry, pushing through change which the network carriers won't easily be able to stop.  For the Australian automobile industry, soft SIM's would start in the most logical place which would be navigation, and location GPS functionality. Next up you can expect the e-SIM to assist with all on-board entertainment features and services, such as voice activated commands, hands-free phone calling, music options and even applications. As almost all new cars are equipped with tablet-like control panels in the centre console, there are a great deal of applications which rely on WiFi or mobile data to functions properly such as weather and news apps, which could update in real time. By allowing drivers to not be distracted by looking at their smartphones for the same information, there could be a case to argue for, that the introduction of e-SIM technology from a safety perspective would make driving cars safer. There is also the practically of M2M communication systems which come into play when a car is manufactured in one country but sold of shipped to a second country, to consider, especially when it comes to the navigation systems and updating GPS maps in real time.
This Month's Hot Offers
When will eSIMs be available?
There is no current, publicly released expectation on when the eSIMs will be brought to the market. Industry experts suggest it could be late 2017 and will almost certainly arrive by 2018.
For now ,the technical specifications are still being worked. Phone companies, including Optus in Australia are testing eSIM apparatus. We can't say when these tests will be finalised. Rest assured that as soon as we know, you will be informed right here on WhatPhone.
Apple and Samsung eSIMs
Both Apple and Samsung are in talks with major Australian network carriers to adopt embedded eSIMs for future smartphones and tablet devices. The move towards eSIMs would see the manufacturers joining others, in the industry, in utilising eSIMs. Microsoft, Intel and other laptop related companies are quickly investing in the technology, too.
As you might imagine both Apple and Samsung have both been the driving force behind the new technologies which are enabling the e-SIM to become a reality. Apple specifically has been at the centre of persistent rumours for quite some time now.
Why are phone companies afraid of the eSIM ?
Recently Apple has embedded a programmable SIM into some of their iPad devices. The move came with the inevitable displeasure from the Telecom industry. When Apple releases new products or makes a breakthrough in technology which benefits their users, you can almost hear the groans coming from the traditional network carriers. They know new Apple technologies often have the habit of becoming the new norm. As you'll see form the process we describe below, that is likely to result in them losing a lot of the relationship they have with their customers.
It was, after all, Apple who was the main driving force behind the Nano sized SIM card. If it wasn't for Apple reducing the size of the traditional SIM card, to fit their latest generation of slimmer smartphones, we would all, no doubt, still using the large sized cards in our mobile phones.
eSIMs will affect an important industry measure called 'churn' in a way the phone companies won't like. When it's easier to change phone companies to a cheaper alternative, people move phone companies more often. Obviously, the phone companies don't like that or the effort involved in competing to win your custom.
Finally, the phone companies want to have a relationship with you. They want you to think of them as much as possible and by more product from them. The eSIM will reduce your relationship with your phone company. You won't visit their stores or websites as often because you'll be able to connect to them through settings on your phone.
How The eSIM Will Work
Both Apple and Samsung have early prototype eSIMs in market. Apple are using eSIM processes in 3 iPads. Samsung are using eSIM processes in their Galaxy Gear 2 watch. These tests are running in the UK with on phone company, EE. In the USA they have a few networks that they're working with, including AT&T and Spring, as we show below.
This sort of test is sometimes called a beta test. It's pure speculation but we believe that both Samsung and Apple are testing the eSIM technology and processes with these beta tests. If they were, it would be a good way to iron out bugs in their performance and the experience customers have when they use them. It could all be in anticipation of the need for a smooth process later on, say, for the release of an eSIM in the next iPhone or Galaxy phone.
As a result, we can tell you what the process is now, in some detail, based on how these prototypes work. However, it is likely that there will be some changes closer to the time as problems are eliminated and the service improves.
eSIM Set Up Step 1 : Choose Settings and Cellular Data Account
We are taking a slight risk here. These screenshots have been provided by our UK site and colleagues in the US. I don't have first hand experience of this process. They also relate only to the Apple set up process.
As you can see, the steps that users have to follow are pretty basic. You could also say clear. The feel is very Apple and very 'Settings'. It's functional but not pretty.
The user selects settings and then 'Cellular Data Account' They are presented with the options that are available to them. They select a phone company whose plans they want to soo. Notably, it's difficult to compare plans at this point. The operator has to be chosen before the plans and inclusions are made visible. Common user activities like a desire to see the data you can get for $30 are not possible. We talk more about this below.
Below : User Step 1 – Selecting a phone company within settings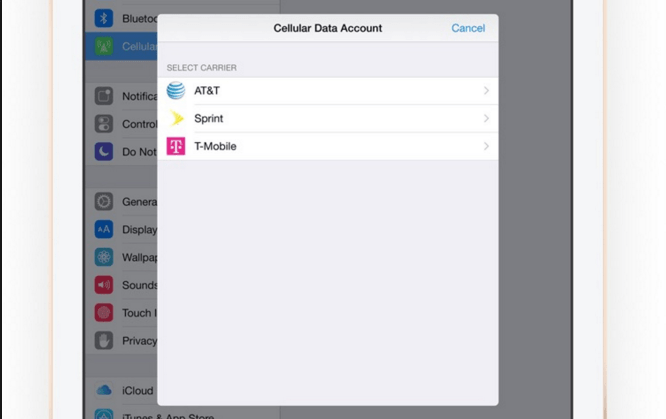 eSIM Step 2 : Select 'View Plans
There may be one set of plans to pick from, as we can see here, below, with Gigsky.
Below : Apple works with Gigasky to provice data in 90 countries around the world.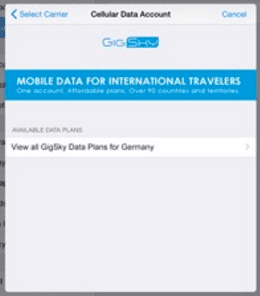 Or there may be several sets of plans to choose from as we can see with Sprint. ( See below. )
Below : Sprint lets you start an account or pick a plan. It's not hard to imagine 'Prepaid' and 'Postpaid' rows as options here.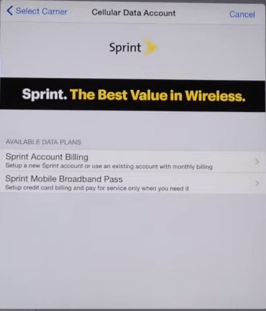 If you choose the 'Account Billing' section, you work through a standard SIM signup process. You'll need to give your name, address and billing details.
We did notice that the phone companies aren't afforded much opportunity to sell their offering. It is possible that this is something that Australian phone companies will want to change. Optus, for example, have invested heavily in content rights for their plans. Optus customers will be able to see English premier League football and / or Australian Test Cricket. It is not immediately clear how the phone companies might go about articulating these bonus offers given the real estate they have.
eSIM Step 3 : Select Your Plan
Within an operator / phone company, there are some standardized fields which can be used to pick a plan denomination. It's the usual 'hit it with your finger' to select.
One striking aspect of the new eSIM / AppleSIM set up experience is how quick it is. Remember, the alternative used to be that the user would have to go to the shops, or order online. Then, when the SIM was in the device, the user would have to activate the service. Both steps are now squeezed together. No travel is required to buy the SIM and activation is faster for the phone companies. They will be pleased about that. It will draw forward their revenue. But to ordinary users living in a culture of immediacy, it is hard to overstate the importance of this improvement. Where, in many cases, it was easier to go to a retail store than to order a SIM card online and wait for it to be delivered, it is now easier to do it all from your tablet.
Below : The user selects a plan with their finger.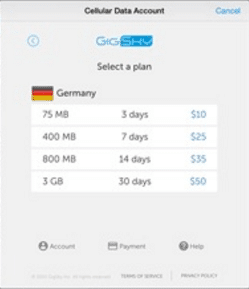 eSIM Step 5 : Accept Terms and Conditions
These are so important, entertaining to read and brief that many users stay on this page for hours.
Below : Who deosn't enjoy the terms and conditions ?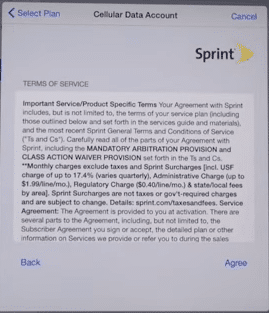 eSIM Step 6 : Confirmation of order
Below : A standard confirmation page is shown.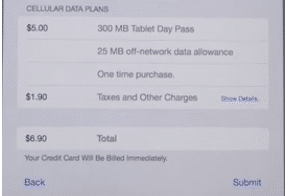 Submit finalizes the transaction.
The process is also, notably, both digital and mobile. It seems likely that the eSIM will reduce the need for retail stores for all of the phone companies. An increasing proportion of your interaction with telcos is Digital. They all have apps which help users conduct self service activities, for example. The AppleSIM appears ready to turbocharge the online presences that the telcos have.
How The eSIM Really Works
Remember, these screenshots were taken overseas. We've mocked up what we think Australia's rendition of operator choices might look like in our 'everything you need to know about the eSIM' article.
Perhaps the biggest oversight in the mechanics of the process ( in our view ) is how hard it is to compare operators. The user has to choose the phone company ( step 1 ), then view the plans ( step 2. ) They then have to come out and do the whole thing again to get alternate pricing to compare.
Additionally, the efficacy of the sign up process is predicated on users knowing their needs which is not always the case. There is no tie in, for example, with users' usage data either from Apple ( which is strange, since data usage is now recorded in iOS settings ) or from the phone companies.
eSIM / Apple SIM Caveats :
All of the following are reasonable disclaimers to include. We simply don't know how the eSIM will operate for sure, when it is released in Australia. This is just the best information we have at this point.
This is the AppleSIM process :
We have not yet seen the Samsung process. We suspect that it will contain the same elements but may not be identical. There are
No MVNOs :
It's not clear from the way the solution performs in the USA and UK how MVNOs will be treated. MVNOs are smaller phone companies. None have been involved in the first round test we've run through here.
This process may change :
It is likely a trial and designed specifically to eliminate process problems for Apple and the phone companies. Simiarly ….
It is a version 1 :
Apple will be interested in feedback from users on what they can improve.
It's only on a tablet :
We haven't seen it function on a phone yet. And picking a phone plan is a good deal harder than a data plan. It's much easier to compare data plans, they only have one element : Data. Voice plans are more complex. They have local calls, international, SMS, International SMS, Data and other features including the speed of the data involved.
Is actually still a physical SIM :
One key caveat about what we've shown here is that, for now, the eSIM is actually a real SIM. The iPad still has a physical SIM in it. It's purchased from Apple. What appears to happen is that, when you pick a phone company, the relevant provisioning information is downloaded from the phone company and applied to the SIM.
AT&T actually lock you in :
If you choose AT&T in the USA as your provider, they attach you to their network and lock you in ! Not only is this inconvenient, it goes against the intent of the eSIM itself. You will have to buy another AppleSIM if you choose them and you later want to change. Which kind of defeats the point. Which is probably what AT&T want.
In Conclusion
With the introduction of soft SIM technologies, specifically, the eSIM national carriers won't have any choice but to begrudgingly toe the line and support this new advancement in SIM card functionality. The upside for the carriers is the Internet Of Things. As almost literally everything we own is connected to the internet, they're going to sell a lot more data. Unfortunately, they need the eSIM to make that process as easy as possible. And adopting the new eSIM standard makes it easier for their existing customers to compare and move plans. Long-term contracts which are the bread and butter of the traditional carriers could be history, as soft SIM technology and the ability to buy cheap smartphones outright, we do away with the need to be locked into long-term mobile phone plans.
eSIMs are the biggest thing ever to happen to phone companies. In a small amount of time, we will take them for granted. Our kids are going to wonder why we ever had physical SIMs.
Sources :