Google has finally launched the much-awaited Pixel and Pixel 2, and they come with a lovely little surprise – the eSIM.  This is an in-built SIM card within your device which can be used for device authentication and for making calls or mobile data. Until the launch, this technology was reserved for LTE-equipped tablets, smartwatches and other cellular wearables. Having entered the smartphone domain, it has the potential to revolutionize the telecom industry.
What is the eSIM?
Your SIM card connects your phone to your cellular network by identifying you and your device to your mobile carrier. The eSIM is similar to this traditional SIM card (plastic with electronic chip), but it is embedded into your device. It cannot be removed– hence the 'e' for 'embedded' in the name. Currently, Google Pixel only lets you connect to Project Fi, Google's own carrier provider. But this may change as the technology becomes more popular.
Best SIM Only Plans January 2019
Boost Mobile | Best Prepaid Data Rates On The Full Telstra Network

Prepaid | 28 day expiry | On The Telstra Mobile Network 3G+4G
Boost Mobile are a reliable brand. They are the only phone company other than Telstra to resell the full Telstra 'Retail' Network. With Boost you'll get:
The full Telstra Mobile Network
Other phone companies resell part of the Telstra Mobile Network. Only Boost and Telstra plans allow you access the whole thing.
Free streamed audio:
Data free streaming of Apple Music (requires subscription) on top of the data included in your plan.
A range that includes 7 day and 28 day plans: 
Boost offer a selection of plans including 7 and 28 day variants.
Recharge options from $10 to $50:
Boost have a total of 5 recharge options for their prepaid plans, ranging between $10 and $50.
Boost Mobile Plans For Your Mobile
All talk time and SMS for use in Australia to Australian numbers. All data is for use in Australia. You can learn more about this company in our Boost Mobile review.
Strong, Simple Plans & A Well Known Brand
Amaysim | Prepaid Plans | Optus Mobile Network 3G+4G
Amaysim are the 4th biggest phone company in Australia with over 1m customers. They consistently have one of the highest customer satisfaction ratings in the industry and have prepaid (28 day expiry) plan range – just select the option you want in their checkout. With Amaysim, you'll get:
Strong plan range:
Amaysim have a range starting at $10 per month and rising to $50 per month. Data inclusions are up there with the best available and, with Amaysim, things are nice and simple. You're just buying voice calls, SMS and data. There are no optional extras.
New International Inclusions:
Any plan you buy, starting at $30 per month will now include free International Calls to 12 destinations.
Great Customer Experience:
Amaysim are consistently one of the best performing†phone companies when it comes to customer satisfaction.
Amaysim's plan range:
You can find out more about this company in our Amaysim review.
Yomojo plans

Prepaid | 30 day expiry | On the Full Optus 4G Plus Network 
Yomojo are unique in the Australian market. They offer you an unbelievable range of plans. Yomojo's plans are completely configurable through their website. They also have some pre-configured unlimited plans for those who want a more standardised plan.
Prepay Plans :
Yomojo recently revised their plan range and now offer prepaid plans only.
Use the full Optus 4G Plus network :
Yomojo use the full Optus 4G network. You'll get the latest 4G speeds in 4G coverage areas in all the same places as customers who go to Optus direct.
Yomojo plans for your mobile
You can learn more about them and their unique content in our Yomojo review.
OVO Mobile – Free Video & Radio Content
Prepaid | 30 day expiry | On the Full Optus 3G and 4G Network 
OVO's offer a totally new way of looking at a phone company – they're one of our best selling partners. Their plans are, pretty much on a par for data inclusions with the best in the industry. In addition to talk time, SMS and data, OVO's plans include exclusive access to exclusive video content. All of OVO's plans come with 'OVO Play' an app which lets you watch their free content on your plan. With OVO, you'll get:
Free Video Content – Motorsport, Sailing, Gymnastics & Water Polo :
OVO offer a growing list of free video and audio content. Motorsport fans might like the 400 Thunder Professional Drag Racing Series, Australian GT, Formula Drift and other petrol head live streaming. OVO Play also includes other sports like sailing and gymnastics. The price of the content is included in the monthly line rental charge you pay OVO for your prepaid plan. So, importantly: You won't see your data balance decline while you're watching them, the streamed content is free.
Free Streamed Audio:
OVO's plans also offer FREE radio streaming, also included in your plan offers access to the Tripple M network and other selected stations.
OVO for Kids:
OVO's plans come with the offer of free access to Parental Lock software. Buy your child the $9.95 plan from OVO and you'll be able to monitor what they access on their phone and set times for it to turn off and turn on it's own connection to the internet.
OVO Plans for your mobile
Picking an OVO plan is simple. All of OVO's plans include Unlimited talk and SMS in Australia to Australian numbers plus superfast 4G data.
You can learn more about them and their unique content in our OVO review.
Kogan Mobile – Best Value on the Vodafone Network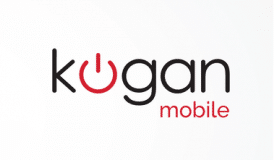 Prepaid | 30 day expiry | On the Full Vodafone 3G and 4G Network 
Kogan Mobile keep it simple. They have some of the most competitive SIM Only / Prepaid plans in Australia, on the much improved Vodafone network. With their multi month recharge options, Kogan add some genuine value and choice to the market.
With Kogan, you'll get
Monthly, quarterly or annual options : Do you want a single recharge payment with a 1, 3 or 12 month validity ? With Kogan, you'll get discounts for multi-month purchases you were going to make anyway. They add the convenience of less frequent running out / topping up. And they keep the total predictability and flexibility of prepaid.
Kogan's 30 day plan range :
Kogan's 30 day plans all have Unlimited talk and SMS in Australia to Australian numbers. The difference is the amount of data which is included.
All talk time and SMS for use in Australia to Australian numbers. All data is for use in Australia. See all Kogan Plans including 90 day and 365 day plans. You can find out more about this company in our Kogan Mobile review.
What is Project Fi?
Project Fi is Google's telecom carrier provider service. It has been launched in 135 countries around the globe and operates on 4G LTE networks within each country. It can automatically switch you between wifi and the top 3 4G networks in your area, giving you access to more cell towers and the best coverage.
Benefits of the eSIM
Project Fi and the eSIM let you access your mobile network the same way as you access your home wifi. It brings greater flexibility, coverage, ease of use and affordability to customers, making it a futuristic technology with the potential to become very popular.
Flexibility in Payment plans 
Project Fi is a pre-paid plan that lets you pay for exactly what you use. At the start of each month, you estimate usage and make a deposit. You are then allotted a data and mobile 'budget'. For example, if you pay $15 at the start of the month, you will be allocated 1 GB data and 20 minutes talk time. If you go over this budget, additional charges will be added at the end of the month. If you underuse this budget, you will get a refund to carry forward your remaining budget to the next month. Charges are straightforward, and there are no hidden fees.
Best mobile data option for travellers 
The eSIM is a dream come true for frequent travelers. You can now travel seamlessly between the 135 countries covered by project Fi. No purchasing local SIMs, filling forms to sign up to local carriers or misplacing SIMs. Enjoy a hassle-free journey as the eSIM switches you automatically to domestic carriers at NO EXTRA CHARGE. Yes, you get the same flat rate of $10/GB no matter where you are in the world. And you can use as much data as you want, without worrying about paying extra if you cross a pre-set limit within a specific period (e.g. 1 GB in 30 days.)
Easy set up and sign up
Signing up for Fi with the eSIM is a breeze – similar to subscribing to any app on the Play Store. You can use Project Fi for as long or short as you want, as there aren't any contracts or commitments involved. You can start fresh with a new number or port your old one in just a few clicks.
Disadvantages of the eSIM
As the technology is comparatively new, the prices for using the eSIM are still quite steep. When you club this with the high down payment of the Pixel2 you get a niche market of jet-setting business travellers and gadget connoisseurs. While the eSIM remains out of reach for the general public, things could change once networks mature and prices of Google handsets fall.
Prices will also drop as more carriers develop virtual SIM service capabilities and support eSIM. Because Google has launched it, only Google's network Project Fi can currently provide service to eSIMs. But eventually other carriers like Vodafone, Optus and Telstra will be able to do the same, making the eSIM the norm rather than the exception.
Currently, the eSIM – Project Fi combination gives you the most optimum coverage by auto-switching to the best network in your location. However, Project Fi can only be accessed via Google Pixel2, Google Pixel2XL, and the last 3 Nexus phones – the Nexus 6P, Nexus 5X or Nexus 6. (Google will send you a SIM card for the Nexus devices.) So the auto-switching technology is apparently in a trial phase for a beta set of Google's customers – time will tell if Google will open up it's network to all Android users (dropping prices further) or whether it will keep it proprietary to Google device owners only.
Google Pixel 2 in Australia –what you need to know:
The official release date for the Google Pixel 2 and Pixel 2 XL in Australia is October 31, 2017.

You can pre-order your Google Pixel2 or Pixel 2 XL in Australia from October 20, 2017.

You can purchase the devices outright for:

Pixel 2 64GB – $1079

Pixel 2 128GB – $1229

Pixel 2 XL 64GB – $1399

Pixel 2 XL 128GB- $1549

Australians can subscribe to Project Fi and use their eSIM as long as they purchase the North American model.

Project Fi rates in Australia are $10/GB and 20c/minute calling with unlimited international and local SMS.

If you choose to use Fi, you still have the option to transfer your current mobile number to Fi.

The Google Pixel2 also supports traditional nanoSIMs for those who wish to avoid using project Fi. You do not have to use the eSIM if you don't want to.

You can always sign up to get a Google Pixel2 or Google Pixel2XL via Telstra's two-year leasing plans for $66-$199 per month depending on your talk time and monthly data streaming needs.
Best SIM Only <$30
Sources: