Intro – 60 second guide
Here are the key findings for both Amaysim and Yomojo services & coverage, there are more details in the review which follows below. Picking between them is not easy. They use the same network, they have very similar inclusions in their plans at the same price points. All their plans can be bought eitheer prepaid or postpaid. Ultimately, whether you choose Amaysim or Yomojo will come down to your specific voice, SMS and data needs.
Amaysim are a tried and true Aussie MVNO with a long history of great customer satisfaction and providing excellent connectivity on the Optus 4G network. Amaysim are one of Australias biggest small phone companies.
Yomojo on the other hand are a newer phone company, offering some of the best customisable phone / SIM Only plans currently found on the market. Fantastic news for Aussie consumers who want

total control

over their plan inclusions.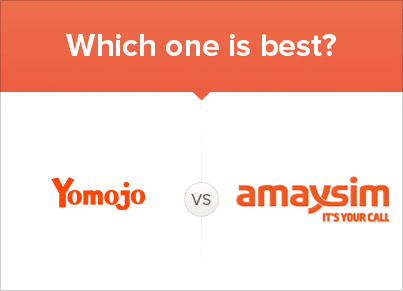 In this article, we pit Yomojo vs Amaysim
Yomojo are a new Australian MVNO
Back in 2015 when Yatango went into administration due to financial issues, Yomojo stepped in and migrated users to their company. Amaysim have been around for many years now, operating successfully in Australia on the Optus 3G and 4G network.
In the following review we will go into more details, as we outline the differences between Amaysim and Yomojo.
Amaysim is the winner for most
Amaysim will probably be the winner when it comes to comparing Yomojo and Amaysim for most people. While both companies offer great value, in this comparison Amaysim come out in front thanks to their long operating history and many awards. Simply put, Amaysim is a brand people know and are familiar with.
Yomojo will appeal to those who have unique needs. For those who are  low data users and people which desire more choice when it comes to selecting their plan, Yomojo provides customisation options, and a plan configurator. The result is that Yomojo provide a plan for people who have 'extreme' needs.
3G or 4G
Amaysim and Yomojo both operate on the exact same Optus 4G network, providing the exact same connectivity. Both companies are MVNOs, which means they buy data wholesale from Optus and than pass the savings onto subscribers.
When you are trying to decide which of the two different companies is best for you, you need to look at your personal usage habits. Both Yomojo and Amaysim on a plan by plan comparison, are offering exactly the same unlimited calling, texting and mobile data allowances. The only real difference between the two companies is that Amaysim has a more solid track record, as Yomojo is still a young company.
Flexibility / Personalisation
For subscribers which need flexibility, both Yomojo and Amaysim have got you covered.
Amaysim offers users their "Flexi" and "As you go" plans, which gives increased choice to their subscribers.
For example, on the Amaysim "Flexi" plan, for $19.90 per month, your credit can be used for calling, texting or for purchasing an additional data pack. On the Amaysim "As you go" prepaid plan, you only spend what you need, which is great for people who don't use their mobile phones that often. Yomojo on the other hand operates by providing their users with a high degree of customisable pricing.
With Yomojo you can select from three types of plan:
The "Personalised" plan type offers a fully customisable experience, allowing you to decided how much calling, texting and mobile data you want. Additionally, Yomo offer the option to add on an international calling pack, a great feature if you need to call friends or family overseas.
The Yomojo unlimited plans can also be customised, allowing you to decide how much mobile data to pay for. For casual users, both companies provide cost effective pricing, all without making you pay for extras you don't need.
Comparing Coverage
Both Yomojo and Amaysim provide the same coverage as both MVNOs operate on the same network.  No matter if you choose Amaysim or if you choose Yomojo, you will be covered. Yomojo use the Optus 4G network and so to do Amaysim.
You can find out more about the national network coverage of the Optus 4G network on our network coverage page. The Optus 4G plus network provides coverage and connectivity to 98.5 percent of the Australian population. For users which live in a remote rural area of Australia, Whatphone recommends that you check out Boost Mobile, a Telstra 4G network MVNO.
Prepaid or Postpaid
Yomojo's plans can be bought either prepaid or postpaid, the same goes for Amaysim. Not sure of the difference? Read our article about it. In general though when it comes to postpaid Vs prepaid, here at Whatphone we find prepaid plans to be more predictable.
Yomojo Vs Amaysim Mobile data plans
Yomojo offers almost the same mobile data limits on their Unlimited plans as Amaysim currently does. The only slight difference between mobile data allowances, are on the following two Unlimited price points:
1. $39.90 Amaysim: 5GB – Yomojo: 6GB
2. $49.90 Amaysim: 8GB – Yomojo: 10GB
However, it's important to keep in mind that Amaysim has been around a lot longer than Yomojo. Yomojo for their part, do offer subscribers with a great level of customisation. If you don't need much mobile data, you can pay per MB.
Who offers the better customer service?
When it comes to which provider offers the best customer service, the clear winner is Amaysim. 96% of those who choose the Amaysim unlimited plan range say they would recommend the service to a friend. That's not to say that Yomojo has poor customer service, it's just that as a younger company, they don't have the same high level of satisfaction information available.
Amaysim has a long history in Australia or providing excellent customer service, as demonstrated by numerous awards. They've even won the "CHOICE Mobile Service Provider Satisfaction Survey 2015" award. With around 84 percent of respondents saying Amaysim has the Best Value for Money mobile plans on the market, it's not a bad effort at all.
In Summary
So when it comes down to picking which MVNO, Amaysim or Yomojo is best for you, it's almost a dead heat. Both companies provide the exact same deals, same pricing and almost same mobile data limits. Yomojo do have the lead when it comes to fringe plans – plans you can't get elsewhere. If you have a need for a significant data allowance but no voice or SMS, for example, Yomojo can give you that.
While Yomojo does offer fantastic customisation on their website for plan inclusions, they are a very young company. They just don't have the [edigree of Amaysim, yet. Amaysim are a strong competitor in the Australian MVNO market, with a solid multi year operating history backing them up. With both Amaysim and Yomojo you are connected to the same super fast Optus 4G network.
Yomojo and Amaysim are great for people who live in the cities or suburbs. We say that because they're on the Optus 4G network. If you are living in a rural or remote area of Australia, then Whatphone recommends you check out Boost Mobile.