The eSIM will soon be part of every car. For now, Audi are among the first to roll it out.
60 second intro
In recent news Audi has announced the launch of their e-SIM in latest car models. The electronic SIM technology will allow drivers to unlock connected infotainment services, but is this really a good deal for Audi car owners? Read on in the following article to learn more.
German car manufacturer Audi has launched a new partnership with European Telco Cubic Telecom.
Irish Teleco Cubic Telecom, is the provider of the e-SIM in-car connectivity and network data packages.
E-SIM technology will allow drivers to access content and services on demand at their choosing.
Best SIM Only Plans January 2019
Boost Mobile | Best Prepaid Data Rates On The Full Telstra Network

Prepaid | 28 day expiry | On The Telstra Mobile Network 3G+4G
Boost Mobile are a reliable brand. They are the only phone company other than Telstra to resell the full Telstra 'Retail' Network. With Boost you'll get:
The full Telstra Mobile Network
Other phone companies resell part of the Telstra Mobile Network. Only Boost and Telstra plans allow you access the whole thing.
Free streamed audio:
Data free streaming of Apple Music (requires subscription) on top of the data included in your plan.
A range that includes 7 day and 28 day plans: 
Boost offer a selection of plans including 7 and 28 day variants.
Recharge options from $10 to $50:
Boost have a total of 5 recharge options for their prepaid plans, ranging between $10 and $50.
Boost Mobile Plans For Your Mobile
All talk time and SMS for use in Australia to Australian numbers. All data is for use in Australia. You can learn more about this company in our Boost Mobile review.
Strong, Simple Plans & A Well Known Brand
Amaysim | Prepaid Plans | Optus Mobile Network 3G+4G
Amaysim are the 4th biggest phone company in Australia with over 1m customers. They consistently have one of the highest customer satisfaction ratings in the industry and have prepaid (28 day expiry) plan range – just select the option you want in their checkout. With Amaysim, you'll get:
Strong plan range:
Amaysim have a range starting at $10 per month and rising to $50 per month. Data inclusions are up there with the best available and, with Amaysim, things are nice and simple. You're just buying voice calls, SMS and data. There are no optional extras.
New International Inclusions:
Any plan you buy, starting at $30 per month will now include free International Calls to 12 destinations.
Great Customer Experience:
Amaysim are consistently one of the best performing†phone companies when it comes to customer satisfaction.
Amaysim's plan range:
You can find out more about this company in our Amaysim review.
Yomojo plans

Prepaid | 30 day expiry | On the Full Optus 4G Plus Network 
Yomojo are unique in the Australian market. They offer you an unbelievable range of plans. Yomojo's plans are completely configurable through their website. They also have some pre-configured unlimited plans for those who want a more standardised plan.
Prepay Plans :
Yomojo recently revised their plan range and now offer prepaid plans only.
Use the full Optus 4G Plus network :
Yomojo use the full Optus 4G network. You'll get the latest 4G speeds in 4G coverage areas in all the same places as customers who go to Optus direct.
Yomojo plans for your mobile
You can learn more about them and their unique content in our Yomojo review.
OVO Mobile – Free Video & Radio Content
Prepaid | 30 day expiry | On the Full Optus 3G and 4G Network 
OVO's offer a totally new way of looking at a phone company – they're one of our best selling partners. Their plans are, pretty much on a par for data inclusions with the best in the industry. In addition to talk time, SMS and data, OVO's plans include exclusive access to exclusive video content. All of OVO's plans come with 'OVO Play' an app which lets you watch their free content on your plan. With OVO, you'll get:
Free Video Content – Motorsport, Sailing, Gymnastics & Water Polo :
OVO offer a growing list of free video and audio content. Motorsport fans might like the 400 Thunder Professional Drag Racing Series, Australian GT, Formula Drift and other petrol head live streaming. OVO Play also includes other sports like sailing and gymnastics. The price of the content is included in the monthly line rental charge you pay OVO for your prepaid plan. So, importantly: You won't see your data balance decline while you're watching them, the streamed content is free.
Free Streamed Audio:
OVO's plans also offer FREE radio streaming, also included in your plan offers access to the Tripple M network and other selected stations.
OVO for Kids:
OVO's plans come with the offer of free access to Parental Lock software. Buy your child the $9.95 plan from OVO and you'll be able to monitor what they access on their phone and set times for it to turn off and turn on it's own connection to the internet.
OVO Plans for your mobile
Picking an OVO plan is simple. All of OVO's plans include Unlimited talk and SMS in Australia to Australian numbers plus superfast 4G data.
You can learn more about them and their unique content in our OVO review.
Kogan Mobile – Best Value on the Vodafone Network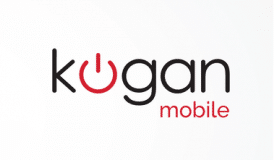 Prepaid | 30 day expiry | On the Full Vodafone 3G and 4G Network 
Kogan Mobile keep it simple. They have some of the most competitive SIM Only / Prepaid plans in Australia, on the much improved Vodafone network. With their multi month recharge options, Kogan add some genuine value and choice to the market.
With Kogan, you'll get
Monthly, quarterly or annual options : Do you want a single recharge payment with a 1, 3 or 12 month validity ? With Kogan, you'll get discounts for multi-month purchases you were going to make anyway. They add the convenience of less frequent running out / topping up. And they keep the total predictability and flexibility of prepaid.
Kogan's 30 day plan range :
Kogan's 30 day plans all have Unlimited talk and SMS in Australia to Australian numbers. The difference is the amount of data which is included.
All talk time and SMS for use in Australia to Australian numbers. All data is for use in Australia. See all Kogan Plans including 90 day and 365 day plans. You can find out more about this company in our Kogan Mobile review.
Introduction to the Audi e-SIM
The German high end car manufacturer Audi, has recently announced that new models from the 2016 line will feature e-SIM technology.
Audi has chosen to equip a number of its new car models with the electronic SIM card technology, allowing drivers to unlock many advantages.
These new advantages enable drivers to access on-demand connected infotainment services.
Audi has began equipping new 2016 models, which use the second-generation modular infotainment platform.
This together with the Audi connect e-SIM, which is a factory installed SIM card, allows customers to access a wide range of services.
Audi car owners can immediately take advantage of this, along with an included data flat rate for up to three years.
The best part about this is that the data flat rate can even be taken advantage of from outside Germany.
Audi has been working in collaboration with an Irish company, to bring the e-SIM functionality to life.
Cubic Telecom an Irish telecommunications company, is a leading producer of worldwide connectivity solutions.
The e-SIMs which are permanently installed, from this month onwards can be found in many of Audi's 2016 models.
The Audi connect e-SIM will be a standard feature in all 2016 models which include the second generation of the modular infotainment platform.
Models which currently feature the new e-SIM technology are the A3, A4, Q2 and Q7 range.
It's a notable exception though, that currently the Audi TT, the R8, the A6 and the A7 are excluded from this new functionality.
Enabling drivers to stay connected
Audi by including the new electronic SIM technology within its car models, is enabling drivers to connect with out borders.
Access to all of the new services are granted to owners at the time of purchasing a supported e-SIM enabled vehicle.
In combination with the MMI Navigation plus, owners can take advantage of all this has to offer at no cost for three years.
Before the new models are rolled of the factory assembly line, the new e-SIM technology will be installed for owners.
Drivers in Europe will be able to access the Audi connect services, both for domestic use and when travelling around Europe.
Audi car owners of supported models can also purchase additional data packages, enabling the creation of a WiFi hotspot.
The WiFi hotspot will be independent of the integrated Audi e-SIM connect services.
Connected to the in-car navigation systems, this will allow passengers in a supported car to browse the internet or check in on social media.
With a supported European data package enabled, data will be transferred automatically when driving internationally.
This means that when an Audi with the e-SIM feature enabled drives across the border, the internet provider will switch automatically.
The best part of this e-SIM controlled automation, is that prices are fixed to the previously selected data package.
It has been reported that cars fitted with the e-SIM will be able to enjoy download speeds of up to 100 Mbit/s.
Google and other services on demand
Drivers will be able to access Google services on-demand such as Street View and Google Earth, as well as parking and traffic information.
One great feature is that drivers will be able to sync their smartphones or tablet devices to the Audi e-SIM.
This means that Audi car owners can continue to use services which they regularly enjoy, as much and as often as they like.
At this point in time it must be noted that the Audi e-SIM is mainly beneficial for European Audi drivers.
This is due to the fact that the Audi connect SIM will in real time automatically connect to the network provider in each country.
In Europe this will eliminate the often expensive cost when it comes to country specific roaming charges
Audi customers can access Cubic Telecom, the data service provider, by simply accessing their myAudi account.
Data packages can be purchased based on an Audi customer's needs and their connectivity requirements.
Drivers can also continue to use their own SIM card in their cars and simply establish a WiFi hotspot.
This method will allow any data usage to be charged to the drivers SIM card, from their own Telco provider.
The Audi e-SIM connect offer is the first in a collaboration between the Irish telco Cubic Telecom and the car manufacturer.
It's worth noting that this partnership is similar to that of both Ferrari and Mercedes-Benz.
Both car companies were early adopters of what was known as Apple's CarPlay infotainment system.
This was launched back in 2014 and was used to sync dashboard and wheel controls to a driver's Apple device.
In conclusion
The Audi connect e-SIM comes built into the latest supported range of 2016 Audi car models.
The electronic SIM is also known as an e-SIM and is embedded which means a physical SIM card does not need to be installed.
Customers which live in Europe and purchase a supported vehicle, will receive both the e-SIM functionality and the optional Audi connect package.
Drivers will be able to enjoy a wide range of supported products and services, including those on offer from Google.
The e-SIM allows Audi drivers to enjoy the benefits of automatic network provider switching.
Thanks to the virtual SIM card functionality, costly data roaming charges are eliminated.
Best SIM Only <$30