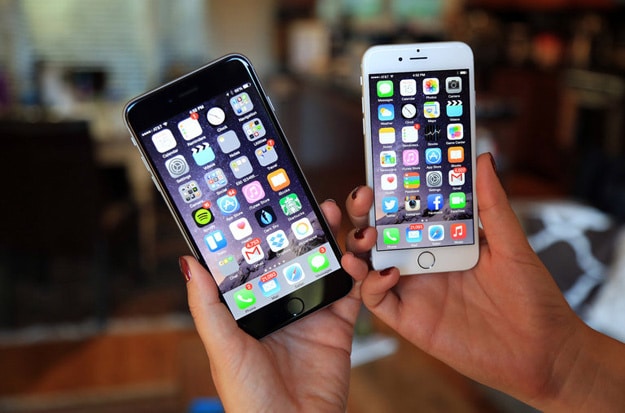 The sort of thing a smart phone or tablet manufacturer doesn't want to hear is the fact that less people are intent on buying new devices year in and year out. This is what seems to be the worldwide trend at the moment. If this buying habit holds out, shipments of all the different kinds of mobile devices are likely to drop by at least 1 percent.
This recent Gartner forecast is a complete reversal on prior predictions in 2014 when there was a 1.5 percent global increase in devices. A Gartner analyst, Ranjit Atwal, suggested that users are keeping hold of older devices and trying to make them last as long as possible.
Key points about device replacement according to Gartner
Smart phones are being kept far longer by consumers, but shipments of smart phones are likely to increase by 14 percent in 2015 compared with 2014.
Desktop and laptop shipments will fall 7.3% in 2015 compared to 2014.
Windows 10 PCs, which run on Intel's Skylake chip, are expected to rise significantly in 2017.
Tablet demand will drop more than PCs, with a 13 percent decrease expected in 2015.
Mobile phone shipments are expected to reach 2 billion in 2017 with smart phones taking 89 percent of the market share.
Smart phones are individual devices unlike past PCs that were shared.
Smart phones with bigger screens, often referred to as phablets, have surpassed smaller tablet sales.
An analyst from Gartner, Tuong Nguyen, has said that in some places consumers typically don't have the cash available to buy a PC, but smart phones are affordable. Even this group of less affluent consumers are holding onto their devices for longer periods too.
Apple has reported that the replacement period for its iPhones has increased from approximately 21.7 months 2 years ago to as much as 27.4 months recently. Apple has reacted by implementing an Upgrade option which allows iPhone buyers to make purchases using an instalment plan.
Despite these options, Nguyen thinks that these sorts of inducements do not necessarily get buyers to hurriedly exchange their phones unless the newer devices have far batter features to make it worthwhile.
U.S. Smartphone Owners Need Good Reasons to Upgrade
The average U.S. consumer needs quite an incentive to upgrade once they have ownership of a smart phone. Many of the features that go with upgrades are relatively small such as the addition of megapixels or a better screen. This isn't good enough, except for of course those who are not the average American who allocate their dollars to ensure they have the latest smart phone technology.
Consumers are Keeping their iPhones for Longer
Consumer Intelligence Research Partners (CIRP) recently revealed that People are holding back on upgrading to the most recent iPhone model. iPhone companies have usually depended on people getting bored with their devices so have grabbed at the opportunity of getting something new with improved features. Currently, though, almost 50 percent of iPhone users are holding onto their devices for at least 2 years before seeking out a new one. Three years ago only a third of owners were waiting as long as 2 years before thinking about replacing an iPhone.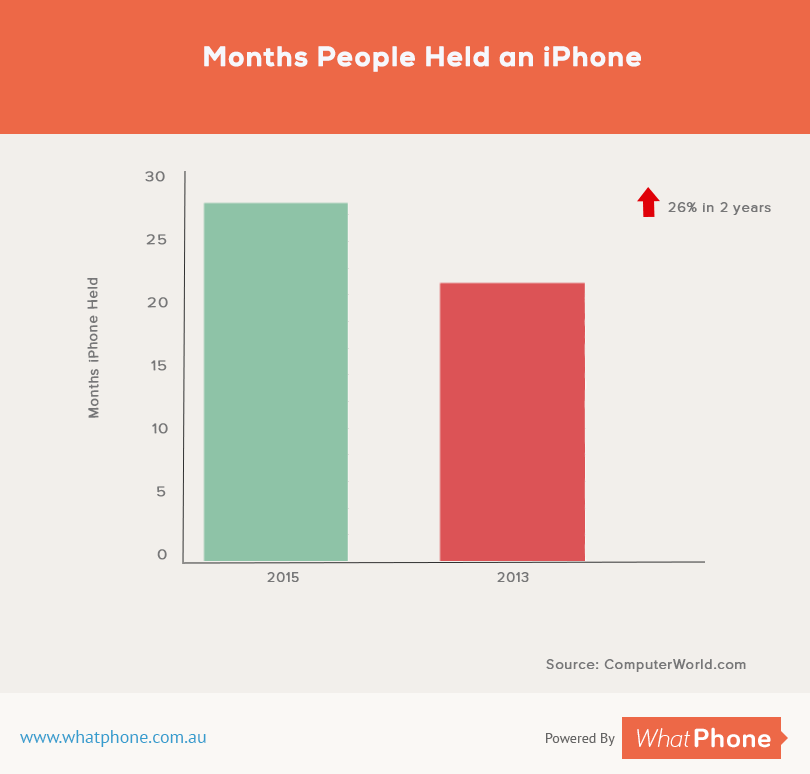 Revenue from Apple's iPhone upgrades was important to the company but iPhone sales have recently fallen which showed in the last quarter a drop not seen in 13 years. One of the main reasons for this sudden decline is it appears that the U.S. market is already saturated with the devices and the Chinese market is not taking up iPhone purchases to the extent that the company predicted.
Hype for iPhones no Longer Attracts Consumers
In the past few year consumers have seen a new iPhone enter the market every year with attractive hype attached to it. Slogans including this iPhone is the best that you have ever seen have been regular promotional features. The sorts of features that have been added such as new methods of tapping on the screen and upgrades in photo quality have up to now been enough for the avid iPhone users to shun their current phone and upgrade before they become the subject of mockery from family and friends.
Key Points Related to Slowdown in Upgrading
Josh Lowitz, a CIRP partner, thinks that one reason for this slowdown could be related to the lack of additions of any markedly different new features that don't make the iPhone radically different to warrant purchasing an upgrade.
Phone carriers are having their input as well by no longer offering a subsidized phone like before when the subscriber renews a two yearly contract. The new arrangements in recent months have been for the subscriber to buy the phone in one payment or arranging a deal with the telco or MVNO by paying it off in monthly instalments. The cost of the latest model is $849 for the iPhone 6S which includes 128GB of storage.
Apple has also tried launching a type of lease agreement whereby the customer pays a set fee every month which currently starts at $32 and every year a new iPhone is provided.
In the U.S. in 2014 around 90 percent of mobile phones sales were smart phones according to Recon Analytics a wireless analysis with sales reaching 25 million. This was compared to 50 percent in 2013.
Telcos are influencing frequent upgrades by offering Americans lower rates by the month if they wait until their 2 year contracts come to end and then upgrade.
Americans Go for Expensive Smart phones
When American buy new phones they are often heading for the more expensive smart phones packed with the most up-to-date features. Even though the number of smart phones being bought dropping by 15 percent in 2015, the revenue from these products increased by around 5 percent because of the price people are prepared to pay and not the actual number sold.
Typically, in 2013 the percentage of mobile phones that were replaced stood at 45 percent and in 2014 49 percent. New phones that were purchased due to the purchaser's device becoming obsolete rose markedly between 2013 and 2014 with the increase from 15 percent to 35 percent in 2014.Throughout that same time period people replacing the phone at the 2 year time limit dropped from 40 to 16 percent.
It seems that Americans are divided in their purchasing behaviour with similar numbers upgrading their smart phones each year and those who only upgrade if their phone breaks or simply can't be used because the model is obsolete. Statistically it is showing that at least one third of all Americans are holding back on upgrading until they have no choice in the matter because their phone has to be thrown out because it can't be fixed or it simply won't work with the current mobile technology.
Millions Wasted as Aussies Keep old Phones Stashed Away for a Rainy Day
It seems that Australians are hoarders of old model phones. Millions of dollars worth of them are being kept at home and are either not being sold or being used for trading up. It seems that the reason for this hoarding mentality is they are so dependent on their mobile devices that they keep older models just in case their latest model breaks down. They are pretty protective of them as they are concealed away so that family or friends don't find them and use them.
There is some indication that many Australians simply prefer owning a new smart phone, so the second-hand market is not too large. They have certainly added significant revenue to phone manufacturers. On a per capita basis they have the largest smart phone penetration rates globally, with 79 per cent of under-55s claiming ownership while 6 in 10 Aussies own several devices, like tablets.
In comparison to Australians rather lavish habits, overseas users don't keep their smart phones at home but prefer to sell them or exchange them.
Around 35 per cent of those who own smart phone owners are likely to update their handsets in the coming year. Current statistics compiled by Deloitte's in their mobile consumer survey indicated that 27 per cent of smart phone owners gave their old phones away, while 48 per cent simply kept them, who knows where. 15 per cent were environmentally conscious and recycled them; 8 per cent ended up selling them and sadly, the not so careful 2 per cent typically lost them.
Selling Online is Preferred by Aussies
63 percent turn to online methods of selling their old phones which considering the size of the country and the distance between large populations this is not really surprising especially if the phone is a high- end model and selling is economically viable.
It seems that Singaporeans are pretty good at selling their older model phones with a success rating of 26 percent. The U.K. owner follows this trend and manages to sell 21 percent of unwanted phones, while Japan sits at 20 percent, Germany on 16 percent and Canada's selling is significant statistically at 13 percent.
Apple iPhone Most Popular in Australia
Apple iPhone takes 41 per cent of the Aussie market, even though the preferred operating system is Android. Samsung is second in popularity attracting 32 per cent of the market while Nokia takes 6 per cent and HTC attracts 5 per cent.
Some telcos offer trade-ins, but the trend is to encourage recycling. Samsung and Apple are expected to introduce very soon a new device and upgrade trade-in service which could have a positive impact on the re-selling industry. With auction websites such as E-Bay coupled with telcos and phone manufacturers re-selling older model phones could be kick-started. Globally the second hand mobile-phone industry a $7 billion industry. Telstra revealed that a year ago 15.6 tonnes of unwanted mobile phones were handed in for recycling.
SIM Only and Prepaid Options for Budget Minded Smartphone Owners
When telcos first started mobilising their mobile services by offering smart phones with their plans people fell for it in the belief that that's the only way they can get their hands on something new and exciting. Sooner or later purchasers show that they are king and they go their own way despite rampant advertising by telcos to market their latest devices. If a smart phone is looked after carefully the owner should be able to keep it going for several years.
The worst changes for the owner on a budget is when they have for example a 2G phone which becomes obsolete when 2G is cut off which is soon to happen with some Australian telcos. This means forcibly upgrading.
Fortunately, it's possible to buy smart phones that are not tied to any one phone provider so the customer can choose a SIM only plan with their chosen provider. If they are on a monthly prepaid option they can change their provider virtually any time they please and there are no ties in relation to phone ownership. Even if they originally purchased their phone through a phone company there are many unlocking agents around who offer the service of unlocking a phone so that it can be used with any Mobile Virtual Network Operator or telco.