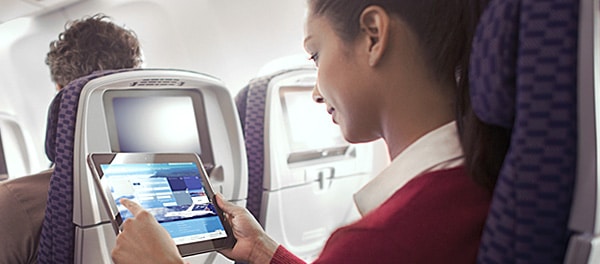 Gogo is already the provider for in-flight Wi-Fi for Delta airlines in the US and now it's to become the provider for Virgin Australia. It will operate using satellites that Optus is currently using to provide remote communications throughout the country.
If you happen to use a Virgin Australia flight soon you may be lucky and get this service free as Virgin Australia is experimenting with a 3 month trial offering customers the service at no extra cost.
Optus owns lots of satellites
Optus doesn't just depend on cables and towers for its communications' network but it owns the most satellites that cover both Australia and New Zealand, with 5 satellites orbiting the earth.
Gogo not new to the Wi-Fi in-flight game
Gogo works with Delta airlines by offering in-flight Wi-Fi between the US and Australia through the use of dual antennas which provide both outward and return communications. Apart from the free trials on Virgin Australia the usual rates for in-flight Wi-Fi using Gogo start from $16 US. If you are a frequent flyer there are daily, monthly and annual options available which offer unlimited Wi-Fi while onboard.
Virgin's Boeing 737-800 to start the trials
These domestic aircraft will allow customers free use of the service throughout the 3 month trial period. Users will get 3 months access for free to streaming services Stan and  Netflix.
John Thomas, Virgin Australia's group executive, said that they want to ensure that in-flight passengers can stay connected throughout their flight as well as having access to the entertainment they enjoy.
Customer feedback important to Virgin
Virgin has stated that it is trialling this new service and will not implement a long-term business model until it has received and analysed customer feedback.
Qantas already provides in-flight Wi-Fi
Virgin Australia didn't announce this in-flight service until Qantas launched its own more than a week ago on its Boeing 737 flights that fly between Sydney, Melbourne and Brisbane, which flies 15,000 customers per month on these routes. Qantas has stated that as soon as it gets out of beta mode its Wi-Fi service will be offered to customers for free.
ViaSat is the Qantas satellite provider
Qantas uses the satellite called Sky Muster through the National Broadband Network in partnership with ViaSat, which is a satellite provider. As well as accessing internet flying customers can also stream content provided by Stan, Foxtel, Spotify and Netflix at no additional cost.
Who has the most satellites?
Optus has five satellites while NBN has two. The Qantas service uses idle satellite capacity when the aircraft flies through 101 Ka-band spot beams provided by Sky Muster.
How is reception received on a Qantas flight?
Each airplane has a satellite antenna mounted on the upper surface of the aircraft. Added to this are a number of wireless access points. This means all passengers have access to much the same signal strength wherever their seats are on the plane.
What's the speed?
The first of Qantas' commercial flights came up with speeds from 2.57Mbps to 7.24Mbps for downloads and 0.26Mbps to 0.61Mbps for uploads. However, once the service exits the beta mode ViaSat says it should be able to guarantee a speed of 12Mbps during the complete flight time.
Pilots should experience Wi-Fi connectivity on Qantas
Qantas isn't sitting on the fence when it comes to the operating conditions for pilots and is expected to offer weather conditions to pilots in real-time enabling them to better plan the flight operation.
Airbus 330 and 80 of Qantas' Boeing 737 on domestic routes will have this service by the end of 2018 eventually ending up with 15 million customers benefitting from it every year. It won't be long before Qantas' international flyers will be provided with this facility.
Summary
No doubt once Virgin and Qantas have dealt their deals the other Australian airlines will follow. The success of a service like this will no doubt depend on the flyer's response and how much the airlines eventually charge for the service once it has become more firmly established.